The latest Starfinder Adventure Path: Attack of the Swarm, takes players to a world devastated by the all-consuming swarm. All that remains is a husk world…
The hive-mind, insectoid alien Swarm continues to threaten the PCs. The latest installment of the Attack of the Swarm adventure path takes players to a world where the devourers have already feasted and shows what remains if the Swarm is allowed to flourish. It's not pretty… but exploring this devastated world may be the only way to actually discover a way to fight them. So check it out today!
via Paizo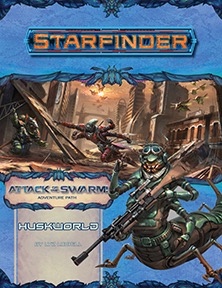 Fear of a Bug Planet
Hoping to find a way to fight back against the Swarm, the heroes travel to a distant world already consumed by the deadly invaders. They soon discover they aren't alone in their struggles when they meet a handful of resistance fighters on the ravaged planet. With the group's help, the heroes strike against a massive Swarm creature that is draining the world's resources dry, then infiltrate an infested university to search for a dead professor's research. What they find could lead to a mythical holy site of the insect goddess Hylax and the secret to defeating the Swarm once and for all!
This volume of Starfinder Adventure Path continues the Attack of the Swarm! Adventure Path and includes:
"Huskworld," a Starfinder adventure for 5th-level characters, by Lyz Liddell.
A survey of the devastated Chuuva system, including a handful of relics still found among the ruins, by Lyz Liddell and Landon Winkler.
A look at civilizations that have survived attacks from the Swarm, by Isabelle Thorne.
An archive of alien creatures, including an ooze adapted to the harshest environmental conditions and several new Swarm creatures, by Kevin Bryan, Lyz Liddell, Robert G. McCreary, and Landon Winkler.
Statistics and deck plans for a defensive carrier, by Lyz Liddell and Landon Winkler, plus a glimpse at a gas giant with a dangerous secret hidden at its core, by Kevin Bryan.
Happy Adventuring!