40K: Faith & Fury Spreads the Love – FTN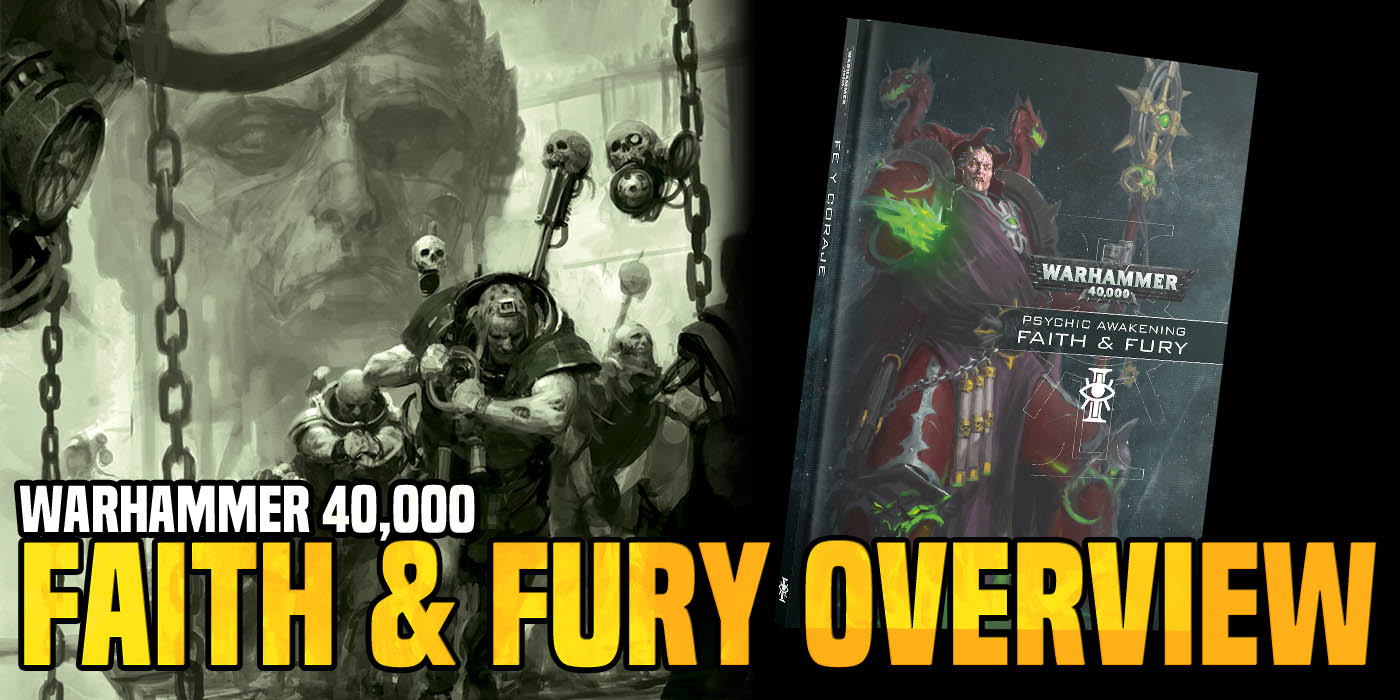 I know this is coming a little late but here is our Faith and Fury review.  This book is jam packed with Loyalist and Heretical upgrades.
One of the stand outs is the Master of Sanctity.  Chaplains were right on the cusp of being auto includes but this may have pushed them over the edge.  Don't worry Chaos fans.. you get plenty in this book too!
It is Chris, Adam, and Paul this week.  In this episode we chat about Faith and Fury.  I totally skip the World Eaters so advanced apologies for that.. Next time!     This book is chock full of upgrades for Loyalist in the form of chapter leader upgrades.  Like I mentioned up top the Chaplain can become a Master of Sanctity and pop off two powers a turn.  In a Centurion driven world that's going to be a powerhouse.
The Alpha Legion is back in a big way.   The deployment shenanigans are real but now they can also force Vehicles to explode (pretty much).  It may not sound like much but making your opponent dish out a few Mortal Wounds in their own lines could be enough to tip a lot of games in your favor.
Please please please check out the new Forge The Narrative objective markers. These things look awesome. Ordering a set is a good way to support one of our sponsors AND the show. Find them here.
Black Templars get a bit buff in the book too.  This Chapter is a big favorite so expect these guys to get some play for sure.  They get a few of their own Chaplain powers and their name Characters are beefcake.
The Armageddon series was last weekend and we give our impressions this week.  Check out the link here: Armageddon Series: Coastal Assault. I chat with John Moore from the Fog of War Podcast and we both recount some of our experiences.
FTN mostly focuses on Warhammer 40k, but again you will see in the first few episodes we take a severe deep dive into nerdom. These have been a blast to record and I hope they help pass the time for you.
FORGE THE NARRATIVE (iTunes Page)
Alternatively, you can subscribe via your own iTunes, and it should update our podcast when we post a new one.

Don't have iTunes?
Use the player below to access the podcast directly, or add our feed to your favorite player.
Podcast Link

Credits:
Paul Murphy – Host
@warmaster_tpm
Subscribe to our newsletter!
Get Tabletop, RPG & Pop Culture news delivered directly to your inbox.
Panelist:
Justin Troop – troopsmash
Christopher Morgan – captain morgan
Ricky Addington
Mike Brandt
Val Hefflefinger