Games Workshop Pre-Orders: Pricing & Links – Dark Uprising & More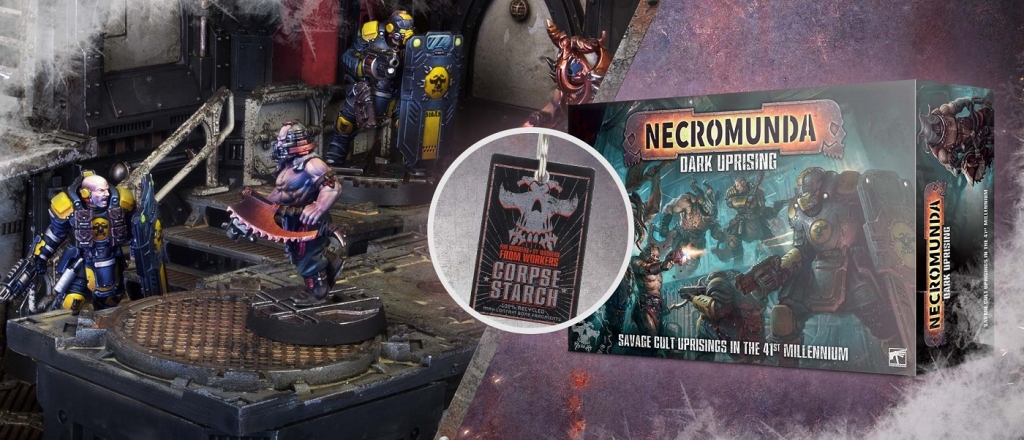 Games Workshop has ushered in the next chapter in Necromunda with Dark Uprising. Check out all the new stuff available for pre-order this weekend!
via Games Workshop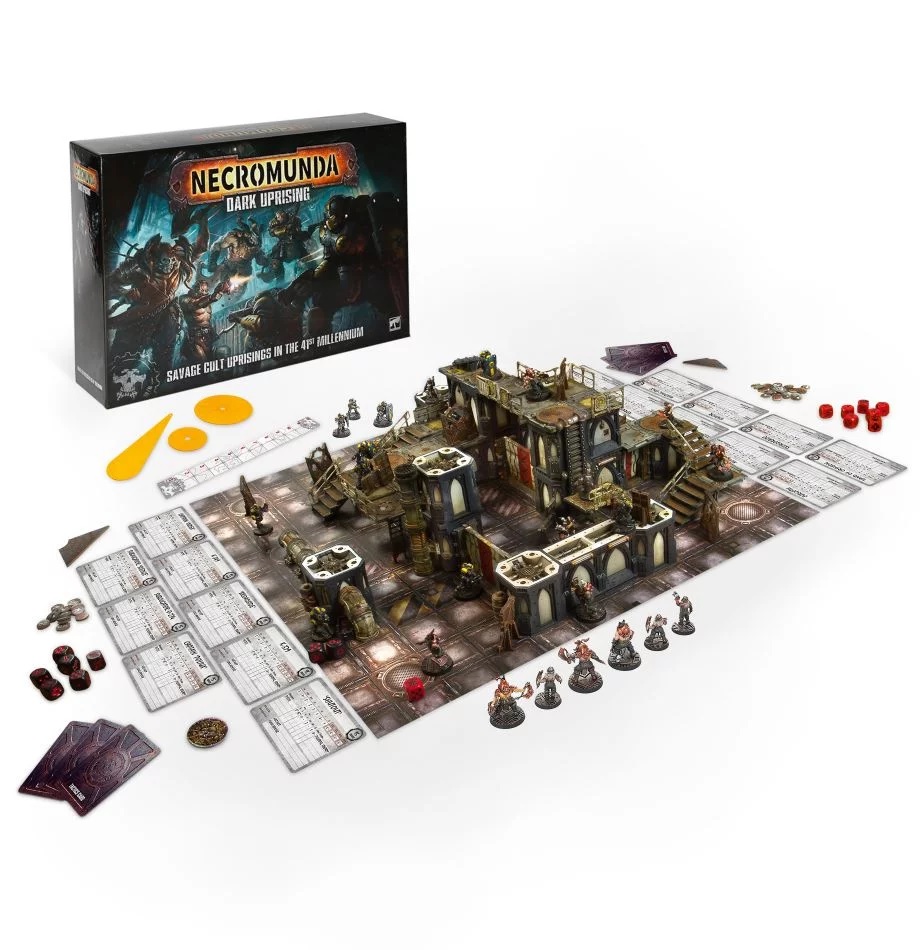 Like countless other worlds of the Imperium, Necromunda suffers from the curse of insurrection. Even though the Enforcers stamp out rebellion wherever they find it, there is no shortage of those willing to embrace the malevolent power of the Dark Gods. Now, the Corpse Grinder Cults prepare to launch a full-blown rebellion in the name of Khorne. Can you stop the dark uprising or will you join it?
Jump into the world of skirmish wargaming with Necromunda: Dark Uprising. Choose your gang and fight thrilling, fast-paced tactical games in one-off battles or across epic narrative campaigns where your fighters grow and develop. This boxed set is perfect whether you're new to the underhive or are a veteran ganger and contains all you need to start gaming. As well as two gangs, the box also contains 17(!) frames of scenery including Zone Mortalis columns, platforms, walls and doors.
Contents:
26 plastic miniatures, each supplied with a Citadel 32mm Round Base:
– 15 Corpse Grinder Cultists – Khorne-worshiping cannibals
– 5 Palanite Enforcers – the law on Necromunda
– 6 Palanite Subjugators – heavily armed officers bringing swift justice
– A vast array of modular scenery
– Double-sided play surface
– All of the dice, tokens, cards and templates needed to play
– An Enforcer Patrol transfer sheet
Also included is a 128-page softback rulebook containing:
– Background on the rebellions that bubble under the surface of Necromunda and details of the fall of Hive Arcos
– The rules for playing games of Necromunda
– The Uprising Campaign – a complete narrative campaign featuring the desperate decline of a Hive
– Multiple scenarios that capture the feel of a Hive descending into lawlessness
– Rules for creating your own Enforcer Patrol or Corpse Grinder Cult gang
– Rules for all of the weapons and wargear available to gangs and fighters through their House Equipment lists
– Full list of all of the skills available to fighters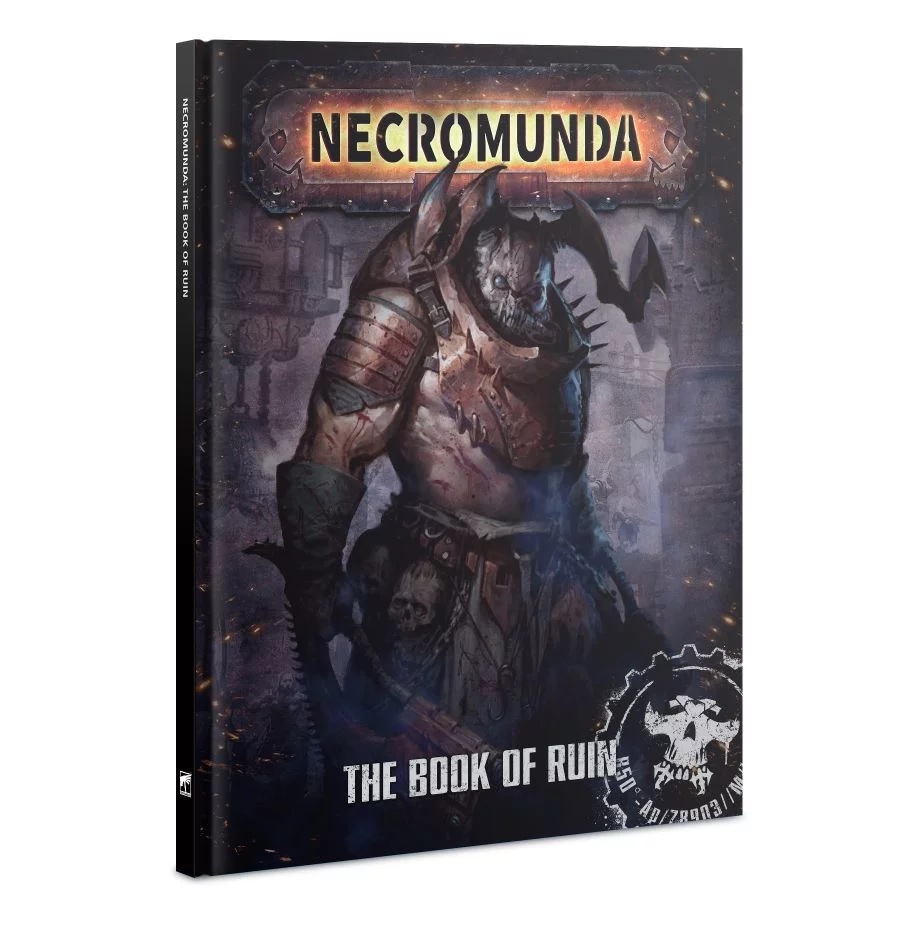 Rebellion is a poison that runs deep within Necromunda. Each time it bubbles to the surface, industries wither and populations perish, corrupted by false promises of freedom and power. Only the iron will of the Imperial House maintains a semblance of order.
Delve into the dark nooks and crannies of Necromunda where insurrection festers. Learn about the Corpse Grinder Cults, Helot Chaos Cults and Genestealer Cults and their plans to wrest control away from Lord Helmawr for their own insidious ends. Discover new Hangers-on and Hired Guns that can help you with your plans for sedition. The book also includes six alternate Uprising Campaigns and a whole suite of arbitrator tools to help with the running of a campaign and ways of enhancing individual scenarios.
This 128-page hardback book contains:
– Rules and background for the various cults, both alien and heretic, that have taken root across Necromunda
– New Hangers-on: Cadaver Merchant, Heretek and Agitator
– 18 scenarios that reflect subversive forces taking control of a hive
– 6 multiplayer scenarios
– A collection of tools to help an Arbitrator enhance players' experience of scenarios and campaigns
– Updated Trading Post
– Rules and background for these Hired Guns: Queen Lorsha, Eightfold Harvest Lord, Abomination of Badzone 12, Hermaphage Magos, Alice Shivver, Jorth Slither and Vandoth the Fallen
Subscribe to our newsletter!
Get Tabletop, RPG & Pop Culture news delivered directly to your inbox.
This is an expansion to Necromunda. The Necromunda Rulebook and Gangs of the Underhive are required to use the contents of this book.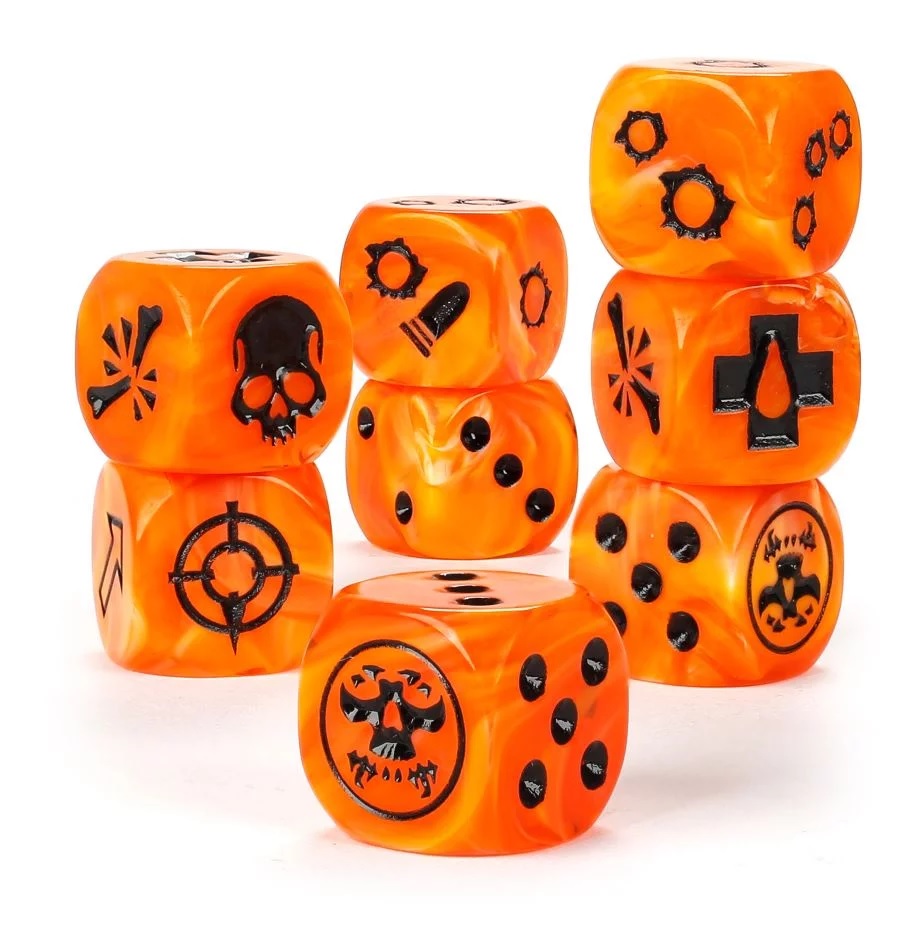 This set contains all of the dice you need to play Necromunda, in a flame colour scheme with black markings.
Contents:
– 3 Necromunda Injury dice
– 1 Necromunda Scatter die
– 1 Necromunda Ammo die
– 3 D6 with the Necromunda logo on the '6'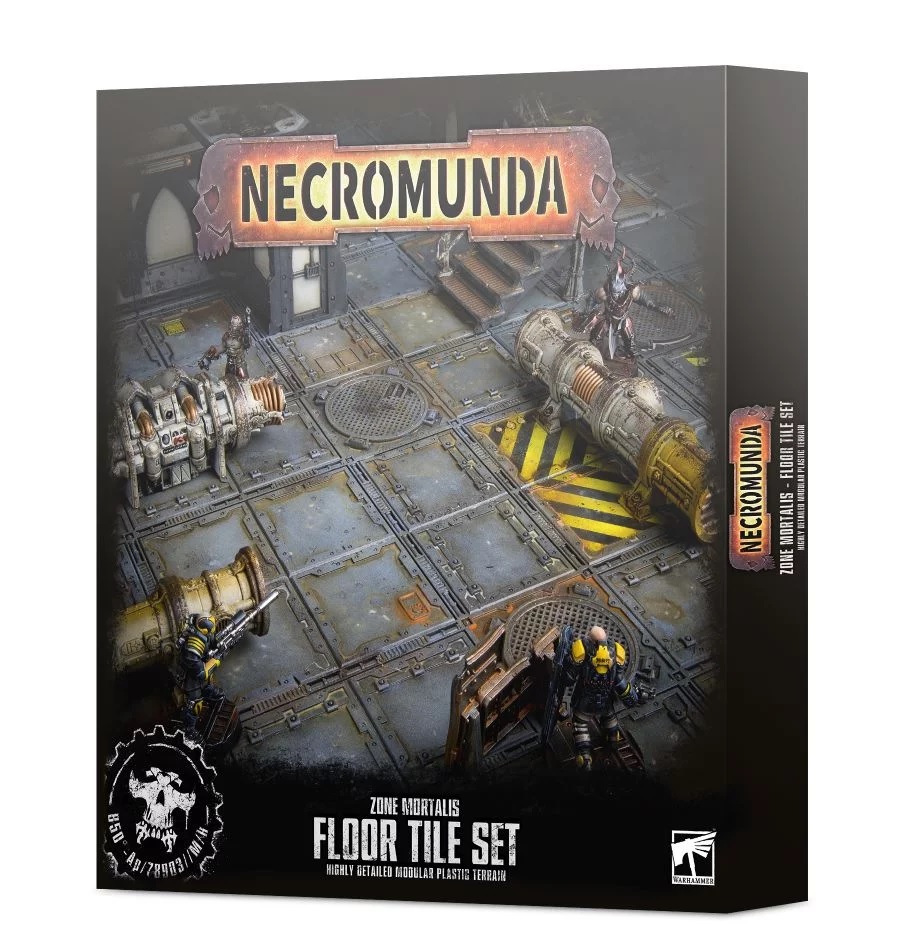 These highly detailed pieces of terrain allow you to build your very own dark and gritty corner of the Necromundan Underhive. They can be used to make a variety of board sizes, from narrow corridors and abandoned dwellings, to sprawling industrial complexes.
This contains a set of four 12″ square plastic Zone Mortalis floor tiles. They are fully compatible with the contents of the Necromunda: Dark Uprising boxed game and other Zone Mortalis terrain kits.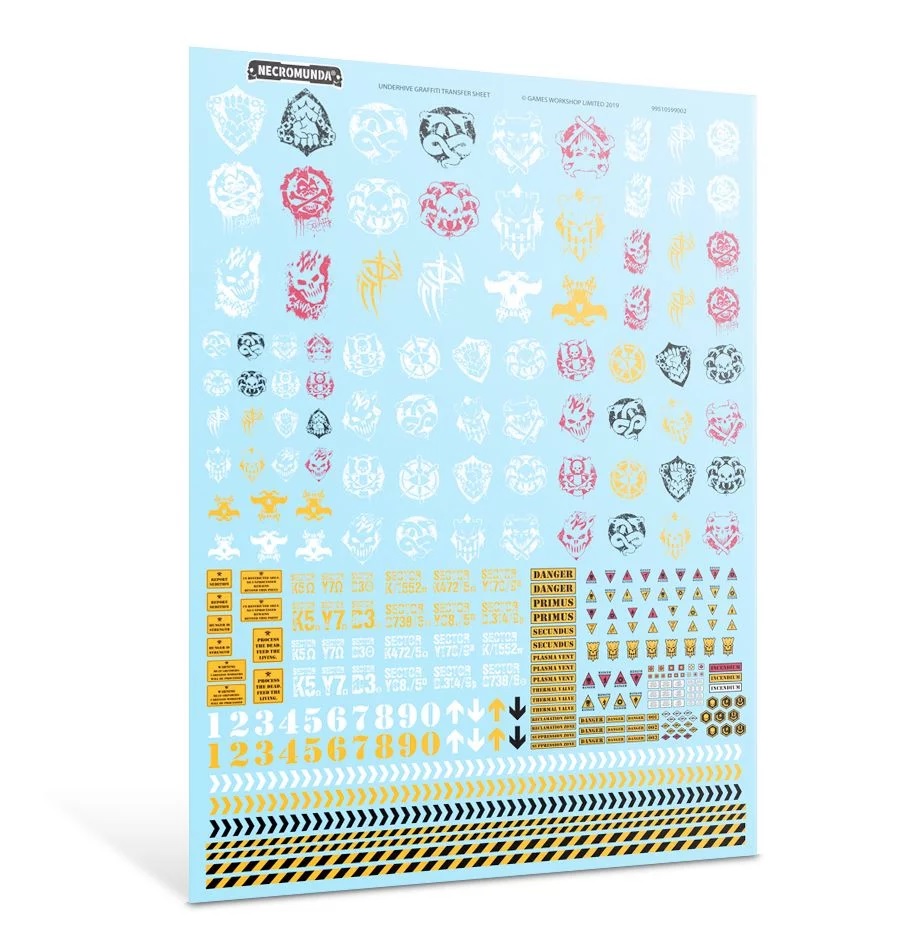 Decorate your scenery, mark out territory, and add extra details to your terrain with this transfer sheet featuring underhive graffiti. It includes gang markings, the Necromunda skull/eagle motif, motivational slogans, hazard warnings, sector numbers, arrows, voltage symbols, Enforcer icons, and a host of other decals that can be used to add even more personalisation to your scenery.
This sheet features 285 individual decals plus 7 strips of arrows and chevrons.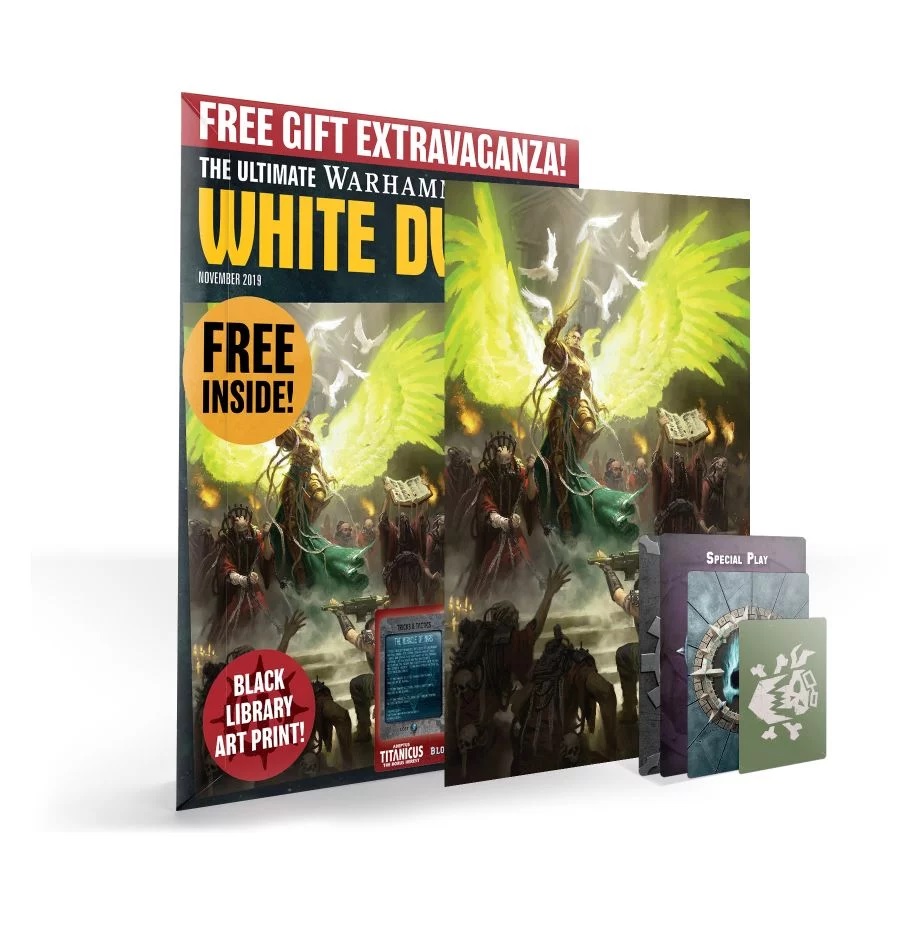 White Dwarf is Games Workshop's premium Warhammer magazine, packed with amazing content each month such as new rules and background, short stories, regular columns, special guests and more.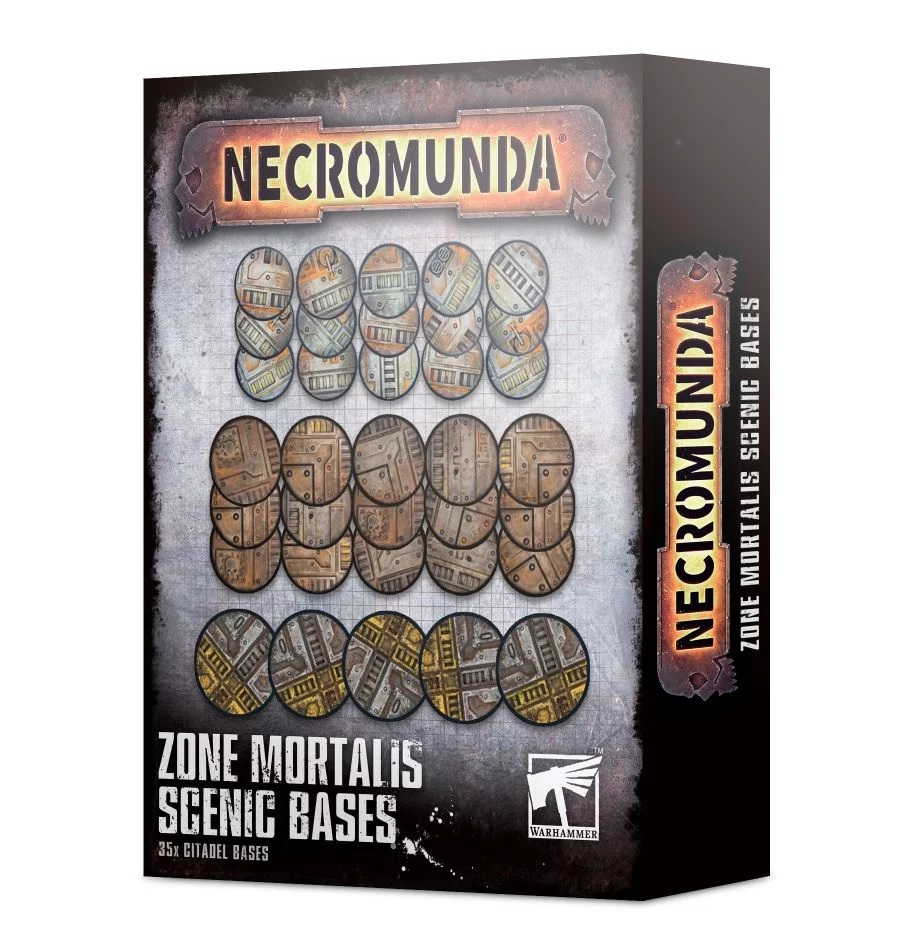 With this set of 35 plastic bases you can make it look like your gangs are fighting within the confines of the deadly Zone Mortalis. Their design matches that of the Zone Mortalis floor tiles and, as well as being perfect for any of your Necromunda models, they also provide interesting options for basing Warhammer 40,000 miniatures.
This set contains 15 x 25mm, 15 x 32mm, and 5 x 40mm round, plastic sculpted bases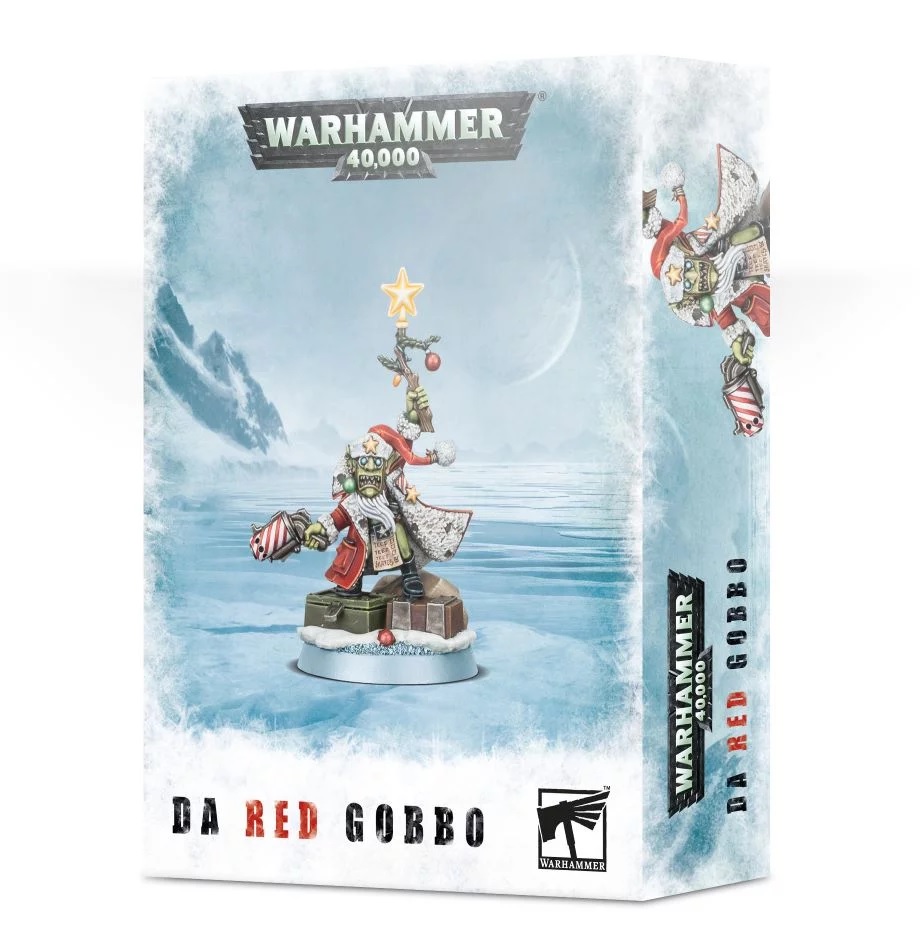 Bee-old, your glorious leada! Da Red Gobbo has returned – and Christmas will never be the same again.
A much-loved classic character from the days of Gorkamorka, Da Red Gobbo is back, and he's here to steal christmas, your heart, and anything else he can get his grubby mitts on. Reimagined with a festive makeover, Da Red Gobbo is ideal for fans of Orks, Christmas, revolutions or shiny stuff. Festooned with christmassy gubbins, he's also a cracking project for a painter – and maybe, just maybe, the ideal tree-topper for your celebrations this year…
This plastic kit is supplied in 8 components, and is supplied with a 32mm round base.
~Have At It Folks
Latest News From BoLS: