Let's take a closer look at some more new upgrade packs for Star Wars Legion and what they bring to the tabletop.
Last week I went on for a bit about the amazing new upgrade packs for Rebel Troopers and Imperial Stormtroopers. Overall I really loved these new upgrade packs, both for what they offered rules-wise and also for the extra model diversity they added. I ended last week hoping FFG would make of these packs and was rewarded almost at once by them previewing new upgrades for the Clone Troopers and B-1 Battle Droids. Let's take a look at what these have to offer.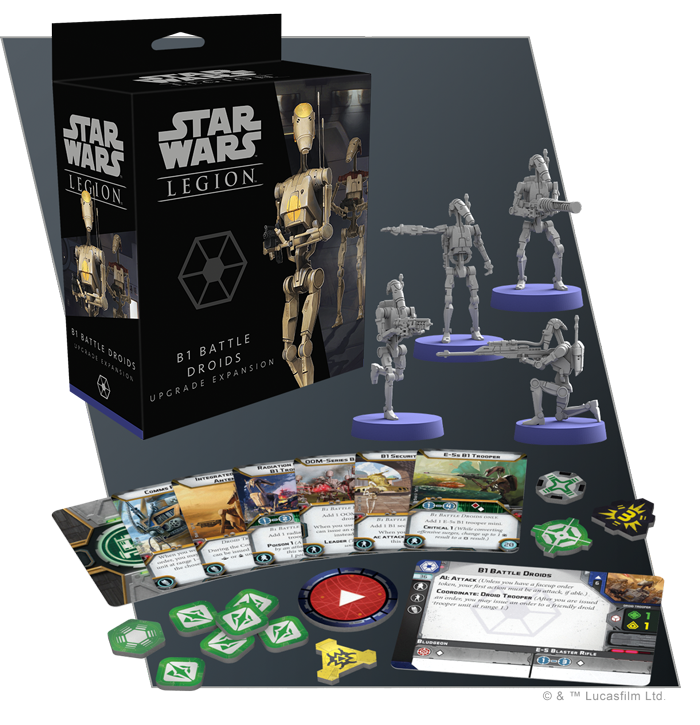 New Weapon Options
These sets are modeled in a similar way to the Reble and Imperial pack, with each offering two new weapon upgrades for their units.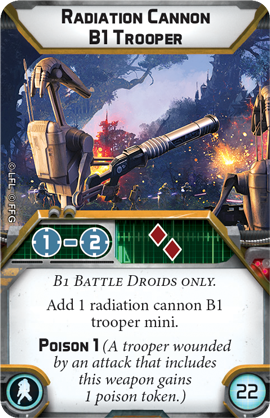 The Droid Radiation Cannon gives your B-1s some extra close range anti-infantry firepower and allows them to use the new Poison rules. This looks to help an aggressive droid push.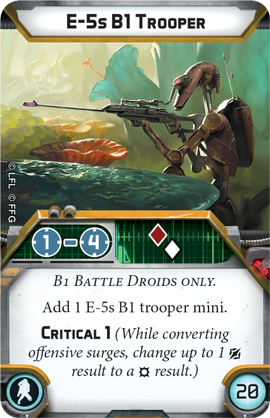 In contrast, the E-5s trooper is a nice little sniper, adding some long-range anti-infantry power to a unit. Its a great upgrade for a unit you want to sit in the backfield. While the E-60R is the same cost and has better dice, and the same range, that upgrade does exhaust, making it harder to use, and the E-5s will be better against enemy infantry in cover. Both are viable long-range options.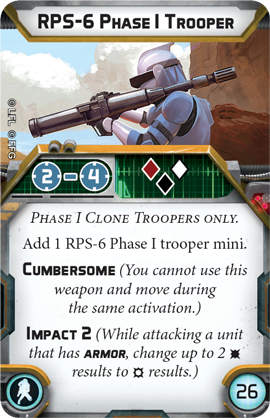 Clone Troopers base come with a nice sniper weapon and a close-range dice spewing inaccurate weapon. Until now, however, they lacked a good anti-armor option. The RPS-6 fixes this, giving them a highly accurate long-range anti-tank weapon, with a respectable impact 2. Sure, you can't move and fire with it, but that just means you get to aim and fire, giving you an even better chance at doing damage.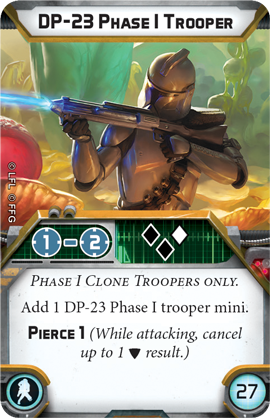 The DP-23, on the other hand, gives you some very accurate and reliable close-range firepower. It's got good dice, and it's Pierce 1 means if it hits, it's going to end up doing something. It's a really solid option.
New Unit Leaders
In addition to the new weapons, both packs come with two leaders or support units.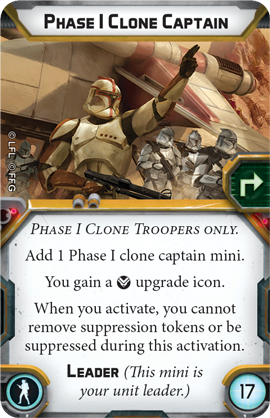 The Clone options are very similar to the Rebel and Imperial options. They get a Clone Captain, who price aside is identical to the Rebel Trooper and Stormtrooper Captains,  giving you a new upgrade slot and affecting your suppression.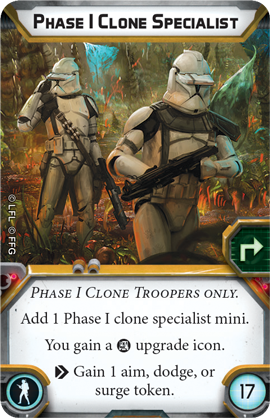 Thew new Specialist is also similar to the Rebel and Imperial ones. He also gives you an extra gear upgrade, as well as an action to gain an aim, dodge, or surge token. This, in fact, makes him more flexible than the Rebel or Imperial version, though also more expensive.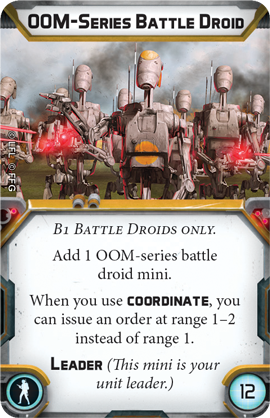 The B-1s are programmed droids and not thinking people. So they do things a little differently, which I like. Instead of a Captain, a B-1 unit can take a 00M-Series, which acts as its leader. This droid simply increases the range of your coordinate rule, allowing you to maximize your specials abilities.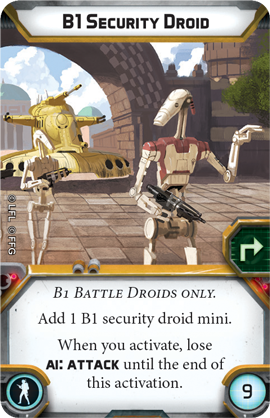 Similarly, B-1s get a B1 Security Droid instead of a specialist. Rather than giving your more upgrade slots or tokens, the Security Droid allows you to ignore your AI: Attack rule, letting you be a little more flexible.
Diverse Models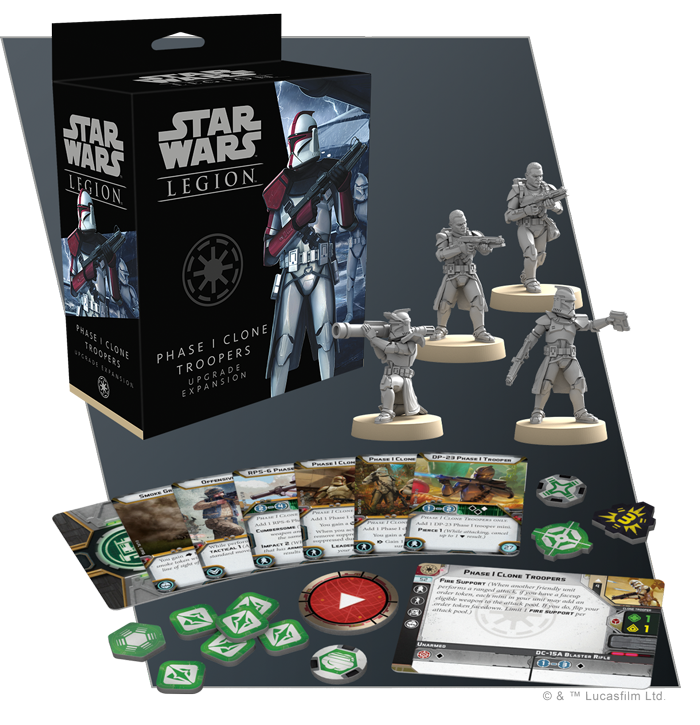 While the upgrades are all pretty good across the board, it is the models, not the rules that make me say these are amazing expansion.  In a game like Legion, where the models tend toward single pose, it is always a danger than multiple copies of the same unit will look identical. This was somewhat the case when Legion came out. However, the introduction of first the specialists and now these upgrade packs really lets you diversify the look of your units and gives you a ton of options.
Unlike the Rebel Troopers and Imperial Stormtroopers, B-1s and Clone Troopers don't have to wait over a year for their upgrades. As these units represent the basic core (and corps) of their faction and in theory are going to be very common I think that's a  great thing. Overall, I think these upgrade packs are a great look for the game, and I hope FFG continues in this vein.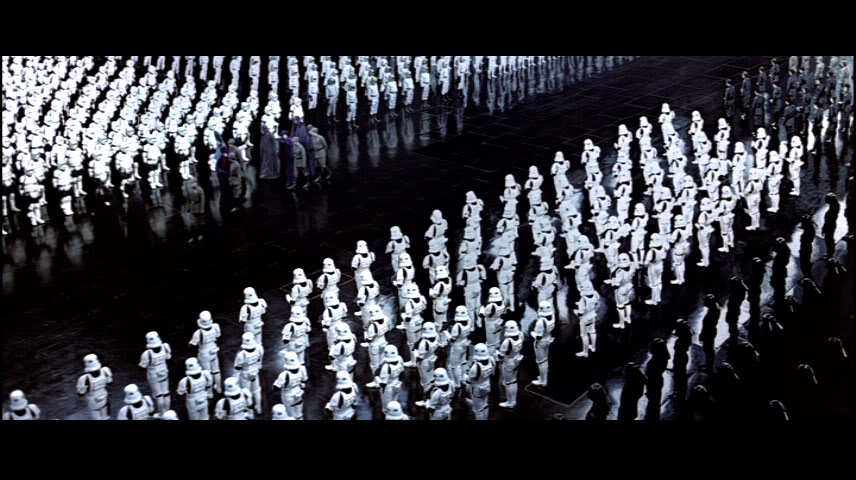 Let us know what you think about these new upgrades, down in the comments!