Tabletop Kickstarter Round-Up: November 20, 2019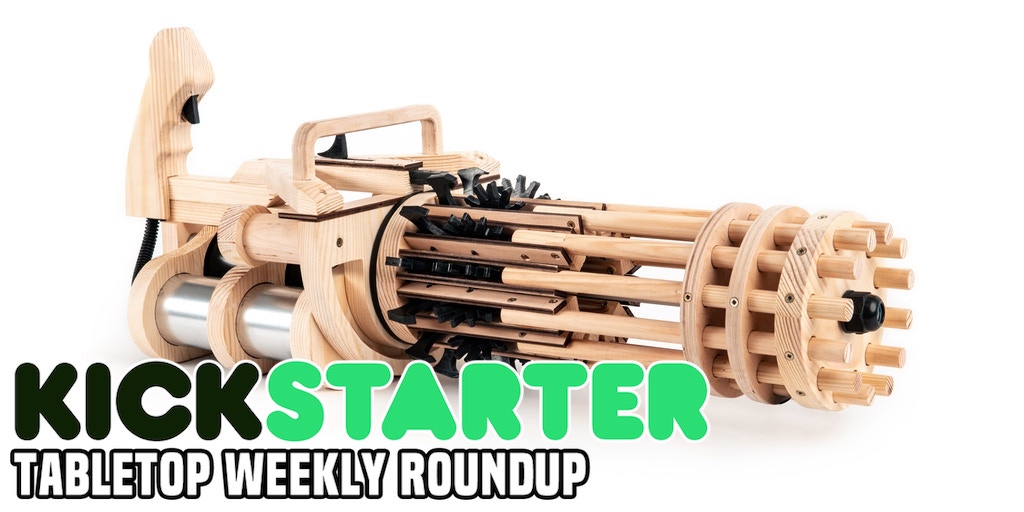 Gothic terrain, a turn of the century 5e adventure, a gorgeous card game, and a new way to pelt your friends and family with rubber bands. Come check out this week's batch of crowdfunding highlights!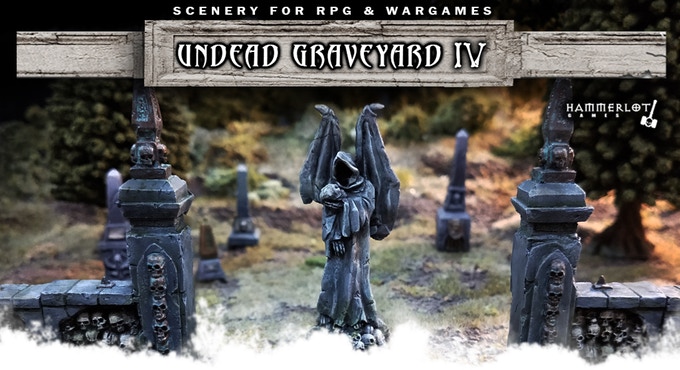 This collection from Hammerlot Games features substantial mausoleums, creepy gothic angel statues, headstones, and some gross zombie corpses. The unpainted, solid resin pieces range from 60-70mm tall and are suited for RPGs and tabletop miniatures games. You can also add on trees, headstones, walls, tombs, and more from previous collections in the pledge levels.
Pledge levels range from $12 to $222 depending on bundle size.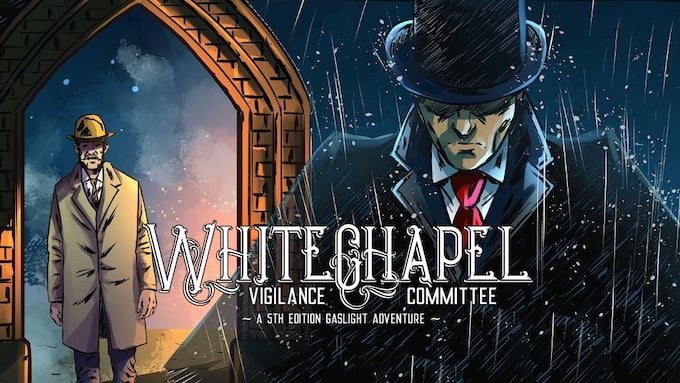 Go beyond medieval fantasy with 5th Evolution: Whitechapel by Limitless Adventures! Play as gaslight anti-heroes racing to stop the world's most famous serial killer before he strikes again. This 5th edition adventure contains an 8-page comic, a 5e sandbox of London's Whitechapel district in 1888, dozens of encounters, and rules for creating gaslight heroes.
A PDF is $1o and you can pick up a softcover with PDF for $20.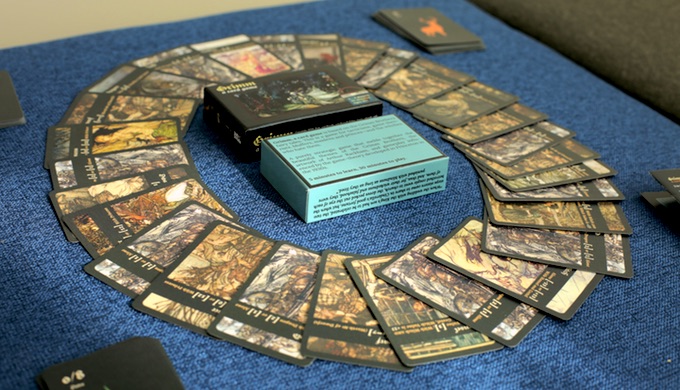 Welcome to Grimm, a card game that melds together the magical themes of the Grimm Brothers, the beautiful artwork of Arthur Rackham, and clever gameplay influenced by 1930s Princeton game-theory. Grimm can be played with two (2) to four (4) players, and, the gameplay is fully strategy-driven, utilizing psychology, trick-taking, and game theory.
A set that's guaranteed to arrive for the holidays in US is $10.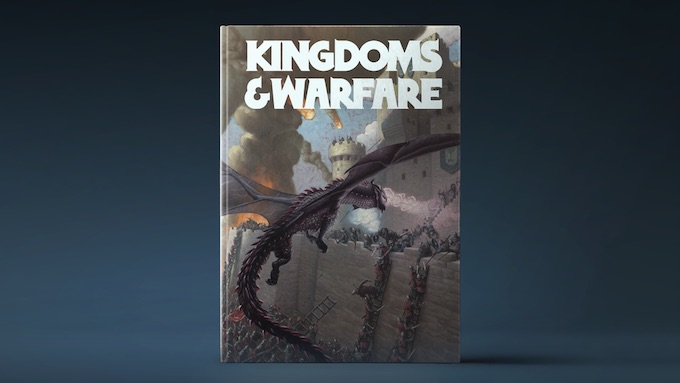 Kingdoms and Warfare introduces Domain-level play to your game, allowing players to become Regents running a Kingdom, Duchy, or Barony! Or a Church! A Thieves' Guild! A Bard's College! Whichever you choose, it's your Domain. Your domain can take actions, raise armies, conduct espionage, and wage war!
Different kinds of Domains have access to different actions. A Thieves' Guild is quite good at espionage, not so good at raising armies. So you may need allies because you will certainly have enemies. Characters are still adventurers, but now the stakes are higher. Now the dragon threatens your people and the dungeon contains the power you need to stop your enemies' schemes!
Subscribe to our newsletter!
Get Tabletop, RPG & Pop Culture news delivered directly to your inbox.
While you're away; your Lieutenant runs your domain (by your command) allowing you to continue adventuring as normal. Or as normal as anything is in this game.
A hardcover copy with PDF is $40. There are add-on miniatures, as well.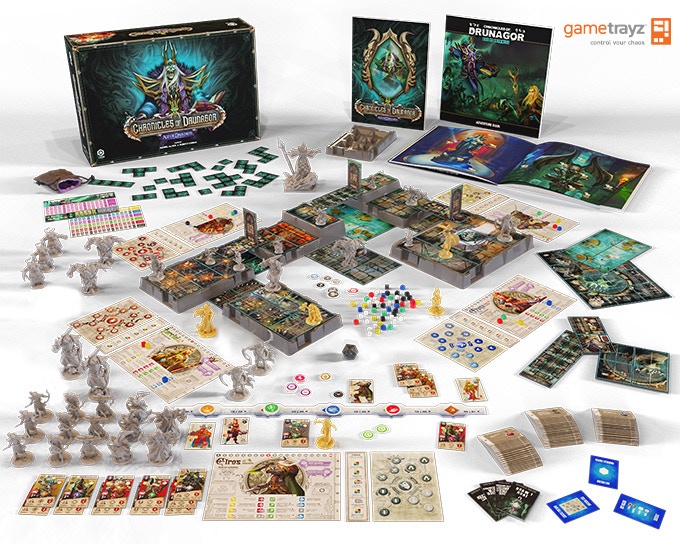 Chronicles of Drunagor – Age of Darkness is a fully cooperative and strategy board game of tactical combat in a dungeon crawl adventure for one to five players. CoD-AoD is based on multiple 3D scenarios, each of them played separately or in a continuous storyline. Each scenario has its own unique setup, darkness rules and different goals that will need to be achieved in order to obtain victory.
The core game with all stretch goals is $99.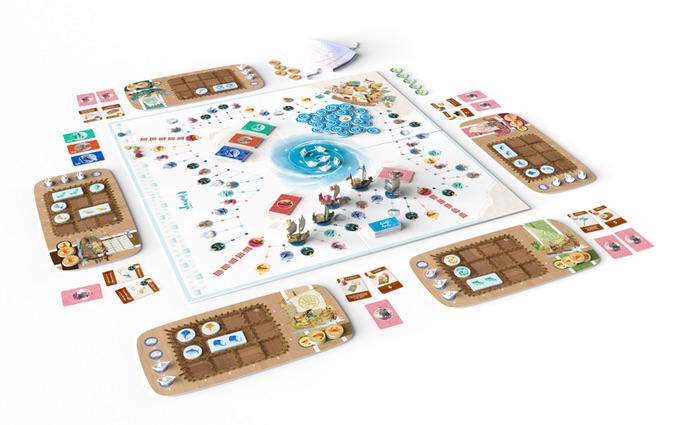 After Tokaido, a new experience awaits you! In Namiji, take to the sea and discover the hidden marvels of the Japanese coast. Namiji takes you on a journey of discovery of beautiful and wild marine life. Although it is a spiritual sequel, Namiji is a completely standalone board gamethat does not require Tokaido to play. Now is the time to embark and navigated toward the first visible archipelago. The adventure begins!
Created by award winning designer Antoine Bauza
Illustrated by Naïade 
2 – 5 players
30 – 45 minutes
Very accessible with great re-playability
Pick up the designer edition of the core game with stretch goals for $67.
Rubber Band Minigun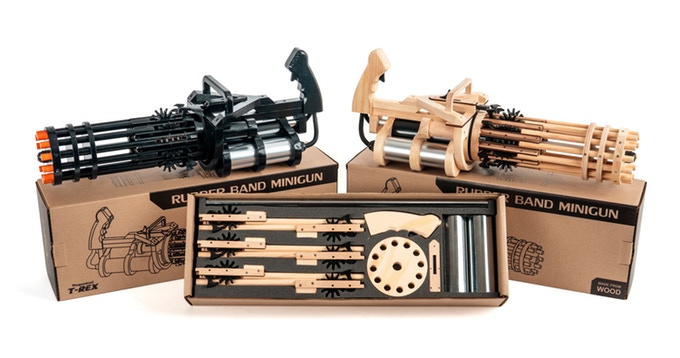 This week's wildcard is from a company called Weaponized T-Rex. It's not a game exactly, but you could definitely buy a pair and come up with some rules for some backyard shootouts or use it in a LARP.
This is a fully automatic Minigun, constructed according to the Gatling Machine Gun Principle. The body is made from wood cut out on the CNC machine. Its ammo consists of 144 shots of rubber bands. With this Rubber Band Minigun anyone can feel like Rambo, launching a rubber storm, and throwing over a pound of rubber bands at the opponent!
You can build one with a $94 kit or get ready out of the box model for $99.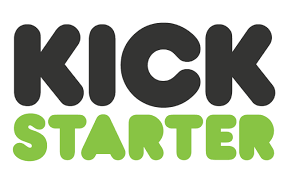 ~Which Of These Campaigns Caught Your Attention?