It's time to take a closer look at the relics of the great devourer! What new tricks does the Hive Mind have up it's tendrils? Check these out.
The Tyranids got access to some new wargear and abilities in the new Blood of Baal book. In general, this is an overall buff for the Tyranids out there – they are objectively better than they were before this book came out. Will it be enough to shake-up the meta? We'll have to wait to see how the Tyranid Players out there take advantage of some of these new options.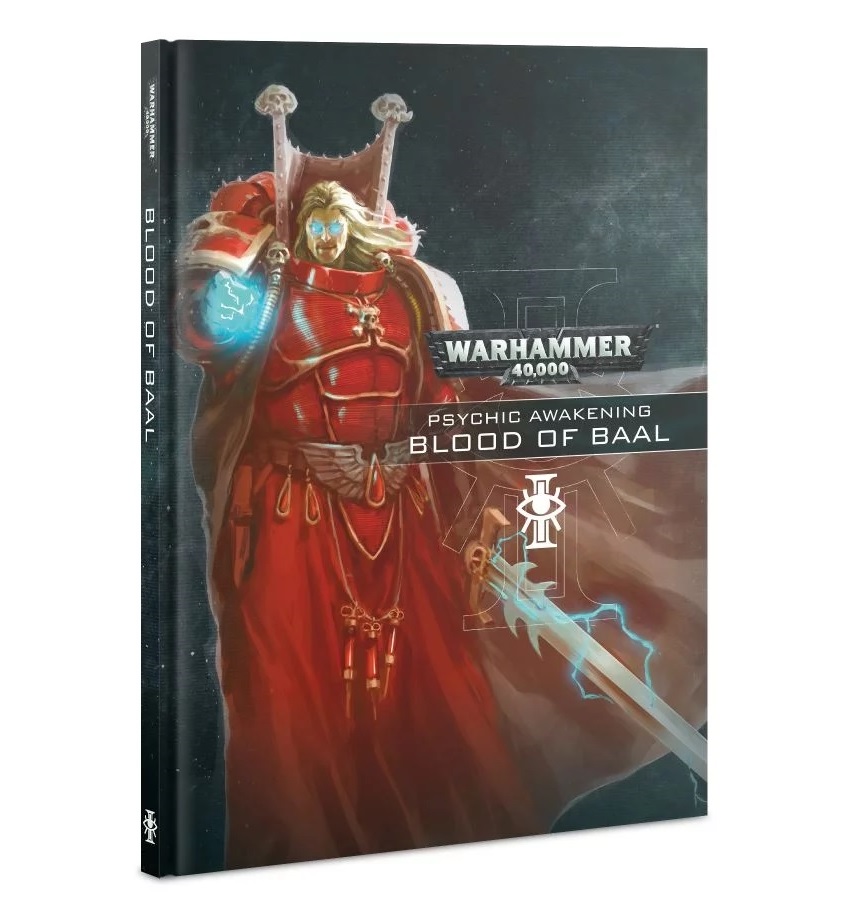 But we're not here to talk about that! We're here to take a closer look at their brand new Bio-Artefacts from the Blood of Baal – so let's do it:
The Venomthorn Parasite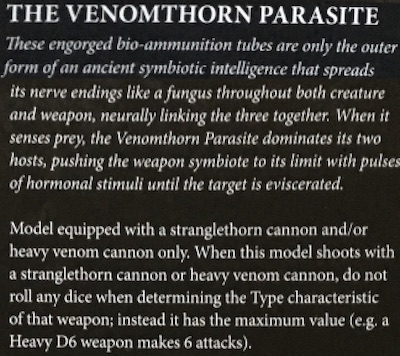 This one has some potential to be kinda mean!  What about a Hive Tyrant with this upgrade? With or without wings – Dealer's Choice. But the idea of it moving around with max shots each turn sounds spicey.
Arachnacyte Gland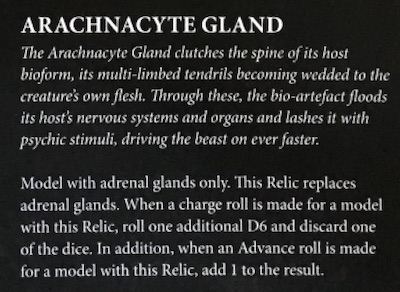 This is for those Tyranids that REALLY want to get in there. Is it worth swapping out a precious relic slot for this? If you want to get in to the safety of Close Combat even faster it totally could be worth the trade. The extra +1 to the Advance is nice and so is the extra die, discarding one of the results. If only you had a way to advance and charge in the same turn…
Resonance Barb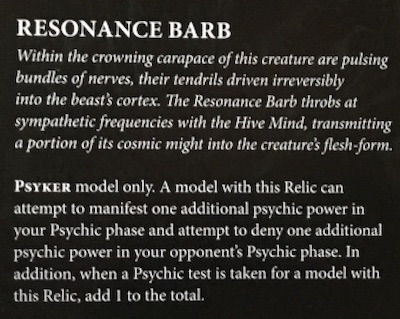 This is for all those Psychically attuned Tyranids out there. It's an extra +1 to their Psychic Tests plus one additional psychic manifestation and one additional deny the witch roll. Not bad, but not crazy either.
Xenogenic Acid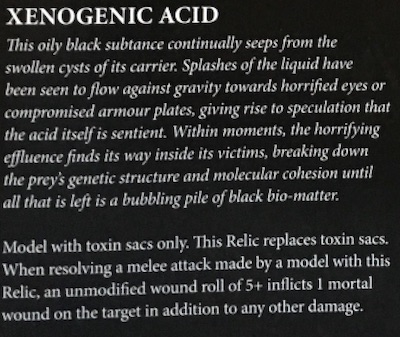 Now this one is interesting – Toxin Sacs that inflict a mortal wound on a 5+? Not too shabby. Plus the regular damage, too. If you've got a way to generate a ton of attacks with a specific model with Toxin Sacs, that put pump out the damage.
Pathogenesis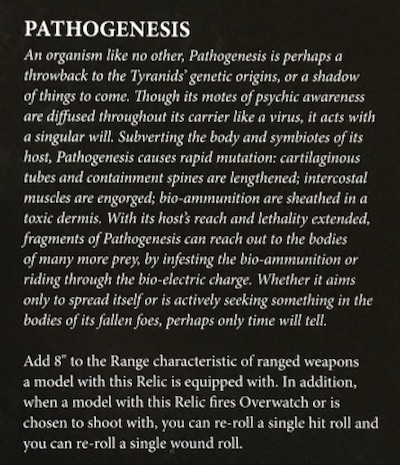 Pathogenesis adds 8″ to your Ranged Attacks. On top of that, any time this model is nominated to shoot (including Overwatch) it can re-roll a single hit roll AND a single wound roll. Again, this seems like a perfect fit for Hive Tyrant with a Heavy Venom Cannon. Or maybe a Quad-devourer version…Ouch.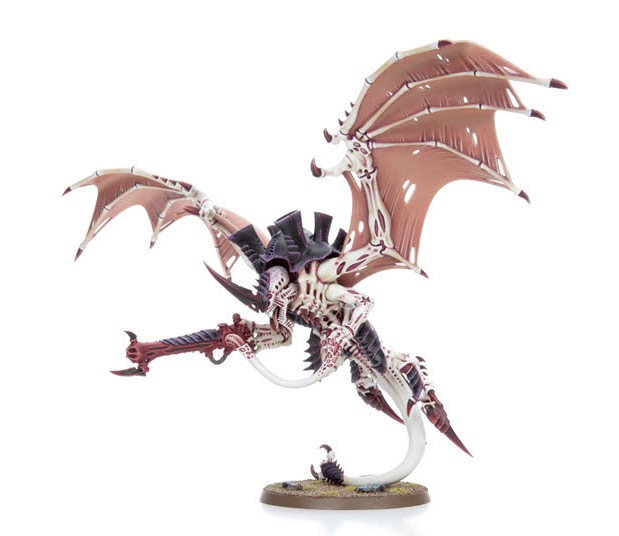 It's a shame that Tyranids didn't get the Stratagem to purchase more relics for their army at 1 CP a pop. I know many of these won't get a second look because of that oversight. Oh well. I guess the Hive Mind didn't sign-up for the Relics Savers Club like the Space Marines…Maybe next year.
Which of these Relics are you interested in giving to your Hive Fleet Characters?