Blood & Plunder Battle Report: The English Raid a Spanish Settlement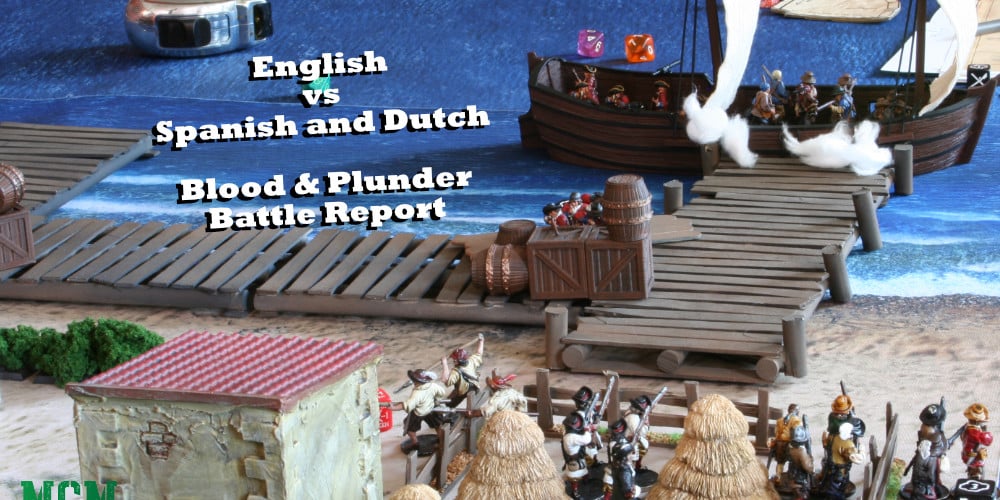 In this post, we take a quick look at a Blood and Plunder battle between the English and Spanish. With the Spanish, a group of Dutch Mercenaries provides their help to bolster the Spanish defenses. Set with the goal of capturing one of three small buildings, the English sail towards the Spanish settlement.
All of the Images in this site are from Must Contain Minis' The English Come To Town Battle Report.
Setting the Scene
Once we set the table, we decided on the scenario. The British Privateers (Buccaneers) would sail two ships into a harbor with the objective of capturing the small buildings near the middle of the table.
In the image above, the British would have to capture one of the three buildings marked with either an x or circle. The English knew that one of the three objectives was fake, but they didn't know which. They only had to capture one real objective within the turn limit to win.
Softening up the shore
Using the cannons of their small ship, the British open fire on the Spanish and Dutch. Without a proper answer to cannon fire, the people of the settlement were sitting ducks. Fortunately for them, the British Buccaneers wanted to get in and out as quickly as possible before attracting the attention of the Spanish fleet. They did not have time to bombard the town as much as they would have liked.
Landfall
The Dutch and Spanish Push Back
Wrapping it up…
I hope that you enjoyed this Blood and Plunder Battle Report. If you want a more complete version of the narrative, please check out my Original Battle Report on Must Contain Minis.
Subscribe to our newsletter!
Get Tabletop, RPG & Pop Culture news delivered directly to your inbox.
Until next time, Happy Gaming Everyone!!!
Shameless New Year's Plug…
As many of you know, I write for my own website as well as Bell of Lost Souls. Over on that site, I ended the year by doing a countdown of the top 5 most visited Bell of Lost Souls posts that I wrote in 2019. I invite you to go over there and check that list out.
I also did a top 5 countdown of the most visited posts on Must Contain Minis for 2019 and wrote a Year in Review article too. If you enjoy my writing, I hope you will check these stories out – especially the Bell of Lost Souls countdown to see if your favorite stories made the list.
If you want to read more of my Bell of Lost Souls articles, I have an author page here too.
Thanks again for reading!!!

Read more about great Indy and Historical games on my site!
Must Contain Minis is my personal Website. If you like this post, be sure to check out my site. You can also follow me on Social Media. I am very active on Facebook and share posts of a wide variety. I upload my best pictures to Instagram and am fairly active on Twitter.
My aim is to promote gaming with companies outside of those that already dominate the gaming market. You can find a wide variety of games there from Indy to Historical.
Latest News From BoLS: