Cobra Command Takes on Bolt Action in a Legendary Fight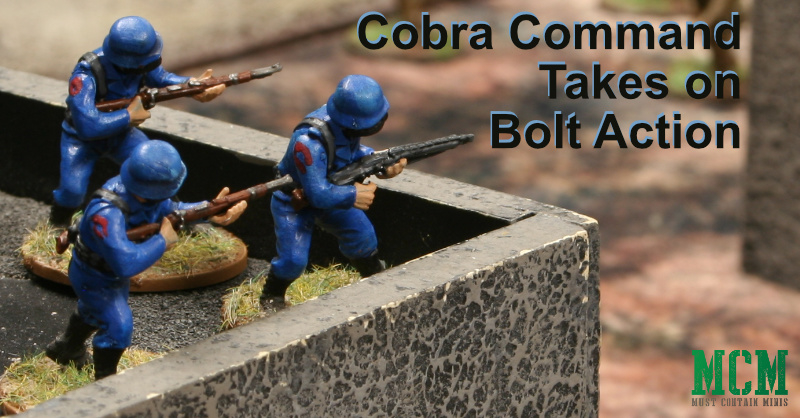 Growing up in the 80's I will admit that I always liked G.I. Joe. In fact, I am sure many people my age enjoyed G.I. Joe. A while back, I saw an announcement that Wizkids acquired the license, but I have not seen anything about the game or miniatures yet. In the meantime, a friend of mine did some creative work.
Dave Lamers took some Warlord Games plastic Grenadiers and painted them up in blue with a red insignia on their sleeves. They look pretty good to me. Now, he went a step further and made masks for the Cobra Troopers out of Green Stuff.
A Closer Look
To make things even more interesting, Dave did up one of his German Commanders in the colors of a well-known character from the cartoons. Who do we know that has a silver face?
Some More Action Shots
The images in this post are actually from the same photo-shoot as a Bolt Action Battle Report I wrote for Must Contain Minis. If you like these pictures, be sure to head over there to check out the actual story of the battle. Now, let's check out some more of that action with these cool minis!
Pretty cool. What do you think of these pictures and models?
Now On YouTube
Update: June 20, 2021… This Battle Report is now on YouTube too. You can watch it with this link or  with the video player below.
Wrapping it up…
I hope you enjoyed this quick look at my friend's unique miniatures. How about you? What do you think of what he did with his miniatures?
For those that want further reading, you will have to visit the related Battle Report. The battle these images come from focuses in on a three force free-for-all where only one force could remain. Two players took British forces (one veteran and one regular) while the third player took Germans painted as you see in the images above.
Subscribe to our newsletter!
Get Tabletop, RPG & Pop Culture news delivered directly to your inbox.
I also have more work by Dave Lamers showcased on Must Contain Minis, and yes, he does commission work for those interested.
Until next time, Happy Gaming Everyone!!!
Shameless Plug for the New Year…
As many of you know, I write for my own website as well as Bell of Lost Souls. Over on that site, I ended the year by doing a countdown of the top 5 most visited Bell of Lost Souls posts that I wrote in 2019. I invite you to go over there and check that list out.
I also did a top 5 countdown of the most visited posts on Must Contain Minis for 2019 and wrote a Year in Review article too. If you enjoy my writing, I hope you will check these stories out – especially the Bell of Lost Souls countdown to see if your favorite stories made the list.
If you want to read more of my Bell of Lost Souls articles, I have an author page here too.
Thanks again for reading!!!

Read more about great Indy and Historical games on my site!
Must Contain Minis is my personal Website. If you like this post, be sure to check out my site. You can also follow me on Social Media. I am very active on Facebook and share posts of a wide variety. I upload my best pictures to Instagram and am fairly active on Twitter.
My aim is to promote gaming with companies outside of those that already dominate the gaming market. You can find a wide variety of games there from Indy to Historical.
Latest News From BoLS: