D&D: Mystery Book Announced – Plus Dice That May Hold A Clue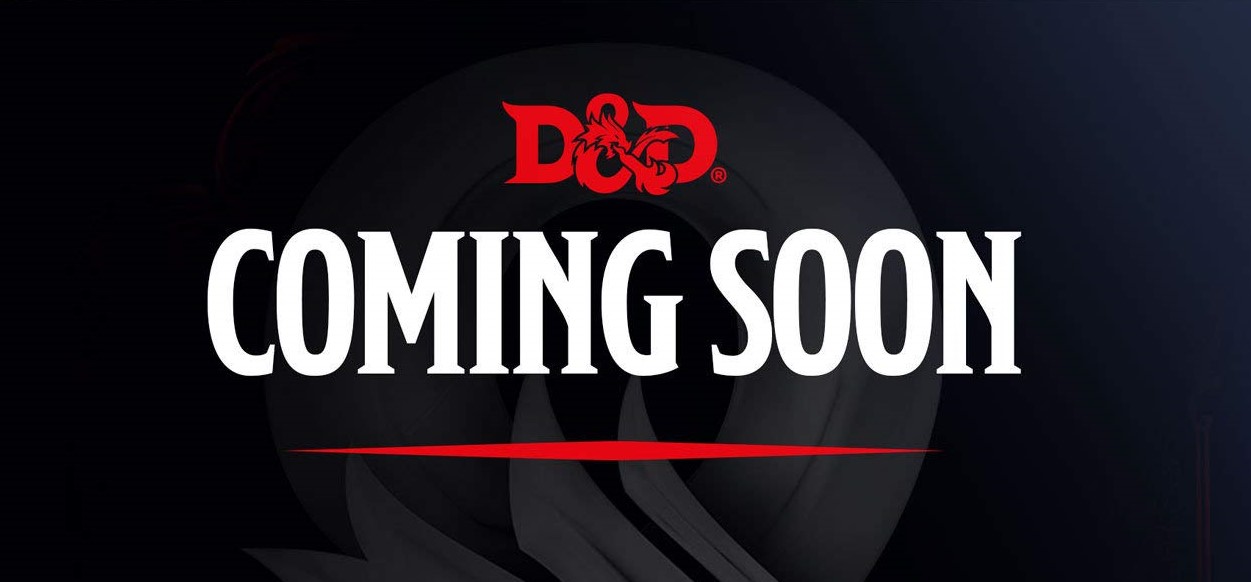 Two new D&D products have just been spotted–an untitled new Hardcover book, and a dice kit that may hold a clue to the title of the first.
You can keep a secret from everyone except Amazon, it seems. And I'm not talking about how Alexa and Ring are definitely spying on us, I'm talking about the much more benign revelation of a new D&D book, heretofore unannounced. Owing to Amazon's pre-order policy, a placeholder item has appeared for the "Dungeons & Dragons March Release Book" with a title to be announced on the 9th of January and a release of March 17th.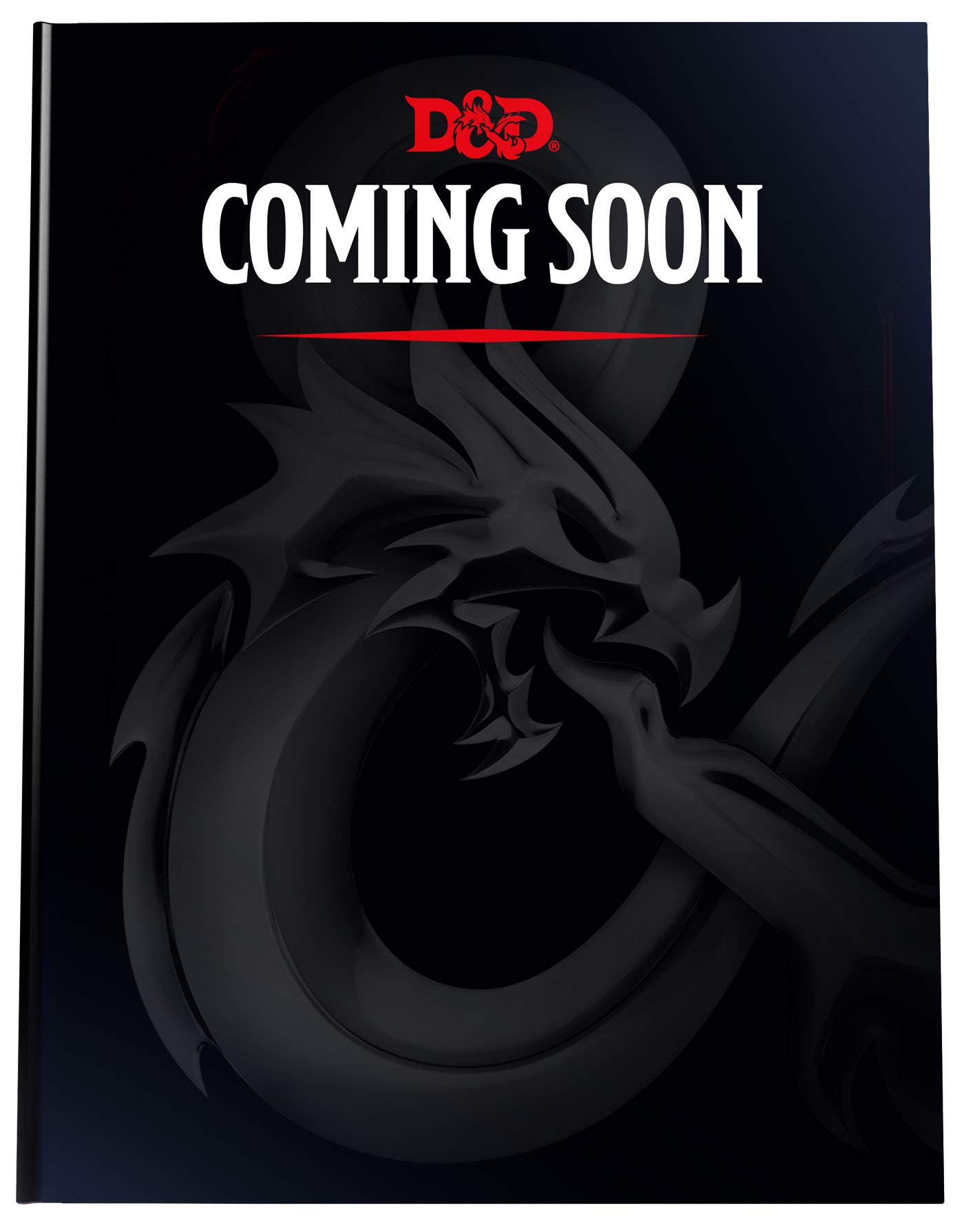 This is a new hardcover due March 17th, 2020 that will retail for $49.95, and that's all we know so far. Follow the link and you'll find the picture above, along with the following text:
Your first look at the next D&D title comes on January 9th! Keep an eye on wherever you get your D&D news for a preview of the book.
Which, hey that's good advice, and you should definitely keep an eye wherever you get your D&D news–but you might not have to wait until the 9th to learn the title. Because alongside the mystery book, we've also found a new D&D dice set: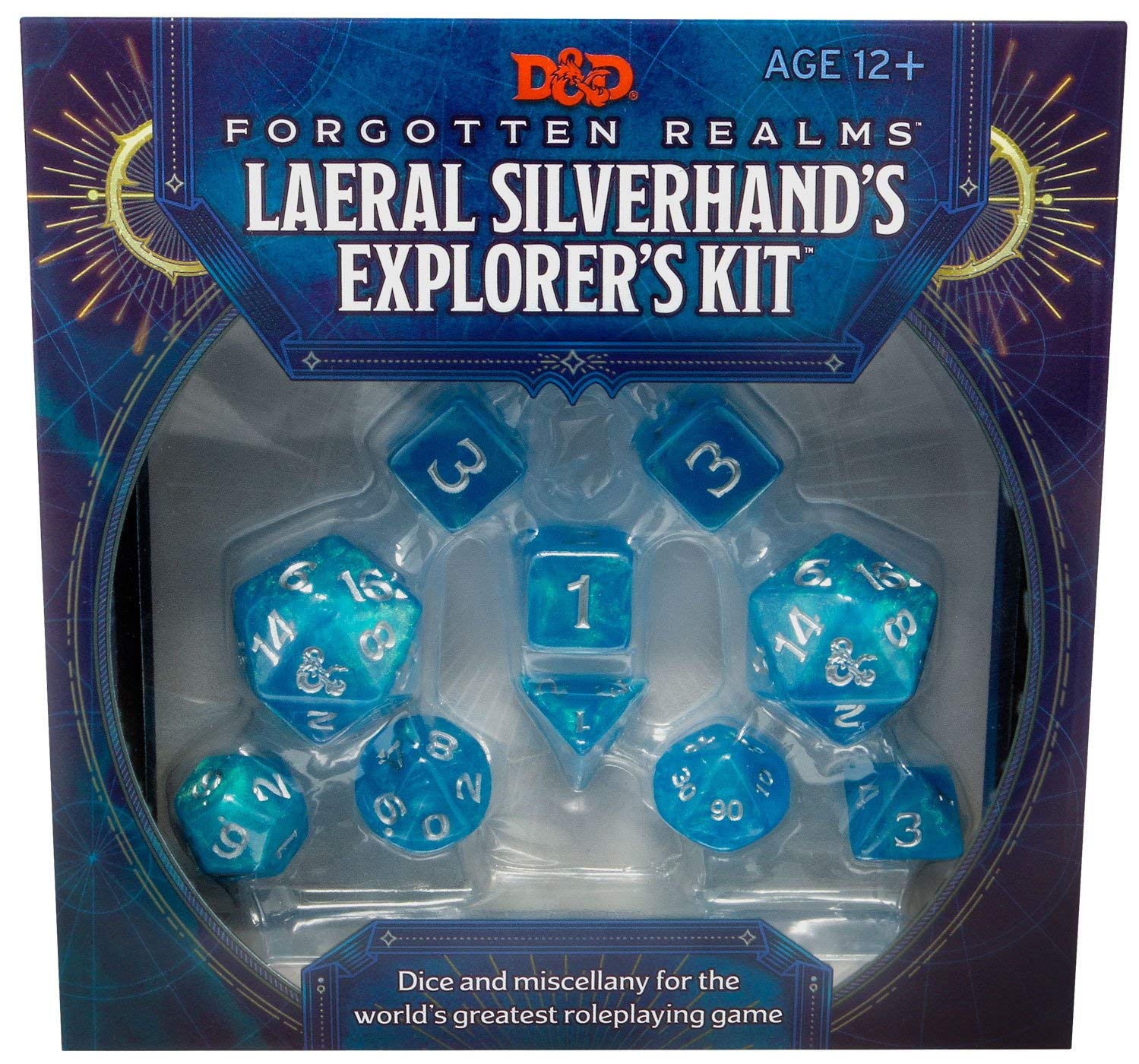 Now ordinarily a dice set doesn't necessarily mean anything special about a book–but two things to keep in mind. This is more than just a dice set–it's "dice and miscellany" (from the look of it a map or some other kind of card?) and more importantly, it's also due for a March 17th, 2020 release.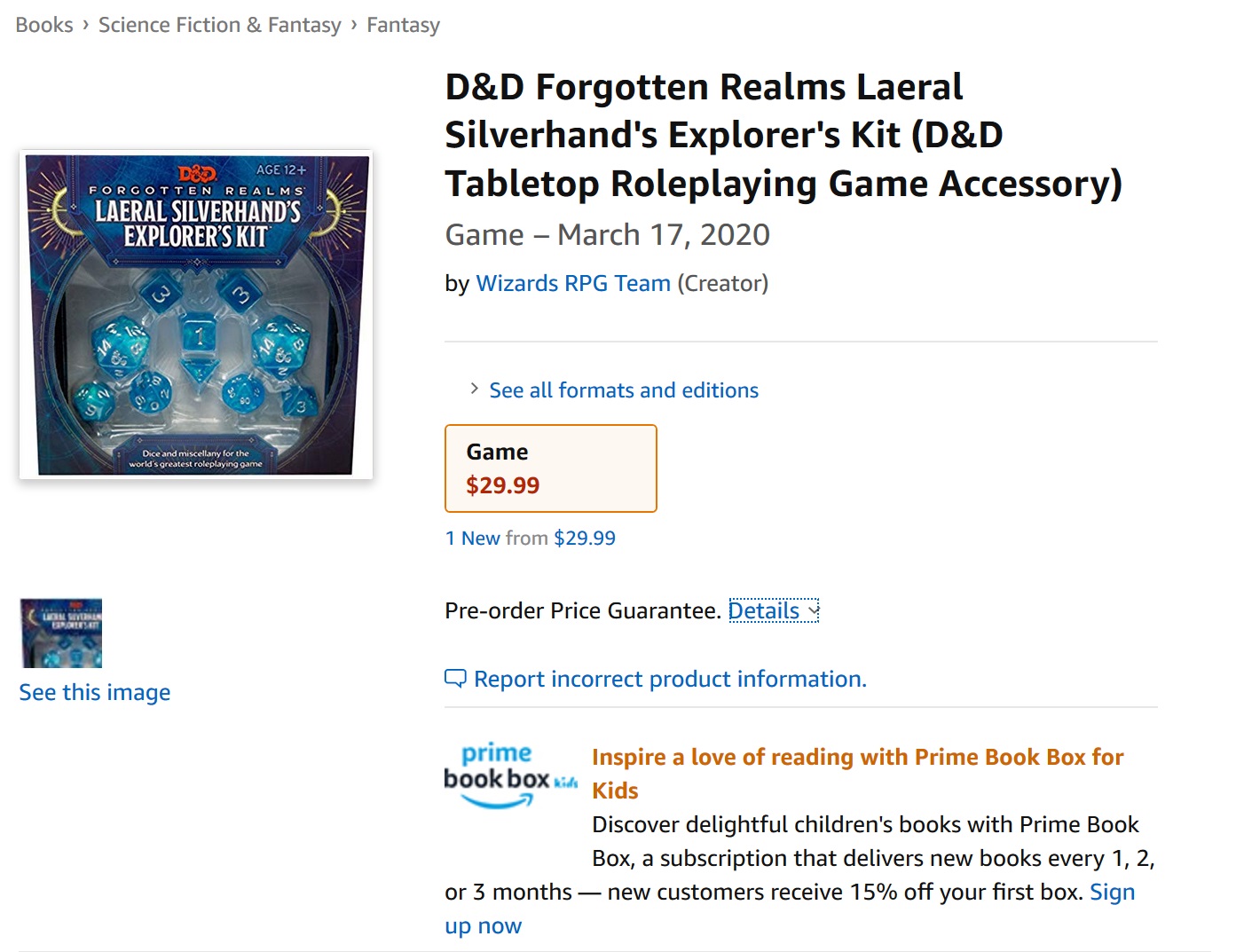 The last few adventures have all had their own dice come out alongside them. Most recently there was Baldur's Gate: Descent into Avernus and it's accompanying dice: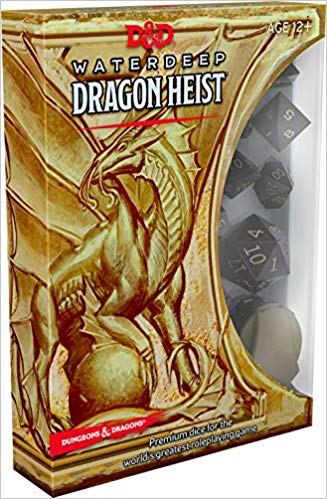 And then prior to that we had Waterdeep: Dragon Heist which also launched with its own special dice, a map of Avernus, and a few other handouts that might give us a better clue as to what to expect in the Explorer's Kit:
Subscribe to our newsletter!
Get Tabletop, RPG & Pop Culture news delivered directly to your inbox.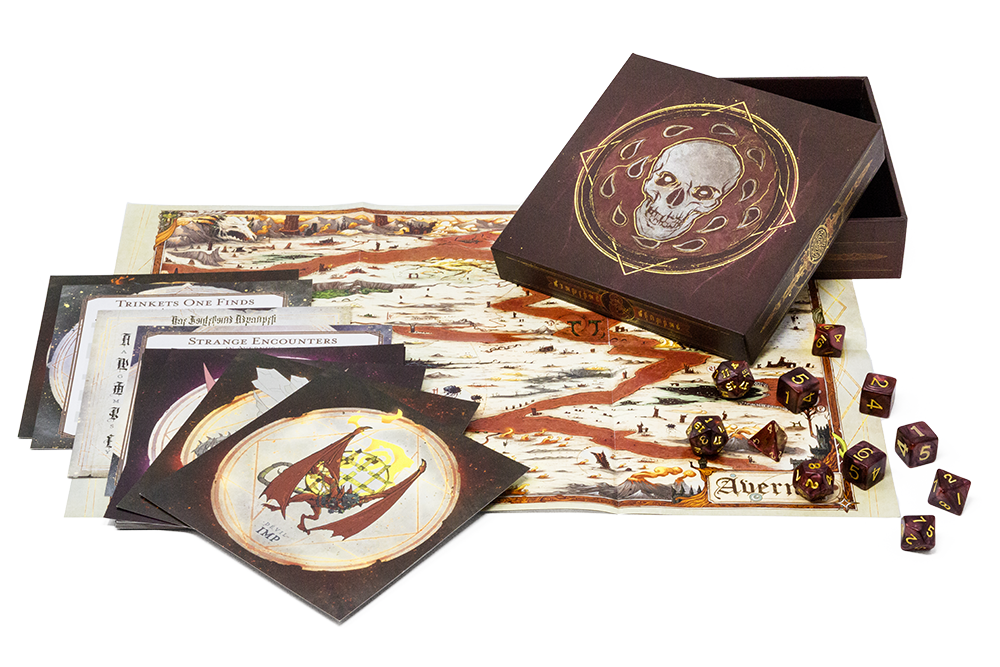 And of even more interest, Waterdeep: Dragon Heist appeared initially as a product codenamed "Broadway" and came out with "Broadway Dice Set" alongside the book's release. So it sounds like the new book is going to be related to Laeral Silverhand. It might be Laeral Silverhand's Explorer's Guide or something along those lines. This fits in with 5th Edition's trend of the "guide to" books coming from the perspective of a character that peppers the lore and rules with notes of their own, as we saw in Volo's and Xanathar's Guides. Now the question remains as to what might be in this book–it could contain all of the new Unearthed Arcana class features and subclasses we've seen recently, but looking at Xanathar's Guide, that book came out in the latter half of the year. It's anyone's guess right now.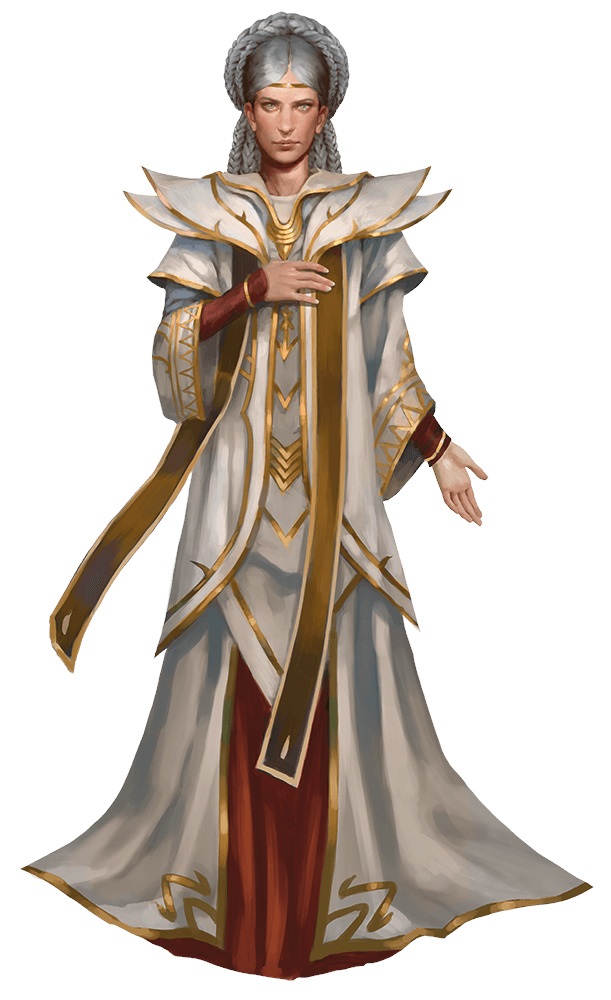 Laeral Silverhand is an interesting figure to run with. She is the Open Lord of Waterdeep, and a powerful archmage who has traveled far throughout Faerun over the last 700 odd years or so. She is the fifth of seven daughters of the goddess of magic herself, Mystra, and has been gifted with a penchant for arcane magic and ageless beauty.
Before she became the Open Lord of Waterdeep, she ruled a kingdom called Stornanter and crowned herself Witch-Queen of the North. Later she led a band of Adventurers called the Nine, where she met and married Khelben Arunsun, and when the former Blackstaff of Waterdeep died, Laeral retired from public life until after the Spellplague and Sundering. In the wake of Mystra's death, rebirth, and withdrawal from the world, Laeral has declined in power, though she keeps it hidden as best as she can
Now she rules over Waterdeep with a skilled (silver) hand, where she can watch over the city and its inhabitants. It'll be interesting to see what's in her Explorer's Kit and the related book. We'll be sure to keep you up to date, so check back on the 9th for the official reveal.
What do you think the book will be? And what would you want to see? Happy Adventuring!