This year's new Vanguard releases kick off with the Abyssal Dwarf warband. These twisted, evil counterparts to those that reside in the mountains of Pannithor bring fire and destruction to the tabletop. As with other full warband releases, Mantic looked at the original Abyssal Dwarf list from Kings of War and reworked the rules a bit to come up with a balanced warband that's fun to play.
This release comes with new models; up for pre-order:
The all-new naughty dwarf hard plastic sprue will come later in the year.

There are also, of course, new rules with this release. Mantic shared a preview last week that will give you a feel for how the warband will perform on the table…
Since Vanguard launched at the end of 2018, we've seen the importance of Power when it comes to building effective warband lists. It's not uncommon to see lists featuring two Commanders to really up the Power output of warbands.
So, we thought it would be fun to mess around with the Power output of other warbands when playing with the Abyssal Dwarfs. You see, although they're not great at producing their own sources of Power, the Abyssal Dwarfs do have the ability to stop foes generating Power or potentially even steal it.
The Overmaster is a great example of this. He only generates one red Power die BUT can steal Power from an enemy that would normally generate Power. Get this bad boy stuck in against a Spellcaster or weak Commander and he's going to cause havoc. A great way potentially to use this is to get the Overmaster within range and then Force Fatigue him to engage an enemy at the end of a Round.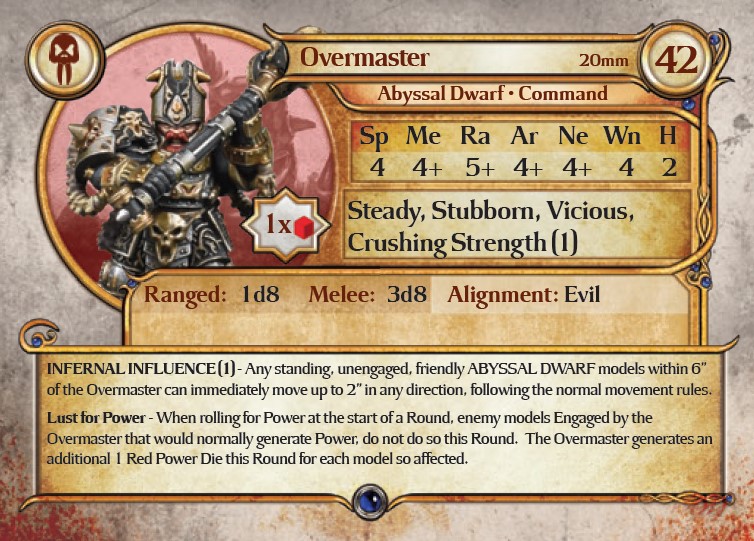 Along with Power, the other big thing for the Abyssal Dwarfs is the way they use (and abuse) slaves. In the previous Abyssal Dwarf warband list you could field the Orc Slave but this has now been expanded to include Ratkin Slaves too. We've also introduced a new rule: Unworthy Sacrifice. This allows you to sacrifice any friendly slave in exchange for a red Power Die – pretty handy when you desperately need to clear some fatigue or get that all-important extra die during a Charge.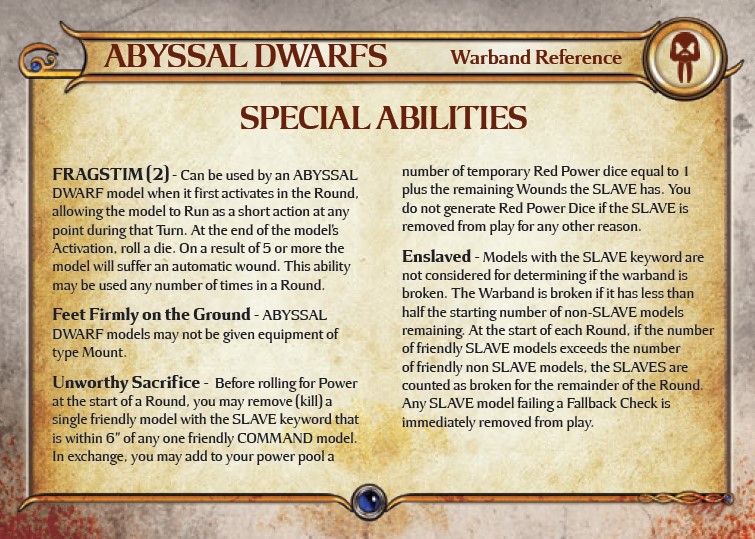 What's more, Slaves no longer count towards your warband's broken limit – so you can sacrifice them as much as required… just don't leave yourself short (not an Abyssal Dwarf height joke).
As you can see from the Special Abilities card above, the Slavehooks special rule has been removed and replaced with Fragstim. This skill allows an Abyssal Dwarf to gain a bit of extra speed but it comes at a price, as it may potentially damage the unit.
Spells, meanwhile, haven't changed compared to the versions in the core rulebook. However, a slight change is that the Iron Caster now comes with Slave to the Flame as a standard spell.