Necromunda Unboxing: Corpse Grinders & Subjugators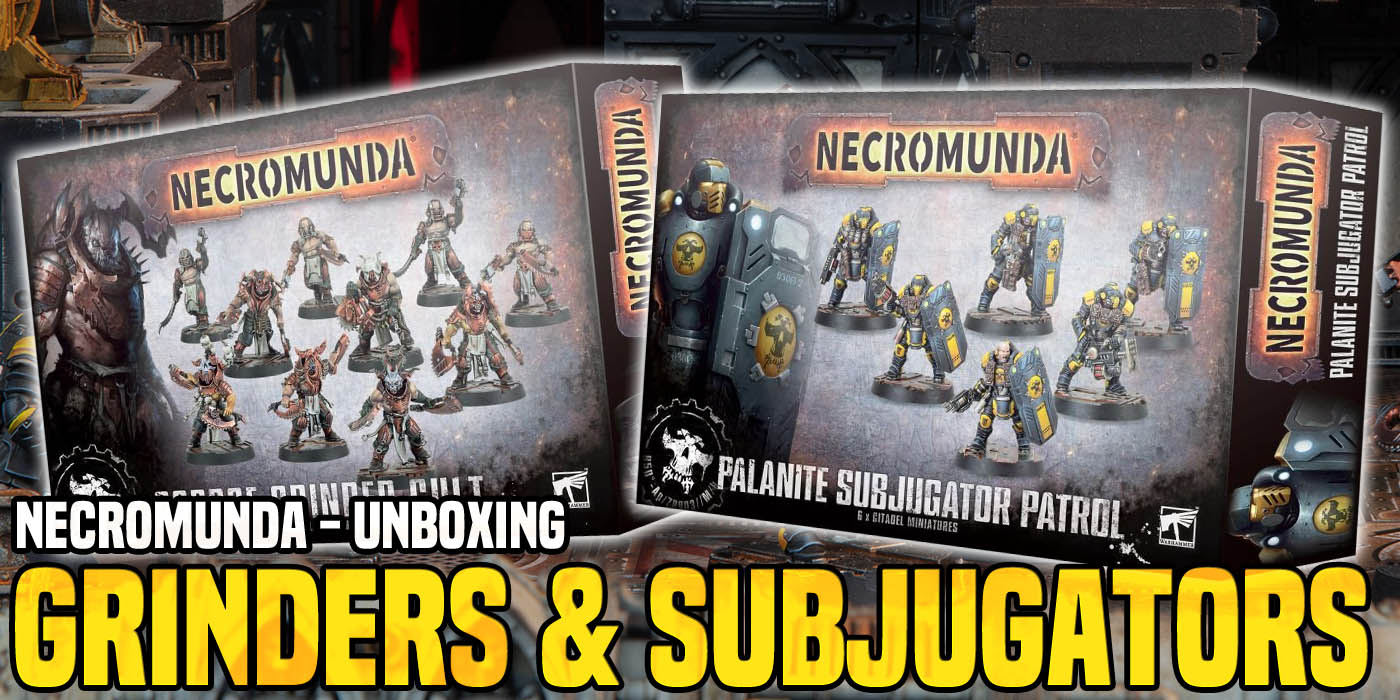 Come join the BoLS crew as we take you through the latest releases for Necromunda. Today it's pernicious cultists and brutal subjugators.
In the grim darkness of the distant  future where there is only war, it turns out there are a few other things. After all, war needs to be buttressed up by manufacturing–so much so that whole worlds turn their resources to that–and that means there's room for crime. And heresy. And in order to take care of this, you need your own future space cops, and Necromunda's brand are the Palatine Enforcers.
They are opposed by the Corpsegrinder Cultists, and also a lot of other folks, since they're not *really* cops like the Arbites, but they're just the thuggish arm of the planetary governor who rarely serve justice as opposed to the thuggish arm of the emperor who rarely serve justice. Today though, we're focusing on the cultists and the subjugator arm of the Palatines.
Corpsegrinder Cult Gang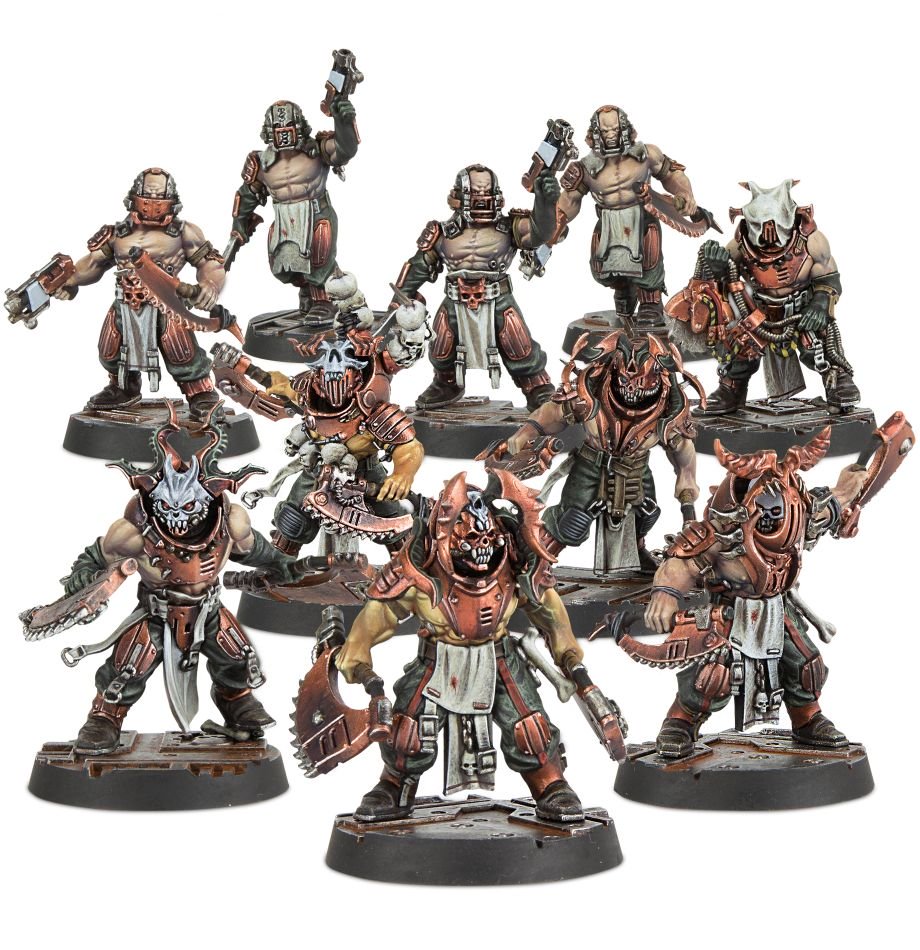 Voicing chants to the Lord of Skin and Sinew, the Corpse Grinder Cults rise up, emerging from their hidden corners of the underhive. With their bodies grown hard and muscular on a diet of forbidden flesh, they bring full-blown rebellion to Necromunda.
This set of ten Corpse Grinder Cultists have been designed to give you a huge amount of variety and options when it comes to assembling them, ensuring that no two cults need ever look the same. This kit is ideal for starting a new cult or adding to an existing one, containing 6 Skinners – including options to build a Butcher (Leader) and a Cutter (Champion) – and 4 Initiates. Butchers, Cutters and Skinners are armed with a brutal array of chain cleavers and rotary flensing saws, while Initiates have access to chain cleavers, boning swords and autopistols.
Palatine Subjugators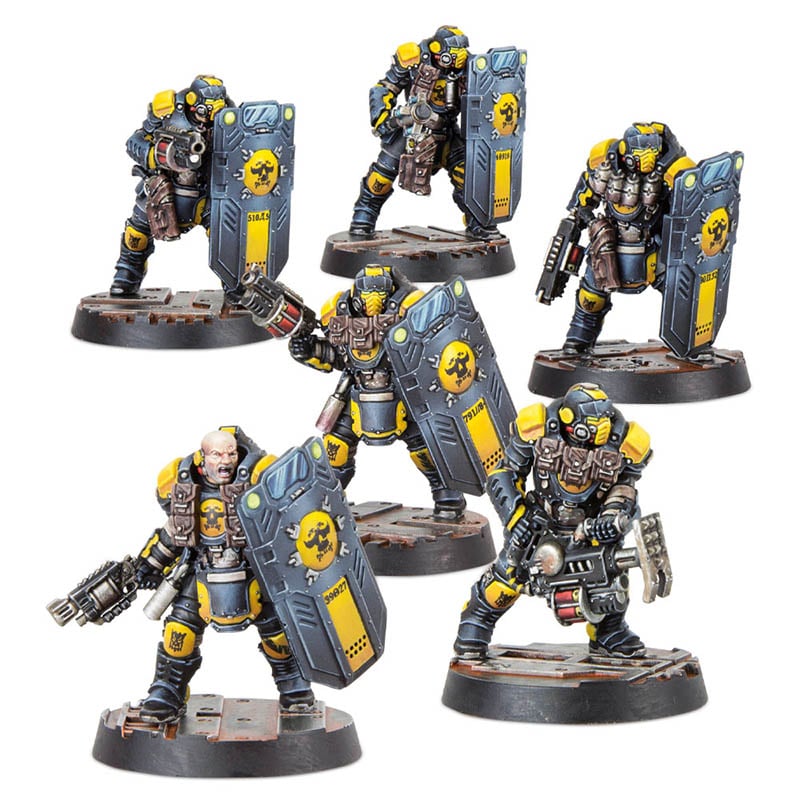 More akin to an army than a police force, the Enforcers trade in violence and control, purging settlements and habzones if even the faintest hint of sedition against Lord Helmwar's rule is uncovered. When bigger disturbances need to be dealt with, the Subjugators are unleashed, delivering justice with extreme prejudice.
This set of six Subjugactors have been designed to provide you with a huge amount of variety and options when it comes to assembling them, ensuring that no two patrols ever need look the same. This kit is great for starting a new patrol or providing reinforcements for an existing one. The set includes options for building a Subjugator Captain, as well as an arsenal of weapons such as stub guns, shock batons, subjugation pattern grenade launchers, SLHG pattern assault rams (with built-in grenade launcher) and their instantly identifiable vigilance pattern assault shields.
Which side will you choose?
Subscribe to our newsletter!
Get Tabletop, RPG & Pop Culture news delivered directly to your inbox.