Now that I've helped you purchase too many dice for your Dungeons and Dragons game, let's find a box to house them all.
Finding the right way to carry all of your D&D supplies to and from sessions is a struggle. Do you just want a stylish way to carry your dice to the table? Is having a designated spot for your mini a requirement? Maybe it's your spell cards that are non-negotiable. No matter what you're looking for, there is almost definitely somebody out there making the right dice box for you.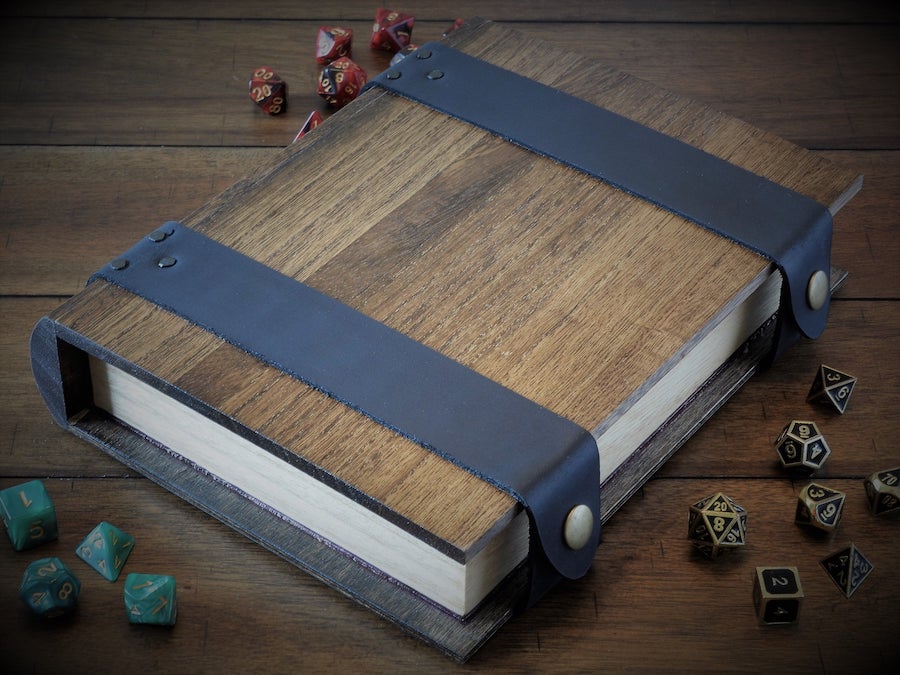 Dice boxes that look like books always give the game a little more of a wizardy feel to me. It's a clean, flat design that everybody is used to carrying around or sticking in a backpack, and it's easier to throw one more "book" on the pile of game books you're already traveling with. The Dragon Burn Designs books are customizable–you can decide what engraving, wood and strap types, and accessories you'd like to see included, making your dice-book-box a truly one of a kind piece.
Price: Starts at $78.36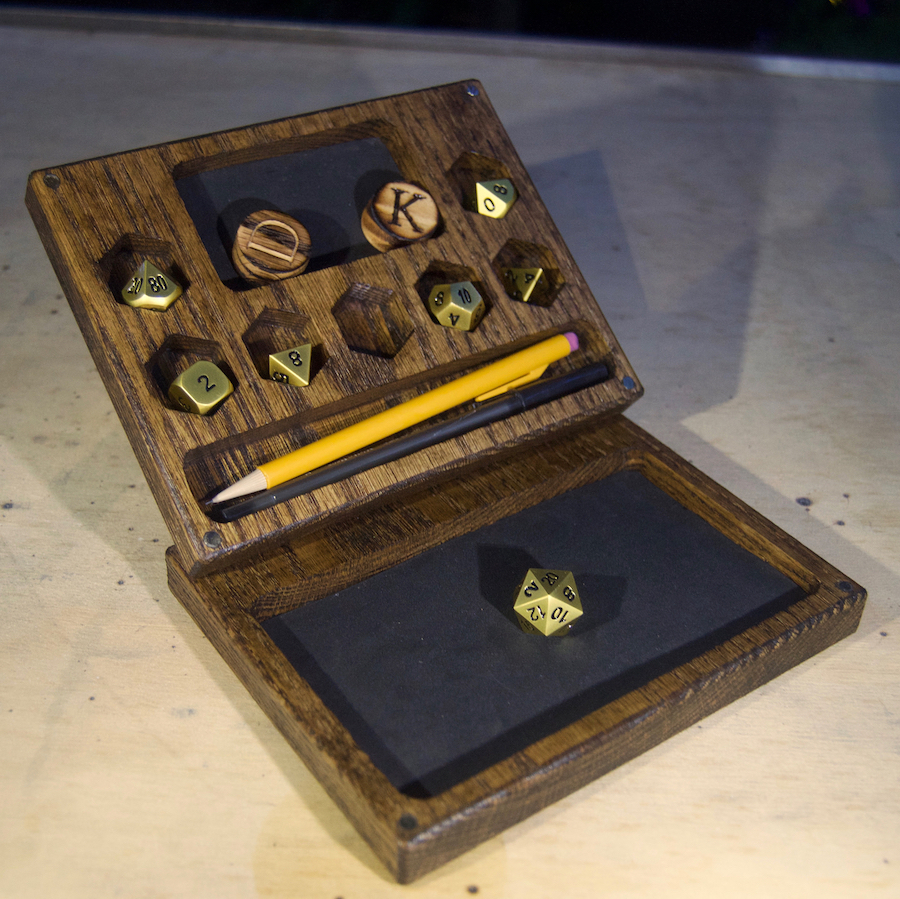 The essentials box by Arcane Foundry is a one-stop-shop for carting around all of your D&D necessities. There are designated spaces for dice, a pencil, and a space that can either house your mini, tokens, or spell cards. The two halves are held together with high powered magnets so you don't need to worry about ever losing anything inside, and, the cover doubles as a padded and contained place to roll your dice. Get your box customized with a initials or a short phrase.
Price: $60.00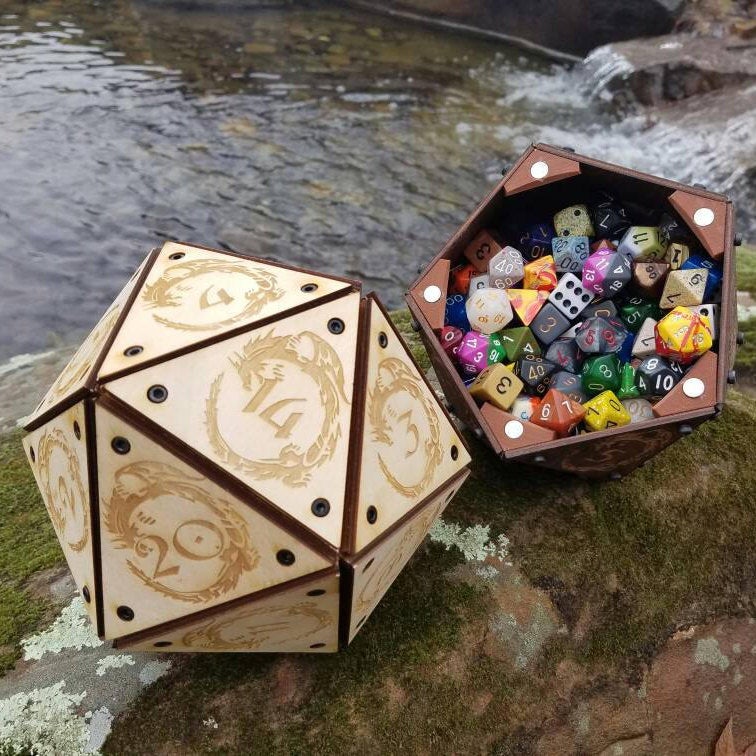 Not to be confused with the podcast of the same name, Critical Role offers D20 shaped boxes that are big enough to hold all of your dice. If you're the party's dice mule or find yourself with at least a few dice always in jail, this may be the box for you. The design will fit in on the table, part functional tool and part centerpiece, and you'll never ask the bard where to find that extra D6 for inspiration ever again.
Price: Starts at $39.00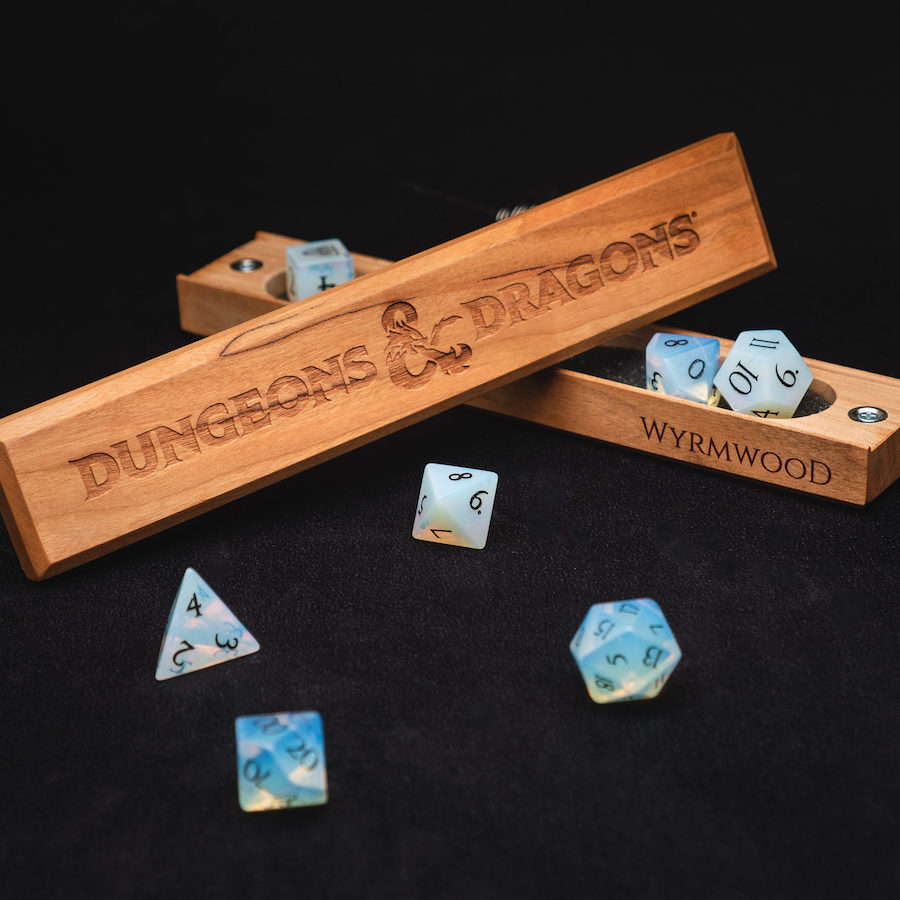 I would be remiss to forget about Wyrmwood Gaming's offering of dice boxes. They're sets are much more simple and classy, providing a clean and efficient way to transport your dice from home to the game table. While there isn't a ton of room for extra sets of dice or a place for your mini, Wyrmwood does come with years of expertise in the industry. After all, they are the standard for gaming furniture. This isn't the accessory for somebody with lots of extras to bring to their D&D game, but it is for the player who knows exactly what they want and how to streamline their way there.
Price: $40.00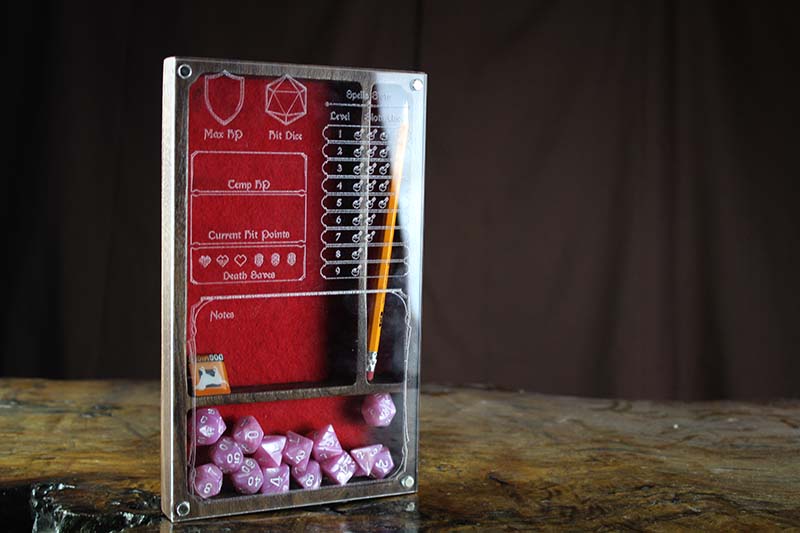 Dog Might's Player Pad is one of the most uniquely D&D specific products I have ever seen. The engraved plexiglass cover is perfect for keeping track of game notes with dry erase marker and cones in a variety of character classes to match your needs. The's enough space inside for your dice, mini, spell cards, and a marker. The largest inside compartment can double as a dice tray, and the color of the lining inside can be customized to match your style.
Price: Starts at $58.50
---
It's true that dice are the greatest weakness of any tabletop game player, but in a game based on math and organization, keeping all of your tools together is just as important as having them. Not every adventurer needs or even wants another thing to bring to the table, but for those of us who love to blend functionality and aesthetic, the options are almost limitless.
Happy Adventuring!