Tabletop Kickstarter Round-Up: January 15, 2020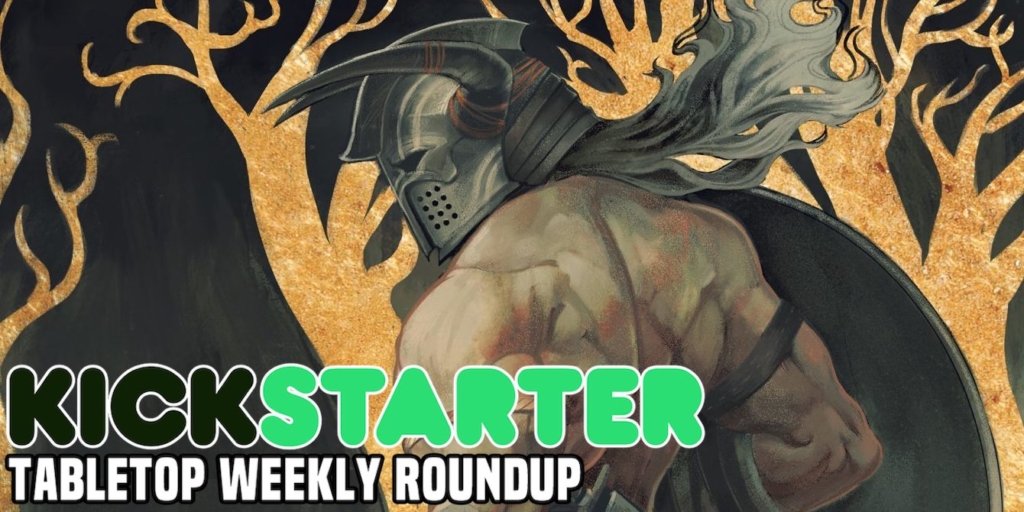 A classic returns with new technological bells and whistles, monsters for your 5e adventures, and a how-to for making historical inks and paints. Come check out this week's batch of crowdfunding highlights!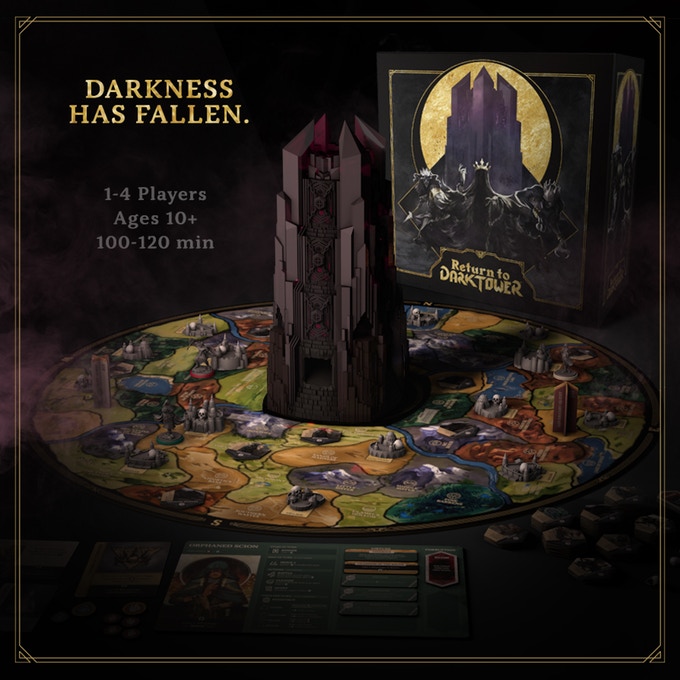 The coolest game to ever hit the planet first appeared some 38 years ago, featuring an electronic tower that lit up, played music, and somehow ran an epic fantasy adventure game with its state-of-the-art technological wizardry. That game was Dark Tower. We want to bring you that same sense of awe and wonder, pushing the boundaries of what a board game can actually do. After 3 years of painstaking work by a team of two dozen designers, engineers, and artists, we are thrilled to present to you a game with echoes of that long-gone wonder but ultimately unlike any game you've ever experienced.
Return to Dark Tower is a cooperative game for 1 to 4 heroes who undertake epic quests, fight fearsome foes, and test their mettle against the looming darkness of the titular tower. Designed by Rob Daviau and Isaac Childres — designers of the two highest rated games of all time on Board Game Geek — along with Noah Cohen, Brian Neff, and Justin D. Jacobson, the streamlined rules offer players difficult choices about when to advance their objective, gather resources, deal with threats, or level up.
The base set with all unlocked stretch goals is $125 – they broke $1 million first day, so expect a bunch of KS exclusive stretch goals to open before the campaign ends.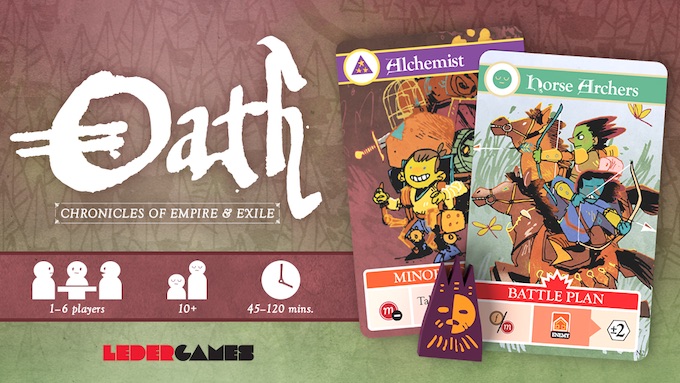 In Oath, one to six players' guide the course of history in an ancient land. Players might attempt to bolster the power of the Chancellor or scheme to bring the empire to ruin. The consequences of one game will ripple through those that follow, changing what resources and actions future players may have at their disposal and even altering the game's core victory condition.
The core rules are simple: Players will spend their turns adventuring within the Chancellor's realm and the lands that surround it. They will gather support, recruit warbands, and discover dark and dangerous secrets. Over the course of the game, players will collectively populate the world with a cast of strange and wonderful characters and institutions. This world is essentially a shared tableau, which every player can interact with and seek to control.
The core set plus a session journal, deluxe components, and KS extras is $90.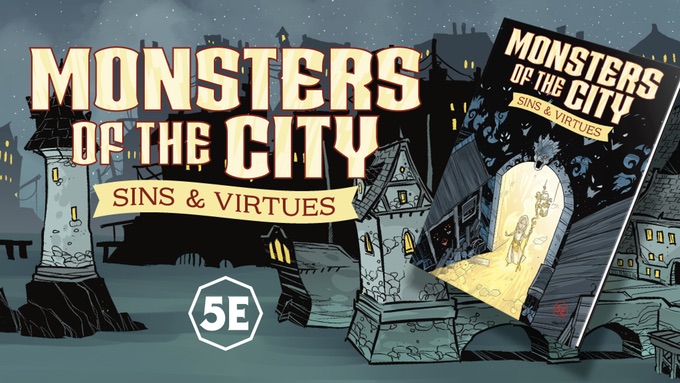 Monsters of the City is the third book in our 5E Monster Series. With the help of hundreds of backers we've already published Monsters of Feyland and Monsters of the Underworld. Now we enter the urban environment to find an epic battle between good and evil. Another member of the Alliance of the Griffon, a truth teller named Greta Goldheart, has just arrived to bolster the forces of good.  
100 new 5E monsters (approximately 130 pages)
Lore and tables will begin each section.
Encounter tables, adventure hooks, GM advice, events tables, locations tables, CR and creature type listings, and more
PDF is $16 and a physical copy is $29.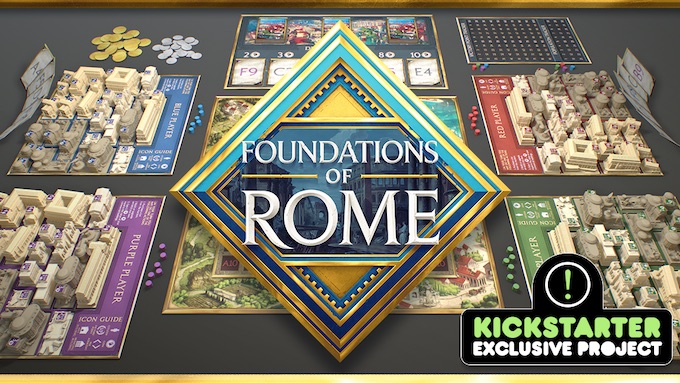 Subscribe to our newsletter!
Get Tabletop, RPG & Pop Culture news delivered directly to your inbox.
The city-building board game Foundations of Rome puts you into the role of an architect competing to own land and build magnificent structures! Build domūs and insulae, fountains, foundries, and more to increase your renown – gaining glory for yourself and the empire! With 96 wonderfully detailed miniatures in the base game, Foundations of Rome is a testament to the glory of Rome that you can bring to the table.
The core game is $99 and there are add ons available.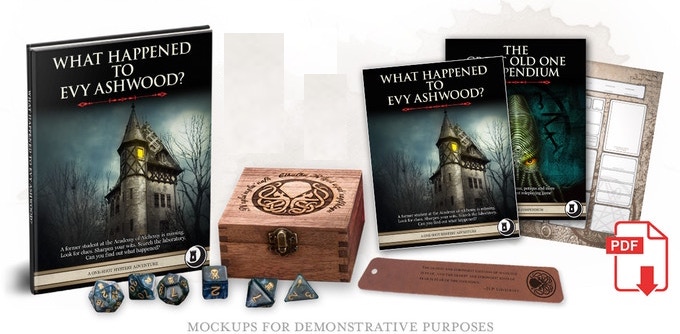 'What happened to Evy Ashwood?' is a one-shot mystery-adventure inspired by H.P. Lovecraft for D&D 5e. 
A classic mystery adventure inspired by H.P. Lovecraft
New monster: The Nameless Creation
Unique magical item: The Book of the Unknown (a legendary artifact)
Detailed NPCs with background descriptions, agendas, and secrets
Legend & Lore: The Cats in the Tower
More than 30 original high-quality color illustrations and artworks
Approximately 60 pages of content in total
Detailed high-resolution maps
A digital copy is $8 and a physical copy is $20 – other add ons available.

Hi! I'm Joumana Medlej, an artist passionate about natural and historical colours, which I often prepare myself. I'm also a calligrapher specialised in the abandoned early Arabic scripts, and spend lots of time examining ancient manuscripts to unlock the workings of the pen. 
The project: a concise, approachable, illustrated manual examining the main materials used in Islamic manuscripts, their qualities, and when safe, how to prepare and use them. The book will be A5-sized and wire-bound for maximum practicality, with additional technical info (such as the difference between paint and ink, binders, other additives) and cultural insights (such as the medical uses these materials were put to) — and of course lots of historical recipes! I like to think that the latter, plus the insight into how the materials are used, can make the book useful to a variety of people, from medievalists and Islamic scholars to practicing artists and historical reenactors.
A PDF is $13, and a basic edition is $26.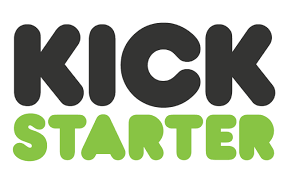 ~Which Of These Campaigns Caught Your Attention?   
Latest News From BoLS: