Grab more than two hundred dollars worth of Warhammer novels past and present right now, with the latest Humble Bundle.
The worlds of Warhammer are once again front and center in the latest Humble Bundle, only this time it's the Black Library opening up their doors and offering new, multi-language options of some of your favorite Warhammer stories. Each one of the books on offer in the Bundle is available in English, French, and German, so more people than ever can start diving headfirst into the winding lore of Warhammer.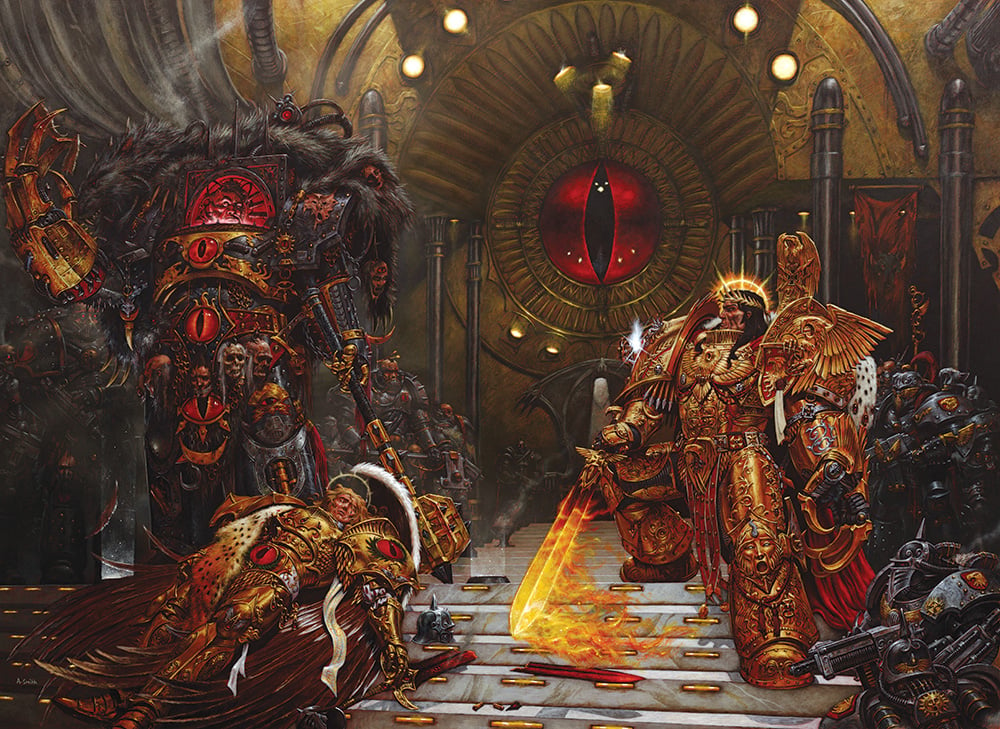 It all went wrong right about here
Or, if you're looking to practice your conversational French, because who doesn't need to know how to tell someone that the dark forces of Chaos, led by Horus, have set their sights on Holy Terra, cradle of human civilization en Francais, or that the blighted spawn of Nagash are rising once more with the workhorse compound words of German–you can find plenty of specialized vocabulary within these volumes.
All told you can grab up to $217 worth of books for a single, humble price–at press time the price to unlock everything was $18+ Here's what you'll find inside.
via Humble Bundle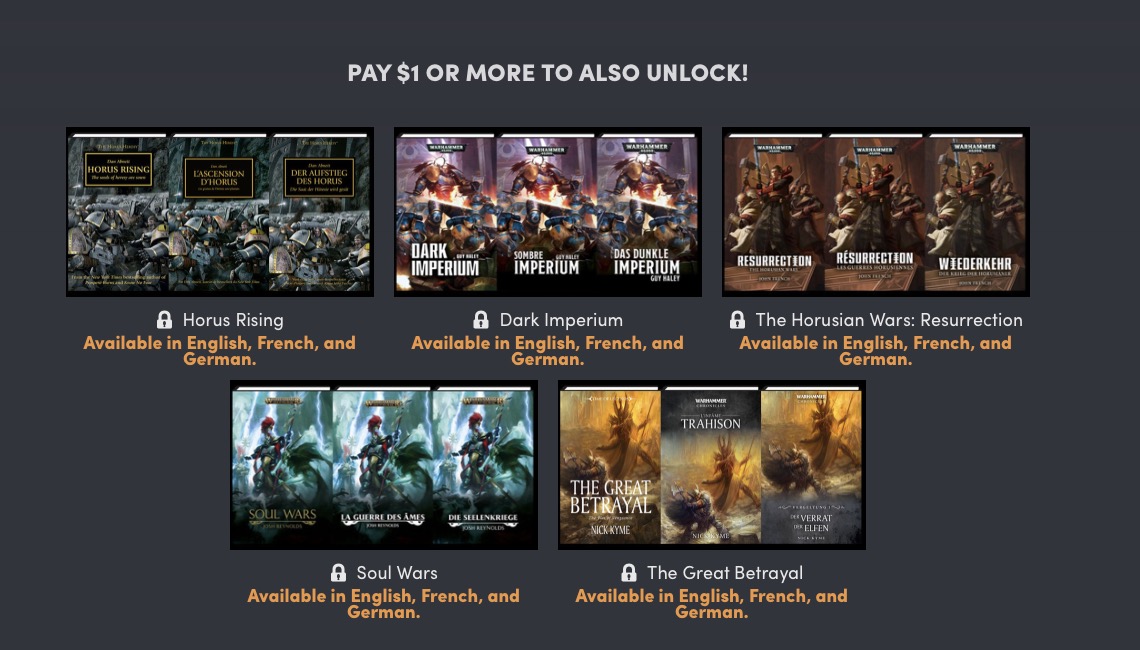 Not one, not two, but three languages. We're excited to bring you our first multi-language ebook bundle with all the titles available in English, French, and German! Dive into the lore of Warhammer with Horus Rising, Dark Imperium, Soul Wars, and more. Plus, your purchase will support EveryLibrary and CILIP!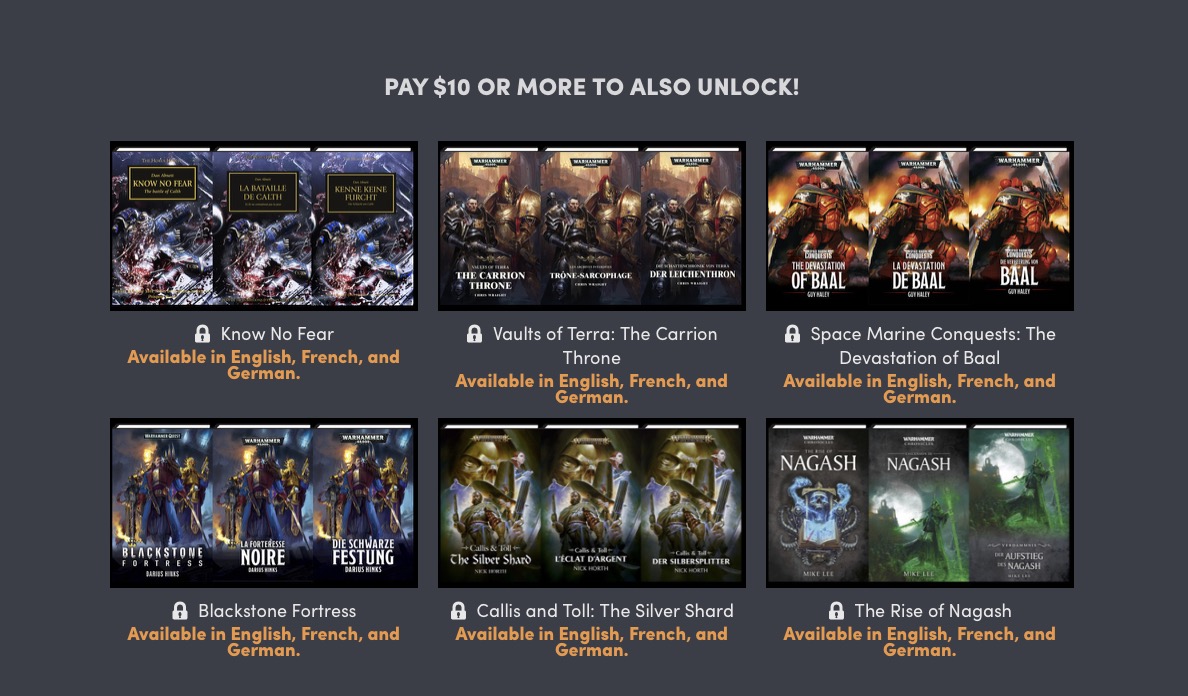 Pay $1 or more. Normally, the total cost for the ebooks in this bundle is as much as $217. Here at Humble Bundle, you choose the price and increase your contribution to upgrade your bundle! This bundle has a minimum $1 purchase.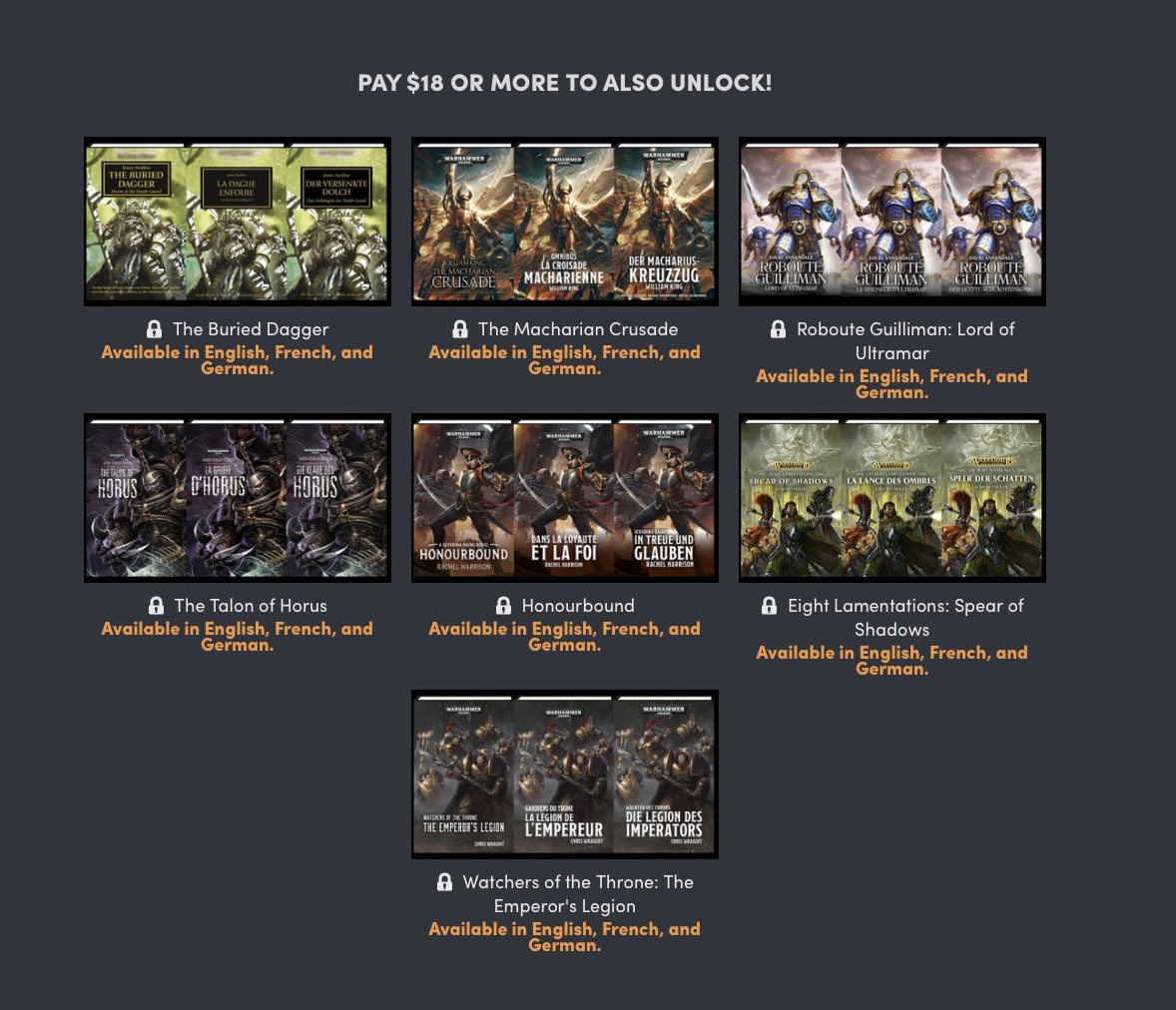 Read them anywhere. The ebooks in this bundle are available in PDF, MOBI, and ePub formats, so they work on your computer, e-readers, iPads, cell phones, and a wide array of mobile devices! Instructions and a list of recommended reading programs can be found here.
Support charity. Choose where the money goes – between the publisher and Every Library via the PayPal Giving Fund. If you like what we do, you can leave us a Humble Tip too!
---
Happy reading!