Age of Sigmar: Lumineth Vanari Dawnriders – A Closer Look

Games Workshop shows off the cavalry of the new Lumineth Aelves who trace their heritage back to the world-that-was. Take a closer look!
The Vanari Dawnriders are coming to the tabletop with the release of the Lumineth Realmlords and they look fantastic. Today, we're getting a closer look at the models and also some more information about their history and origins.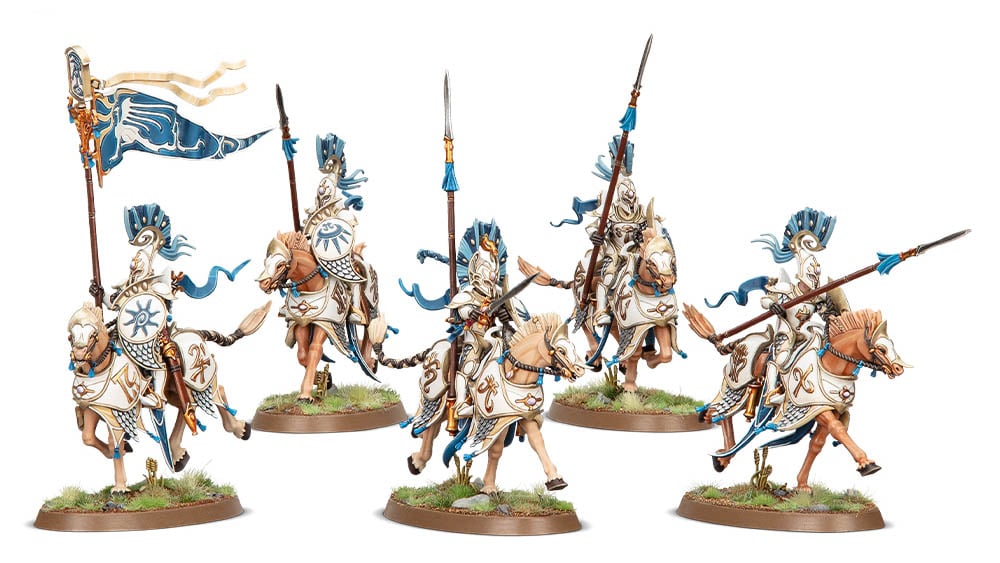 The High Elves of that long-lost time rode the finest horses in all the world, and a kernel of this glorious past yet lingered in the ancestral memory of the Lumineth. The Vanari Dawnriders represent a Hyshian reflection of that legacy, inspired by the teachings of Teclis, who knew first-hand the quality of the horse-riding cavalry and sought to encourage its replication among the Lumineth.
For many of the armies in Age of Sigmar, Games Workshop had moved away from their world-that-was counterparts in bold new directions. In many ways their designs had been "turned up to 11" and the results have been great. With the Lumineth Realmlords (aka Pointy Aelves) it seems like GW is doing something else – they are going Retro!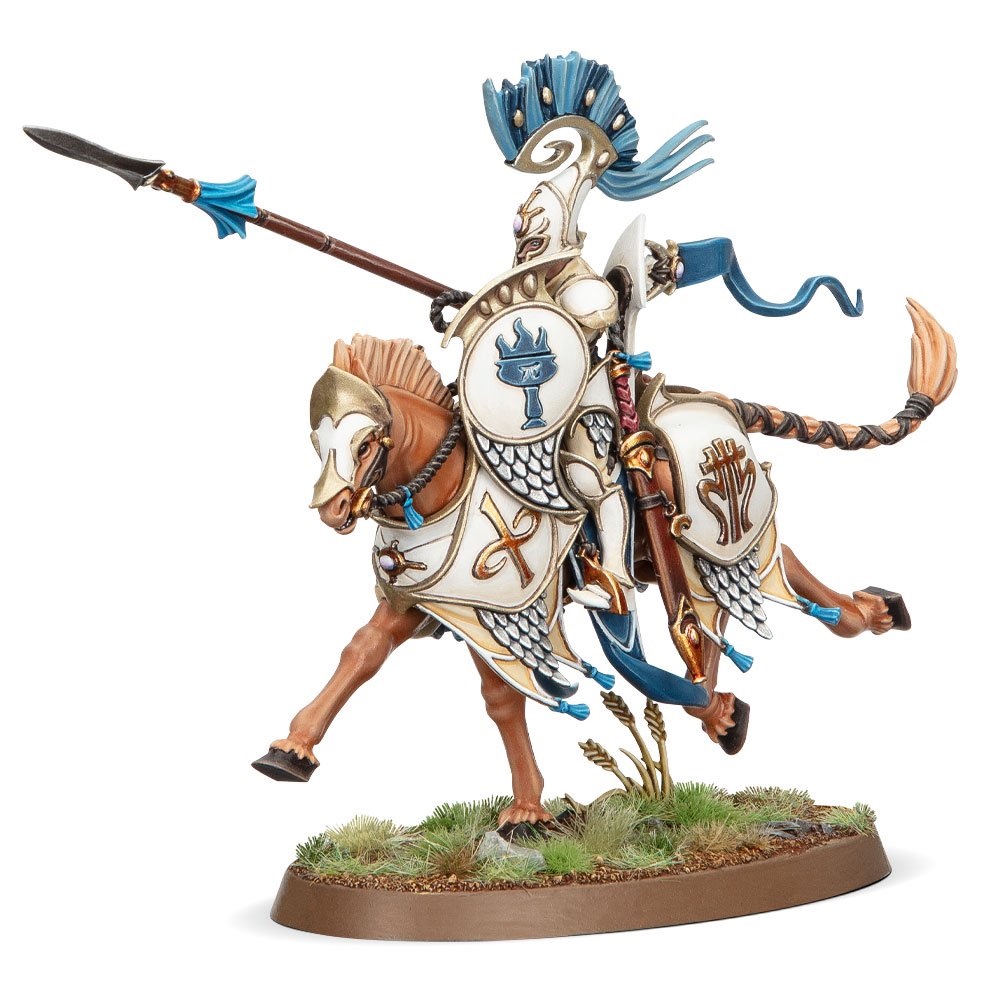 These new Vanari Dawnriders are on Horseback. These steeds are straight out of the history books, too. They don't have any crazy limbs or crazy mutant snouts – these are  *just* horse. GW didn't even name them "Horsaes" which would have been in line with the change from Elf to Aelf. Regardless, it is certainly a nice call back to their old High Elf roots.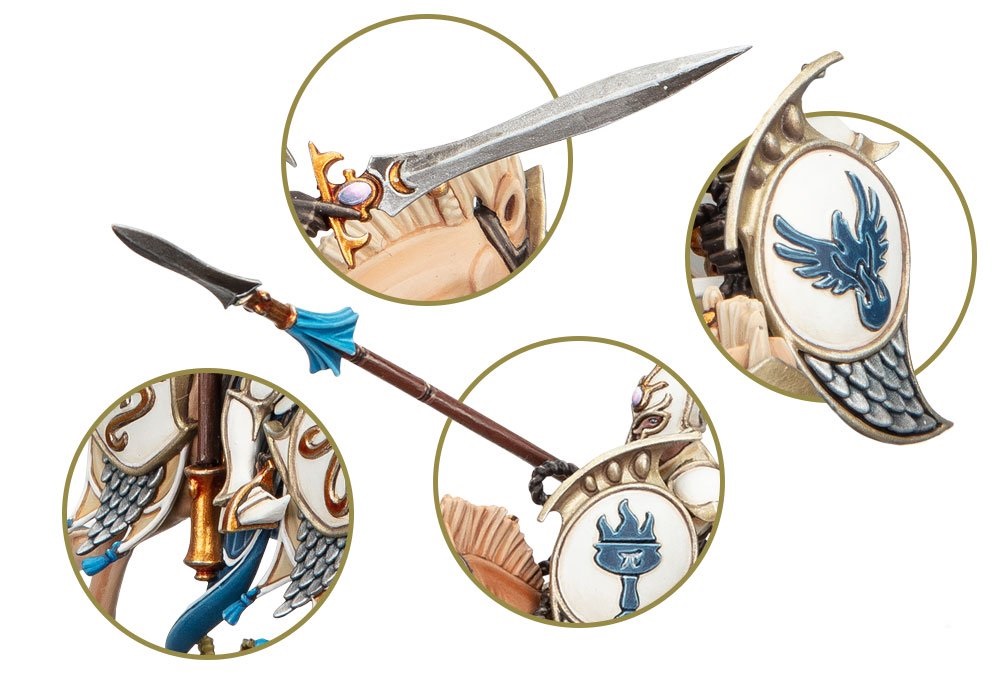 The Vanari Dawnriders are a medium-weight cavalry unit. The have been designed with "plate-armoured tassets, greaves and sabatons" to highlight their combat role. They have also been given angular scale mail tabards in areas as well. This helps showcase their movement and speed while offering some additional protection.
Weapon-wise, they wield pretty typical knightly weapons – lances, swords and shields. The miniatures were also designed with Lance Buckets for holding their lances while they travel to war. Their Aelvish Runes also play a big part in the models designs with them in prominent areas. "The icons on the unit's shields, however, are intended to be something more akin to the personal pageantry of the knight carrying them."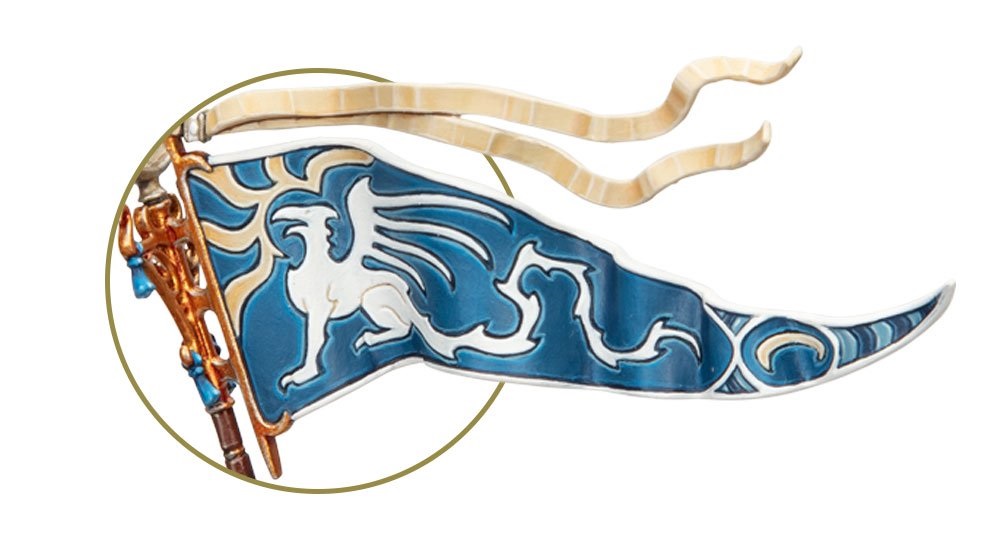 Subscribe to our newsletter!
Get Tabletop, RPG & Pop Culture news delivered directly to your inbox.
This unit is looking really inspired. It's a new take on the classic High Elves and it manages to be something different and a bit of a homage at the same time.
What do you think of these new Aelf Cavalry?