Games Workshop Pre-Orders: Pricing & Links – Wrath of the Everchosen Weekend
It's the Wrath of the Everchosen and some new Warbands for Warhammer Underworlds!
via Games Workshop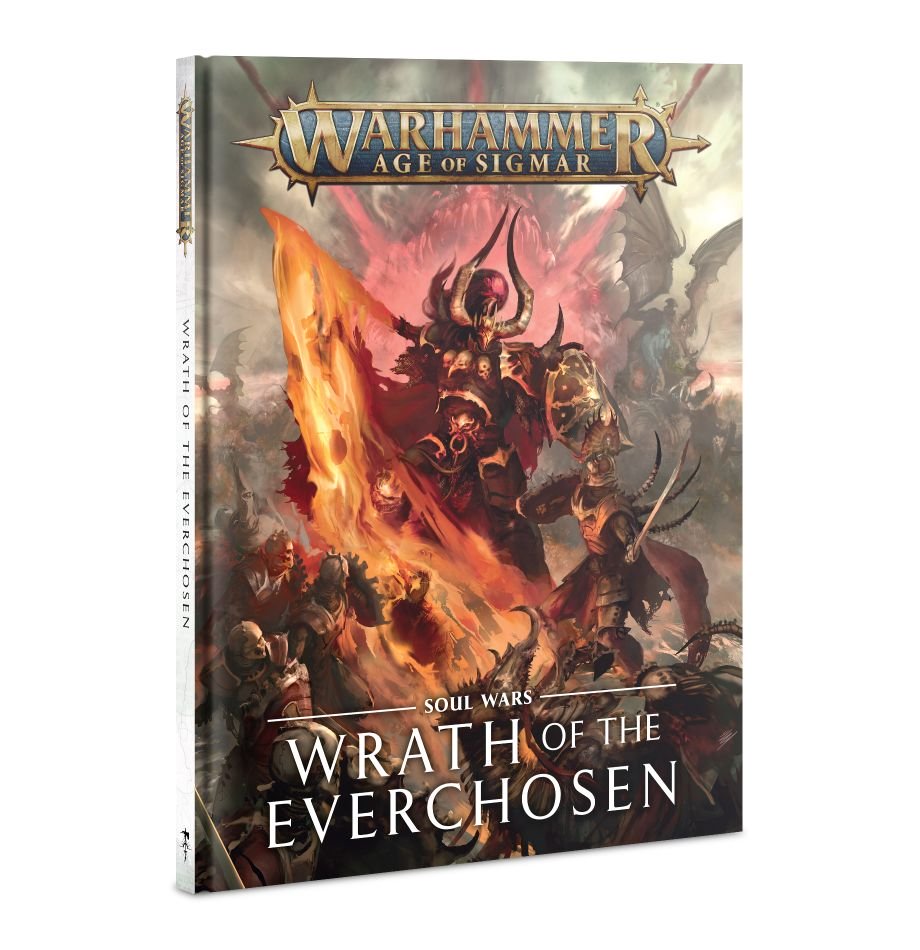 The Great Necromancer, Nagash, initiates an all-out war to end all life in the Mortal Realms, but in order to complete his monumental task he needs access to them. And so he turns his gaze to the Eightpoints, ruled over by none other than Archaon Everchosen, Exalted Grand Marshall of the Apocalypse.
The vast armies of the dead, led by Nagash's chief lieutenant, Katakros, march for the nigh-impenetrable fortress of Chaos – the Varanspire. Archaon does not take this challenge lightly, and seeks aid from a powerful force, long believed to be lost… But will it be enough to halt the legions of the dead?
Wrath of the Everchosen advances the story of Warhammer Age of Sigmar with Realm-shaking events that will have far-reaching consequences for many factions. You'll learn why Nagash needs to conquer the region to complete his infernal work, and watch the ebb and flow of the invasion as it progresses.
On top of the action-packed story, this book includes a painting guide, and enhanced rules for your Chaos Grand Alliance armies.
In this 104-page hardback book, you'll find:
– Region of War: the Eightpoints – Recreate the bizarre and chaotic environment of the Eightpoints, including Realmscape Magic, Realm Commands and Realmscape Features.
– Roaming Monsters – Savage beasts abound in the Eightpoints, and the din of marching armies and battle attracts them like moths to a flame. A canny general can make use of them… The larger your army, the more of these creatures can be added to the game, with their own special rules for movement and engaging both armies!
– Wandering Endless Spells – Raw magic and eldritch energies suffuse the landscape around the Varanspire, and endless spells can become rogue entities in their own right. Just as with the monsters, they have unique rules to control their behaviour during the game.
– Siege Warfare – Newly updated siege rules provide guidance on setting up Strongholds, the Siege phase (including a new Siege Focus to represent pre-battle preparations), and Siege Effects. You'll also find six Siege Command abilities, three for Defenders and three for Attackers. These rules include new Siege Warfare allegiance abilities for every Grand Alliance and faction:
Subscribe to our newsletter!
Get Tabletop, RPG & Pop Culture news delivered directly to your inbox.
Chaos: Beasts of Chaos, Blades of Khorne, Disciples of Tzeentch, Hedonites of Slaanesh, Maggotkin of Nurgle, Skaventide, Slaves to Darkness
Death: Flesh-eater Courts, Legions of Nagash, Nighthaunt, Ossiarch Bonereapers
Destruction: Gloomspite Gitz, Ogor Mawtribes, Orruk Warclans
Order: Cities of Sigmar, Daughters of Khaine, Fyreslayers, Idoneth Deepkin, Kharadron Overlords, Seraphon, Stormcast Eternals, Sylvaneth
– Battleplans – eight narrative battleplans let you fight through Death's invasion of the Eightpoints
– Allegiance Abilities for the Hosts of Chaos – including the Legion of Chaos Ascendent, the Knights of the Empty Throne, the Legion of the First Prince, and 11 others that focus of specific aspects of Chaos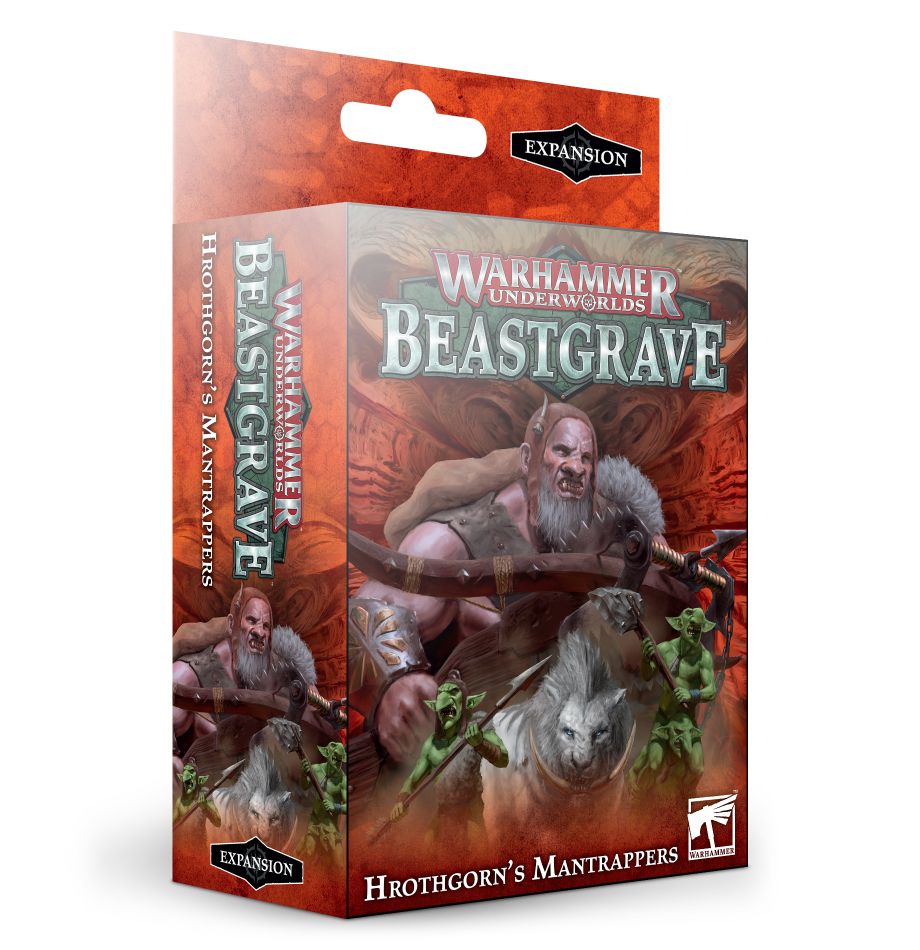 Hrothgorn and his party of hangers-on were ranging ahead of their Alfrostun when the Icebrow Hunter caught what he thought was the scent of abundant prey beasts somewhere up ahead. The group hungrily followed the trail… it wasn't long before he realised they'd been lured into the gullet of Beastgrave. Hrothgorn set about finding a way out, his loyal Frost Sabre and a ragtag band of Gnoblars always at his heels.
Add a mighty Icebrow Hunter of the Ogor Mawtribes to your games of Warhammer Underworlds with this warband expansion. The six push fit models in blue-gray plastic will be ready for your games in no time, and five fighter cards for each member of the warband contain all their in-game stats. One of the models marks a deadly trap on the board. You'll find 32 cards to represent the warband's brutal ploys, upgrades, and objectives, plus 27 additional Universal upgrade, power, and objective cards to use with any warband!
This set contains:
– 6 push fit Hrothgorn's Mantrappers miniatures
– 5 fighter cards, including Inspired rules on the reverse
– 12 Hrothgorn's Mantrappers objectives
– 10 Hrothgorn's Mantrappers upgrades
– 10 Hrothgorn's Mantrappers ploys
– 9 Universal objectives
– 9 Universal upgrades
– 9 Universal ploys and spells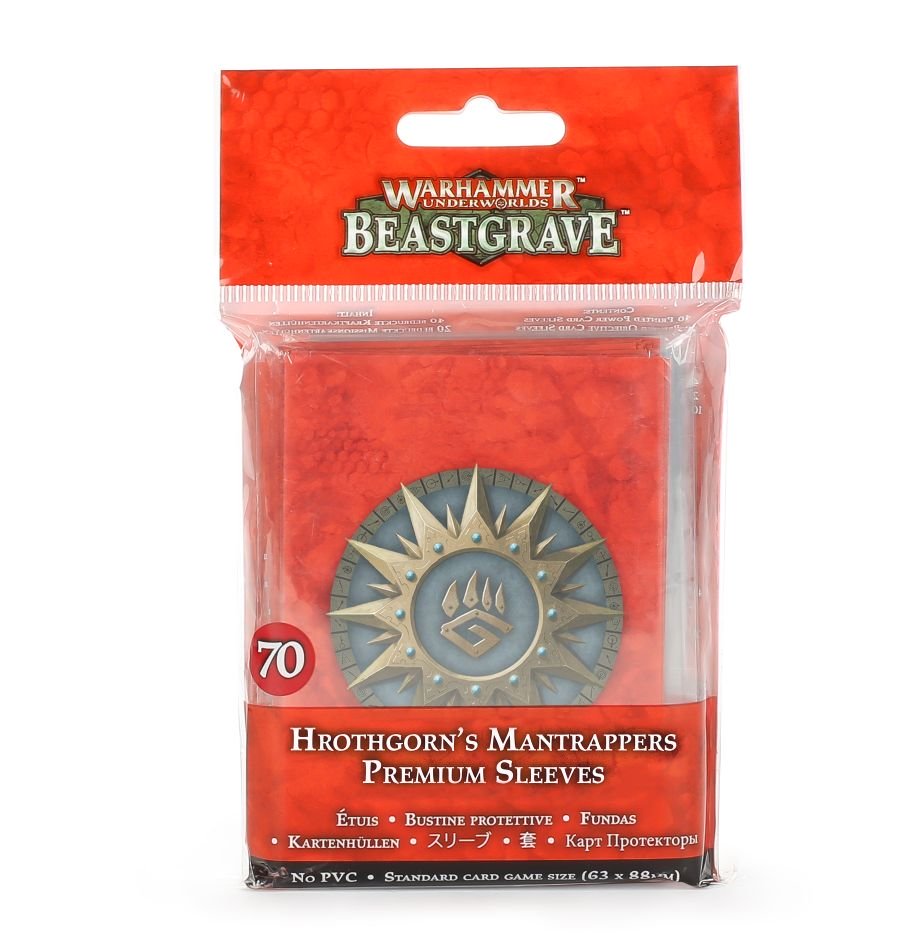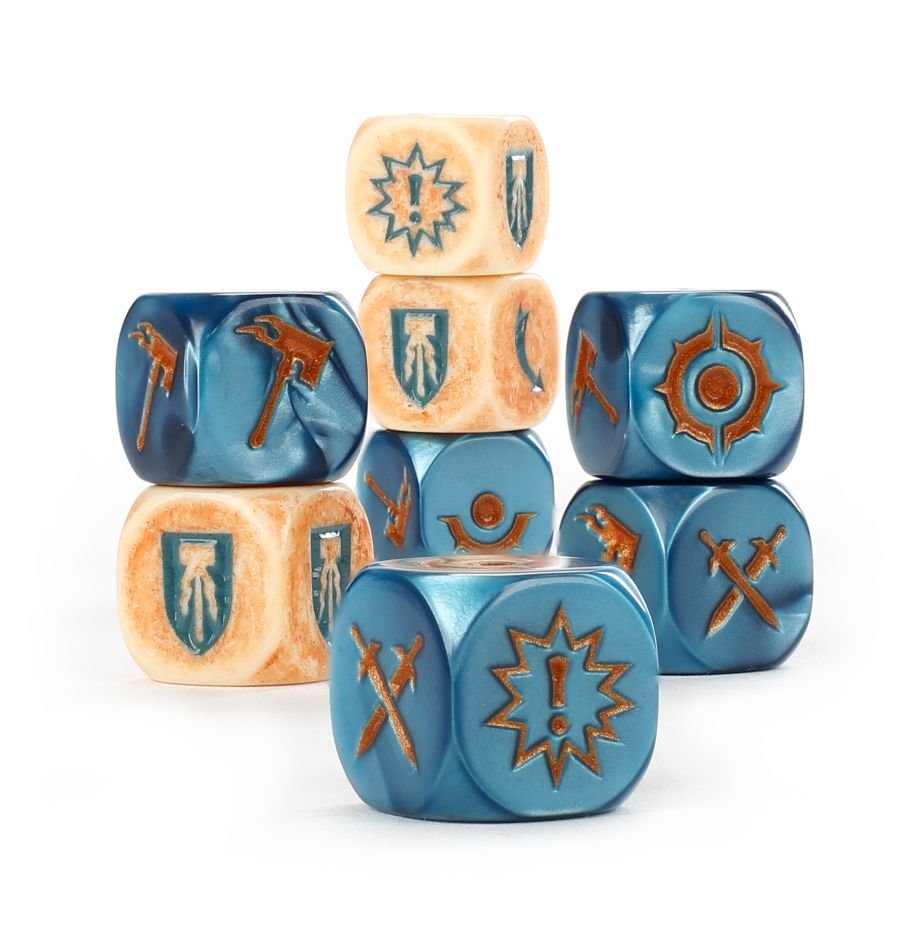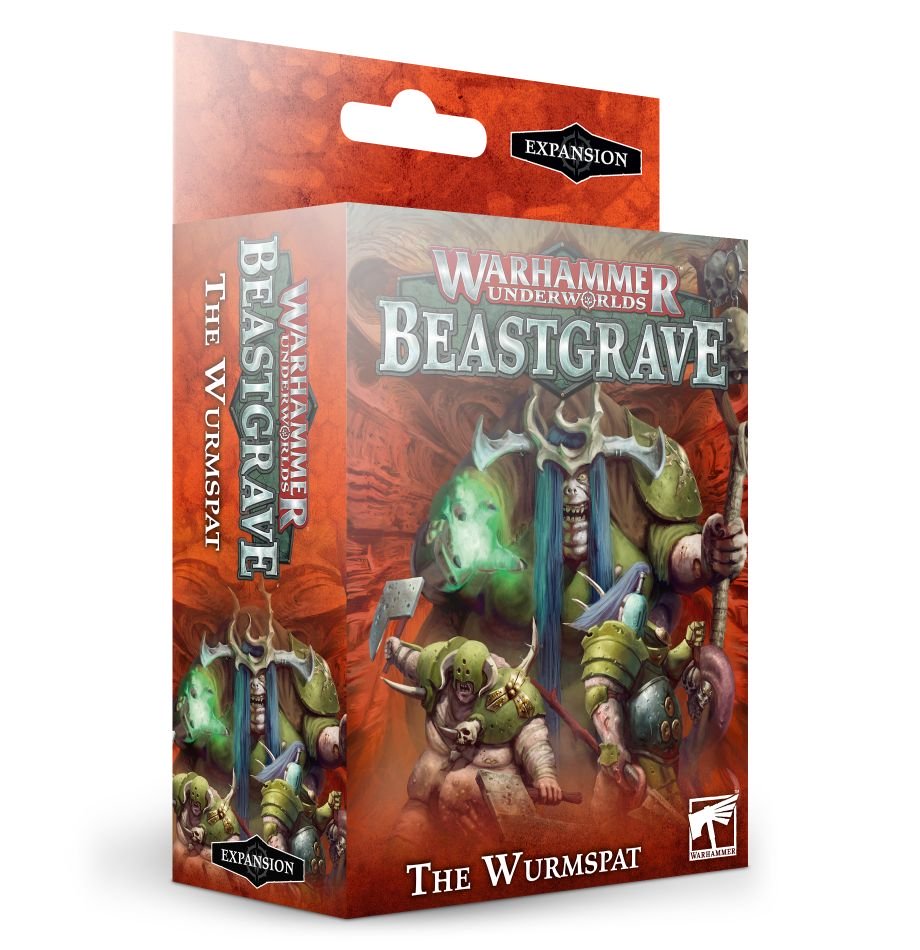 The Sorcerer Fecula Flyblown saw a vision of a shard-curse of endless sterility in which nothing stayed dead long enough to rot, and was horrified. She summoned a monstrous wyrmaggot which swallowed the Sorcerer and her two favoured bodyguards whole. This creature burrowed until it burst into Beastgrave, where it disgorged the group in a tide of steaming vomit. Together, The Wurmspat resolved to cure the curse at the mountain's heart by spreading the filth so beloved of their deity.
Three is the holy number of Nurgle, Chaos Lord of Decay, and three is the number of fighters in The Wurmspat. Fecula Flyblown, a powerful Sorcerer, is accompanied by two supernaturally tough Chaos Warriors. You'll be able to assemble the three push fit models in drab green plastic quickly, ready for a game, and your three fighter cards reveal their stats to get you up to speed right away. 32 faction-specific cards allow you to harness the power of the warband's disgusting ploys and upgrades, plus objectives catering to their play-style. You'll also find 27 additional Universal upgrade, power, and objective cards to use with any warband!
This set contains:
3 push fit miniatures for The Wurmspat
3 fighter cards – one for each member of the warband (Fecula Flyblown (and her 'cat'), Sepsimus the Plaguesworn, and Ghulgoch the Butcher)
60 unique cards to enhance your fighters and provide new tactics and challenges for your games of Warhammer Underworlds: Beastgrave, including:
– 12 objectives for The Wurmspat
– 10 upgrades for The Wurmspat
– 10 ploys for The Wurmspat
– 9 Universal objectives
– 9 Universal upgrades
– 9 Universal ploys and spells