Community Miniature Spotlight: Glowing Space Marines and a Metal Gunship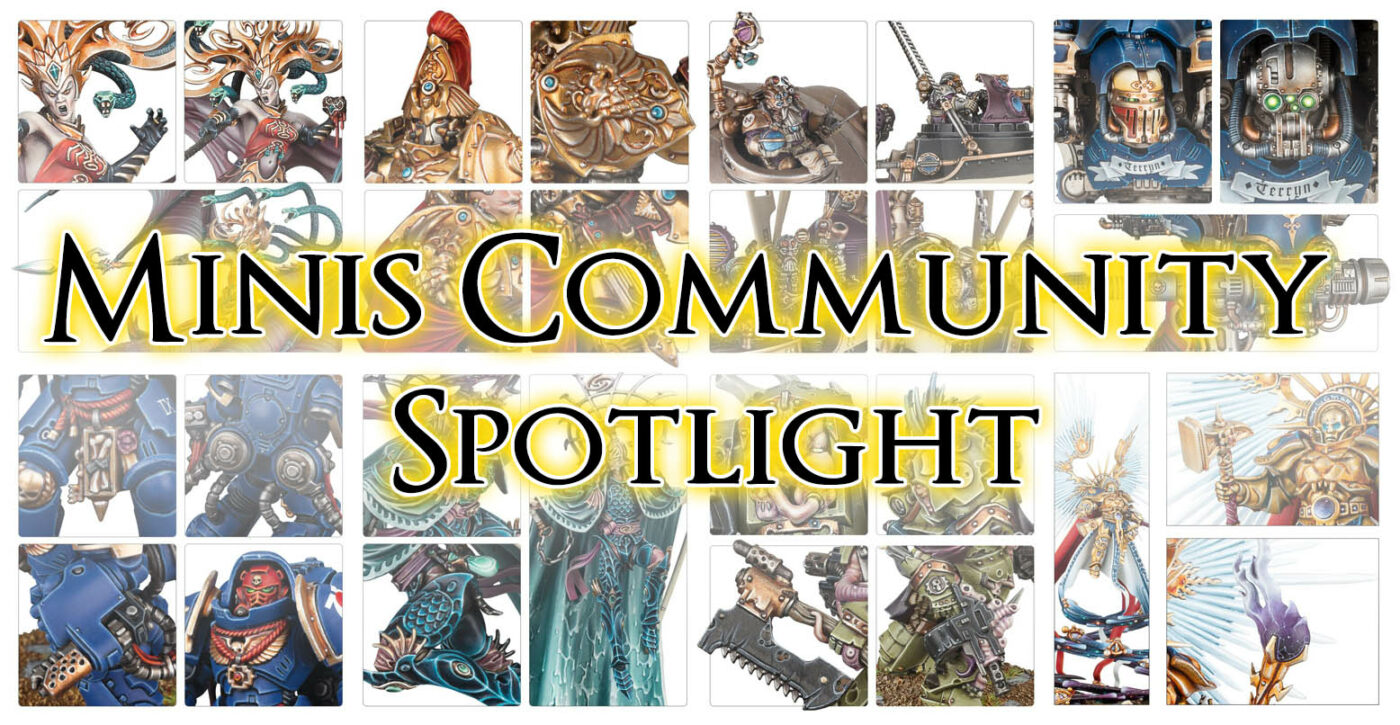 These are some of our favorites from this week's Miniature Monday and WIP Wednesday on social media. Come take a look at what the community is working on!

Warcry terrain #wepaintminis #paintingwarhammer #warhammer #ageofsigmar #terrain pic.twitter.com/D7O3wWkg6Z

— Stuart Catley (@CatleyStuart) March 16, 2020
— ShawnElliottMiniatures (@MiniaturesShawn) March 17, 2020
A mere 2y10m after starting my LED Primaris Crimson Fist project I have a *minimum* sized Battalion! 😂 I fell this calls for a group photo!
More at https://t.co/LcyoghtfX4
LED tutorials https://t.co/Qx7afHeXdb#paintingwarhammer #WH40K #warmongers #wepaintminis #miniaturemonday pic.twitter.com/l8Sf1fyMIA

— Chris Buxey (@chris_buxey) March 9, 2020
#warmongers Brightened up the left wing runes, added smoldering edges and runes on the back legs pic.twitter.com/JHz3YYtFj6

— Hobbyistgirl (@hobbyistgirl) March 13, 2020
Subscribe to our newsletter!
Get Tabletop, RPG & Pop Culture news delivered directly to your inbox.
Chaos Knight and War Dogs x2 in Liquefactor Traitor Scheme#Warmongers #miniaturemonday #PaintingWarhammer #miniaturepainting #chaos #knights #wardogs #liquefactors #renegades #traitors pic.twitter.com/QaP9025YsF

— reiner72 (@reiner72paints) March 16, 2020
First squad complete #warmongers #warhammer40k #sistersofbattle #wepaintminis pic.twitter.com/O2eU2wk8fL

— Anamnesis studio (@Anamnesisstudio) March 10, 2020
Plazma wepons painted. What do you think? #wepaintminis #primaris #spacemarines #warhammer40k #PaintingWarhammer #warhammer #paintingminiatures #wargames #tabletop #wargames #40k #miniatures #gaming #gamesworkshop #gw #miniaturepainting pic.twitter.com/PIKQwvlLmo

— MiniatureBlanky (@MiniatureBlanky) March 16, 2020
Time to begin work on this legend. The metal Space Marine Thunderhawk Gunship #wipwednesday #paintingwarhammer pic.twitter.com/IRiOqGgDgb

— Curis (@Curis) March 18, 2020
If you saw something you liked, be sure to follow the artist on Instagram, Twitter, or Facebook. Want to share what you're working on? Drop it in the comments – we'd love to see what you're creating.