They're strange looking, emit spores, and can poison you with their hands, but I promise the myconids are pretty cool.
Myconids are the sort of monster that start out interesting in first edition and stay interesting forever. They're fungus people with a delightful fungus commune society who would rather farm non-sentient fungus than deal with any of your human wars.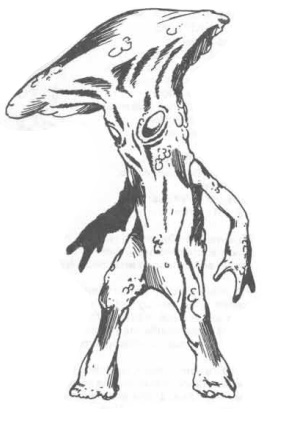 First Edition
At their inception myconids were vaguely human-like. Their size ranges from small to large, their alignment generally Lawful Neutral, and their days are broken up into 8 chunks for rest, farming and work, and "melding" (a social slash psychic way to interact with their community for entertainment, communication, and pleasure; think of it as a controlled group hallucination). They are fungus people and can spray a variety of different spores at enemies or allies alike where each spore acts differently and has different effects on those they touch. For example distress spores alert other myconids to danger and ask for help while rapport spores help with melding and communication both with myconids and other species. Myconids don't speak so rapport spores and mind-to-mind communication would be helpful in knowing if they want to offer your party a place to rest or want to hit you with their poisonous skin ooze. There are also reproducer spores for growing new myconids, pacifier spores for rendering an enemy effectively paralyzed, hallucinator spores for causing your enemy to hallucinate, and animator spores to reanimate a dead creature. Only the myconid king may achieve the level required to use animator spores.
Second Edition
Everything regarding what myconids look like, their attacks, and their spores stayed almost identical between first and second edition. However, 2E expands on their society quite a bit, describing how the myconid king is the largest and most powerful fungus man in the cave and once the king dies the duty falls to the next largest. Leadership isn't something any myconid wants, seeing it as lonely and unpleasant to stay outside of the social circle in order to remain objective and pay close attention to the duties of leadership. The king also practices something called "fungal alchemy," which I would like to know everything about. Interestingly, despite being not dissimilar in many ways, humanoids and myconids don't get along very well. Myconids view humanoids as violent and only interested in conquering more territory, while humanoid creatures see myconids as disgusting and generally threatening.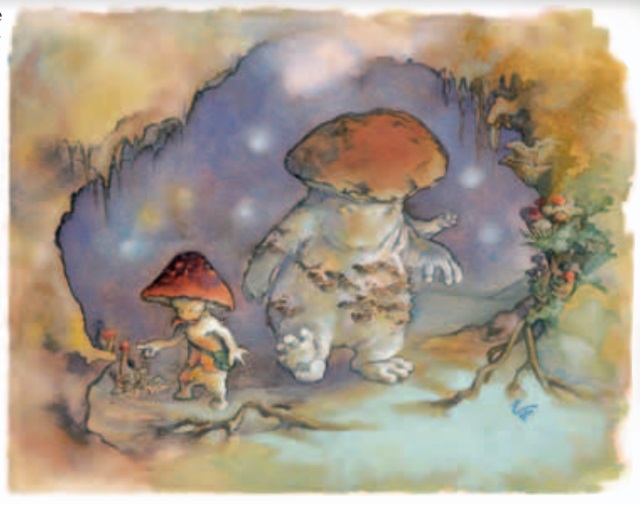 Third Edition
Third breaks down the societal structures of the myconids even further. Now instead of myconid and myconid king there are Junior Workers, Average Workers, Elder workers, Guards, Circle Leaders, and Soverigns. While I know this is supposed to give more realism to their communities and describe what kind of fungus a player can expect to run into, the rigid groups based on age, strength, and skills relative to one another reminds me of a corporation. Do you want to fight some middle management mushrooms, or would you prefer just one CEO mushroom?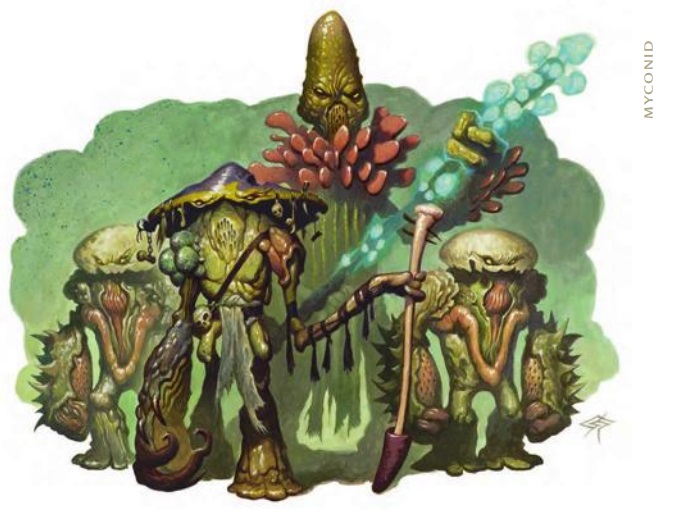 Fourth Edition
Goodbye most of those 3E myconid designations, hello myconid rotpriest. Fourth edition keeps the guard and sovereign in play and introduces the rotpriest, a healer slash tank whose job is "taking the damage of others so that the colony as a whole can survive." This is probably for the best as the sovereign's main tactic is commanding from behind and relying on other myconids for protection, while the guards charge into battle and try to use pacification spores to subdue enemies. Fourth Edition myconids are also less interested in avoiding conflict than their predecessors, now looking to expand their territory and compete for resources. This change is especially interesting because previous editions pointed this exact mentality out as something that older version of the myconids had disdain for and judged in humanoids.
Fifth Edition
The most recent incarnation of the myconids are peaceful once more. They are willing to help the average traveler with shelter and safe passage if approached peacefully, spore carefully when produceing young so as to avoid overpopulation, and believe that melding with their community is the reason for their existence. Are they a little like a cartoonish depiction of a cult? Yes. But a mostly harmless and probably pretty helpful one.
---
Have you encountered a myconid? How did you party respond to rapport spores? Did you have to fight them? Let us know in the comments.
Happy Adventuring!