Tabletop Kickstarter Round-Up: March 4, 2020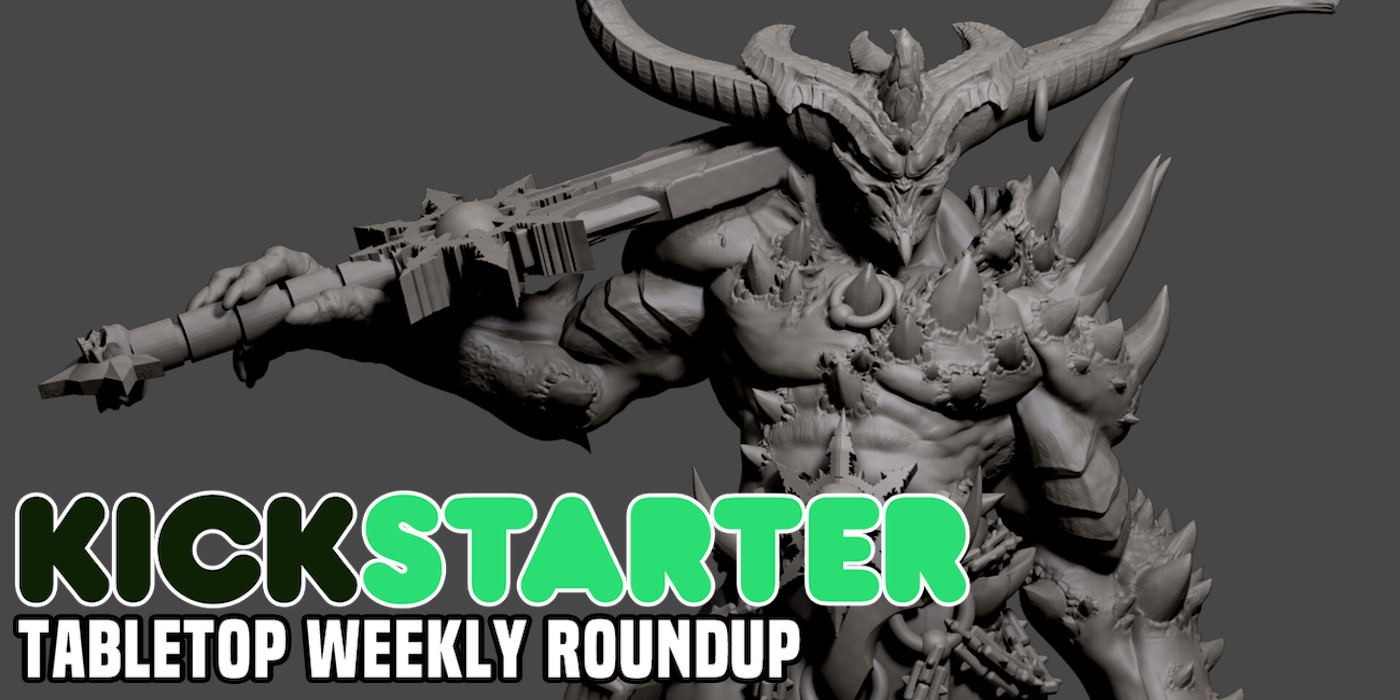 A game to play within a game, some top notch miniatures, and a new way to bring food and D&D together. Come check out this week's batch of crowdfunding highlights!
Raise your torch high and delve deep into once-forgotten lore. Discover the arcana of RPG zines on Kickstarter.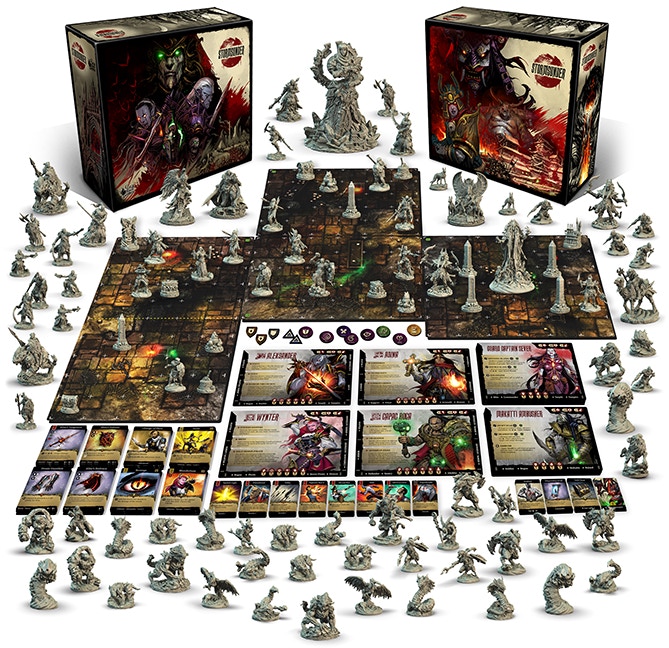 Stormsunder is a solo/cooperative RPG board game for 1-4 players that takes place in an immersive and interactive world where players decide the flow of the story. It features in-depth character progression and deck building, all wrapped in a fast-paced combat system that remains fresh and interesting fight after fight.
Inspired by popular PC roleplaying games, Stormsunder is built to have reckless disregard for character survival. Your heroes will enact your every decision but based on their own personalities and loyalties. Go against their nature at your own peril; you may risk a hero's death, departure or wrath.
Pledges start at $149 for the core game.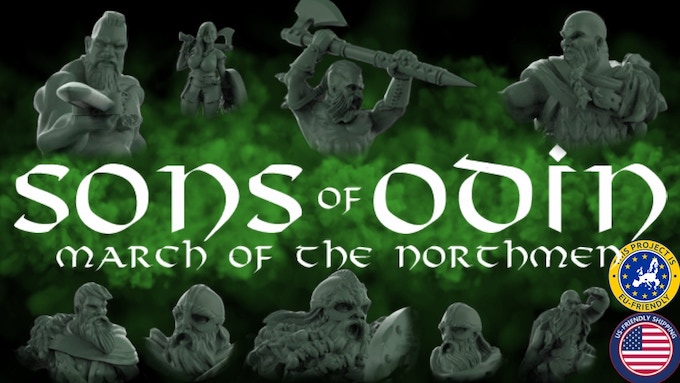 We are Pagan Miniatures and we are hoping that with your help, we can bring our first two ranges of 32mm miniatures to the tabletop community. The first and largest range is the Sons of Odin. We've always liked Vikings and wanted to have a Viking warband for every fantasy skirmish game we play. The hardest time we've had is to find suitable miniatures for fantasy games.
Most fantasy Vikings tend to be very heavy on the Fantasy element, such as horned helmets which we've never been keen on. The other option is to use historical minis, and although the choice is huge with many fantastic companies producing them, the strict 28mm scale they use tends to be slightly on the small side, with the last 20 years of scale creep from 28-32mm that all the biggest fantasy miniature companies have gone through. So we are making the sort of Vikings that we want to game with; still fantasy, but with strong historical tones, and at 32mm they compliment the other popular ranges out there.
You can pick up a warband of 8 miniatures for $52, other options are available.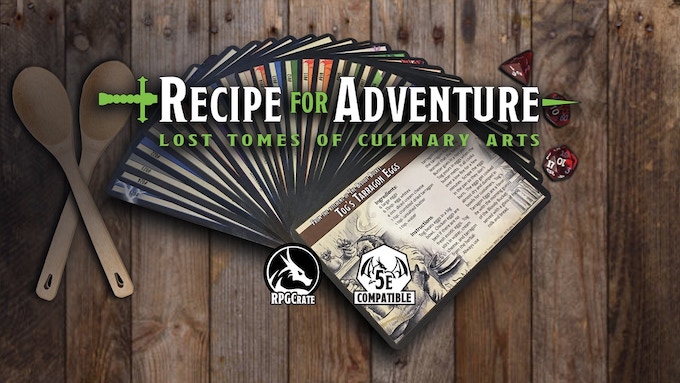 From the creators of RPGCrate and the original Recipe For Adventure cards comes a  brand new set of never before seen recipes and adventures cooked up just for your table.  This project will deliver at least 25 brand new and unreleased Recipe for Adventure cards to spice up game nights.
Subscribe to our newsletter!
Get Tabletop, RPG & Pop Culture news delivered directly to your inbox.
Immerse your players in an adventure of taste, smell, and fantasy role-play, bringing together and blending the love of food and gaming into one incredibly memorable experience. Whether your characters are enjoying a hearty bowl of Hag's Eye Chili in front of the fireplace at the infamous Bloody Bucket Inn or nibbling an Elderflower & Cheese Tart at Covington Cove's Salty Crab Tavern, two things are certain: the food will be fantastic, and the adventures will be legendary.    
A set is $24 and you can get a set with cards and a master chef's apron for $49.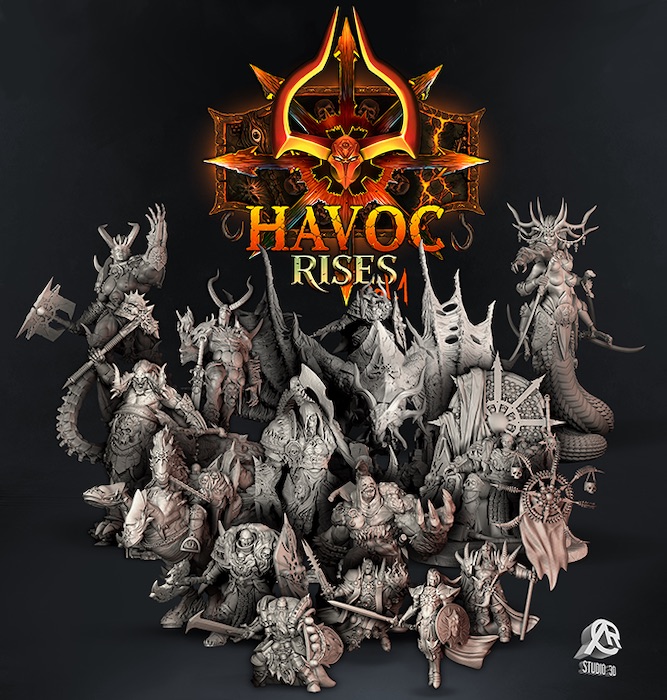 Here is the first project of Arc Studio. This is a project for war games players and, of course for collectors. Havoc Rises is our definitive interpretation of the most ruthless, bloodthirsty and demonic war heroes ever known.  A compilation of the most acclaimed and blessed pain bearers, ready to raid your game tables. The fear and despair of your opponents! From champions of northern tribes, to lords of the abyss…  meet in this intrepid development adventure with multiple pieces and variants.
Includes 35, 50, 75, 120, and 200 millimeter minis.
There are multiple options that start at $28 and range to $686.

Golem's Gambit is a game of chance for use with any Role Playing Game System. The rules are straightforward and designed to favor the adventurer, inspiring excitement and fun. The game is played with six handmade "Golems" or game pieces that are cast across your favorite tavern table.  Place your wager, cast the Golems, then count the markings and consult the results in the PDF rules provided.
I am offering sets of wood, iron, and brass. Each set comes with a cloth drawstring bag and a PDF copy of the rules. You can also add-on some hand-struck pewter coins to your pledge!
Pledges start at $17 for a wood set, rules and cloth bag; and you can get all four sets for $92.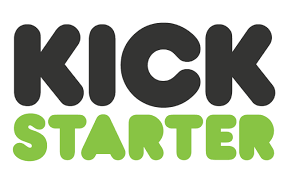 ~Which Of These Campaigns Caught Your Attention?