Aliens, demonic coins, ancient gods, beautiful dice, and an RPG you can enjoy while social distancing. Come check out this week's batch of crowdfunding highlights!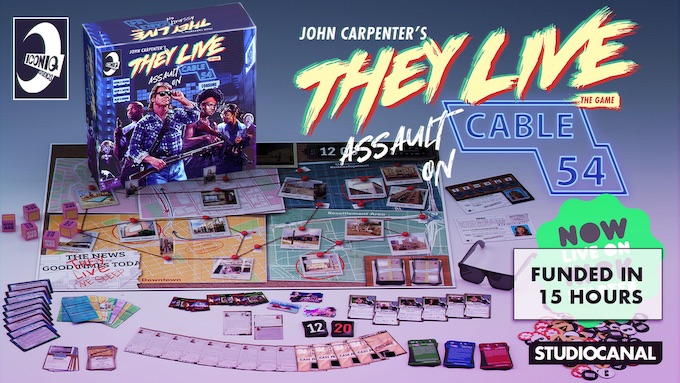 They Live: Assault on Cable 54 is a narrative-driven co-operative adventure game for 4-6 players (with an additional 1-3 player 'blind play mode' that has now been unlocked as part of our day 1 funding goal). 
The action-packed board game will let you explore the sprawling city of LA to build a stash of weapons, allies, and items as you progress towards your ultimate goal; the assault on Cable 54 and the defeat of our unearthly Invaders. THEY are the ones in control of the signal, and it's your mission to take them down!
The core game with stretch goals is $61.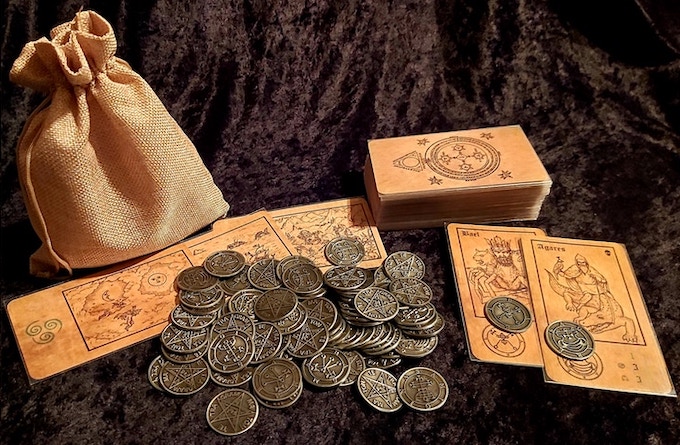 Goetia the Card Game is a quick, easy to play game for 2-4 players where the aim of the game is to be victorious in pitting the Ars Goetia Demons against one another in a battle of wills as well as brawn. Will you be able to strategically thrust your Demons into the fray at the most opportune moment when they're at their most powerful? Or risk summoning them early when they're weaker in case you lose control of them and are forced to use them? Luck will certainly play a big part when largely uncontrollable entities are involved, but Demonic victory will depend on how well you play the hand you're dealt.
You can pick up 10 coins for $17a, and a complete game with 80 metal coins and all stretch goals is $152.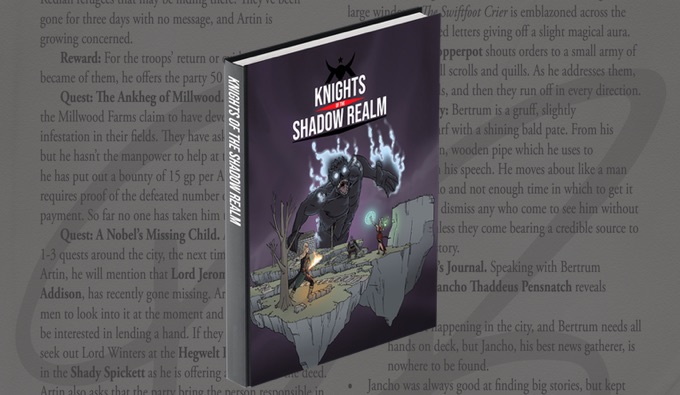 Knights of the Shadow Realm will contain a full campaign that will take your players from newly-fledged, level-1 adventurers to full-on, level-20 heroes in a race to stop a malevolent demi-god from breaching into the material realm to claim everything as his own. Every piece of art within the book is unique to this project. There are over 20 original maps, 18 new monsters, dozens of NPCs, and hundreds of plot threads and easter eggs for your party to discover. We believe that the world comes alive when there's always a story to uncover. 
A PDF is $12 and a hardcover copy is $32.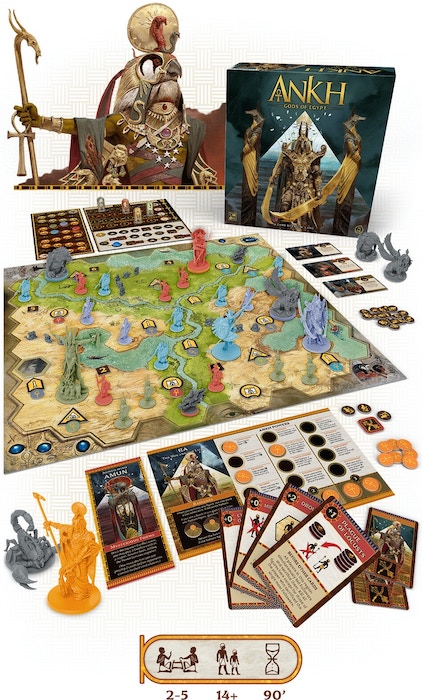 From the creators of Blood Rage and Rising Sun comes the next installment in this legendary saga! Designed by Eric M. Lang, with art by Adrian Smith, and miniatures by Studio McVey, Ankh: Gods of Egypt is a competitive game in which 2 to 5 players assume the role of ancient Egyptian gods, fighting against inexorable oblivion as history advances towards monotheism. 
Using unique powers and mythical guardians, each god must gain followers, have monuments built in their honor, and inspire warriors to fight for their beliefs. Only devotion can sustain you for eternity. Only one god can remain. 
A copy of the full game with stretch goals is $100.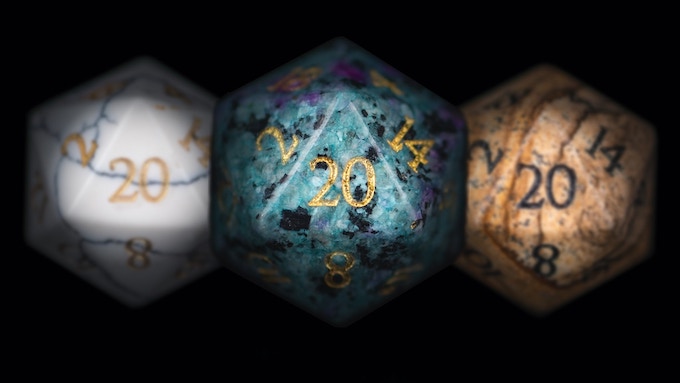 Since 2013, Wyrmwood has been bringing our distinctive mixture of old-world craftsmanship, cutting-edge innovation and uncompromising service to your tabletop. But now it's time to go somewhere we've never gone before: DICE! We're partnering with Level Up Dice to bring the same quality and innovation you've come to expect from Wyrmwood to your roleplaying dice. Through a wide selection of beautiful natural and synthetic materials, and through an innovative new concept we call High Variance Dice that will bring something brand new to your next roleplaying session, this is the dice Kickstarter you've been waiting for.
Pledges are based on delivery date and material – see the KS page for details.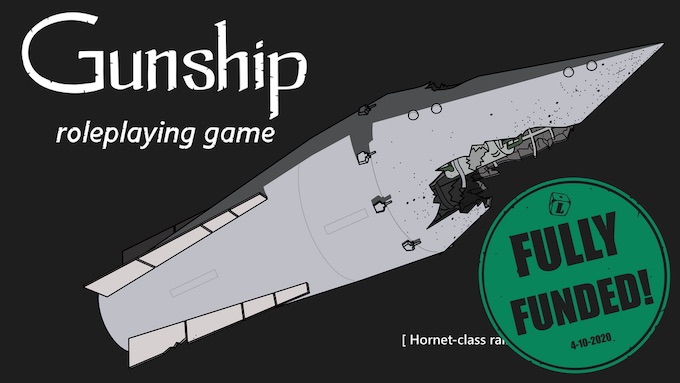 Gunship is a tabletop roleplaying system optimized for use with a virtual tabletop (such as Roll20 or MapTool). During a game session, players embody the roles Sci-Fi protagonists who fight for freedom, equality, or simply to make ends meet in a harsh world known as Alyssum.
The goal of this campaign is to fund the ongoing development of Gunship, namely its expansion books: the Advanced Rulebook and the Complete People, Places, & Things. Funds raised in this campaign will also go toward commissioning art and illustrations for use in the rulebooks and associated media. This campaign is also funding the cost to continue running gunshipsrd.com, the online reference for the game's rules.
Backers will receive illustrated PDFs of the rulebooks and help keep the project afloat – pledges start at $4.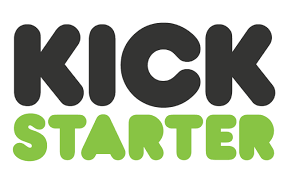 ~Which Of These Campaigns Caught Your Attention?