Sea of Legends is a hybrid board and RPG that features work from some of the finest writers in the TTRPG community. There are two weeks left on its Kickstarter.
Board games and roleplaying games, while distinct from one another, often have the borders between them blurred. When you're playing a board game, but you primarily play characters trying to accomplish an objective, and along the way you level up, fight monsters, and acquire treasure–the two start to resemble each other. Doubly so when you have a board game that pulls on work from some of the best writers in the TTRPG sphere. But do all that and you'll have Sea of Legends, a fantastic looking 'narrative board game' Kickstarting now (and at press time for another 13 days), blowing past its funding goals. Check it out below!
via Guild Hall Games
Sea of Legends is a narrative-driven, open-world tabletop game for 1 – 4 players. Swashbuckle and swindle your way to victory as one of four unique captains. Raid ports, bury treasure, fall in love, and defeat your nemesis as you compete to become the most legendary pirate on the open sea.
Your decisions will make waves throughout the Caribbean as each player takes part in shared adventures woven together by our companion app. Choose wisely. In Sea of Legends, the fickle winds of fate can fill your sails or turn against you at any moment. With twenty-six writers, crafting over 400 unique stories, you'll never play the same game twice.
Navigate the shifting tides as you pursue multiple paths to victory and forge your own tale. Will you answer the call to adventure? The sea awaits!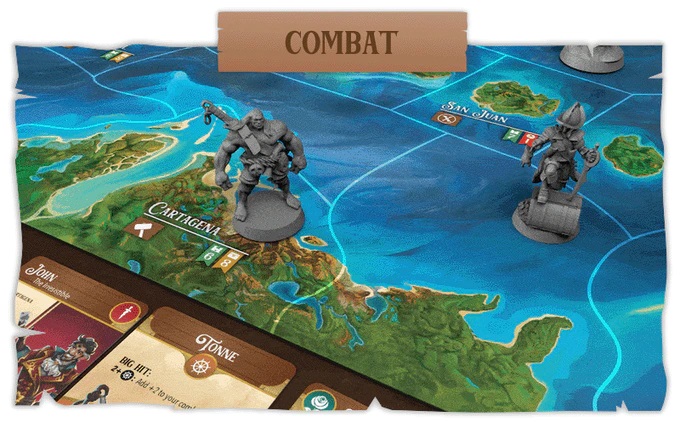 Each turn, players may move and take one of three possible actions: attack, visit a port, or go on an adventure. When attacking, you'll gather your dice and utilize your crew,  ship, items, and Lover abilities to gain the advantage. But your Nemesis will interfere, so keep your wits about you as you face down mythical monsters and evil empires.
You can always stop at a port when you need a break from all the fighting. Find a Hideout to bury gold, while your crew rest and relax. Or maybe you need a bigger ship? Then stop at the Shipyard and get yourself a fancy new vessel. Perhaps a few of your crew aren't pulling their weight? Toss 'em overboard and find some replacements at the Hiring Hall! Or stop at every scoundrel's second home, the Tavern.
Being a pirate can really parch your throat! Why not stop and have drink? Play some games and earn yourself a few spare coins while visiting the Tavern. Who knows? You might even overhear a juicy rumor. Each rumor will lead you to a relic hidden on the map.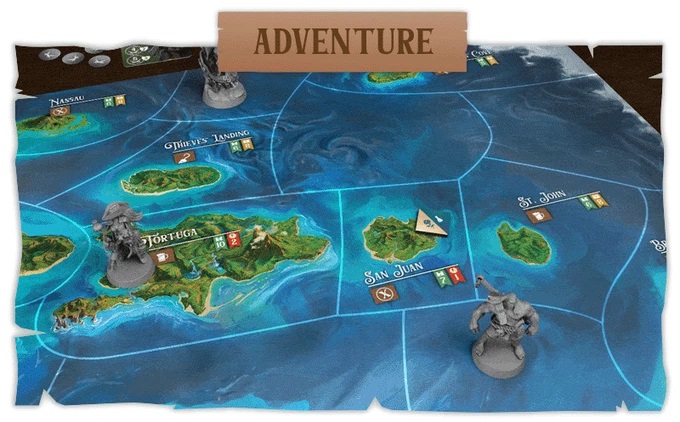 Each adventure is part of a larger branching narrative that takes place in the Sea of Legends app. This is a choose-your-own-adventure like you've never seen before. You might help your Lover out of jam, hunt down your Nemesis, or even befriend the strange denizens of the Caribbean! Your adventures will help you find gold, items, notoriety, and other unique rewards. But whatever you choose, the Sea of Legends app will take note and connect your stories with those of the other players at the table.
This is a sandbox game and there are multiple paths to victory. You can hunt down relics, battle monsters, or build your very own pirate empire! It's up to you, but you can bet your dusty doubloons that your rivals won't give up without a fight. If you're raring for a shot at the pirate's life, take a look at our beta rule book and prepare for your maiden voyage!
---
But that's not all, as we mentioned, they've got an amazing team working on writing adventures and other content for this game. Take a look, it's a video- and tabletop- RPG greatest hits list.