Here's a preview and some thoughts of the new Alarith Stonemage and Stoneguard for Lumineth Realmlords.
There's a ton of hype around the upcoming Lumineth Realmlords, and for good reason. Old school Fantasy players like the return to classic High Elves, story junkies are excited for Teclis in all his Archmage glory, and everyone else is excited to see a new elite army. Several warscrolls have been previewed covering the basic troops, but what about the horned hammer bros the Alarith Stoneguard and their floating leader the Stonemage? Well worry not, friends, because here's a preview and review of the Elves of the Stone Cow, complete with warscrolls.
Alarith Stonemage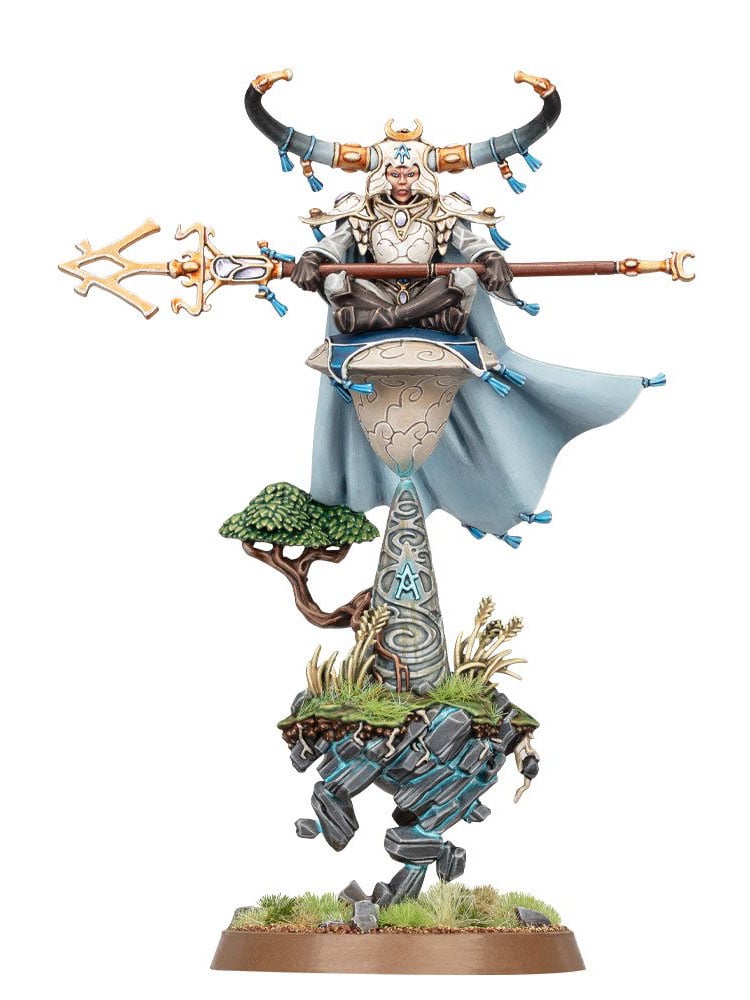 This guy stacks up to a pretty standard support wizard, with a little bit of punch mixed in. He has a fairly standard footslogging profile, with a 6" move, 5 wounds with a 5+ save, and Bravery 8, so you might not want him on your front lines. He does have a decent backline weapon in his Staff of the High Peaks, which gives him a 3" smack with d3 attacks that hit and wound on a 3+ and deal d3 wounds with a Rend of -1. While this certainly isn't terrible, because of his low armor and importance as a Caster I wouldn't recommend getting him stuck in without a buffer unit. However, on the support side of combat he's fabulous thanks to his Stonemage Stance rule, which allows him and all friendly Stoneguard wholly within 12" to sacrifice their pile-in for an extra Rend on all their weapons. So, if you've got your foe surrounded, or have most of your unit engaged, you can pop this ability to secure the kill against a stubborn opponent. And just in case he does get caught in a place you don't want him, or you need him to do a rapid reposition, he has his Gravitic Redirection spell, which allows him to float to wherever you want him while crushing his enemies under the weight of their own armor. The spell casts on a 5+, and if successful not only allows the caster to fly, but causes one unit within 18" to suffer a mortal wound, half their movement, and lose the ability to Fly, if they have it. This guy is going to provide a lot of low range board control, and he'll make his hammer bros a whole lot scarier.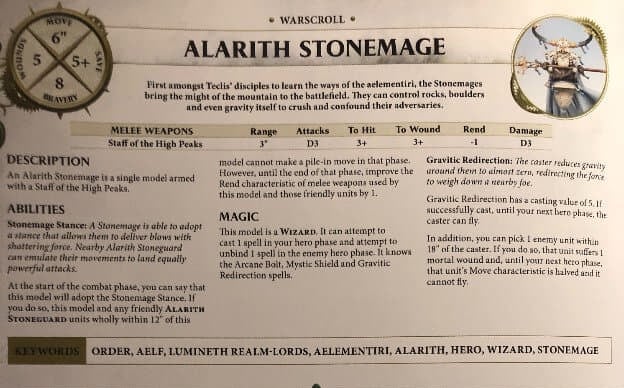 Alarith Stoneguard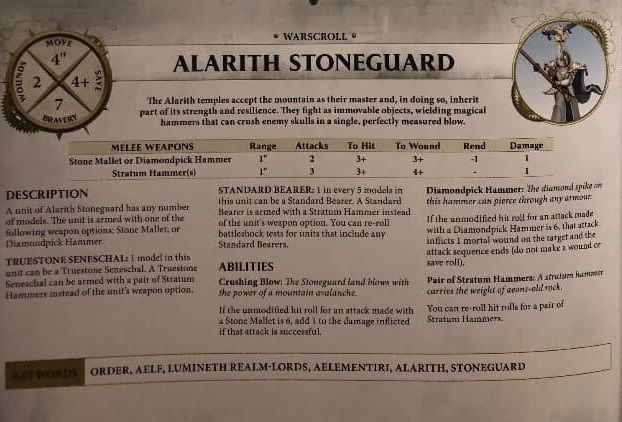 The Lumineth answer to elite heavy infantry, the Stoneguard have a lot of potential as objective campers and enemy deathstar breakers. They're a little slow, with only 4" of movement, but they're pretty hard to shift with their 4+ save, 2 wounds a piece, and Bravery 7. Even better, if you bring a Standard Bearer, they can reroll their already fairly solid battleshock tests. They have an option to take either Stone Mallets or Diamondpick Hammers, both of which give them 2 attacks that hit and wound on a 3+ and deal 1 damage with a -1 Rend. However, should you roll a 6 to hit, they get a whole lot scarier, with the Mallets increasing the damage to 2 and the Diamondpicks dishing out a mortal wound instead of normal damage.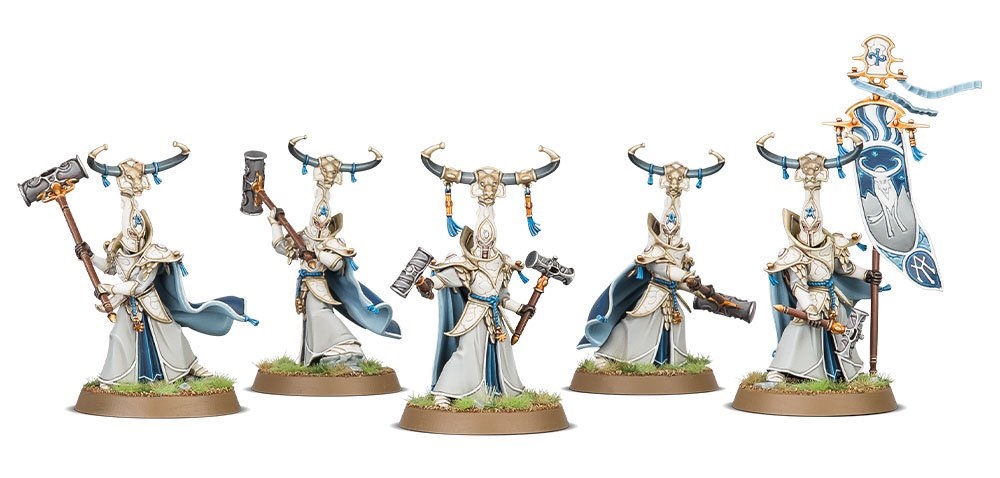 Which you take is entirely up to preference, but I would suggest bringing the picks against high armor armies like Nighthaunt or Ossiarchs and the Mallets against armies that rely on their wound thickness, like Seraphon or Ogors. The unit champion is allowed to take a pair of Stratum Hammers, which offer 3 attacks that hit on a 3+, wound on a 4+, and deal 1 damage with no rend, but since you took a pair you can re-roll misses. The standard bearer also has a Stratum Hammer, but he doesn't get the reroll benefit, so I would advise keeping him towards the middle of the unit to let your heavy hitters get stuck in while still keeping the benefit of the battleshock re-rolls. All in all, this is going to be a solid wall for your army, one your enemy will likely have a hard time breaking through.
Will you be using the Alarith in your Lumineth force?