Pariah and Daemonifuge are up for pre-order this weekend from Games Workshop!
via Games Workshop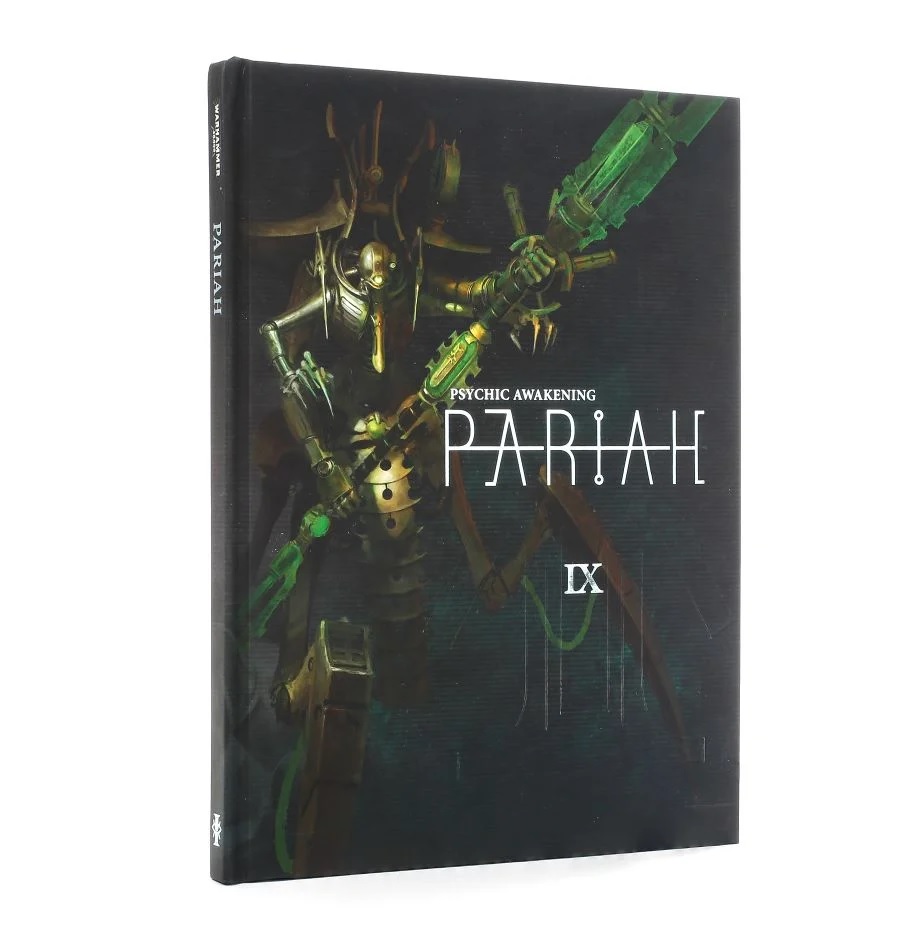 This Collector's Edition features a sumptuous soft-touch cover, black-edged pages and a ribbon marker. It's perfect for dedicated fans of the Necrons and Inquisition, and those looking to commemorate this epic event in Warhammer 40,000 history! Hurry, though – this edition is only available while stocks last.
The collector's edition also includes an expanded background section which features additional narrative as well as four short stories that were released to coincide with the Psychic Awakening:
"Lassitude" – by Andy Clark
"Port in the Storm" – by Duncan Waugh
"Gone Dark" – by Dirk Wehner
"For Every End, a Beginning" – by Andy Clark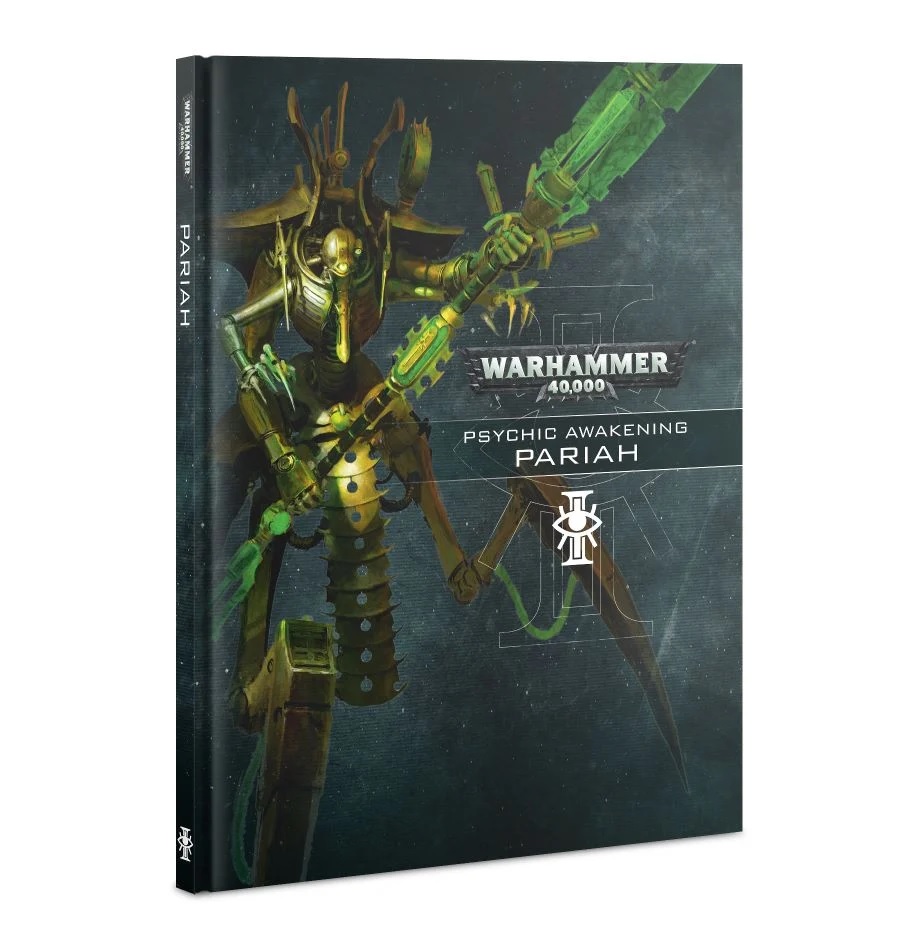 When Battle Group Kallides of the Indomitus Crusade reached the Nephilim Sub-sector, it encountered a silent zone, appearing to the group's Navigators as a shimmering psychic veil that even calmed the noise of the warp beyond it. Upon entering what the region of space that henceforth became known as the Pariah Nexus, the Battle Group encountered even stranger happenings – including the Geller Fields failing on a number of ships, which would otherwise have been instantly filled with Daemons from the warp, but with no such catastrophe ensuing. What new devilry was this?
In the ninth instalment of the Psychic Awakening, you'll read what happened when the secretive agents of the Inquisition began investigating haunting reports of the absolute silence detected in the Nephilim Sub-sector. Meanwhile, a vast set of rules expansions enhance your armies of the Inquisition with name generators, updated datasheets and much more besides.
Inside this 80-page book, you'll find:
– Riveting background that reveals the audacious plan being enacted by the Necrons in the Pariah Nexus
– Missions that allow you to recreate some of the most pivotal battles that took place when Battle Group Kallides moved to combat the strange goings on in this mysteriously silenced region of space
– A full rules supplement for armies of the Inquisition – including datasheets for Inquisitors Greyfax, Coteaz, Karamazov and Eisenhorn
– 9 sets of Theatres of War rules including the following environments: The Webway, War-torn Shrine Worlds, Devoured Worlds, Daemon Worlds, Hive Worlds, Forge Worlds, Perilous Jungles, Derelict Worlds, and Necron Tomb Worlds
– Datasheets for Illuminor Szeras, Kyganil of the Bloody Tears and the Daemonifuge, Ephrael Stern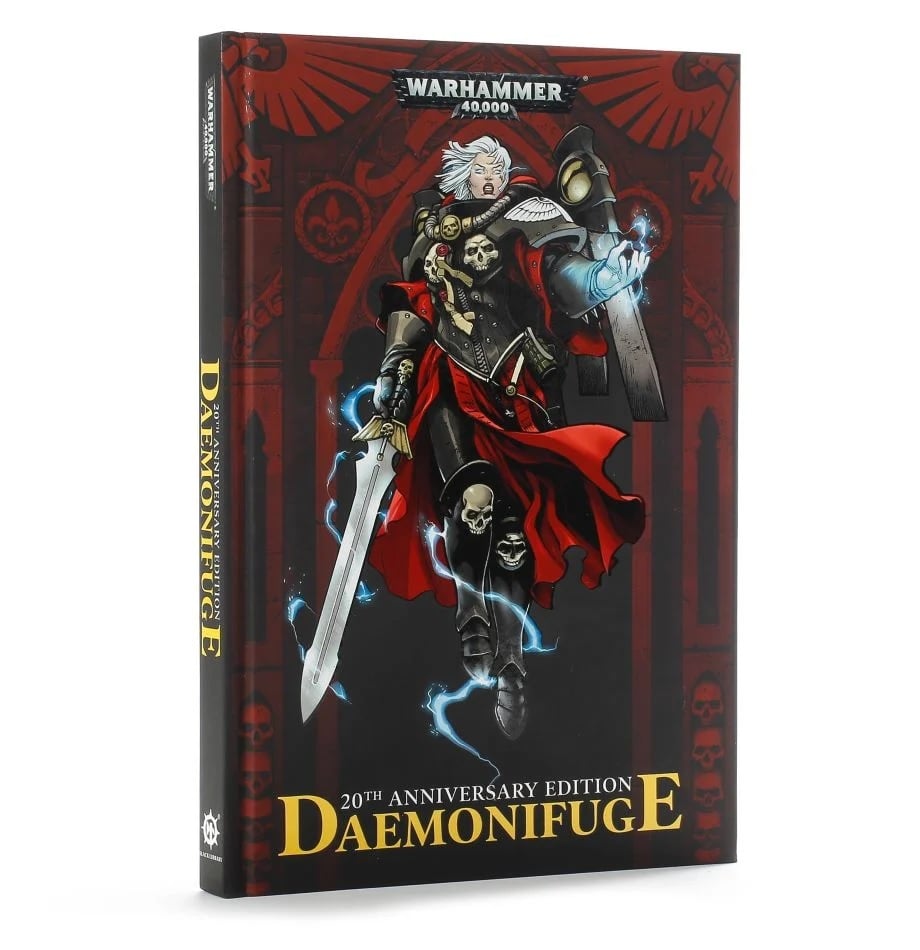 A Warhammer 40,000 graphic novel
The last survivor of a doomed expedition, Battle Sister Ephrael Stern finds herself under the scrutiny of the Inquisition. Has she become a living weapon against Chaos – or is she a pawn of the Ruinous Powers?
READ IT BECAUSE
Daemonifuge first appeared in the pages of Warhammer Monthly and quickly became one of the most popular ongoing comics in that publication. Here, the entire story is collected together for you to revisit, or discover the adventures of Ephrael Stern for the first time.
THE STORY
Ephrael Stern – Sister of Battle – Daemonifuge! Tainted soul or living weapon against the dark forces of Chaos? Under investigation by the Inquisition, Ephrael Stern and the inquisitor Silas Hand must place their trust in each other as they embark on a dangerous quest to discover the origins of Stern's power. The classic graphic novel returns, presented for the first time in stunning full colour.
Created by Jim Campbell, Chris Quilliams, Gordon Rennie, Karl Richardson, Simon Spurrier, Tiernen Trevallion and Kev Walker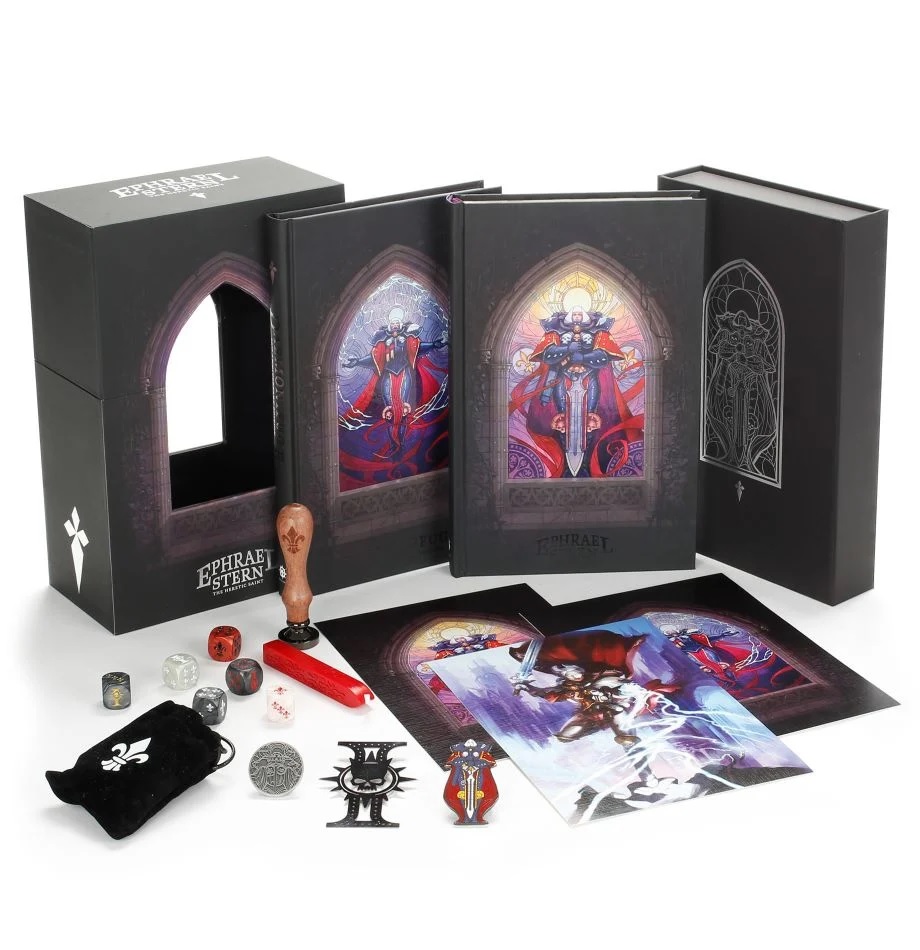 A Warhammer 40,000 limited edition novel
After centuries of strife guided by the Emperor's holy light, Ephrael Stern finds herself forsaken when the Great Rift dawns and that light is extinguished. When a mysterious stranger offers new hope, the Daemonifuge is thrown into battle once more…
READ IT BECAUSE
Catch up with Ephrael Stern, the Heretic Saint and living weapon against Chaos in a new novel that picks up the story of this classic character from Black Library's history and thrusts her into the Dark Imperium.
THE STORY
Throughout the tortured galaxy, Ephrael Stern is known by many names. The Thrice-born. The Daemonifuge. The Heretic Saint. Trapped deep within Imperium Nihilus following the coming of the Great Rift, the maligned Sister of Battle fears the Imperium is no more. The God-Emperor's light, which has guided her through centuries of strife, has too extinguished. Seemingly forsaken, Stern is bereft until a mysterious stranger arrives, offering her a new destiny, one that might yet see the Imperium saved. Stern must prove herself worthy of the God-Emperor's grace once more, lest a new threat greater than any mankind has faced before plunge humanity into a nightmare abyss of nothingness.
Written by David Annandale
ABOUT THIS EDITION
This mega-edition contains a limited edition of the novel Ephrael Stern: The Heretic Saint, plus loads of extras.
– Daemonifuge graphic novel in hardback with cover art that matches the novel
– Fleur-de-lys wax seal stamp and wax
– Six dice in a dice bag with a fleur-de-lys on bag, the dice featuring fleur-de-lys and an Adepta Sororitas icon
– Ephrael Stern enamel pin
– Ephrael Stern bookmark
– Ephrael Stern coin
– Three art prints
– Limited to just 1,500 copies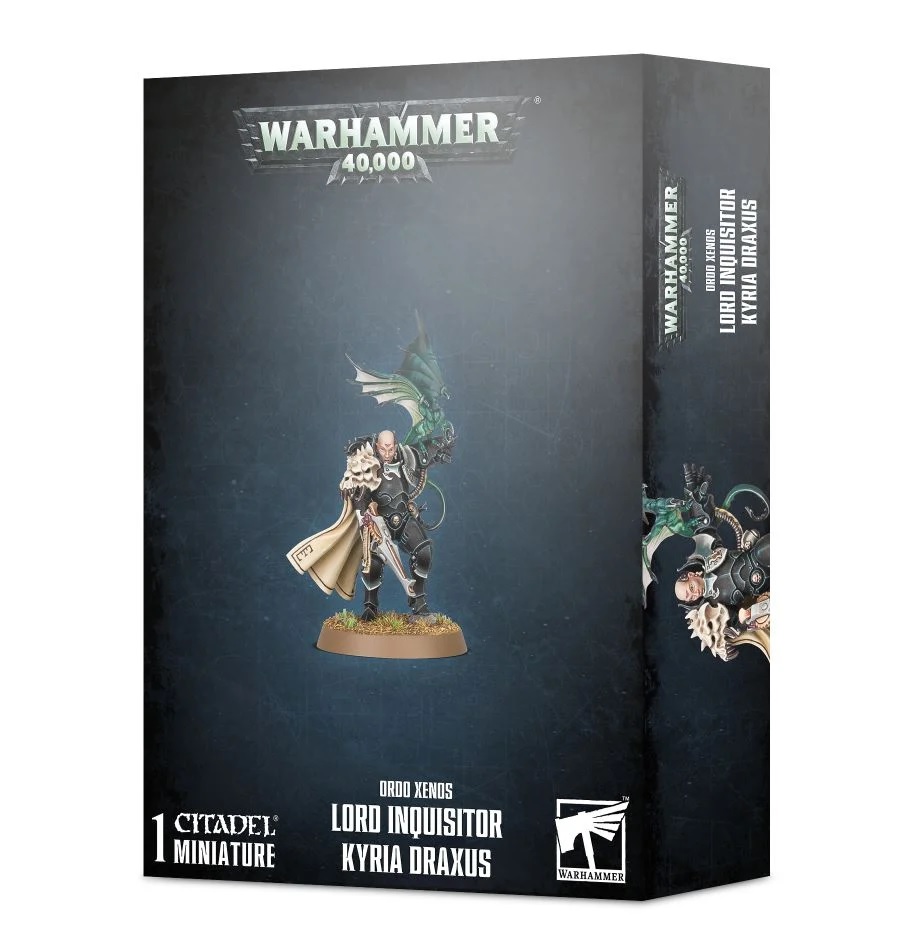 Kyria Draxus is an audacious Lord Inquisitor of the Ordo Xenos who specialises in the hunting and eradication of the Necron threat. Pragmatic to the point of immorality, she has long been considered a radical by her peers, though none could call even her most drastic actions rash. Her every deed and choice is weighed logically and carefully. Yet when she acts, the Lord Inquisitor is as relentless and unstoppable as the movement of continental plates.
As an Inquisitor of the Ordo Xenos, Kyria Draxus makes a perfect addition to any Imperial army facing the threat of the alien menace. Armed with a power fist and an Aeldari shuriken weapon called Dirgesinger, Kyria Draxus is well equipped to deal death at almost any distance. She is also accompanied by her Wyvach familiar, Shang, through which she can channel her psychic energies.
Kyria Draxus is supplied as 10 plastic components and comes with a Citadel 32mm Round Base. The Warhammer 40,000 datasheet for Kyria Draxus is included in the box.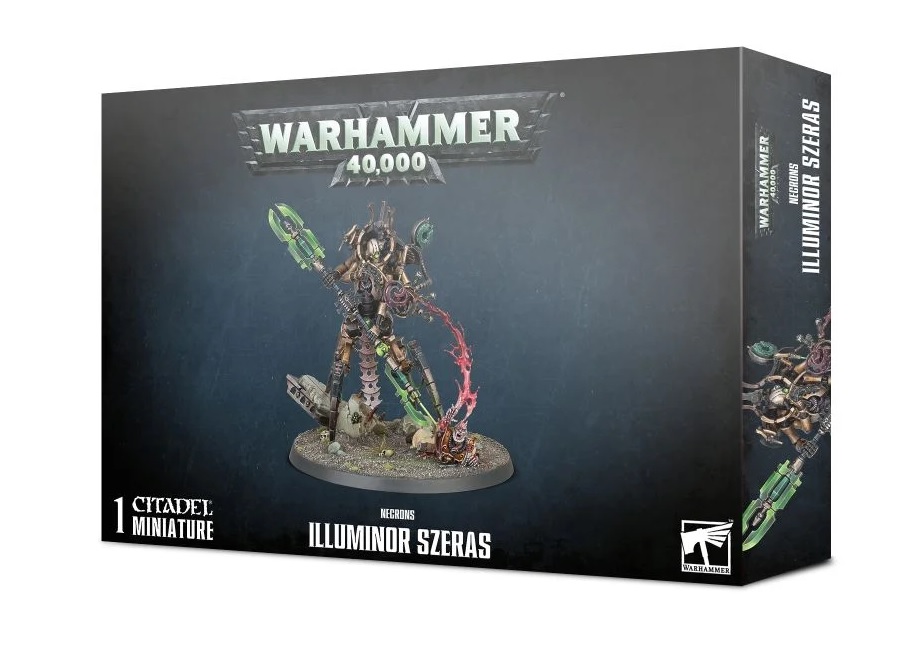 Illuminor Szeras labours to unravel the mysteries of life, for he fears that he would be a poor sort of god without the secrets of life at his fingertips. Szeras has been on the brink of understanding for many centuries, yet somehow final comprehension always escapes him. Though this is his obsession, his aptitude for augmenting the weaponry and even the mechanical bodies of his fellow Necrons is peerless. On occasion, Szeras' talents are in such demand that he can name his own price – invariably a harvesting raid targeted against a world of his choosing. Above all, Szeras cherishes Aeldari subjects, as they inevitably produce more intriguing results than any other of the galaxy's creatures. Once seized, his specimens can look forward only to a pain-filled, though not necessarily brief, existence in the bloodstained laboratory catacombs of Zantragora.
Illuminor Szeras is a powerful HQ choice for the Necrons army, able to mechanically augment his warriors to new heights of battlefield potency. He wields an eldritch lance – an ancient and terrible weapon that can be used to smite foes from afar or strike them down in combat.
This pack is supplied as 34 plastic components and comes with a Citadel 80mm Round Base. The updated Warhammer 40,000 datasheet for Illuminor Szeras is included in the box.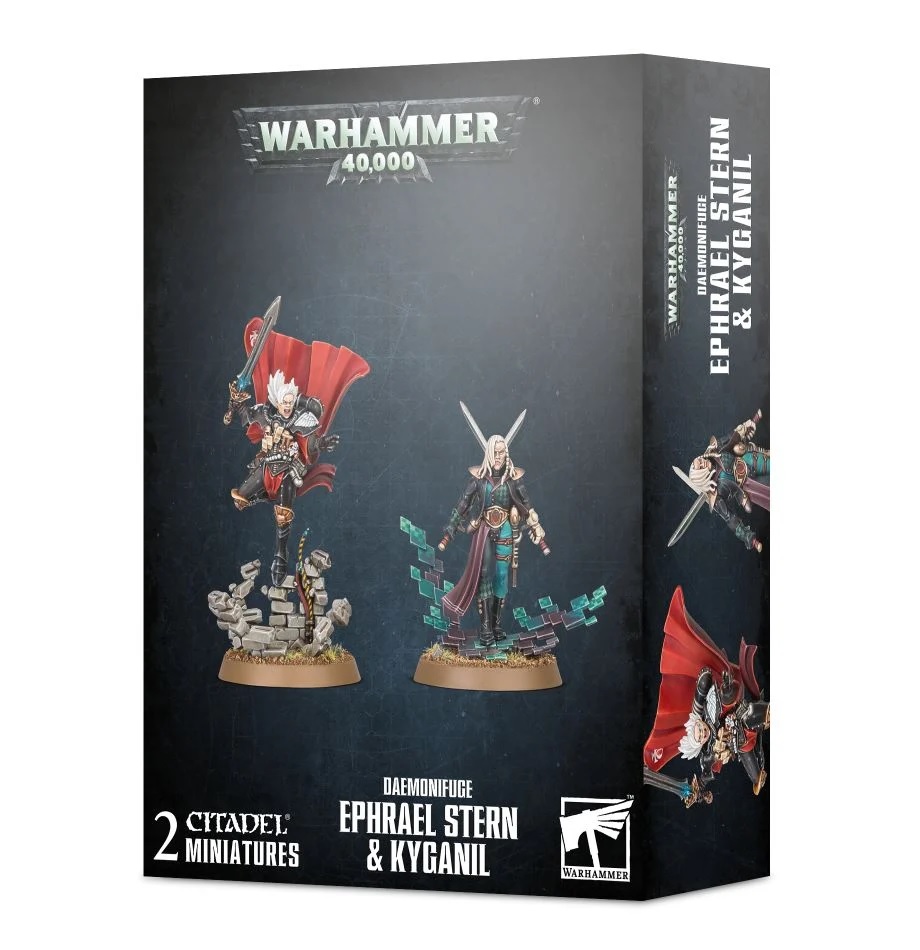 Ephrael Stern has been known by many terms during her long years in service of the God-Emperor – Thrice-born, Daemonifuge, sainted saviour, heretical witch. Once, she had been a respected and accomplished Seraphim within the Order of Our Martyred Lady, but fate had greater things in store for Ephrael Stern.
Otherwise known simply as The Pariah, Kyganil was once a fey Harlequin warrior of the Laughing God. Now he is a wanderer, an outcast from his own people who has found his place at Stern's side. Kyganil has brought her by dark paths to the repository of forbidden lore known as the Black Library, and it is through him that Stern has made contact with the Ynnari.
Fresh from the pages of the classic Daemonifuge comic series and Kev Walker's subsequent novels come these stunning models of the controversial protagonists, Ephrael Stern and the former Harlequin, Kyganil.
The set includes:
– 1x Ephrael Stern (supplied with a Citadel 32mm Round Base)
– 1x Kyganil (supplied with a Citadel 32mm Round Base)
The Warhammer 40,000 datasheets for Ephrael Stern and Kyganil are included in the box.
It's like some kinda weird psychic stuff is happening in the Grimdark or something…