New Dice from Q Workshop Bring Macabre to the Table – Kickstarter Live Now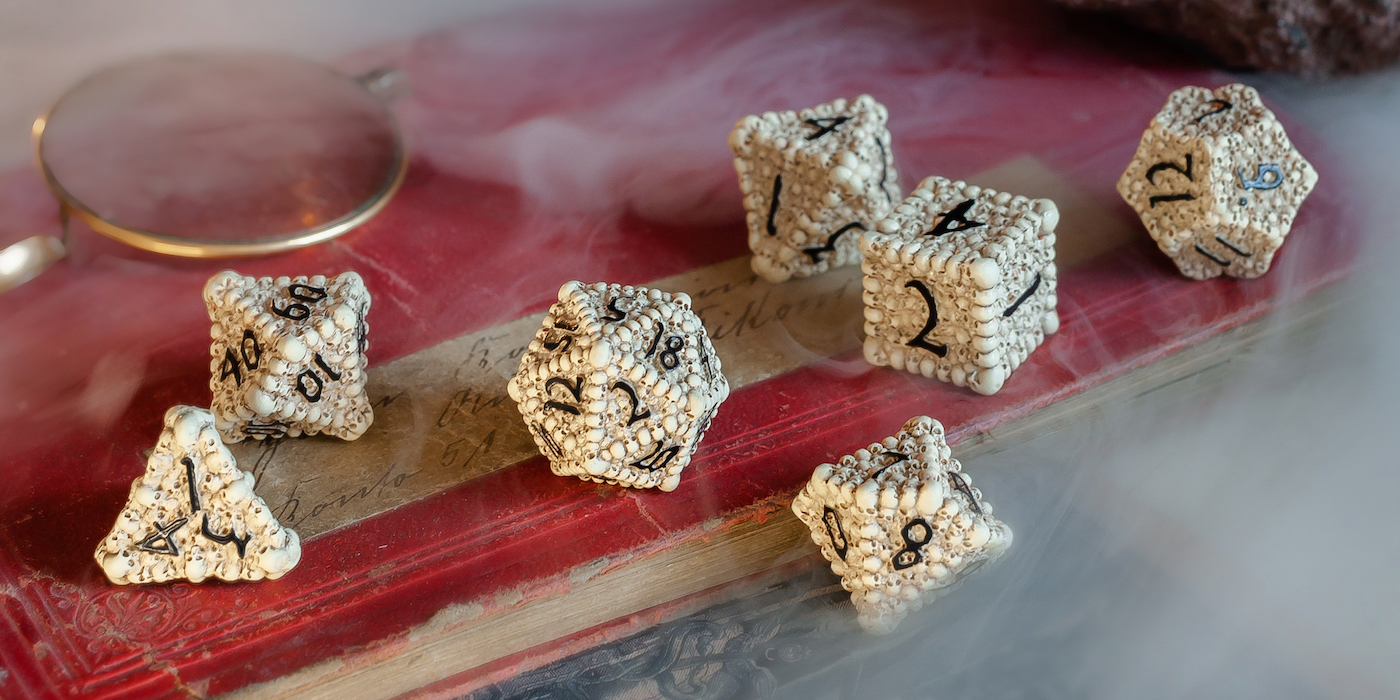 Bring some of the skull adorned The Sedlec Ossuary to your games with these intricate dice from Q Workshop. Perfect for necromancers, warlords, and those that serve the skull throne.
The company is known for its fantastic and creative dice – from hefty metal dice, and RPG polyhedral sets with intricate designs, to their dice wallets that you can clip on your belt. Their latest collection is up on Kickstarter now. These skull encrusted dice are a perfect way to stand out at RPG and game nights.
Dice Macabre are three-dimensional dice adorned in highly detailed skulls. Along with the spectacular handmade finishing, the project presents an entirely new size of polyhedrons, fitting in-between standard, and jumbo. Dice Macabre is definitely not something you see every day!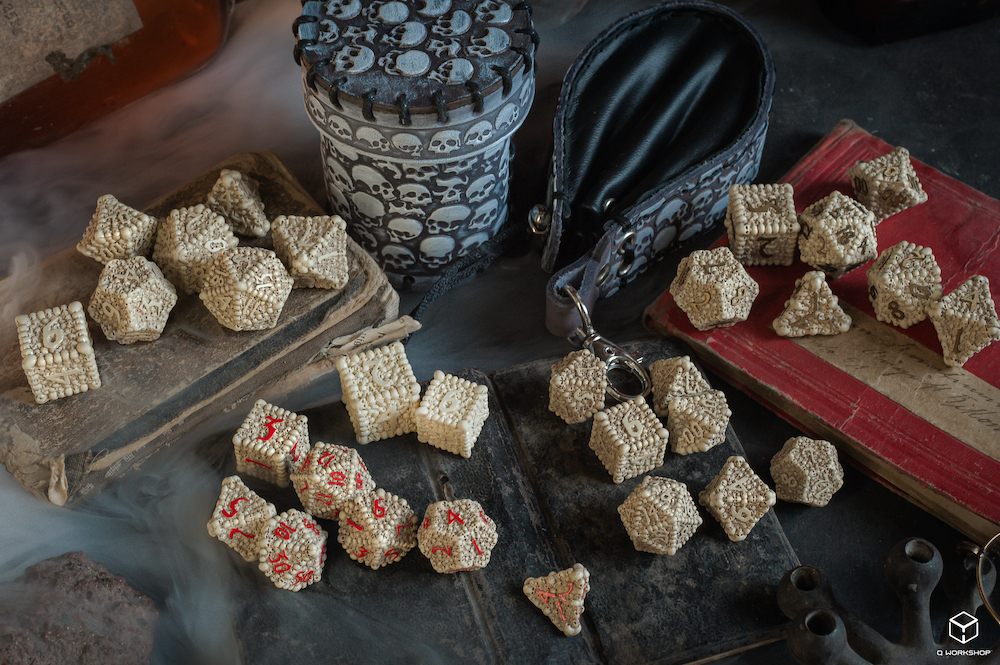 For starters, these dice are not simply molded and engraved. The production process requires a lot of manual labor, as the design is not your usual flat-faced polyhedron; Dice Macabre are full of resin skulls! Tiny, yet greatly detailed skeleton heads cover each surface and the edges are made from a row of skulls, too. It looks as if the creator took a ton of them and carefully stick them all together using precision tweezers under a magnifying glass. Digits are placed on top of each face like plates of stone in a font that perfectly matches the dice's ghoulish decorations.
 The dice look amazing even without additional paint, but when the digits are colored, they become notably readable and even more astonishing. Q WORKSHOP also introduces "Greater Dice Macabre", which are about 20% larger than standard polyhedrals, but not jumbo-size, which makes them more usable. They also come in a version with metal digits made of brass, which looks really polished and prestigious.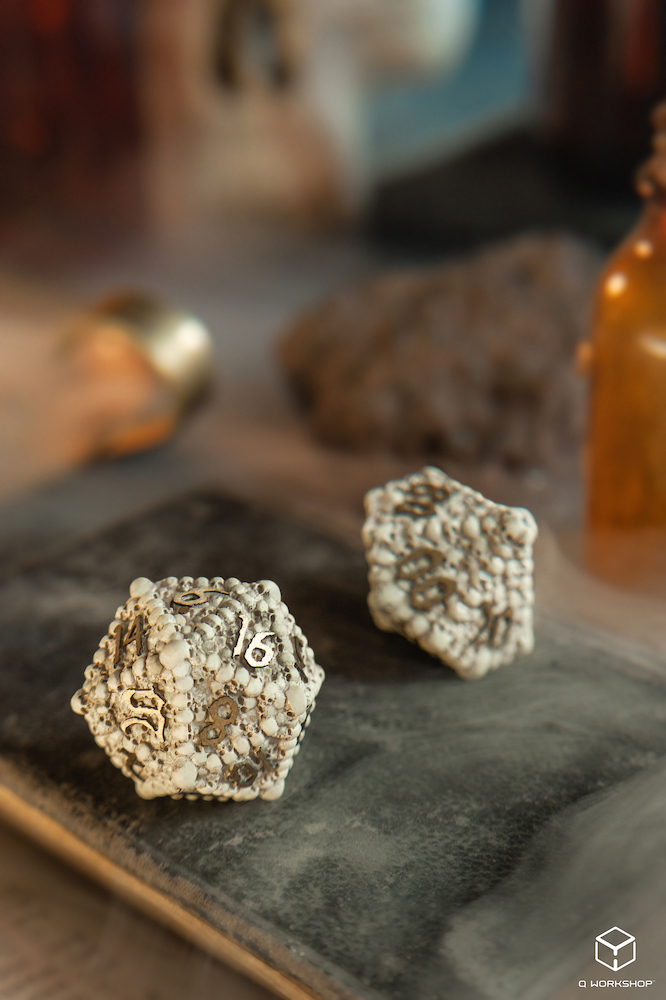 This Kickstarter project brings additional accessories, unlockable at each stretch goals: a dice chest, a bag, a cup, and a wallet, each adorned with skulls and maintaining a grim atmosphere. Definitely worth taking a closer look, as the finishing details are particularly neat in all the campaign subjects. The aesthetic value of the Dice Macabre is truly great in both dice and accessories, so it's a keeper for any gamer and/or collector alike.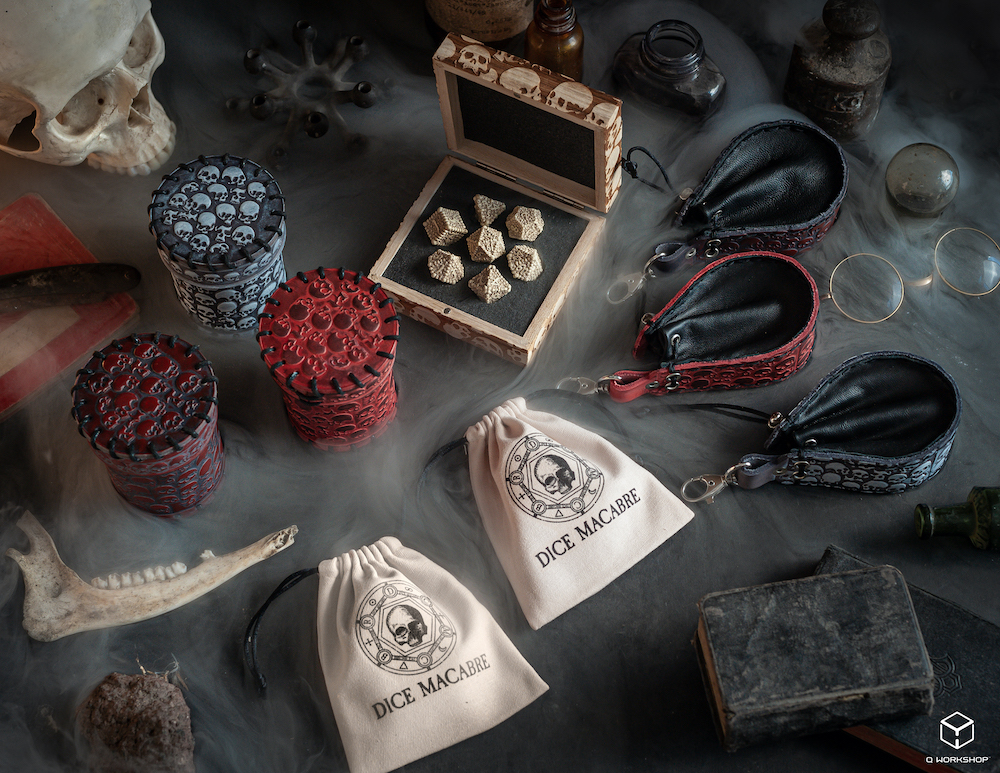 Apprentice: One set of Dice Macabre – $16
Warlock: One Set of Greater Dice Macabre – $26
Necromancer: One Set of Dice Macabre with Handpainted Digits – $29
Lich: One Set of Greater Dice Macabre with Metal Digits – $85
Check Out All of the Pledge Levels, Stretch Goals, and Add Ons!
Subscribe to our newsletter!
Get Tabletop, RPG & Pop Culture news delivered directly to your inbox.