The Forbidden Lands is Fria Ligan's take on classic fantasy mixed with a hefty dose of sandbox style campaign play. And the Bitter Reach adds more.
The Bitter Reach is a new campaign module for the Forbidden Lands roleplaying game that takes players to the frozen reaches in the north, out beyond the Ravenland. What does all that mean? Mostly that winter themed adventures, magic discipline, and new player options have all been added to Fria Ligan's take on sandbox-style adventuring (where you go out and explore a map, discovering ruins, monsters, and worse out in the wilds–think of it like a West Marches campaign in a box).
With a new profession, two new magic disciplines, and eight killer monsters, there's a lot to digest in this cold new book, let's take a look.
via Fria Ligan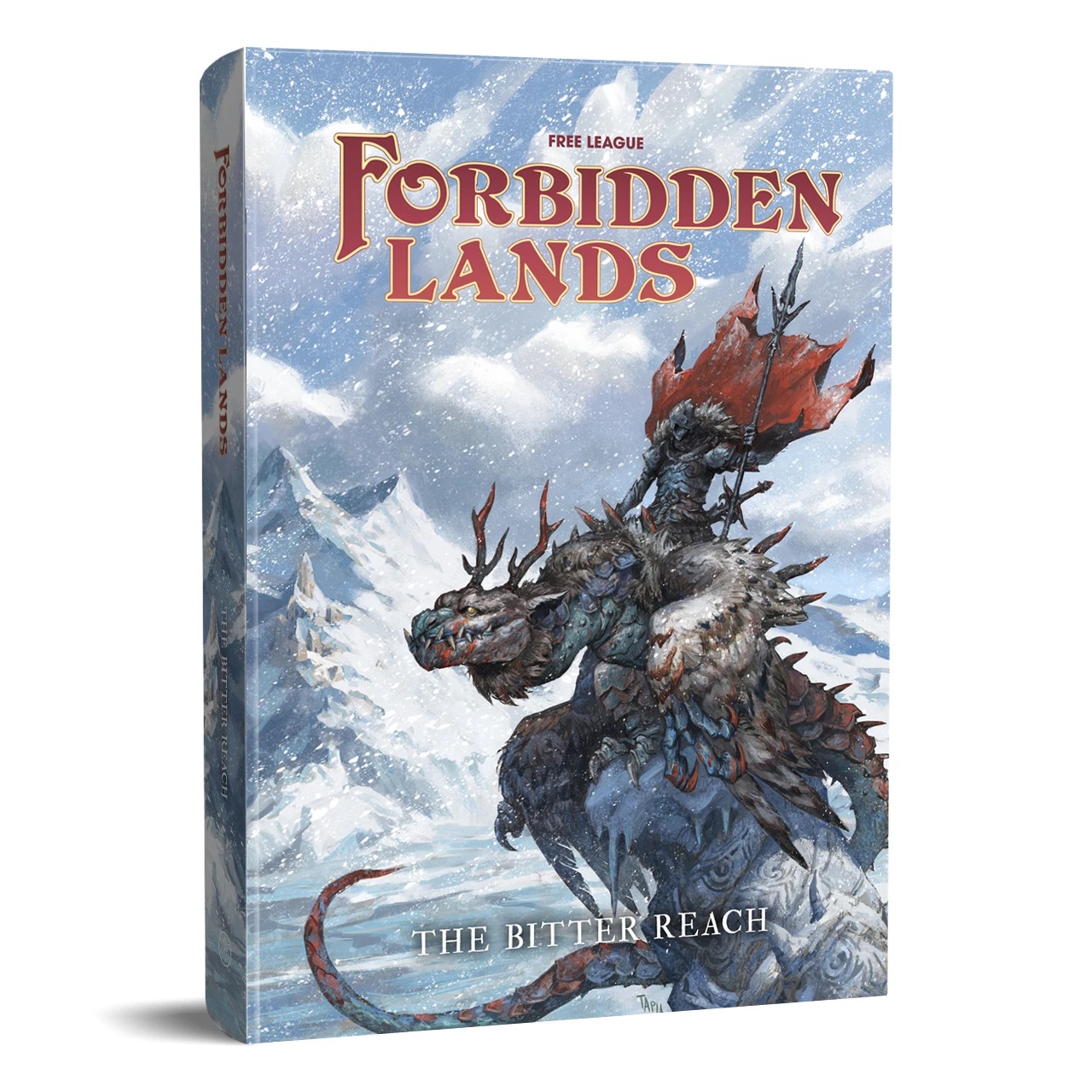 n the southern lands, elders speak of cold storms from the north. Cursed voices borne on the icy winds whisper of secrets from ages past that would plunge realms and kin into ruin if only someone could understand these ancient words. They are the desperate confessions of the lost. They are the legends of the Bitter Reach.
Deep beneath its frozen surface, creatures told of only in the oldest of legends dwell. They guard treasures that can give their owner power beyond their wildest dreams, treasures that could lay waste to the Bitter Reach if they were found.
And the treasures will be found, sooner or later, so why shouldn't they be yours to claim?

The Bitter Reach is an epic campaign module for the Forbidden Lands roleplaying game, describing the icy wastelands north of Ravenland. Contents:
Two new magic disciplines: Elemental Magic and Ice Affinity.
The new Champion profession, along with new profession talents.
Expanded travel rules for snow, cold, and fuel, including no less than 40 new random encounters.
Eight new monsters, including the Frost Dragon, the Ice Giant, and the Wendigo.
The Wake of the Winter King campaign, including eight key players who all seek to dominate the riches hidden under the Bitter Reach.
Ten complete, illustrated adventure sites, playable in almost any order.
An epic campaign finale, giving the adventurers the chance to decide the future of the Bitter Reach.
Note: To make full use of this book, we recommend the Bitter Reach Map & Cards Pack, sold separately. You can buy both together in the The Bitter Reach Bundle.
Happy Adventuring!