Tabletop Kickstarter Round-Up: June 10, 2020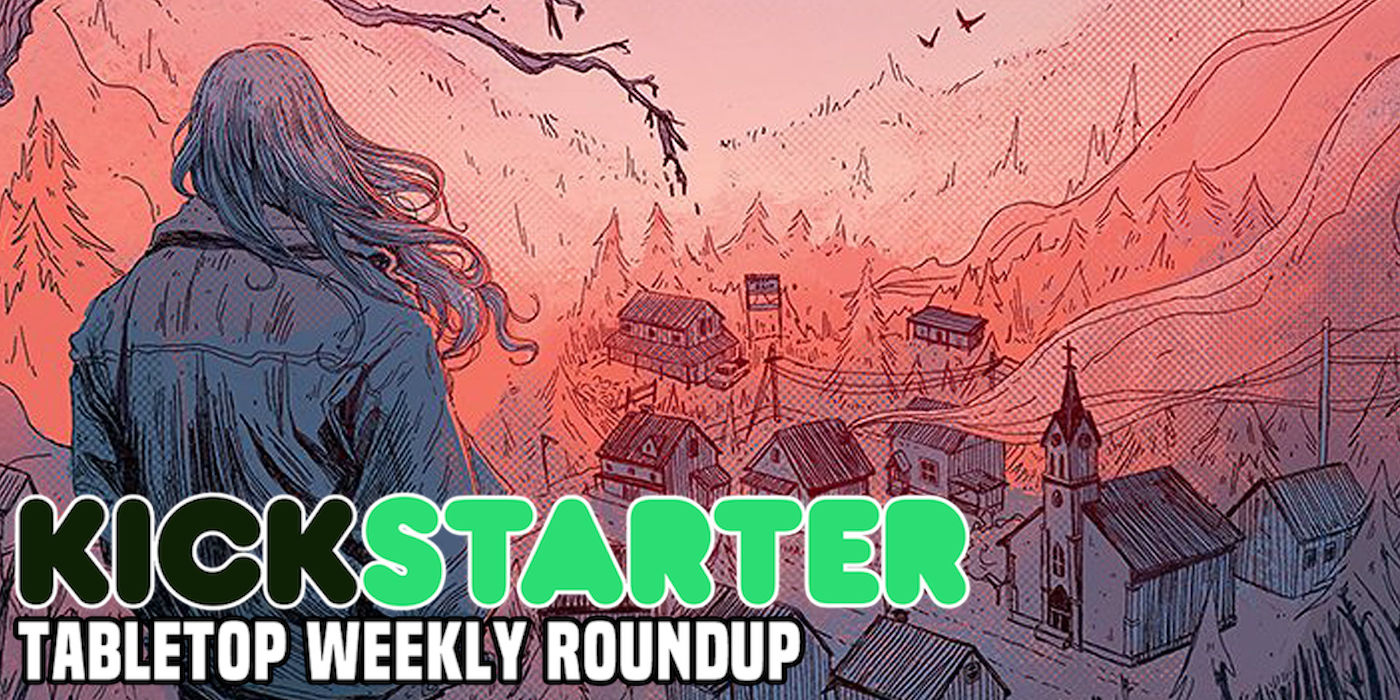 Organize your hobby bench, kick some butt with some turtles, and celebrate pride with some cool knights. Come check out this week's batch of crowdfunding highlights!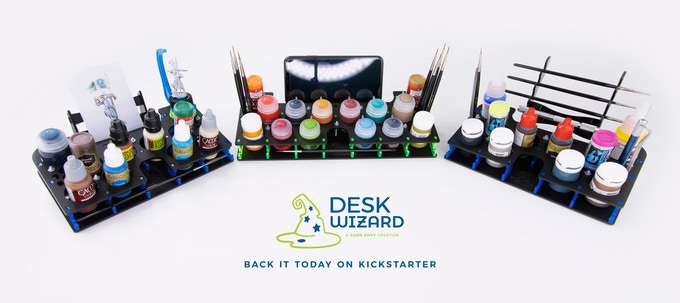 Created by Game Envy, the Desk Wizard – Miniature Painting Organization Systems expanding with the addition of the Desk Wizard – Rank 10 and Desk Wizard – Rank 14 paint decks. They are designed to provide an extremely versatile solution for in-use paints, individual projects, and full desk organization by keeping your favorite paints, tools, phone, and even your Hobby Holder at the ready. 
The Desk Wizard – Miniature Painting Organizers are a unique way to keep your painting space clean and efficient. Whether you work on the kitchen table or have an entire painting studio, the Desk Wizard R10 + R14 can help your painting experience!
Pledges start at $18 for one rank 10 organizer plus all applicable stretch goals.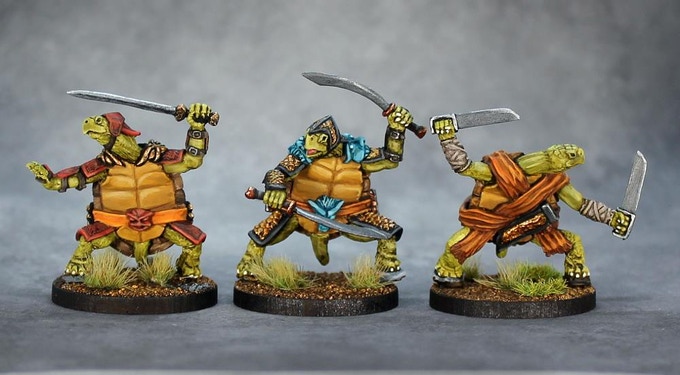 Several years ago at Dragon Bait Miniatures, I decided to make some cool turtle folk for my role-playing campaign. I ran this by Andy Pieper, a superb sculptor for Reaper Miniatures, and together we began The Boxer Rebellion. The Boxer Rebellion represents boxer turtles as nine iconic character classes in fantasy role-playing games with Kung Fu flair.
As this project barreled along I received the first pewter casts and realized the expense of producing and shipping such heavy miniatures. I got together with Dave Baker over at Trenchworx, an incredible resin casting company, and reinvented the wheel by having them created in resin also which made the cost and shipping of these miniatures more affordable.
Two years later I have for you nine of the nicest resin miniatures you will find on the web. Their detail is crisp and clean, and the research and design of each miniature make them not only a delight to paint but also a marvelous addition to any tabletop.
Pledges start at $70 for the full set of nine resin turtles.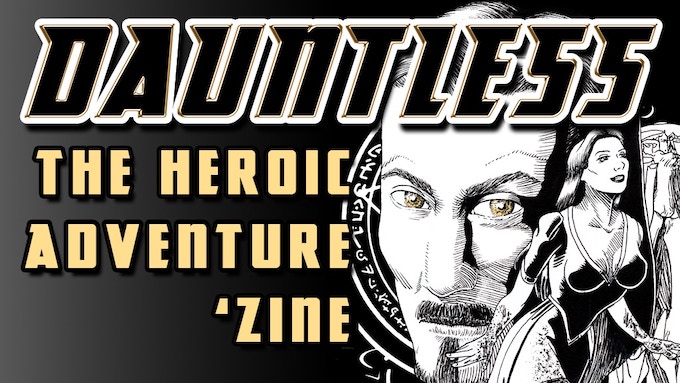 Dauntless is a zine for the Heroic Adventure genre. It's dual-focused on literature and system neutral tabletop RPG material. Each issue includes short stories, highly developed setting details, scenarios, and random tables for use in superhero and pulp action games. Our first issue, Prophets of Darkness, offers 40 pages of supernatural foes, gruesome all-new spells, and tainted psychic horrors sure to delight fans of occult detective literature and bedevil player characters.
Subscribe to our newsletter!
Get Tabletop, RPG & Pop Culture news delivered directly to your inbox.
Pledges start at $5 for a PDF of issue one and you can get a physical copy for $10.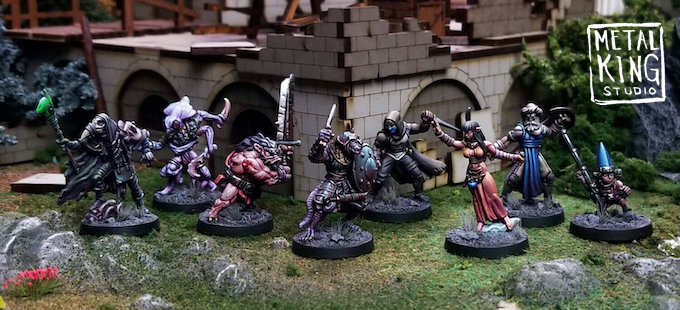 Relicblade is a tactical fantasy miniatures game! Players recruit the ultimate squad of fantasy heroes or cruel villains as they battle over the fate of the world. Choose your path and gather the greatest warriors of the age to your cause! Enter a world of magical treasures, wonders, and horrors. Compete against rivals in the bitter struggle for supremacy! The rules are deceptively simple and easy to learn, but you'll immediately face deep tactical choices in this dynamic battle game. 
This set includes two full sized 100-point warbands consisting of eight powerful champions and a full deck of all-new cards. Players will also take on the rebel gods at the cursed Temples of Kural in the included scenario pack.
Pledges start at $10 for the upgrade deck and $85 for the two-player set.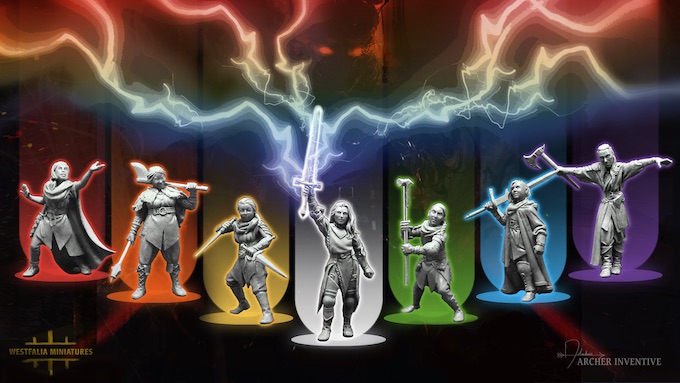 After taking up steel for the last Pride month in 2019, Archer Inventive is donning the armor of the Pride Paladin once again, and hoping to bring the adventure home for all! We've received tons of fantastic and encouraging feedback from this photo-shoot, but one of the big questions we got was whether we planned to make a set of miniatures to bring the Pride Knights to tabletop gaming. The folks over at Westfalia Miniatures were wondering the same thing, and together we have been working to make that a reality.
We're offering the Pride Paladin and the Pride Knights (coming in at 32mm scale), based on reference provided by Archer Inventive, with Westfalia Miniatures managing the shift from imagery to mass production. 
Pledges start ar $12 for a single mini and you can pick up all seven for $60.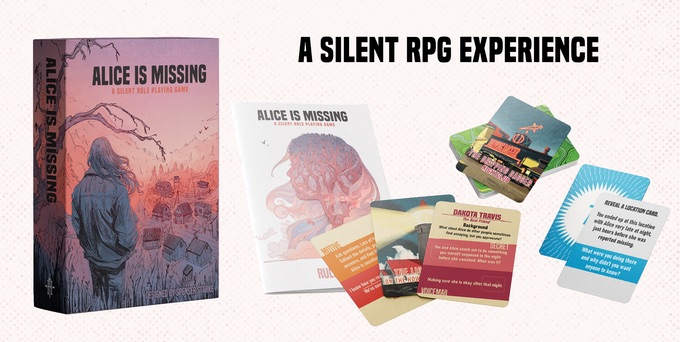 From the creative mind behind Icarus: A Storytelling Game About How Great Civilizations Fall, comes Spenser Starke's next project Alice is Missing, a silent role-playing game about the disappearance of Alice Briarwood, a high school junior in the small town of Silent Falls. 
Developed by Hunters Entertainment and published & distributed by Renegade Game Studios, Alice Is Missing is a unique kind of roleplaying game in which players only communicate using their phones, sending text messages to each other as they unearth clues about what happened to Alice.
The game is played live and without verbal communication. Players inhabit their character for the entirety of the 90-minute play session, and instead of speaking, send text messages back and forth to the other characters in a group chat, as well as individually, as though they aren't in the same place together. 
Pledges start at $10 for a PDF and you can get a physical copy for $20.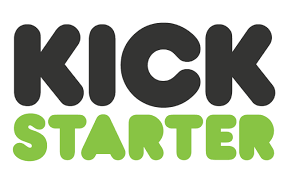 ~Which Of These Campaigns Caught Your Attention?