9th Edition is the time pull all those dusty Blast Weapons off the shelf and get them back on the tabletop. Let's look at some new rules.
Blast Weapons have had a rough time in 8th. Your mighty Vindicator takes the time to get across the tabletop into perfect range…then rolls a 1 on it's number of shots. Yuu can feel the disappointment through your screen can't you?  This example of unpredictability was one of the reasons that blast weapons faded into the woodwork during 8th. Unless there was some way to mitigate the randomness, folks just left them at home and went with more reliable selections for their armies.

A New Day!
But no more. Now GW has given all Blast Weapons a new lease on life with more reliability in 9th. Look below: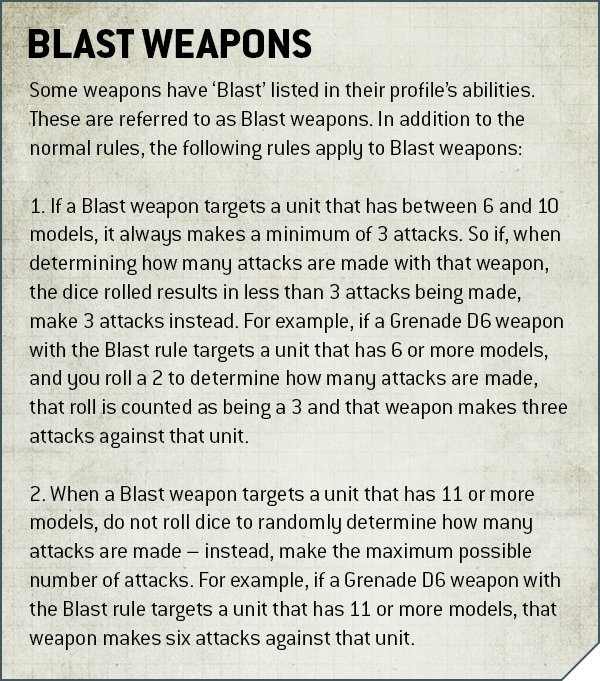 There's a lot here. First, bast weapons really operate in 3 ranges:
1-5 models – roll the random number of hits
6-10 models – roll the random number of hits, with a minimum of 3
11+ models – automatically get the maximum number of hits.
This is HUGE improvement compared to the wildly unpredictable number of hits you had to deal with in 8th.  This makes the weapons much more relaible and returns them to a primary roll of anti-horde tools. Those giant units of dirt cheap minis like Cultists, Guardsmen and Ork Boys better watch out!

The Catch…
But it's not all sunshine. There is a slight downside that ties into yesterdays update to shooting in assault.. Take a look at the this little caveat:

Yes, while you do get get upside of blowing away hordes Blast weapons can't take advantage of shooting at point blank range into models who reach them.  I'd say it's fair overall, and will further serve to differentiate vehicles into different categories and uses.  There wll be ones meant for getting stuck in, and others meant to hand back and shell from a distance. Overall a great improvement.
~Which of your vehicles and units do you think will be most improved?