Joe Manganiello and Omaze joined forces to bring a little more light and nerdieness into our 2020, and the outcome was inspiring.
For four months, participants donated to earn themselves an opportunity to meet the Wizards of the Coast team and play Dungeons and Dragons with Joe Manganiello in Seattle, WA, flights and hotel costs included. As is the case with most of the Omaze promotions, this one promised a killer experience that's truly one of a kind. D&D with the movie star who has their own secret basement that's a shrine to Dungeons & Dragons? Who wouldn't want to get in on that?
The answer is nobody. Because the fan response was incredible, as folks from around the internet turned out in force for the chance, earning over $608,000 in charitable donations. This money is going to the Make-A-Wish Foundation where it will do immeasurable good bringing joy to children with critical illnesses.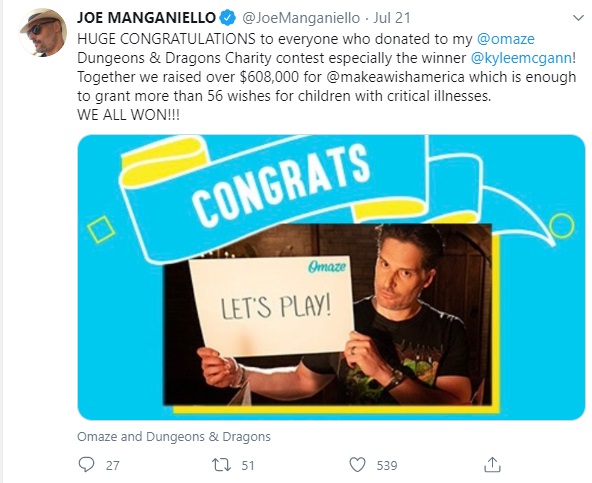 In the end, the lucky winner of the trip and unforgettable D&D session with Joe Manganiello himself is Kylee from Woburn, MA. But as Joe said in his tweet, when the community comes together to bring this much good into the world, we all win.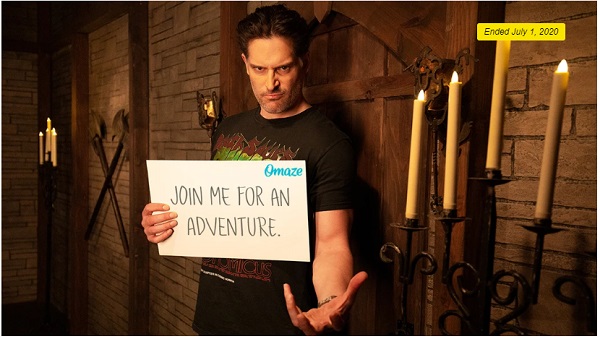 Though the contest is no longer running, if you would like to donate to the Make-A-Wish Foundation, you can do so here. I personally know people who have benefited from the work Make-A-Wish does, and the generous contributions of people just like you and it's truly one of the best causes possible. So even though this contest is no longer running, please consider making a difference in someone's life.
---
Did you enter Joe Manganiello's D&D contest? What do you think you would have done if you won the opportunity? What character would you have played? Can you believe how much he helped raise for children with critical illnesses? Let us know in the comments!
Happy Adventuring!