This week I took a look at Kipo and the Age of Wonderbeasts and just how very playable all of the characters would be in a D&D setting.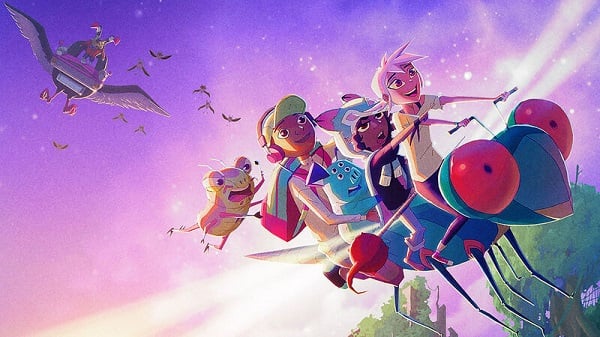 If you haven't seen Kipo and the Age of the Wonderbeasts yet, do yourself a favor and go watch it right now. A post-apocalyptic show full of fun, giant animals, hyper intelligent animals, mystery, and adventure, Kipo has a diverse cast of relatable and real feeling characters and an art style that mixes 90s cartoons and a smidgen of anime influence into a show that's almost nostalgic while being completely new. Kipo used to live underground in a human safe city called a burrow, but a giant monkey attacked her city and separated her from her dad. While she's trying to find the back-up burrow her neighbors would have moved to she meets some surface dwelling humans as well as a slew of humanoid animals who don't always love humans. And the characters would fit in so well in any adventuring campaign.
If you haven't paused to watch by now, you should proceed with caution as I'll be including quite a few spoilers about season two Kipo.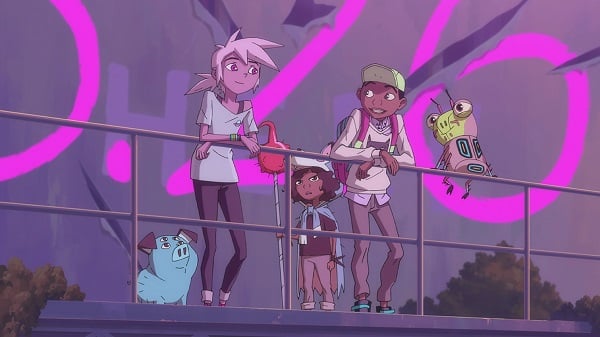 The main cast consists of Kipo, Benson, Wolf, and Dave. Originally my plan was to focus on Kipo, Benson and Wolf as Dave is a giant bug who hangs out with Benson and feels a little more like an animal companion than a player, but I decided in the end to focus entirely on Kipo. Benson and Wolf are fantastic and eminently playable characters, but I realized quickly that they are almost 100% by-the-book examples of a Bard and a Rogue / Assassin. This doesn't mean that they're dull on screen or boring characters, but their sheets would be fun to play because of their personalities and backstories…. none of which will translate well to a character sheet.
Luckily Kipo herself makes for a VERY fun character sheet.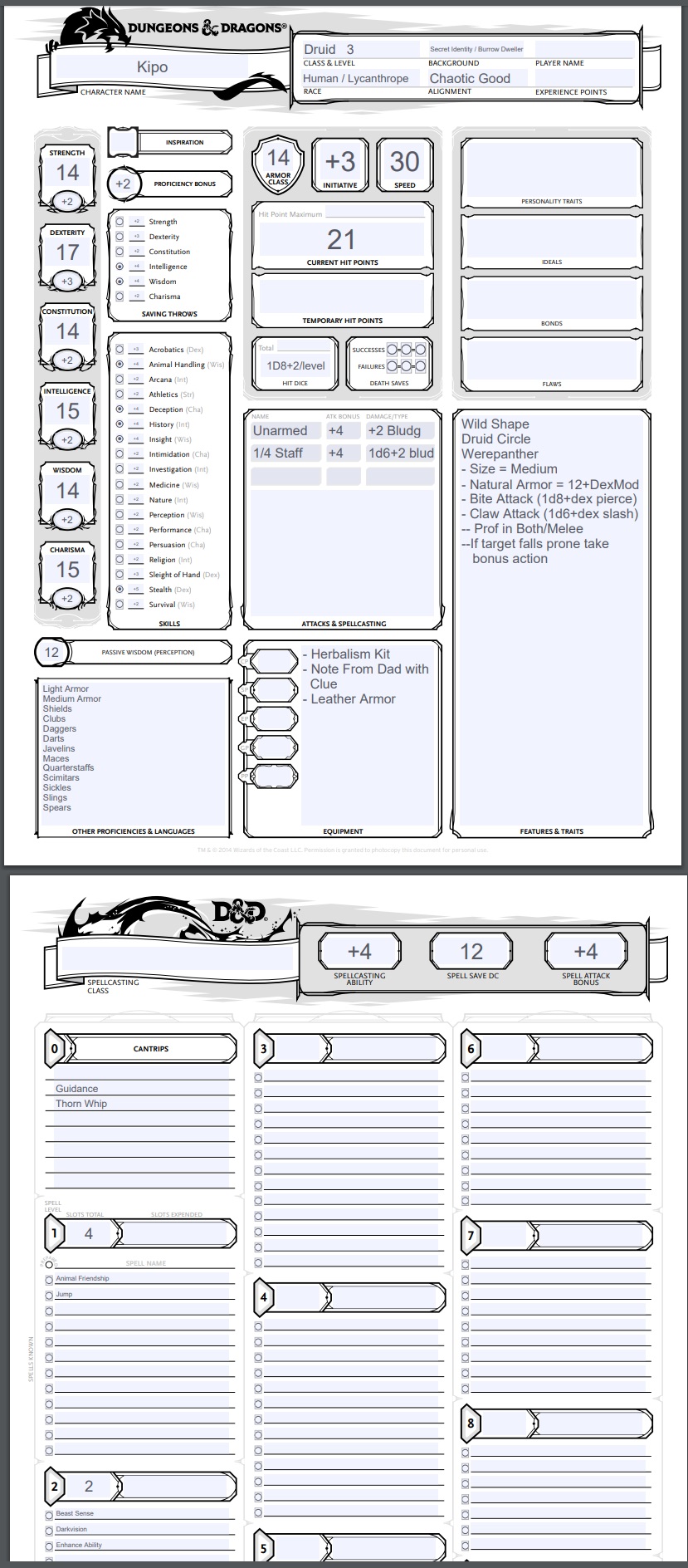 Kipo is a lot of things. She's smart, uncannily acrobatic, full of perseverance, and can turn into a giant panther. I wanted to lean into her transformative abilities pretty hard because it's the most ridiculous and fun thing about her to bring to table, and I did that in a couple of ways.
The 5e Lycanthrope race homebrew (which can be found here) gave me a good jumping off point for Kipo. I used those boosts for a human lycanthrope and a weretiger (not a panther, but close enough for our purposes) and was pretty happy with that as a start. Plus, the boosts really helped some of the Stats; they weren't all that high when I finished rolling dice. I also picked druid for the transformation abilities and because Kipo is a character with a really good understanding of and connection to the natural world. She reads the stars and knows how to handle the animals of regular intelligence. Her wild shape would have to be home-brewed and chatted about with a DM, but instead of entire transformations she often alters just part of her body, giving herself eyes that can see in the dark or giant beast arms. Would any DM in their right mind agree to this? With rules, maybe. But come on, wild shape is wild and D&D is supposed to be fun.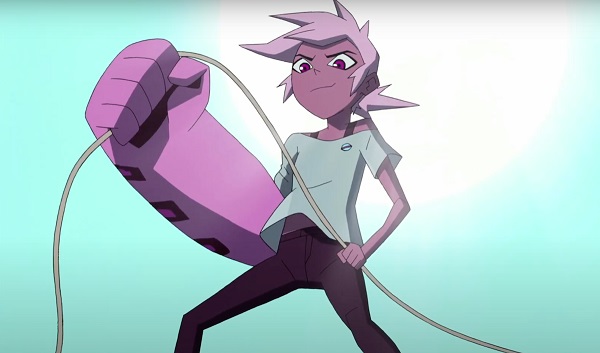 I avoided giving Kipo a lot of weapons because she almost never uses them. The weapons she does use are usually things she picks up, uses for a moment while they're useful, and then loses again. Wolf has her tried and true scorpion tail staff, but Kipo really relies on those panther arms.
Finally, her spells were a mixture of what I thought she would want to have for day to day use like guidance and animal friendship, and a few that would help explain some of her more uncanny powers to limit DM annoying. Darkvision, jump, and beast sense fall into that category.
---
Have you watched Kipo and the Age of the Wonderbeasts yet? Did you see the reveals from season two comming? How would you have built Kipo for D&D? Let us know in the comments!
Happy Adventuring!