Fantasy Flight Games is showing off the details of the new BX-Series Droid Commandos and they mean business!
These just might be the Droids the Separatists army is looking for. The ne BX-Series are coming to kick some Clone butt and they have some new toys to play with to get the job done.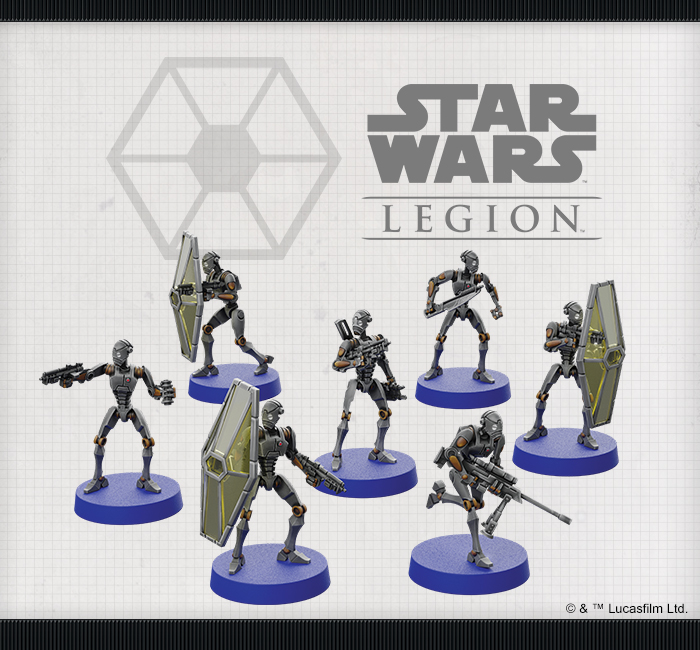 "BX-series Droid Commandos are a different breed of droid trooper. Manufactured with the ability to operate independently and employ a wide array of tactics, they display a versatility not seen in other droid units. Rather than work wholly on their own, however, droid commandos offer the perfect complement to existing Separatist strategies.  
Unlike the often clumsy B1 and B2 battle droids, BX-series Droid Commandos are extremely agile, easily scaling any obstacles that may be present on the battlefield. Add this to their ability to scout ahead with a speed-3 move when they are deployed and these droids can easily take on a variety of roles in your army while the enemy is focused on larger groups of droids laying down heavy fire."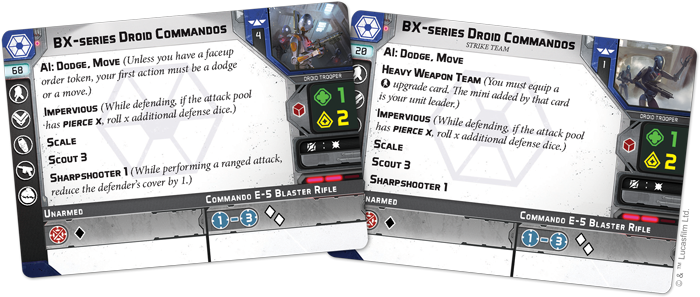 These droids have a solid set of keywords and rules to make them a welcome addition to the Droid army. But it's not just all those fancy keywords – their new options make them a versitile unit as well.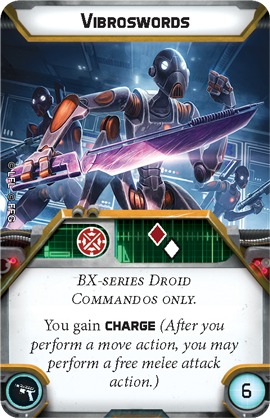 If you're looking to get up close and personal, Vibroswords are a great option thanks to the Charge keyword that gets added to the unit. Plus the red and white damage die aren't anything to sneeze at!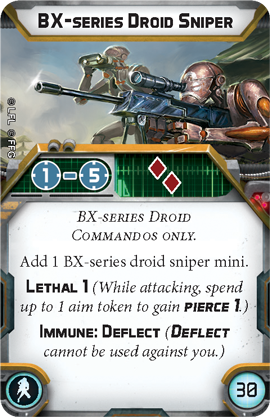 Need some long range punch? Why not take a sniper along for the ride? These guys are great for picking off those pesky Jedi, too. Just toss them behind some of their buddies with Deflector Shields for added protection.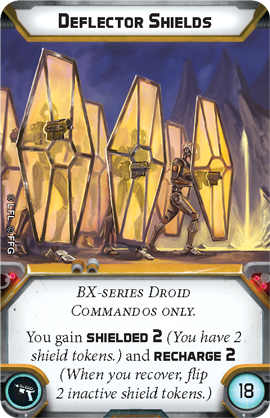 The fact that these shields can recharge is pretty cool as well. It's going to take a lot more firepower to take out these droids.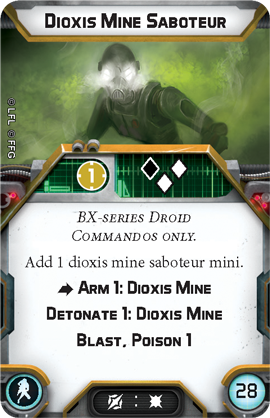 There are also these Saboteur Droids you can add to a unit for when you need to cut off the enemy from parts of the battlefield.
These new Droids are slated for release on August 28th so keep an eye out for them in your FLGS!
BX-series Droid Commandos Unit Expansion $34.95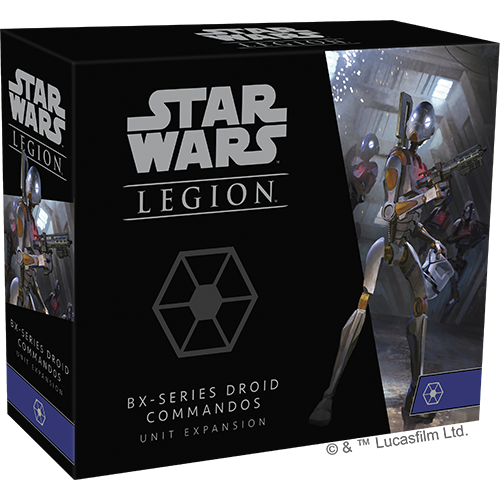 "BX-series droid commandos represent a major step forward from their B1 battle droid cousins. Cunning, stealthy, and deadly in close quarters, the elite commando droids are capable of laying traps and ambushes to catch their foes flat-footed before finishing them off with salvos of fire or up close and personal with their deadly vibroswords.
The seven unpainted, finely detailed BX-series droid commando miniatures you find in this expansion are highly customizable. Several weapons options—including blasters, vibroswords, and a dioxis charge—as well as deflector shields give you the freedom to build the unit of commando droids you've always wanted. Beyond their appearance, eight upgrade cards invite you to fine-tune how your droids operate in battle while two unit cards give you the chance to field them either as a full unit or a two-man strike team. "
Those droids just got some Upgraddes – with two "Ds"