Let's talk about how the updated stormshield rules give Space Marine players a huge boost.
The 9th Edition rules, and the Indomitus box-set rules, are out in the wild. As is time honored tradition players around the world have been carefully poring over the rules and units trying to find any way to wring a new advantage out of them. One thing players noticed off the bat was that Stormshields, a classic bit of Imperial equipment, had gotten a rules change. At first glance it seemed to many that the new Stormshields were a bit of a nerf, arguably a much needed one. However looking at how the rules work, it's become apparent that Stormshields are actually super broken now. Let us take a look at why.
Reading The Rules
To see how Stormshields are broken we need to take a look at a few rules and how they interact. The first one, seen above, is on modifying dice. The key for us today is that end bit, namely that a dice roll cannot be modified to less than 1. Next lets take a look at making saves.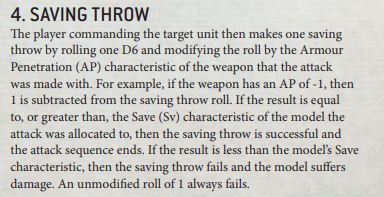 There are three key things to bear in mind here.
AP modifies the die roll, not the save characteristic.
The modified die result has to be lower than the save characteristic to fail.
An unmodified (or "natural") roll of 1 always fails.
It's also relevant to mention here that most other things in the game that affect saves, such as cover, effect the roll not the characteristic.
An Example
So, for an example lets say a model gets shot with a weapon with AP -4. They make a save and roll a 2. That die roll is now modified by the -4 of the AP, since it can't be modified to less than one we do not suddenly end up with a negative die result, instead we get a result of a modified (not a natural or unmodified) 1. We would then compare that modified one to the model that was shot save characteristic and if it is lower than that the save is failed. Most of the time this will mean a failed save. However if you had a save characteristic of 1 you would pass your save, since the modified die result is not less than your save. In fact the only way a model with a 1+ save characteristic fails its save is by rolling a natural one, no matter what the AP value of the attack is.  Now right now it is not much of an issue, as there aren't things in the game with a save characteristic of 1, but all that is about to change.
The New Stormshields
The Indomitus box rolled out a number of new units and people noticed off that bat that the Stormshields featured in it where a bit… different. The current rules for Stormshields give the model a 3+ Invulnerable save, which is really good. The new rules, which you can see on the Bladeguard data sheet above, change that. Now a Stormshields gives you a 4+ Invulnerable save, and it improves the models save characteristic by 1. Note, this is a bonus to the characteristic,  NOT saving throw rolls. On the Bladeguard this isn't a huge issue, it gives them a 2+ save and a 4++, the equivalent of a a classic Terminator.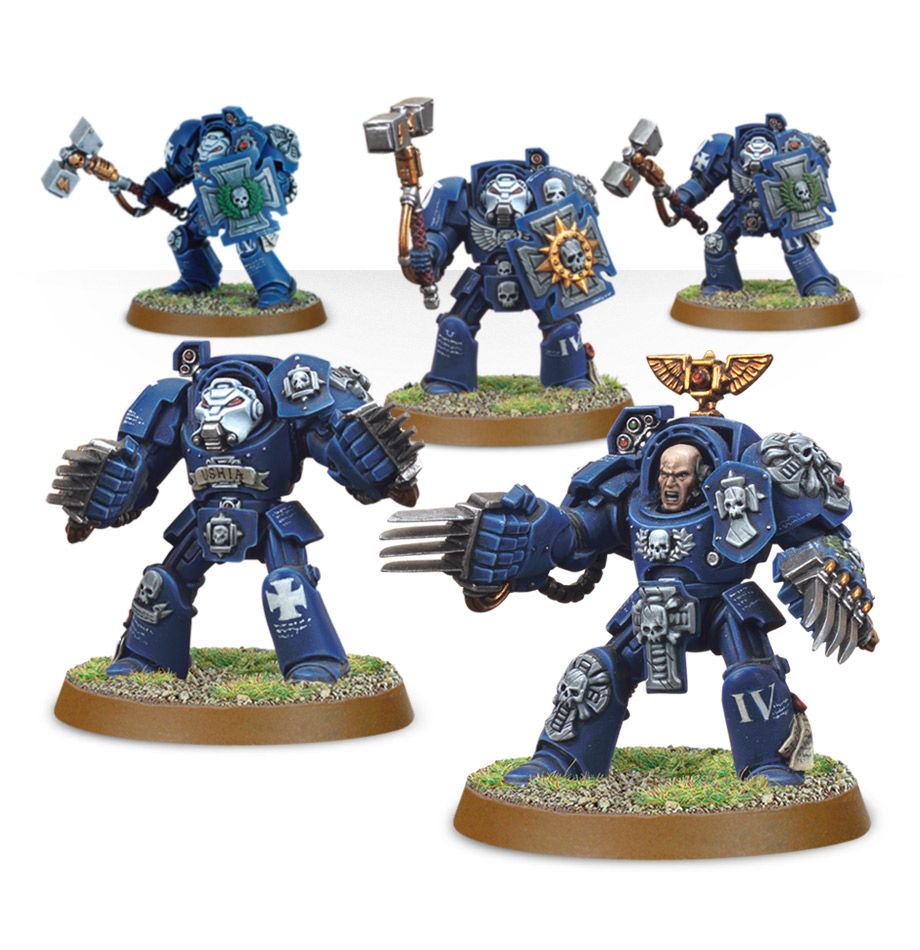 However if we assume that GW won't want to identically named bits of wargear in the same army doing different things, we should expect that ALL stormshields will switch to the new rule. And that does present a problem, because it would allow Terminators and characters that already have a 2+ save to take them. In effect any model that already has a 2+ save is granted the equivalent of a 2++ save with the new rules. That can be incredibly powerful, especially on some characters or mixed Deathwatch units, or maybe most worrying Custodian Guard units.

The Controversy & a Precedent
Now this discovery has prompted some controversy online. A number of players call this loop hole, or say its been read wrong. I'd disagree with that vehemently. While it maybe OP, the rules are pretty clear and straight on this interaction and how it works. It's not a fringe interpretation, it's the RAW. Moreover the same issue came up in AoS, which uses the same mechanizes, though AP is called Rend and they clarified in a FAQ that it works as described here, i.e. that a model with a 1+ save only fails on an unmodified roll of a 1. You can see this above. To future confuse things the GW Facebook page posted the following in response to a query about this issue: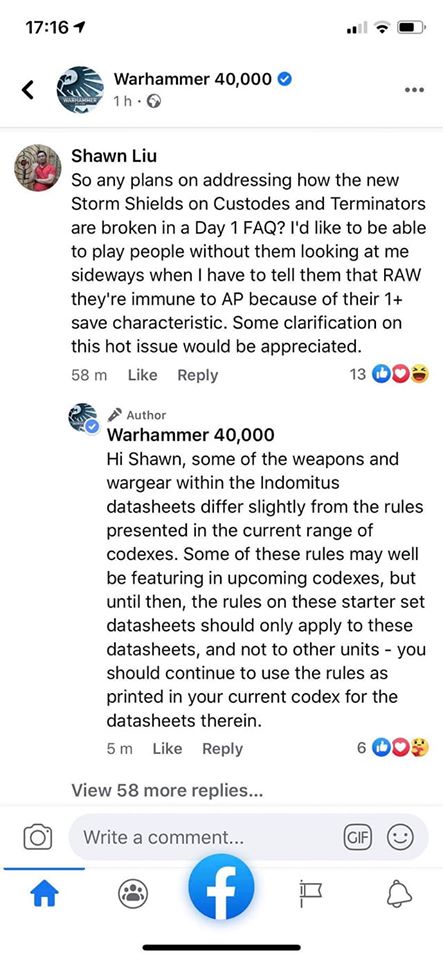 Now, I'm a strong believer in saying that the Warhammer Facebook team, or even the Community team, much as I love then aren't the designers and as such things that they say in posts like this aren't official rulings. It needs to be in a FAQ to be official, not a random post. However in this case I do 100% agree with the Facebook team, until an FAQ says one way or another we should not treat all stormshields as having the updated rules, only the models in the box. That would seem to kill the ability to get a 2++ until FAQs come out, or does it?
You Can Use It Now
Bladeguard Veterans aren't the only models in the box that get the new Stormshields. The Primaris LT also gets access to the new version, and the Captain has his own version, the Relic Sheild, which gives you a buff vs mortal wounds and the same +1 to your save characteristic. Both of these units are characters and as such have easy access to relics that give you a 2+ save. These include the Armour Indomitus: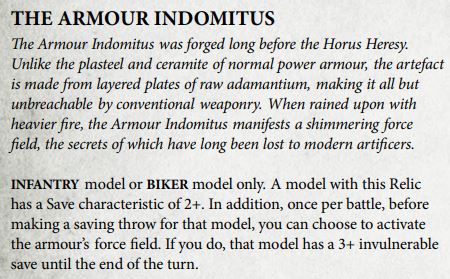 And Artificer Armour: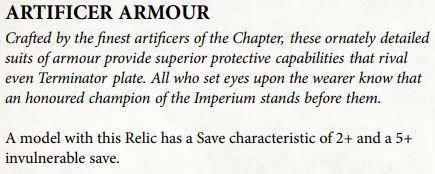 Both of which are available to all major Space Marine chapters. Both of these give the character a 2+ save, which their shield would modify to a 1+. Both of these can be fielded right now using the available rules if you want, and the Captain especially becomes crazy tank-y at this point, with 5 wounds, an effective 2++ and a 4+ vs mortal wounds, before you give him warlord or chapter traits. He's not even horrible in combat and could be a real issue for some armies.
A Fix?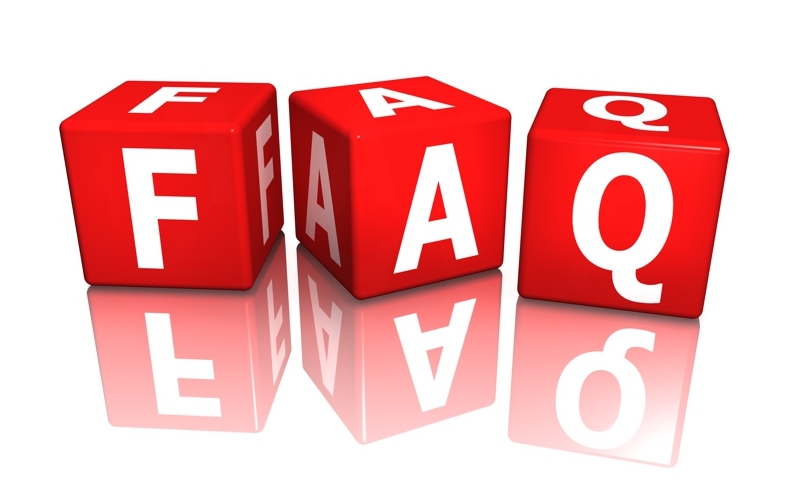 Most players assume that there will be an FAQ to address this issue. In fact some playtesters came out and pretty much said as much in a YouTube video (look around the 35 minute mark).  However we should note that players or playtesters saying something is a known issue, isn't any guarantee it will get FAQ'd or how it will be FAQ'd. Certainly I do think this be addressed, I'm not really worried about Assault Terminators, but it would clearly make some characters and Custodian Guards better then they are intended to be. Easy ways to fix it would be to have the shields add to the roll not the characteristic or to increase the characteristic by 1 to a maximum of 2+, though that option is more wordy. For now however if you're using the new units and rules, this seems to be a totally legal thing. Take what joy of it you may for now, it's hopefully going to be short lived.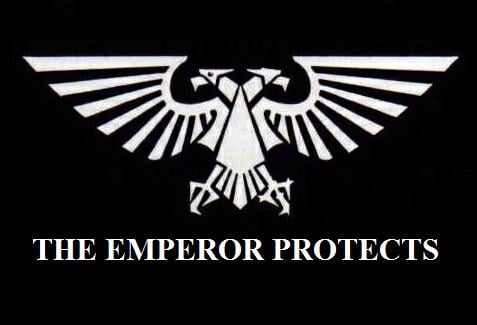 Let us know what you think about the new Stormshields, down in the comments!