The US Army is looking to name a new vehicle, and one of their options is familiar to 40K fans.
The United States Army is always adding new weapons and vehicles to its arsenal. Like anything in life, these systems need a name, and while they might have some sort of official non-sense designation, they also tend to get easier to say and recognize names as well. Currently, the army is trying to pick a name for new real-world vehicle, and they are looking for our help. Let's take a look at the vehicle and some of our options.
The Vehicle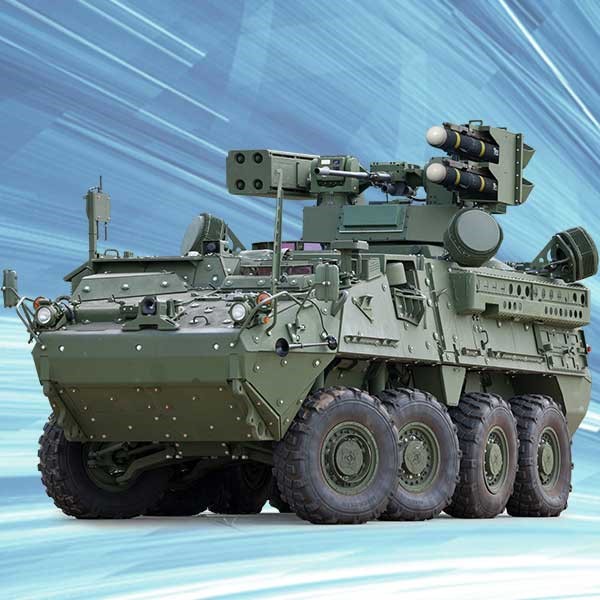 The new vehicle is Initial Maneuver Short-Range Air Defense (IM-SHORAD) Stryker. The IM-SHORAD is a new weapons system mounted on a standard Stryker chassis. It is designed to provide fast and mobile anti-air support for US forces in the field of combat. As you can see from its technical specs, it carries a variety of armaments, both missiles and guns. Its armament allows it to deal with several different types of airborne targets as well as some ground targets. It's been in development for a bit now and was supposed to roll out earlier this year, but got delayed by… well, you know.

Now it appears the IM-SHORAD is about to wrap up development and go out into the field. As part of this, the army needs a name for the new vehicle. To help with that, they've turned to us the public with a survey linked to from the US Army's Artillery School's Facebook page! You can help pick the name from an approved list. Let's take a look at some of the options on the list.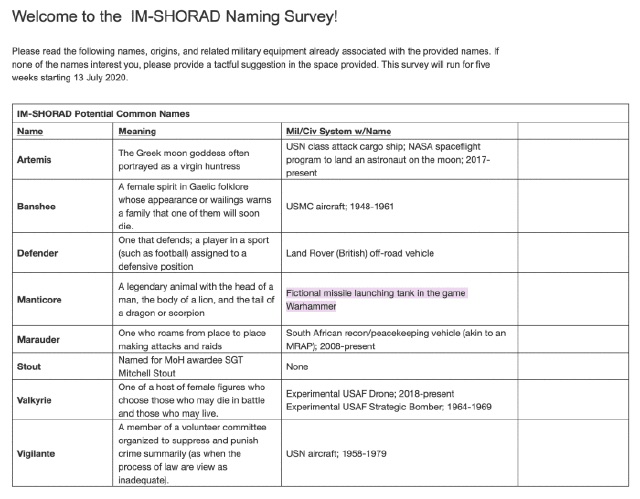 Are you seeing what I'm seeing?
Some Normal Options
The list is broken down into eight names. For each, they give a description of what the name means and also describe any existing military or civilian system that have used the name. For instance, we've got Artemis, which is described as:
"The Greek moon goddess often portrayed as a virgin huntress."
Systems which use that are:
"USN class attack cargo ship; NASA spaceflight program to land an astronaut on the moon; 2017-present."
And hey, that's a pretty good name there. It's got some decent history and makes sense. Artemis is often depicted as using a bow, and this thing uses missiles, so it makes sense. In addition to Artemis, we've got other good choices like Defender, which again makes a lot of sense, given that this system is meant to defend troops from air attacks.  We've also got another of your conventional army type names Stout in this case named after Medal of Honor winner SGT Mitchell Stout.  Stout is the only army air defense artilleryman to have received the Medal of Honor, and since this is the Army Air Defense Artillery School picking the name, this one makes sense. Among these sensible names is one that's caught some people's eyes.
Objectively the Best Option 
Midway down the list, we come to what we all have to agree is the best option: Manticore. Now, this on its own is just the name of a mythological beast, and those kinda names get used all the time. Indeed the survey gives us the meaning as:
"A legendary animal with the head of a man, the body of a lion, and the tail of a dragon or scorpion."
Nothing to see here, right? Well, go over a bit and under the systems that use the name we get:
"Fictional missile launching tank in the game Warhammer."
Oh yeah, they know the connection. Someone or someones is a giant nerd over at the Army Air Defense Artillery School and has slipped in a 40K reference as a possible name for a real-world vehicle. And while it's not explicitly named for the Warhammer tank, its the only thing that makes sense. Most of the other names have some sort of connection to the function of the IM-SHORAD. Manticore doesn't really, but… the 40K tank does as its also a missile carrying versions of a common IFV. While the real world IM-SHORAD is mostly anti-air and the 40K is a bombard vehicle, they do have some functional similarities making the name strangely appropriate.
Internet, Let's Make This Happen!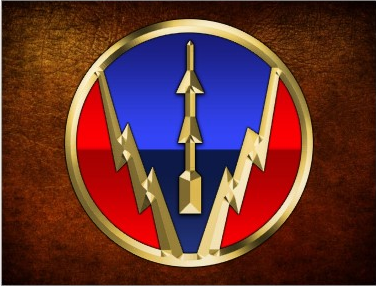 So, now we have a real chance to make this happen. My first thought at seeing this was that is was some kind of hoax, the army wouldn't really consider or at least admit to naming a vehicle after something from 40K. But the survey is posted on the verified Army Air Defense Artillery School Facebook page and seems to be 100% legit. Knowing the power of nerds, I feel pretty confidant that with some effort we could get Manticore to win the survey. Of course, even if it's the top pick they didn't say that means it's going to be used, but it does give it a better chance. The survey, which is linked to on the FB page, went live on July 13 and is supposed to run for five weeks. So get over there, vote, and let's make a little bit of 40K real.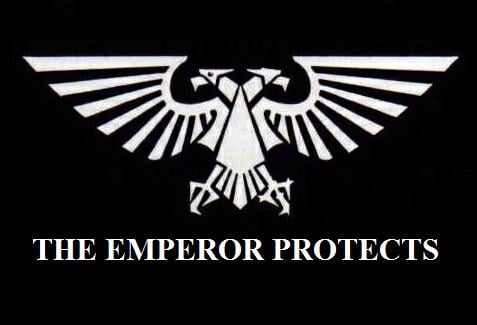 Let us know what you think about naming a real vehicle after a 40K tank, down in the comments!