Come and take a look at how the new Snotlings Blood Bowl team operates–if you can call that mess of scattered, panicked running operating.
Snotlings might not have much in the way of skill, strength, speed, fighting ability, hand-eye coordination, or any of the other typical things you'd associate with a Blood Bowl team. Everyone seems to have one up on them, even the Halflings. But what they lack in ability, they make up for in numbers. Sure, half of your team might be strewn across the Pitch, but a victory's a victory, no matter the cost. Let's take a look at how these Snotlings might do the impossible.
via Warhamer Community
To start with, Snotlings are terrible. It's built into their character–they're grubby, conniving, thieving, weasely gits who are just as likely to accidentally knock themselves out as they are to manage to get the ball to go near where you want them. But, there's something endearing about their stubbornness. And two Extraordinary skills help set them apart: Disposable and Swarming.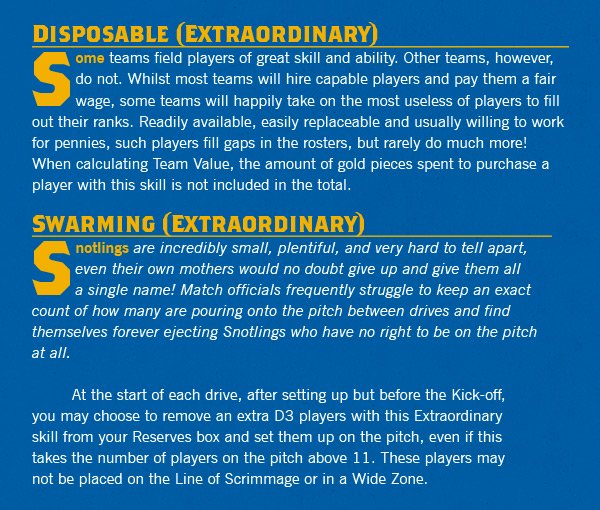 Swarming means that Snotlings can always be where they need to be, even if they might not do what you want them to.. While Disposable means that your Team Value will be much lower than your opponents'–and that means you can do some pretty fantastic Inducements that might otherwise be out of reach. There are three brand-new Inducements in the latest Spike! Journal that are designed for Snotlings.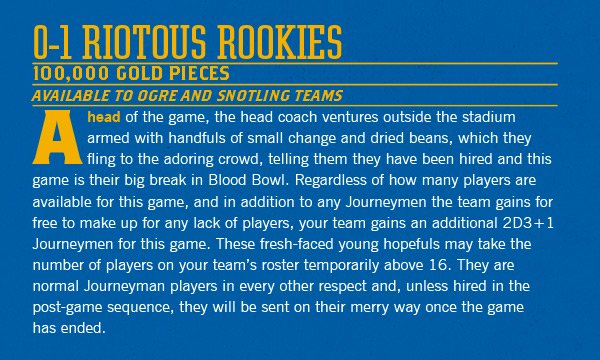 Riotous Rookies is just one of them, and it lets you bring in 2d3+1 Journeymen any time you'd get a Journeyman for free to make up for any lack of players. They'll not be added to your Roster, but that's fine, because the Roster isn't necessarily anything to write home about. Take a look.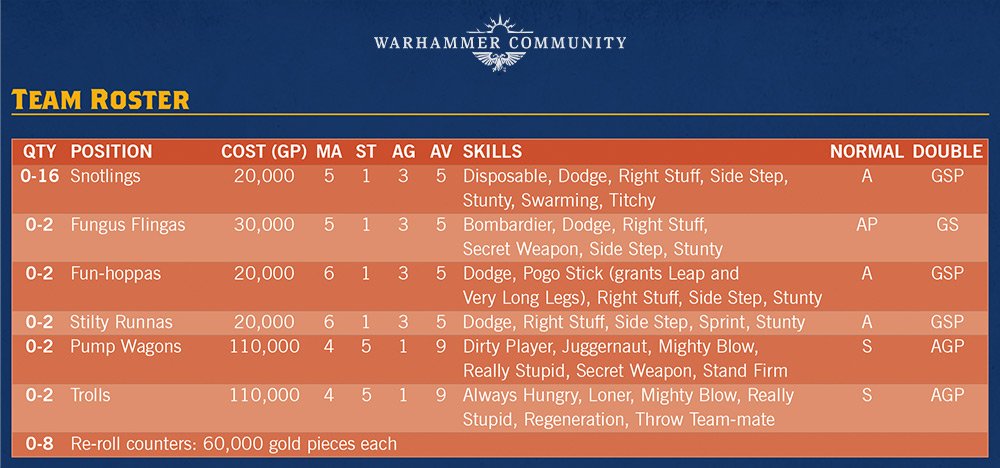 As you can see, Snotlings are dirt cheap. And sure, you can spice things up with a couple of trolls or Pump Wagons, but your core players are designed to outnumber anyone else and still leave you room for more.
And if you decide to go with two trolls and two pump wagons, you'll have a massive pool of high strength players to run with–at least once. You'll have to be careful because those Pump Wagons are Secret Weapons, so they don't stick around (unless you Bribe), but hey, Snotlings are born to do exactly that.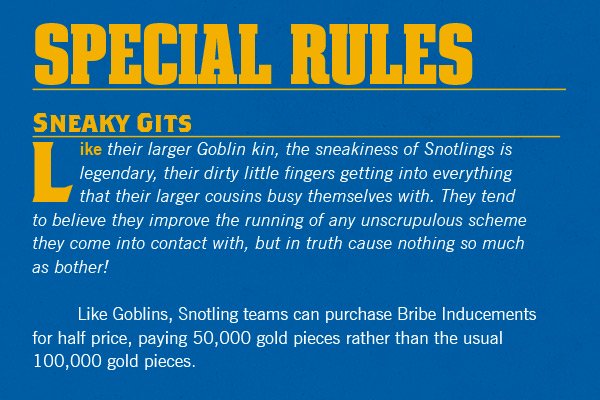 Their Sneaky Gits roll means that you can Bribe at half price! Between this and the Troll tossing, you've got an unconventional team that will make each and every win feel satisfying, no matter how few or far between.
Good luck, Coaches!