A new roleplaying game set in the Hellboy universe is in the works–soon you'll be able to join the BPRD in a 5th Edition RPG kickstarting soon.
That's right folks, there's a Hellboy roleplaying game in the works, coming to you from Mantic Games and Mike Mignola–Hellboy: The Roleplaying Game is your ticket to joining the B.P.R.D., whether as an occultist field researcher, a security agent, or a being infused with supernatural powers, this game wants to put you in the world of the comics and the good movies. You know the ones.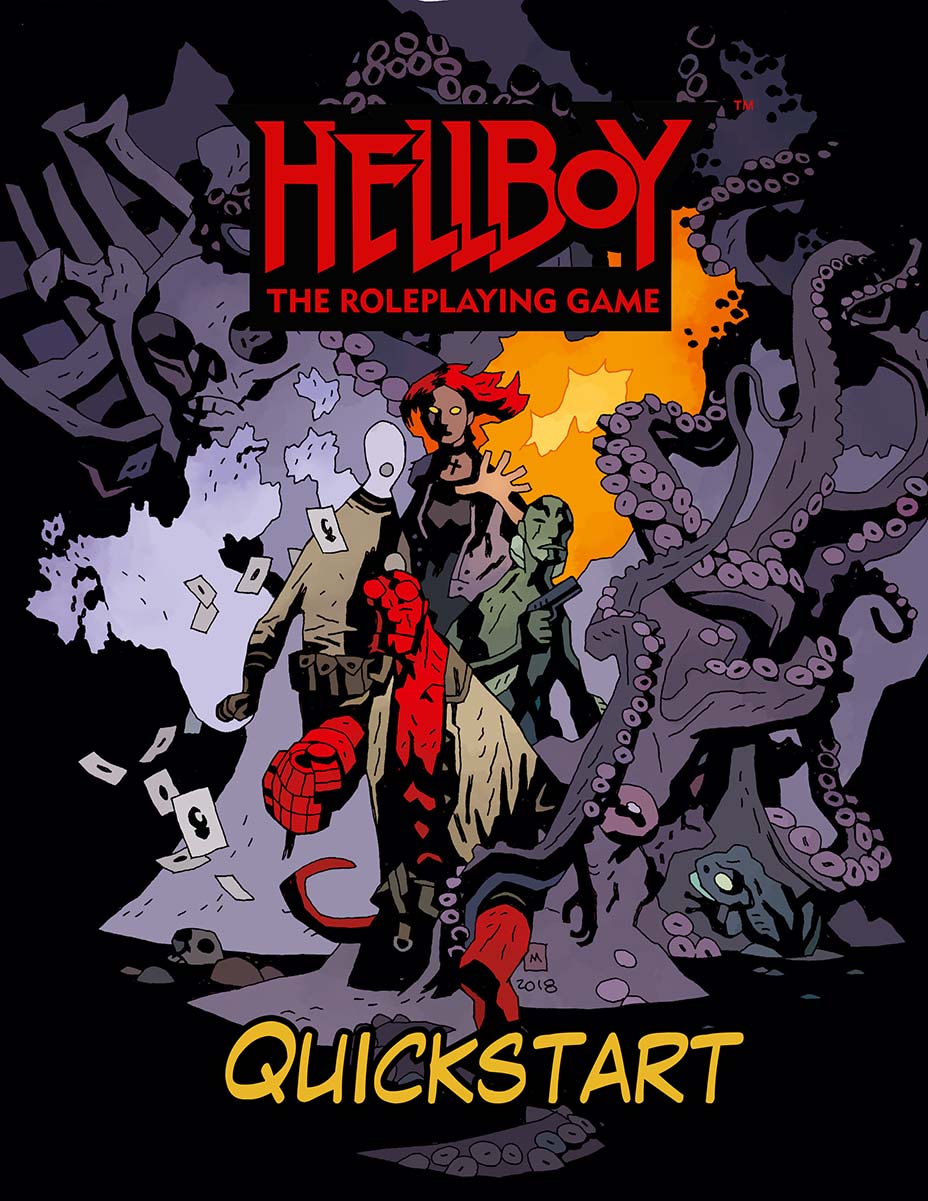 What's interesting though, is that the Hellboy RPG is powered by 5th Edition. Developed by Red Scar Publishing, Hellboy is not using some of the related games its creators have done, like Judge Dredd & the Worlds of 2000 AD or Mutant Chronicles 3rd Edition, but instead, it's gearing up with some OGL goodness and a Quickstart ruleset that will introduce you to everything you need to start playing. So you won't even have to wait for the game to be finished to start playing, you'll just have to jump right in.
This is brought to you, as we said, by Mantic, creators of Hellboy: The Board Game, and as you might expect, the miniatures from the one are cross compatible with the other. While there's no actual release date announced yet, the Kickstarter is coming soon, and you can check it out below. But first, check out the announcement from Mantic.
Powered by the world's most popular RPG ruleset, Fifth Edition, Hellboy: The Roleplaying Game gives you the tools to step into the shoes of a B.P.R.D. agent, ready to face the forces of evil. You can become a field researcher skilled in the study of the occult, a hard-nosed B.P.R.D. security agent, a rookie with hidden supernatural powers, and more…. The choice is yours.

Developed by Red Scar Publishing, Hellboy: The Roleplaying Game is being led by ENnie Award-winning writer and game developer Marc Langworthy, who has worked on Mutant Chronicles 3rd Edition Roleplaying Game, Judge Dredd & The Worlds of 2000 AD Roleplaying Game,and the Conan: Adventures in An Age Undreamed Of Roleplaying Game.

Once the Kickstarter launches, you will be able to try the roleplaying game for yourself with a detailed quickstart that features six pre-generated characters, all the rules needed to play, and a unique adventure inspired by the Hellboy graphic novels, written by Red Scar.
Happy Adventuring!