The Death Dealer is one of Frank Frazetta's most iconic characters. Mezco has interpreted the a menacing warrior on foot with glowing red eyes and a giant axe.
An ancient tribe spoke of a figure draped in darkness with eyes as bright as fire, so powerful that he had an army of the living dead at his command. They called him the Death Dealer. With one swing of his axe, Death Dealer would execute any who visited his domain.
This three-dimensional version of Frazetta's art is  a highly articulated fig with cloth costume elements, removable armor, and multiple weapons, The Death Dealer also has glowing red eyes in one of the two head portraits. It also comes with a unique hand silk-screened art print and pin set that are both endorsed by the Frank Frazetta Art Museum.
This is a pre-order. Shipping set for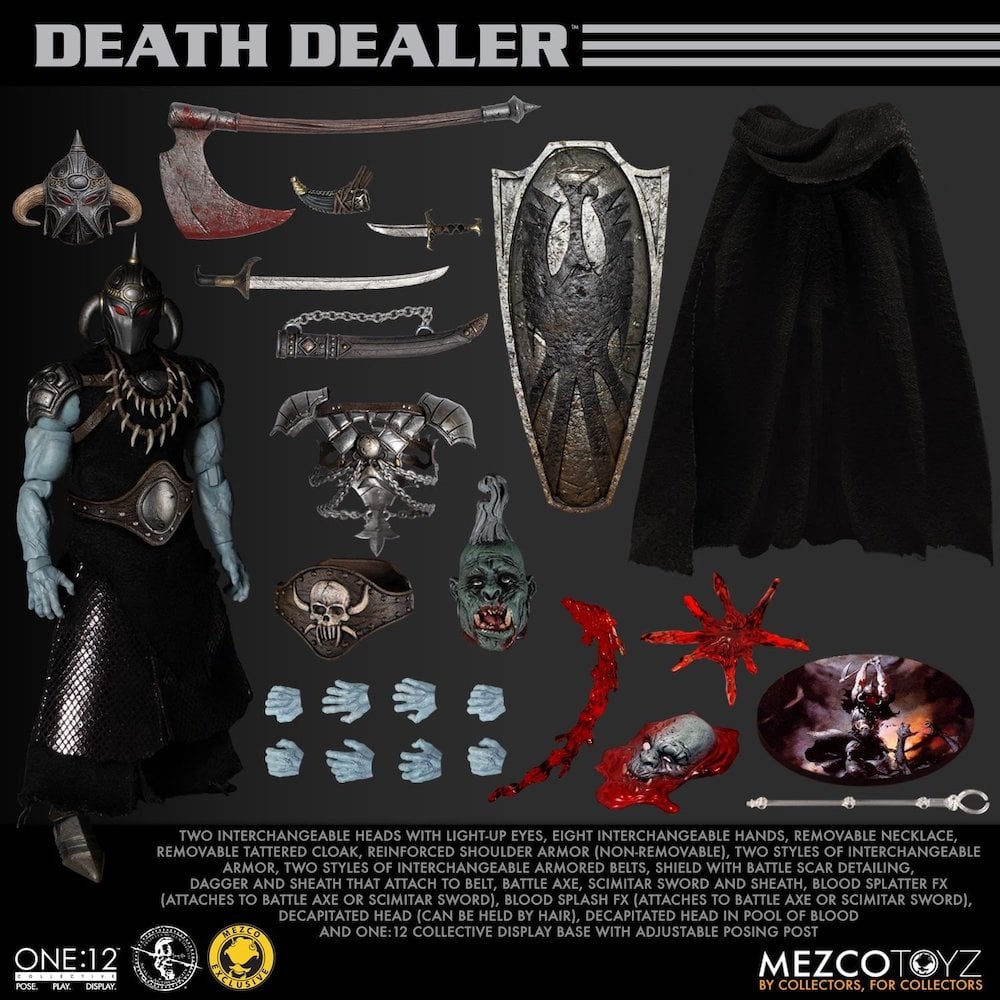 The Frazetta One:12 Collective Death Dealer Vault Collection – $150
Death Dealer Art Print – a limited edition, hand silk-screened art print
Enamel Pin Set – three limited edition enamel inlaid pins
One:12 Collective body with over 30 points of articulation
Two (2) head portraits with light-up eyes
Hand painted authentic detailing
Approximately 17cm (approx 6.5″) tall
Eight (8) interchangeable hands
Packaged in a collector friendly box, designed with collectors in mind
Costume:
Necklace (removable)
Tattered cloak (removable)
Reinforced shoulder armor (non-removable)
Two (2) styles of interchangeable chest armor
Sleeveless tunic with collar
Chainmail skirt
Two (2) styles of interchangeable armored belts
Mid-calf armored boots
Accessories:
One (1) shield with battle scar detailing
One (1) dagger and sheath that attaches to belt
One (1) battle axe
One (1) scimitar sword and sheath
One (1) blood splatter FX (attaches to battle axe or scimitar sword)
One (1) blood splash FX (attaches to battle axe or scimitar sword)
One (1) decapitated head (can be held by hair)
One (1) decapitated head in pool of blood
One (1) One:12 Collective display base with logo
One (1) One:12 Collective adjustable display post