Do you want to lock down an objective? Well we've got some suggestions for old school units that will do the trick!
We know there are some big changes coming to Warhammer 40,000 in October. Weapon tweaks, stat enhancements, and a whole lot more. That said, there are still some older units that we think are going to be able to really bring the beef and hold objectives – or at least cause some issues for your opponent when they try and snag them.
Deathwing Knights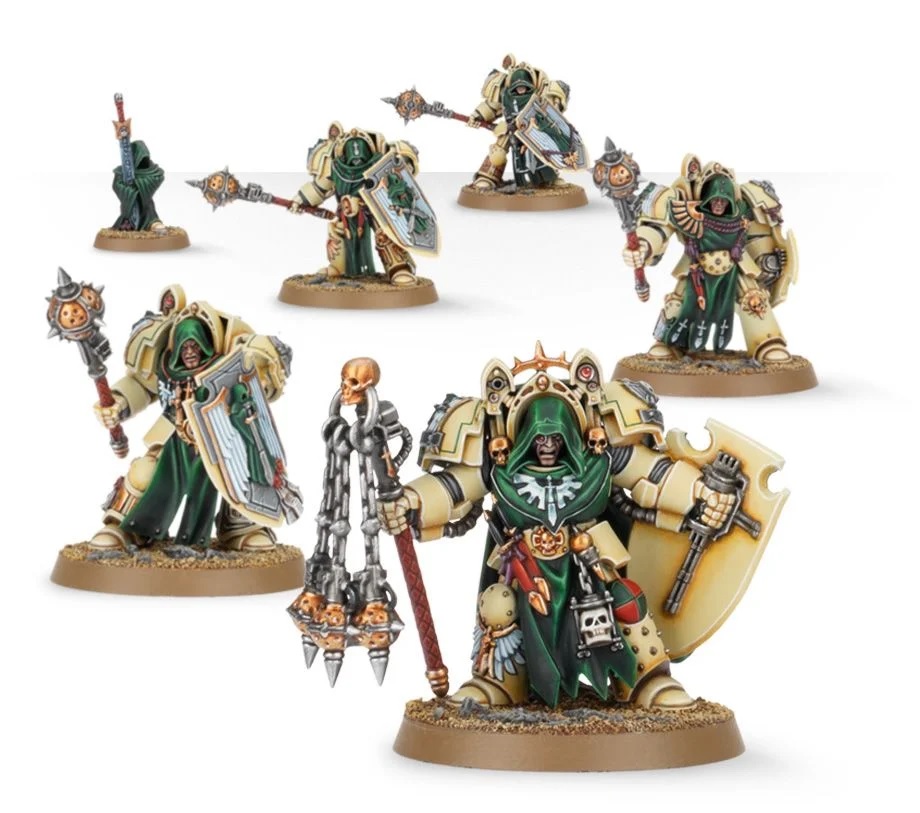 We could have gone with just the generic Terminators because those are going to 3 wounds as well – but we wanted to specifically call out the Deathwing Knights. All the changes to Terminators also apply to the Deathwing Knights but they come with some pretty mean close combat toys, too. Could you also swap them out for Thunderhammer/Stormshield Assault Terminators? Sure. But what makes them extra nasty is the Flail of the Unforgiven which allows the damage to carry over to other models.  Plus the extra Watcher in the Dark can provide some protection against Psychic Powers. Nifty.
Drop Pods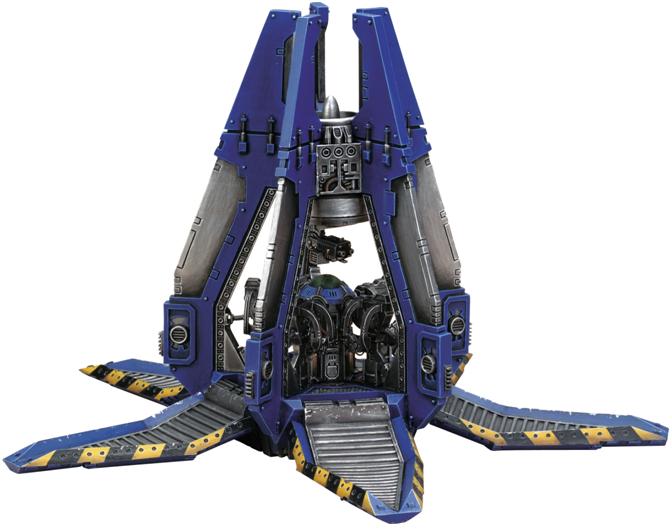 Drop Pods just became relevant again thanks to all the changes. Flamers getting a range boost means you can drop a Pod in range so that the unit coming out can setup within firing range. The inverse is also true – you can deploy the pod in a way that it helps block off an objective, too. The enemy units will have to go around or go through the pod wasting time either way. Using Pods to control movement is going to be key to getting the most out of them in 9th.
Blightlord Terminators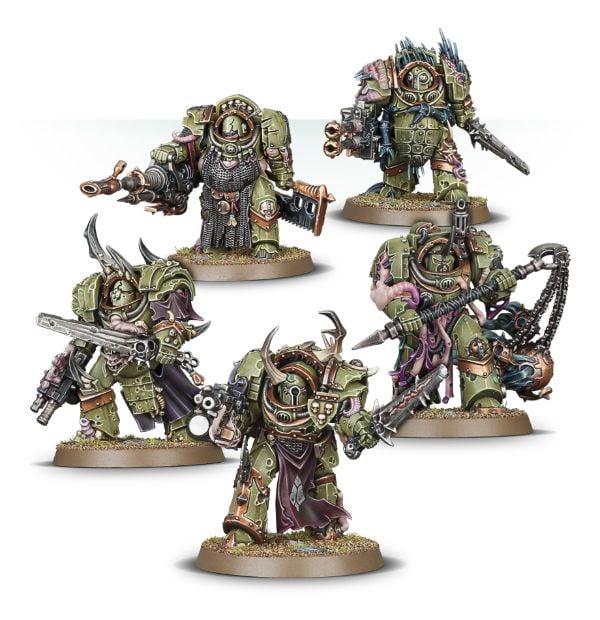 Blightlord Terminators are on this list because they:
Are Terminators
Can Take Combi-weapons
Also have a Flail Option
Have Disgustingly Resilient
Furthermore, their Terminator Armor gives them a 4+ save instead of a 5+ save. They can still Teleport strike and they also have the added Aura of Rust for extra AP on their close combat attacks. Teleport them in, flame on, and then take and hold an objective. They are perfect for doing just that!
Tactical Marines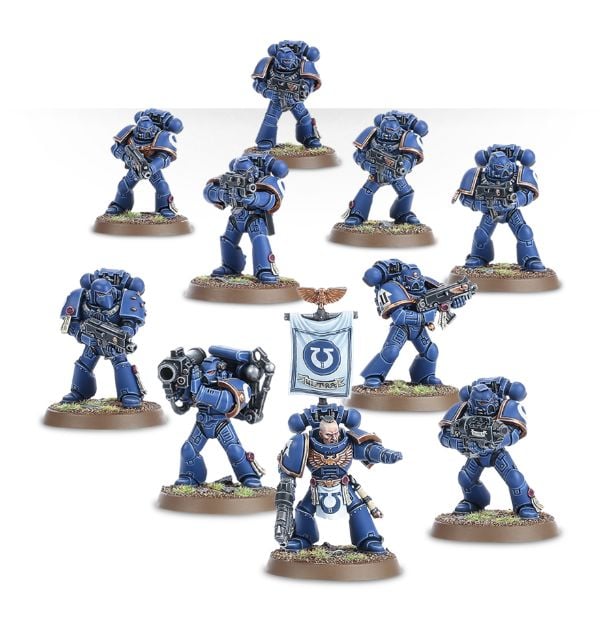 Tactical Marines might end-up being more expensive than Intercessors if you decide to load-up on the special/heavy weapons. But we can't ignore the fact that they are going to 2 Wounds and all the weapon changes are going to impact them, too. Even a super cheap squad with a heavy bolter and flamer is going to be useful for taking and holding objectives. They have double the wounds they used to and they can still use their trusty bolters. Between the terrain changes and their basic 3+ armor, Tactical Marines are still going to be useful – especially when pair with a Drop Pod!
Scarab Occult Terminators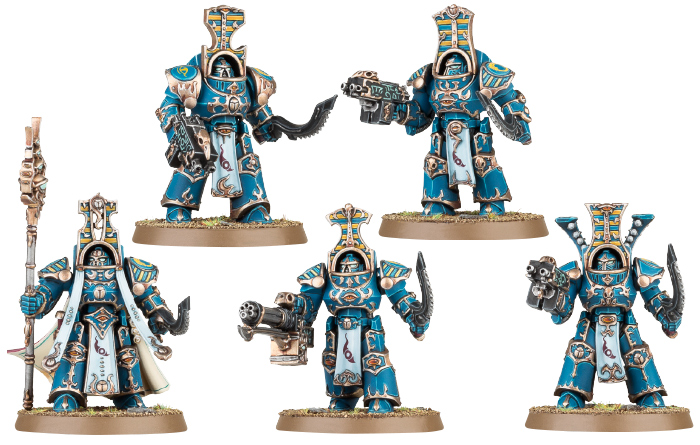 Yet another Terminator unit? YEP! If you've picked-up on the theme, Terminators are going to be really useful in the new edition. Inferno Combi-bolters are already pretty mean. Will they get revamped to go to 30″? Maybe…but just assume for a moment they will. Not only can they do all the standard Terminator things (Teleport, Invulnerable Save, go to 3 Wounds) they also have their special Tzeentch goodness with All is Dust. They get an additional +1 to their save rolls if the attack has a damage characteristic of 1. Oh and let's not discount the Sorcerer in the unit that can fling some Psychic Powers at targets, too. Will we see some other weapon upgrades to the unit? Perhaps more damage or shots for their heavy weapons? We'll have to wait and find out – but even if they don't change, these guys are great for taking and holding objectives in 9th!
Bonus: All The Terminators!!!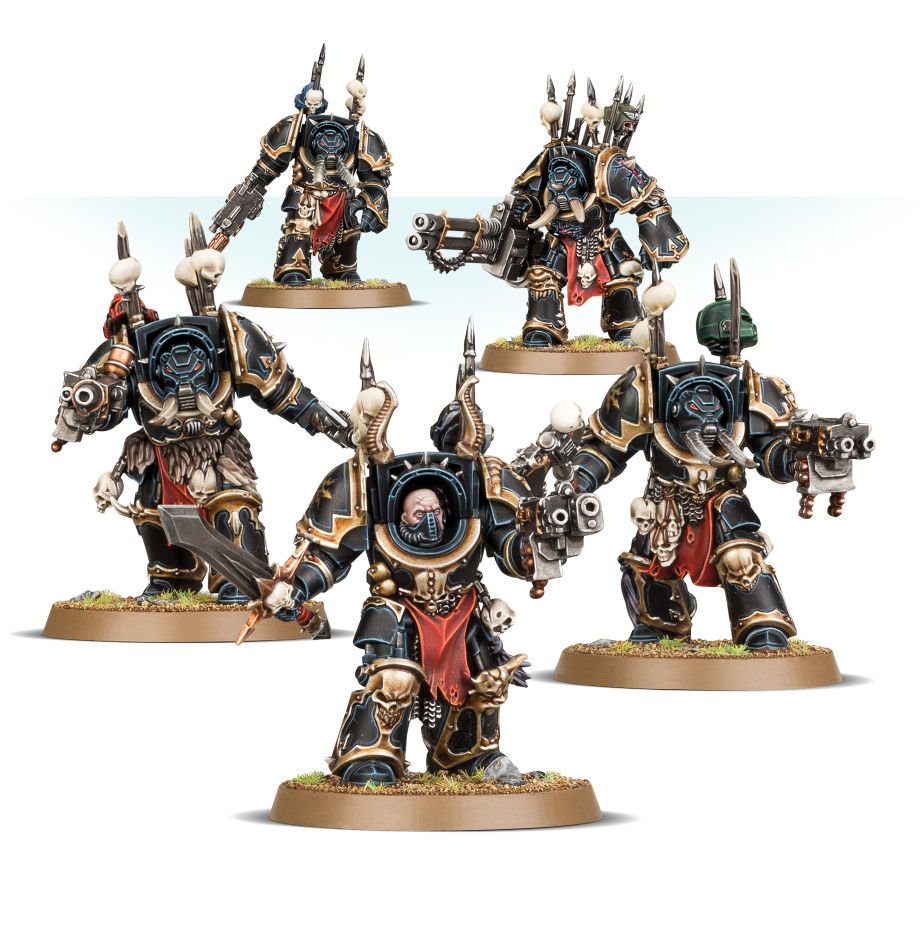 Seriously, Terminators are going to be great in 9th Edition. Teleporting, 3 Wounds, and extra range combi-flamers? And some of them even have access to heavy Flamers, too?! Yep. All the Terminators and their variants are going to make a comeback in 9th.
We could have just made a list with 5 different Terminators units because Warhammer 40,000 9th Edition is the Rise of the Machines Terminators.