It looks like the Primaris Incursors are also getting an update in the new edition. Take a look.
This image from a miniature assembly guide has been doing the rounds on Facebook and some Forums today. This is the assembly sheet from the recently reboxed 9th edition Infiltrator/Incursor kit. While the main unit itself is pretty similar, There are some weapon changes!

All New Incursors
The main statline is unchanged. Moving onto the guns.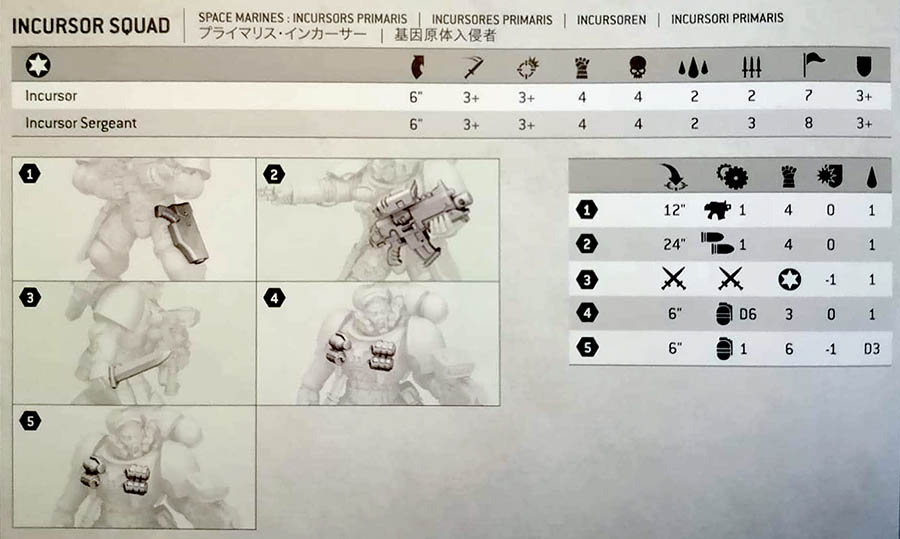 Updated Weapons:
Paired Combat Blades change from AP:- to AP:-1
Notes
This is the short assembly instructions stats, so it's missing all the detailed datasheet rules.
A quick one, but an increase in melee effectiveness. This seems to be lining up with the AP:-1 of the Astartes Chainsword we saw on the Assault Intercessors.  It looks like GW has figured out that no one likes pricy Primaris units who are equipped with melee weapons, but suck at combat.  Fingers crossed that Reivers get a boost as well – they need it bad.
What do think of the updated Incursors, and what other Marine units do you think most need a melee boost?