Come and take a look at some of the new upgrades and gambits for the two new Beastgrave factions–see what deadly combos you can put together.
Beastgrave is getting two new factions this weekend with the heavy-hitting power of the Waaagh!!! in Morgok's Krushas, and the murder-fueled blood magic of Morgwaeth's Blade-Coven adding their own unique spin to the tightly competitive game of Warhammer Underworlds. And accompanying the gorgeous new minis are a suite of new cards opening up new strategies for a clever commander. With new gambits, upgrades, and more to choose from, these two new factions have a lot to offer the game. Let's check 'em out!
via Warhammer Community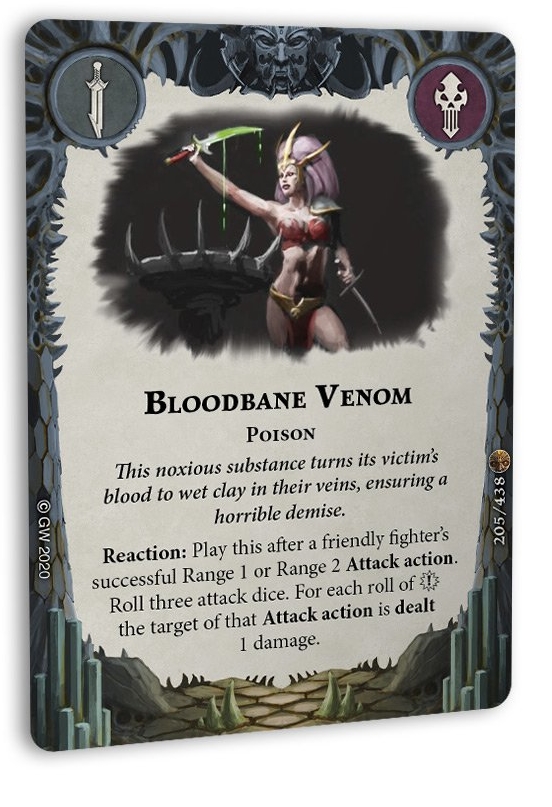 We start with Morgwaeth's Blade-Coven. This group is all about killing the enemy fighters so they can drink their delicious juice. Hilariously, their "blood sacrifice" mechanic triggers whether you're fighting the living or the dead–so it turns out you can squeeze blood from a skeleton. Individually, though, most of the Blade-Coven don't deal a ton of damage. So how do they get at that delicious juice? Tricks like Bloodbane Venom (which again, works even if your blood is a ghost) help any successful hit pack an additional punch.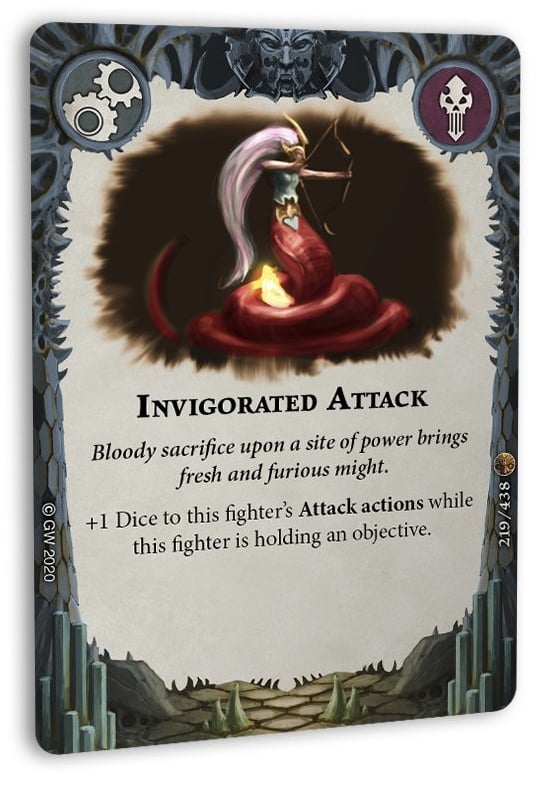 And Invigorated attack helps make sure that your fighters land those attacks in the first place. You can't have the death of a thousand cuts if you only land 998, after all. But surprisingly this warband isn't all about offense, they have some clutch defensive plays as well, like with Drilled to Perfection, which can help keep your fragile murder-elves alive just that much longer as long as they're together: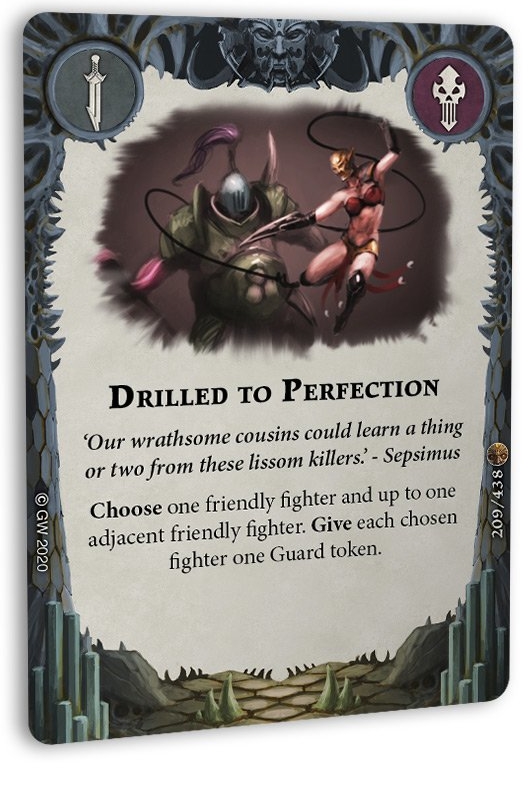 Or Victor of a Thousand Duels, which makes any attack on Morgwaeth, who kind of makes your whole army work, a risk for the enemy. Now it's definitely a risk worth taking, but with the right kind of defense, Morgwaeth can be just as deadly no matter whose turn it is.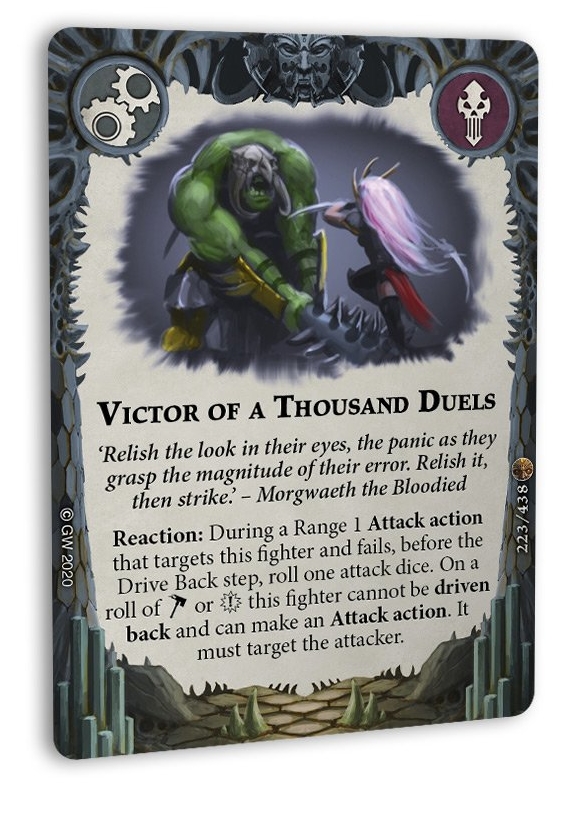 Now let's check out the boyz in yellow, Morgok's Krushas. These rowdy lads are all about hitting hard, and fast, and as often as possible. In order to do that, they'll need to manage their own supply of Waaagh! counters. To do that, you'll need cards like Brutal Attack, which makes a single attack better and gives you a Waaagh! counter.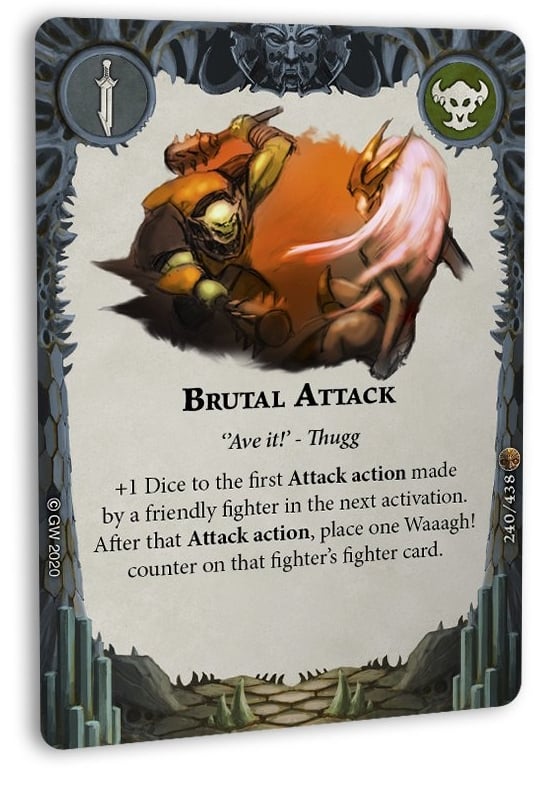 Or Vengeful Glare, which lets you grab a counter after you get attacked (successful or not).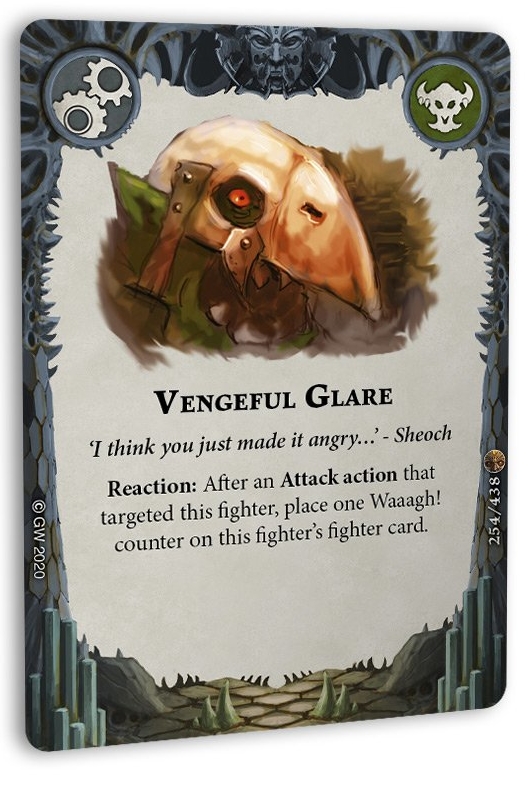 On the upgrade side of things, they have some unique upgrades for their warband. Here's a look at a modification to 'Ardskull, that basically turns him into a squig, sending him bouncing from one group of enemies to the next after every activation.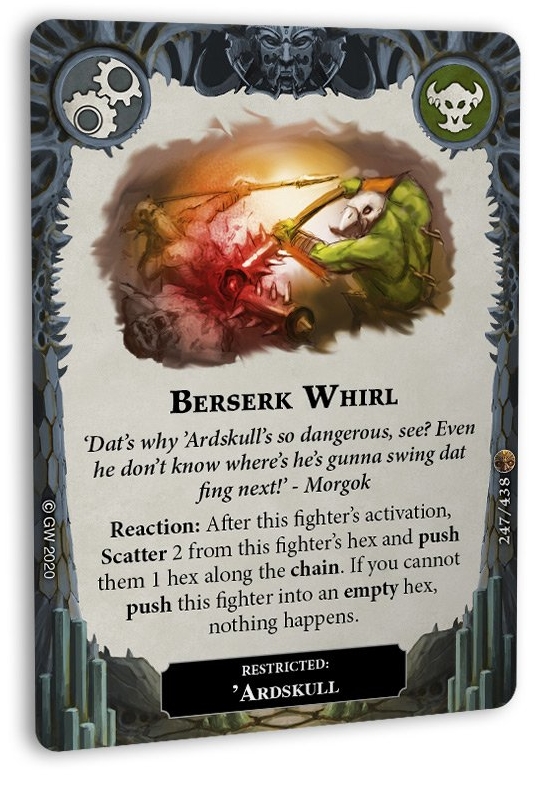 And of course there's Brutal Reprisal, which is exactly like Victor of a Thousand Duels but it gives you a counter attack when your enemy successfully hits you. It's the only way to be fair, after all.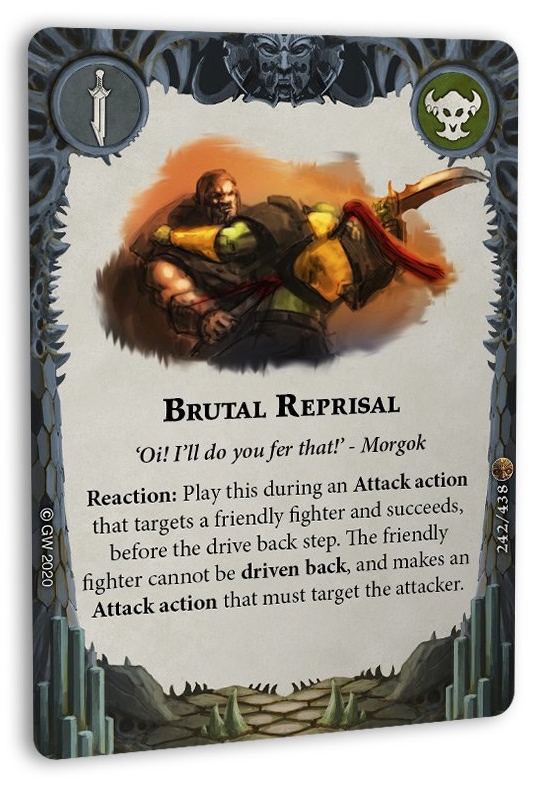 This is just a small taste of what awaits you with the new Warbands. Check 'em out this weekend!