Let's take a look at the Dark Angels as they appear in the newest Horus Heresy book. Here are the Dark Angels of Crusade.
The newest Horus Heresy book, Crusade, focuses on the ferocious battles between the Night Lords and the Dark Angels, giving both armies a suite of new rules and toys to play around with as they pull out all the stops to defend (or destroy) Humanity. Come take a look at the glorious new rules that await the Dark Angels.

To start with, every single Dark Angel is a Master of the Blade, with a rule that helps reinforce their sword prowess, fittingly titled Master of the Blade.

If your Dark Angels become scions of the Hexagrammaton, you can run a leader as a Scion of the Firewing, giving them an extra boost at taking down enemy characters. If your playstyle leans more towards the defensive, the Icon of Resolve has what you need, giving you bonus attacks when you get charged:

Crusade also contains five new Rites of War, which provide some powerful bonuses for your entire army. If you have the Dark Angels special rule, and run with a Scion of the Deathwing, you can grab Feel No Pain when securing an objective, for instance.

Each of these Rites of War has its own restrictions and limitations and so on, though.

We've also got a look at their statlines–here's Marduk Sedras, the Eskaton of the Dreadwing. Sedras is one of the oldest Terran Space Marines in service at the time of the Heresy, and he's got rules in Crusade as well. Including carrying the devastating weapon: The Death of Worlds.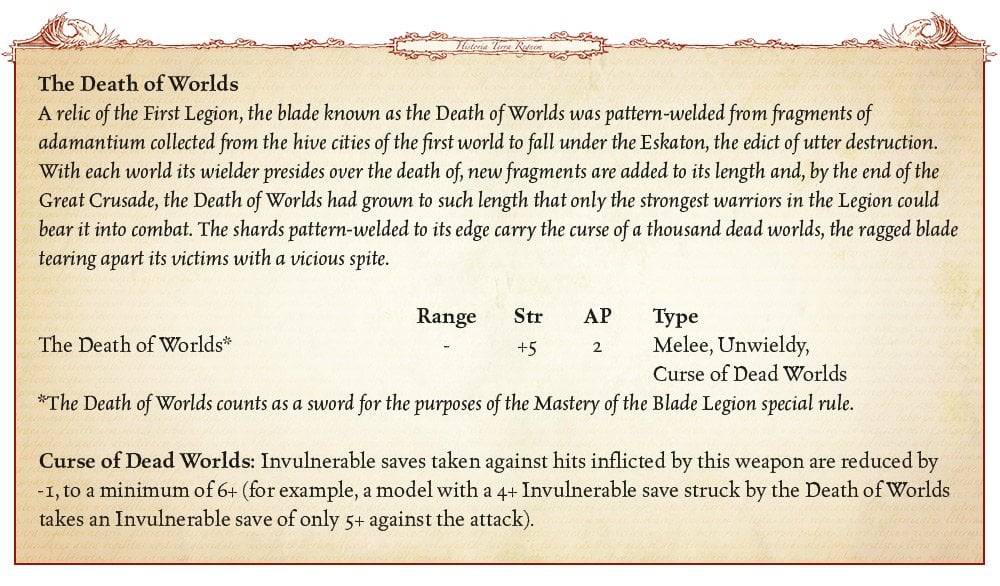 At any rate, it looks like the Dark Angels will really shine in the new book, so get ready because it's coming soon!
What do you think of the new rules? Let us know in the comments!