BREAKING – Critical Role Announces New RPG/Boardgame Publishing Company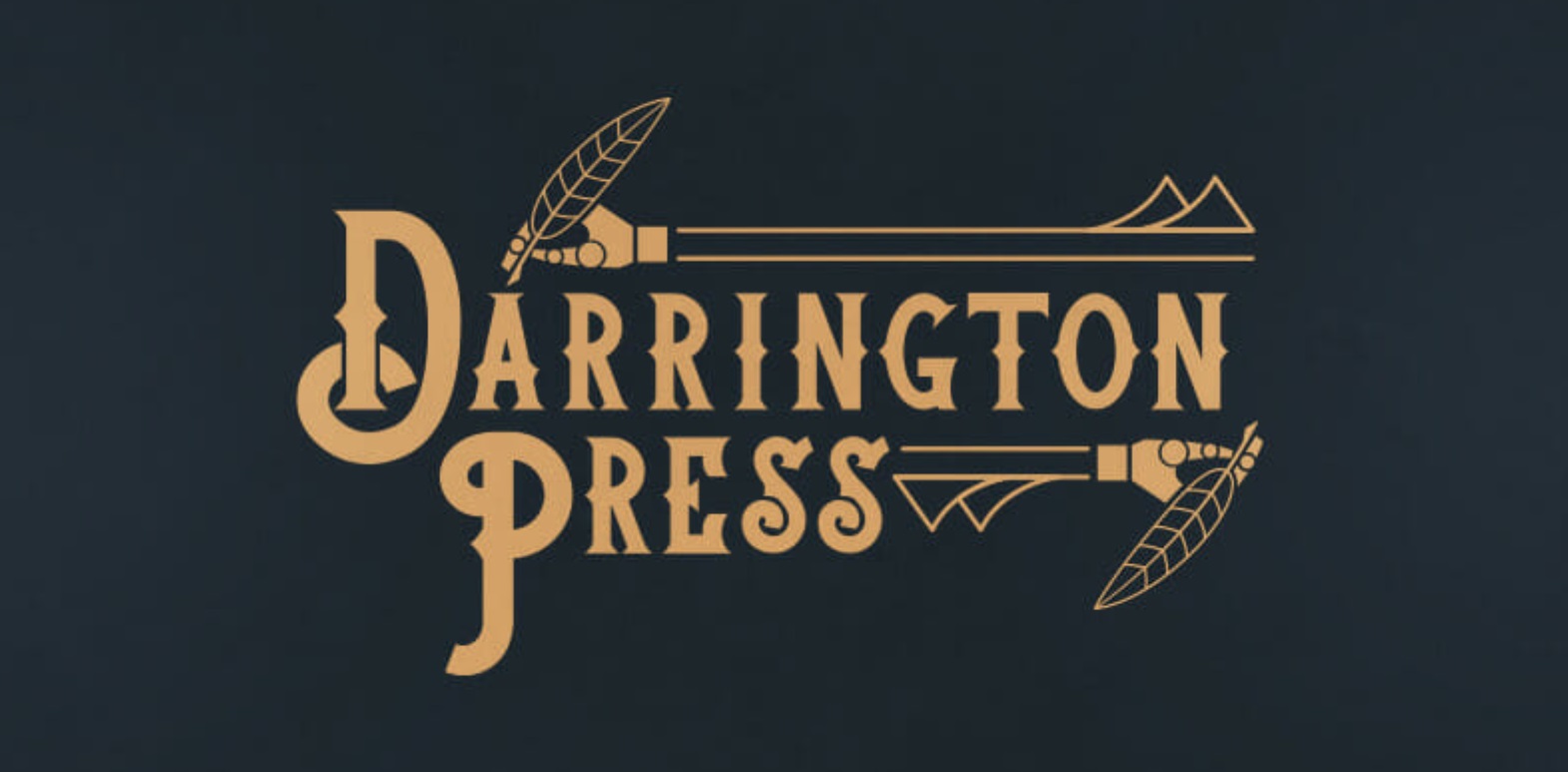 Critical Role announces Darrington Press, a new tabletop publishing company with 4 new projects from Exandria and beyond in the works.
Critical Role continues to grow far beyond its origins as a home game featuring talented voice actors streamed for an audience of thousands. In addition to the Amazon Prime animated special, tentatively debuting next year, Critical Role has now launched a publishing imprint, Darrington Press, which will allow the company to bring its uniquely-suited outlook towards storytelling and gameplay into the tabletop arena like never before.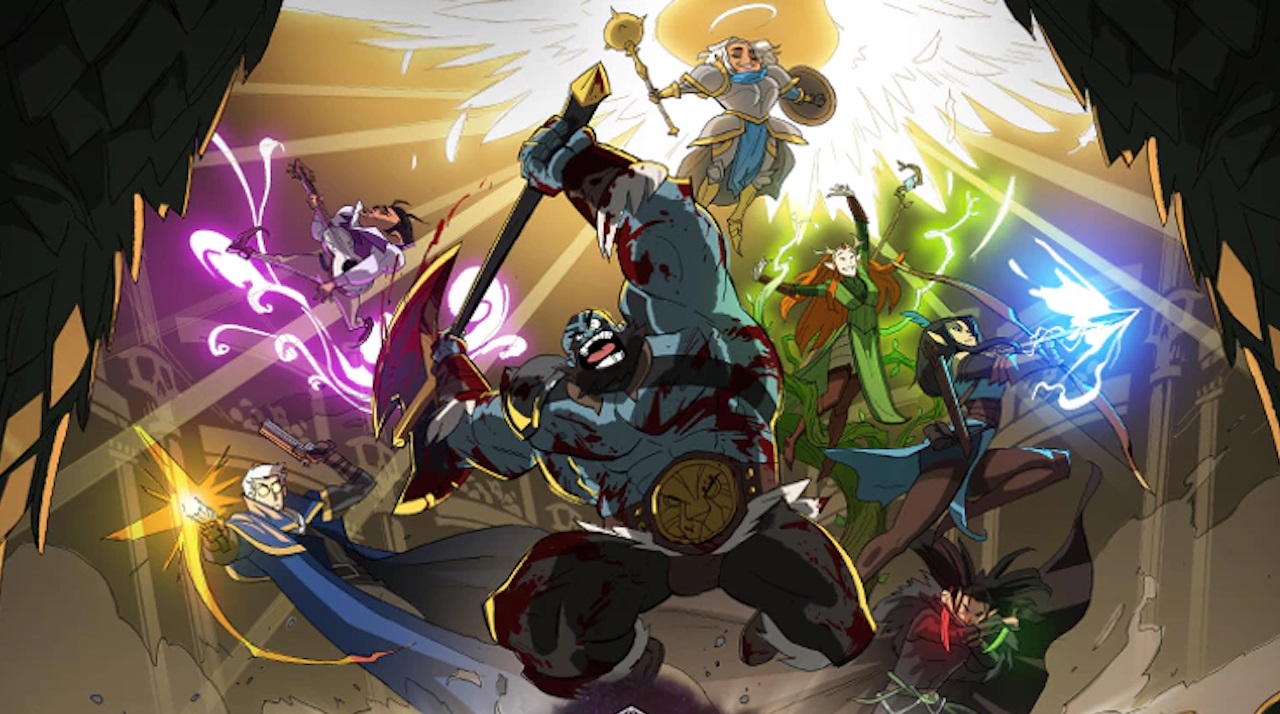 Darrington Press, named for Taryon Darrington, one of the more flamboyant characters portrayed by Sam Riegel in Campagin 1, will be enabling Critical Role's deepest aspirations: "to deeply invest in storytelling and gaming with an even more substantial and powerful purpose".
What does that mean? Well from the look of it, a calendar of both board and roleplaying games from a company that brings with it an incredibly invested community from the outset. Take a look at what they have planned.
via Darrington Press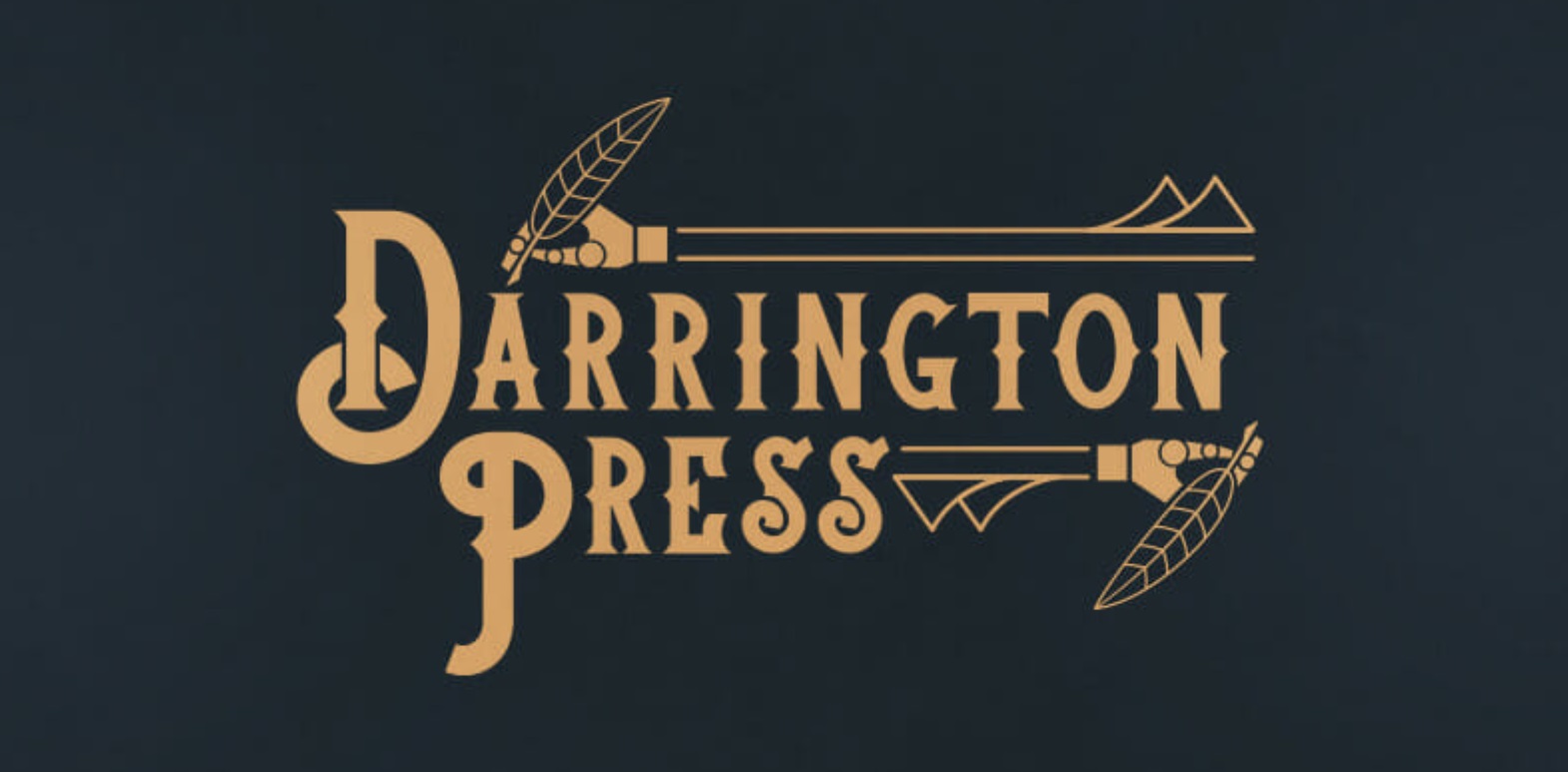 Darrington Press is headed up by a longtime board & tabletop roleplaying veteran (and also one of our most cherished friends), Ivan Van Norman. Ivan has been producing tabletop games and media content for 10 years, as a co-owner of Hunters Entertainment (Alice is Missing, Altered Carbon, Outbreak: Undead) as well as consultant to many other companies, including Wizards of the Coast and Hersch Games (Taboo). He's danced the line between media and design, working as a producer of board/RPG content for several digital media projects as well as a game producer on Wil Wheaton's TableTop. He also briefly served as executive producer of International Tabletop Day.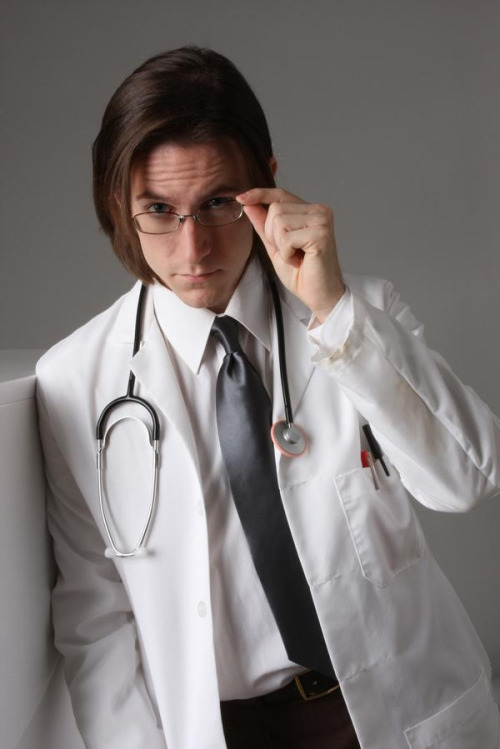 Matthew Mercer, who you may know as our beloved Game Master and Chief Creative Officer, has also joined the Darrington Press team as Creative Advisor. Along with being one of our founders and a bright guiding light, Matthew is also a mega accomplished voice actor (Overwatch, Attack on Titan) and has been working closely with Ivan and our creative teams to develop our upcoming game slate.
As mentioned, there are four games in the works for 2021, starting with Uk'otoa, a board game based on the leviathan patron of Fjord in Campaign 2.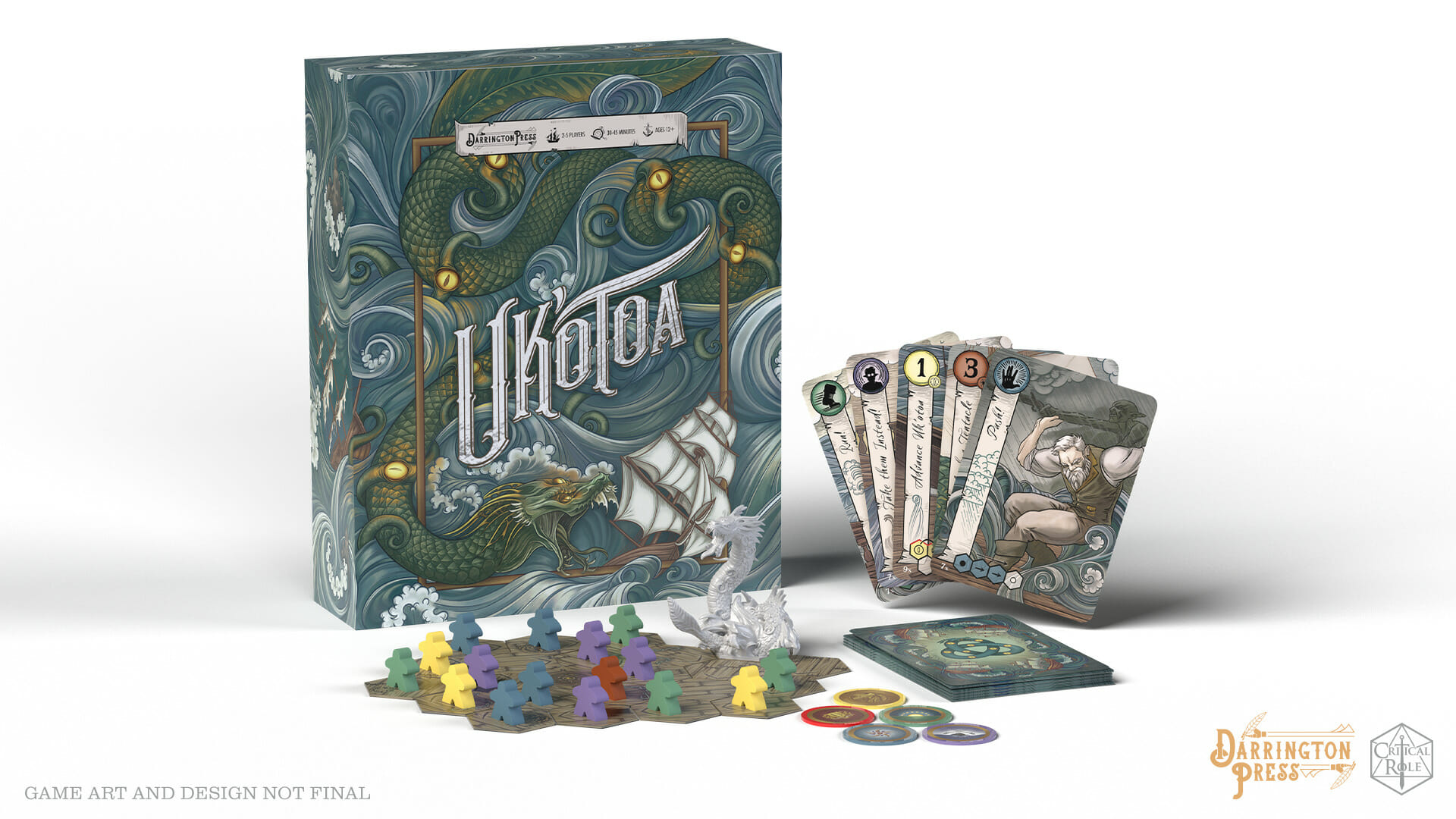 Subscribe to our newsletter!
Get Tabletop, RPG & Pop Culture news delivered directly to your inbox.
Uk'otoa: A battle for life and death on the high Lucidian seas! This flagship title from Darrington Press is a tactical game of semi-cooperative card play as factions of sailors vie to be the last claimed by the raging sea leviathan Uk'otoa. As the ship slowly falls into the ocean, you'll have to run, push, and sacrifice others to win! Fans of Critical Role know Uk'otoa as the ex-patron of warlock Fjord (played by Travis Willingham). Who could say whether these tales hold any truth? Fjord isn't telling.

This game is suitable for 3-5 players, aged 12+, and each game should run about 30–45 minutes. And, of course, we included a VERY COOL Uk'otoa mini.
Uk'otoa will be Darrington Press' flagship title, and more details on Launch Day should be forthcoming in the next few weeks. But this is only the first–Darrington Press has an unstoppable lineup already in the works, including a legacy-lite game that puts you in the drivers seat of Vox Machina:
Critical Role Adventures Embark on your own journey through Exandria with Critical Role Adventures! Play as the upstart adventurers Vox Machina and overcome treacherous challenges. This cooperative legacy-lite campaign game uses a unique, narrative mechanic for social and combat encounters, luring you back session after session. Within this enormous box, you'll find a host of hidden treasures and a rich storybook to guide you through thrilling combat, dynamic character growth, and tales worthy of the name Vox Machina.

Syndicult is an original modern magic roleplaying game designed by Matthew Mercer in which mob families jealously guard secrets and battle it out for power on the city streets. Featuring a simple storytelling dice mechanic, Syndicult is a low magic world where all bets are off.

Guardians of Matrimonia Fight the monsters, save the party! Guardians of Matrimonia is a cooperative card game where players have pre-built decks that are pitted against a deck of monsters (party crashers). If your deck runs out, everyone loses. But if you battle your way through the entire party crasher deck, everyone wins!
That is an impressive lineup, to be certain–Critical Role is showcasing the considerable range their publishing imprint has. They're flexible enough to tackle all kinds of projects, as they put it, from Exandria and beyond. This is an exciting launch, for sure.
The Critters are a force to be reckoned with, which might give Darrington Press an edge in carving it out its own niche. And while D&D is the three million pound gorilla in gaming, the recognition that Critical Role brings with it, and the enthusiasm of its fans might help it challenge even D&D one day.
Even if that isn't their ultimate ambition, Darrington Press seems like it'll be worth following. Their community and talents give them a unique lens to explore this industry with:
As always, we are incredibly thankful for you and wouldn't be able to create games or tell stories without the support of our community. We hope that the games that we make encourage you to create your own stories and escape for just a bit in a wondrous imaginary world where the possibilities are endless.
If you want to learn more about Darrington Press, click below.
Happy Adventuring!