Militarized space hippos may not seem at first glance like something you'd expect to find in a D&D book, but this week we learn that they very much are.
Sometimes you flip through one of the D&D books and find a monster so weird and specific that you have to stop and learn more about them right away. For me, that monster is definitely the Giff. Is it a naval hippo? Why does it have a gun? Are they actually monsters, or is military hippo a race I should try to find a way to play in the future? Let's find out together!
Second Edition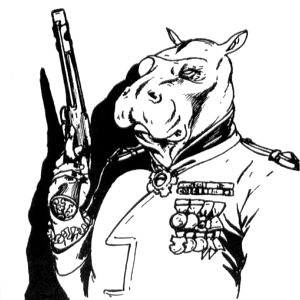 The first thing to know about giffs is they show up for the first time in 2E's Spelljammer setting, making them spacefaring hippo people. If you're not familiar with Spelljammer, this article J.R. wrote will help you understand a little more the truly out of this world setting the Giff is a product of. They're military minded, very organized, pride themselves on their skills with most if not all weapons, and are real real good at following orders making them effective mercenaries. They are resistant to and somewhat suspicious of magic and are happiest when in communities of other Giffs where everybody is always organized neatly into ranks.
Third Edition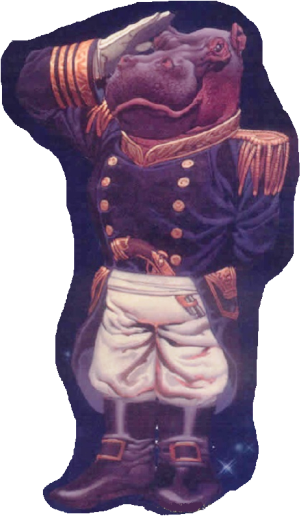 Finding the 3E Giffs was more difficult than you might think, appearing in Dragon 339 and aside from short mentions and one-off comments… that's about it. But these weird and delightful hippopodopeople deserve so much more appreciation than they get. Within the spelljammer lore they are creatures that would be feared by others with their ogre-esque size and solider's reputation, but their military uniforms with all of them pomp, circumstances, and ribbons seem to make it a little harder for enemies to see them as quite as terrifying as they perhaps deserve. And Giffs for their part are almost hilariously stuffy, seeing every non-Giff as either a potential employer or troublemaker.
Fifth Edition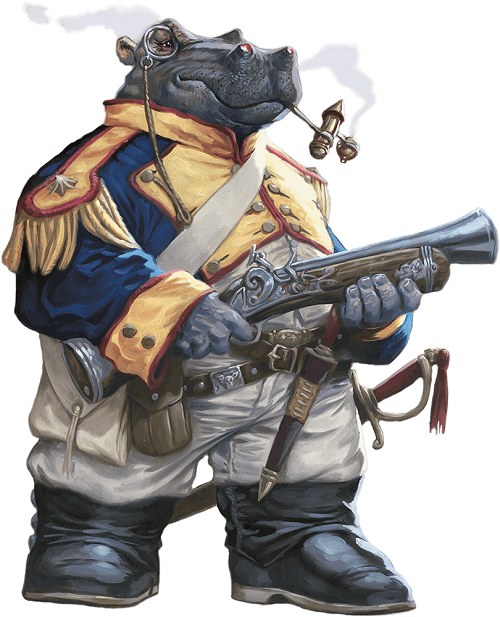 I was most interested to see how 5E handled the giff and their basis in D&D being rooted strongly in extraterrestrial travel. After all, as far as I know 5E hasn't introduced Spelljammer or another overtly space-themed settings or themes and without those the Giff is almost a random future hippo in a snazzy uniform. But then I flipped to their page in Mordenkainen's Tome of Foes and sure enough the most recent Giff are "spacefaring mercenaries." Could this mean a reintroduction of Spelljammer or is it just a fun little Easter egg, sprinkling some sci-fi into our high fantasy? The biggest change that 5E brings to them is their ability to use an appreciate magic. Previously giff have been suspicious of magic and generally chose to actively avoid the entire concept unless entirely necessary, but now it's not uncommon for them to become wizards, clerics, and other varieties of spellcaster. Imagine with me, if you will, the Giff above in an oversized wizard's hat. You're welcome.
Have you met a Giff before? Have you encountered outer space and Spelljammer? Would your current character be an employer or a troublemaker? Let us know in the comments!
Happy Adventuring!