Review: Monster Scenery Table Ready Trees and Mats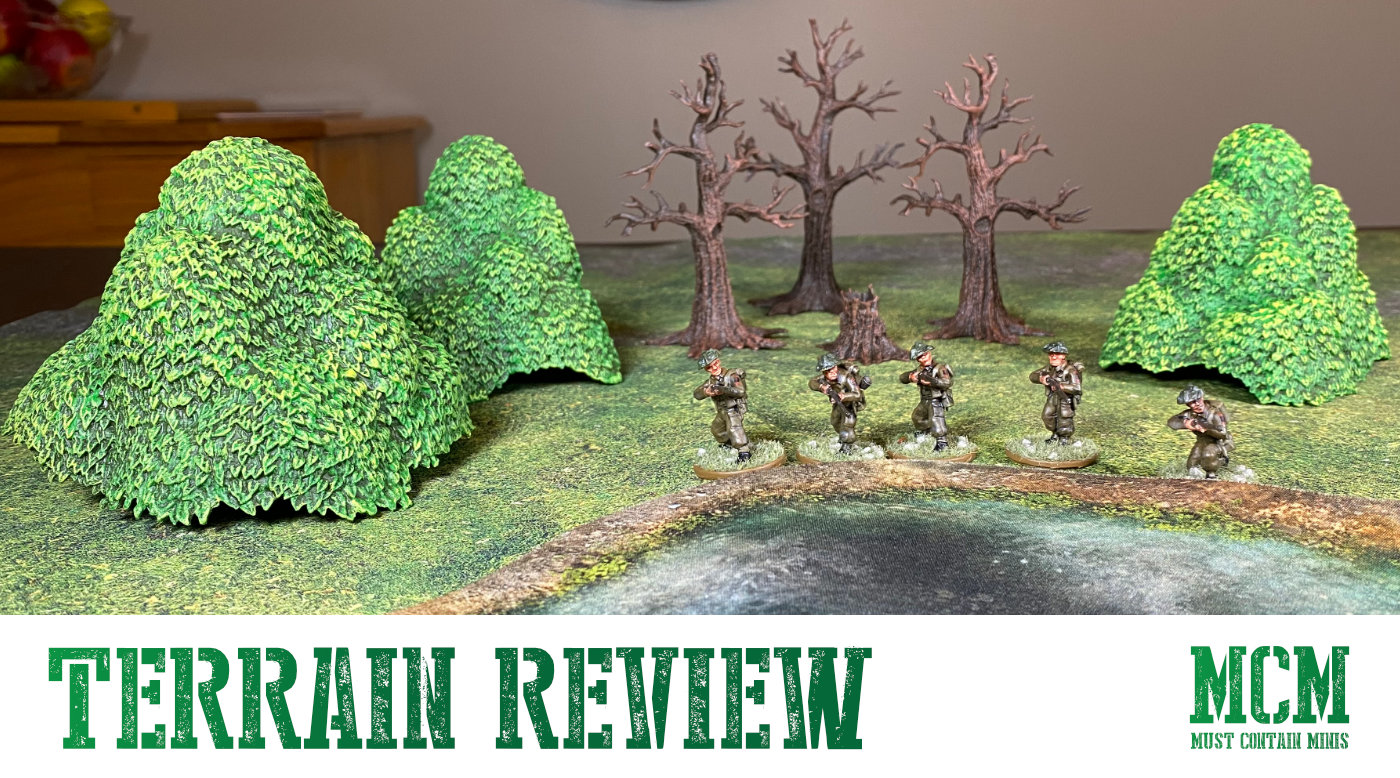 Monster Fight Club is killing it on Kickstarter with its campaign, Monster Scenery: Ice Wilds. Recently I got my hands on some of their terrain for review.
In this post, we are going to take a quick look at the terrain from their first Kickstarter – Monster Terrain. This terrain is now available both through retail stores and the Monster Fight Club website. Specifically, I am going to look at their Verdant Forest and Gaming Mat. Now, let's get into it…
Across the board, I found that the Monster Fight Club products are of very good quality and that a lot of thought goes into their presentation and packaging. Now, let's take a closer look at the gaming mat and tree set. These products also all feel very durable. The pieces are scaled to work with miniatures from 28mm in size to 40mm in size.
The Game Mat
The gaming mat is nicely detailed and just 2mm thick. I asked for them to ship me the 3′ by 3′ mat with the intent to use it for skirmish games.
Because Monster Fight Club ships this product in a box, it has creases when you first open it. I did some research and found five ways to get the wrinkles out of a neoprene gaming mat. I chose to iron the mat to get the creases out faster.
With the creases out of the mat, let's take a closer look at the details on the grass side of the gaming mat.
If you want to read more about this mat (including how I ironed the wrinkles out), check out my longer review. Now, to the next part of this review. In this part, you see the Verdant Forest along with some miniatures to better give you a sense of how the mat looks in use.
The Verdant Forest
The Verdant Forest box set comes with 8 terrain elements for you to use on your battlefield. Within these pieces, you will find…
1 Large Tree Trunk
2 Medium Tree Trunks
1 Large Tree Leaf Canopy
2 Medium Tree Leaf Canopies
1 Tree Stump
1 Double-sided Neoprene Area Template (pond on one side, leaves on the other)
The treetops you can use as independent bushes, like in the image above, or put them on the tree trunks to make full trees.
The treetops have some flex to them. That should make them even more durable. On top of that, they are hollow. This might be a good feature for those of you who play as Game Masters in conventions or RPG games. Is there treasure or monsters underneath that bush? Hide the items and monsters there before your guests arrive to add some extra emersion to your game.
Here I post a few extra pictures of the terrain so you can get a better feel for the aesthetics.
Subscribe to our newsletter!
Get Tabletop, RPG & Pop Culture news delivered directly to your inbox.
As you can see, this terrain pack offers a lot of variety. If you want more on this product, check out my longer review.
Wrapping it up…
Thank you for joining me in this Monster Scenery Terrain Review. If you have not checked out their current Kickstarter, head on over and give it a look. They've already funded and have many interesting offerings for an icy gaming setting. Likewise, they have a full line of existing products that you can buy in retail stores or from their website. Finally, I also have a section of my personal website dedicated to Monster Fight Club. Thanks again for joining me!
Disclaimer: Monster Fight Club sent me this package of game terrain for review purposes. While I accept review products, I am in no other way compensated for the posts on Must Contain Minis and reserve the right to give positive and negative reviews.

Read more about great Indie and Historical games on my site!
Must Contain Minis is my personal reviews, showcases, and battle reports website where I look at mostly Indie and Historical Games. Mainstream games and products also enter the mix. You can also follow me on Social Media. I am very active on Facebook and share posts of a wide variety. I upload my best pictures to Instagram and am also on Twitter.
My aim is to promote gaming with companies outside of those that already dominate the gaming market.