RPG Accessories: Spooky Dice For Your Spooky Halloween Games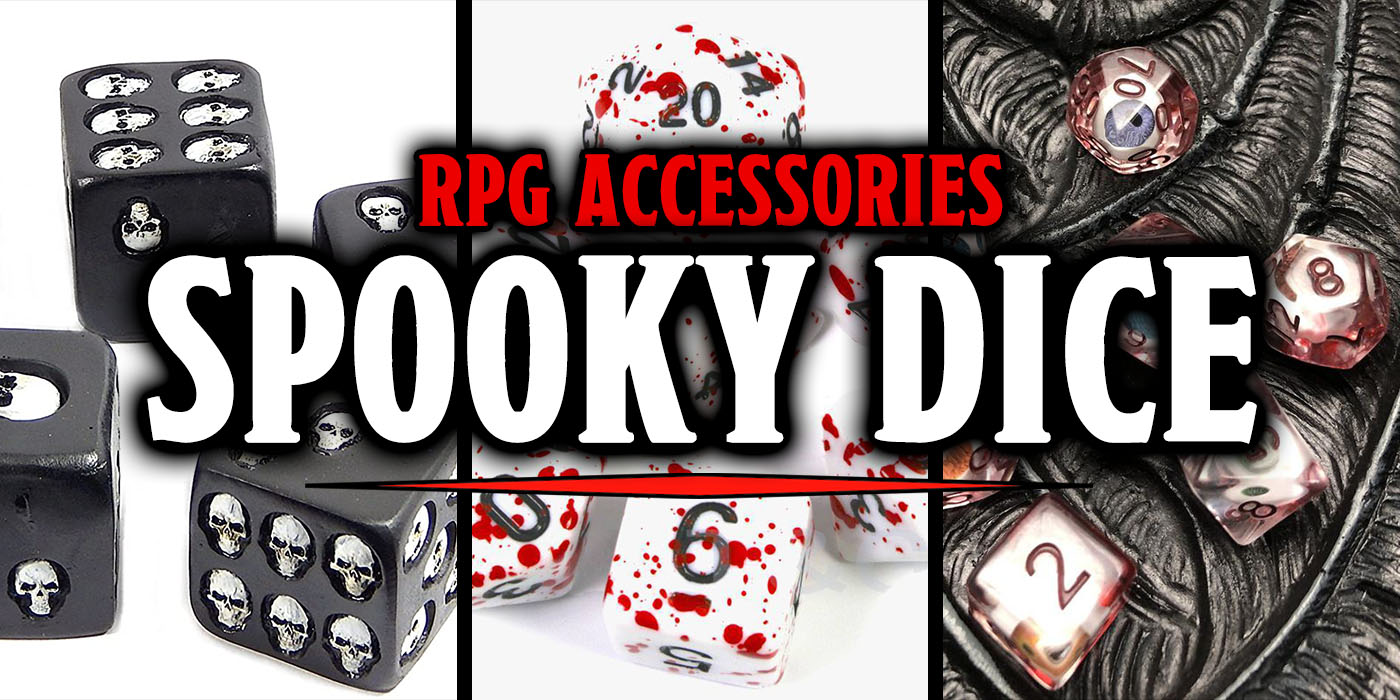 This October when your RPG group gets together for a special creepy game session, why not show up with dice that show how spooky things are going to get.
October is the perfect time to watch some scary (or not that scary) movies, buy way too much candy, or sit down for some festive sessions of your favorite horror RPG. And these dice will help you get into the spirit. As always, the titles are links where you can support these shops and talented dice makers.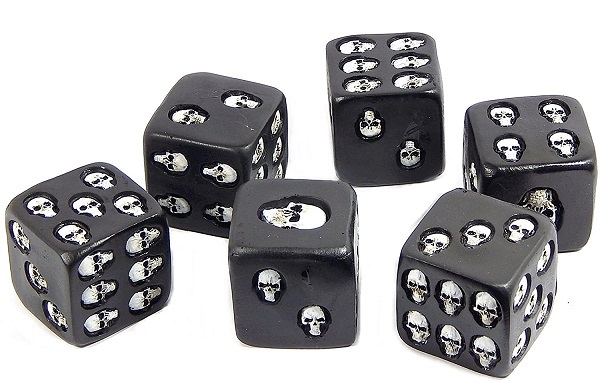 These D6s are spooky, simple, and easy to read with skulls replacing the numbers on each side. Whether you only need a couple of D6 for a haunted Powered By The Apocalypse session or you're going to get festive by replacing the dice in your regular board games for a few weeks, this set is both fun and functional. But maybe you're not playing GURPS and will need more than just D6, that's okay, there are options this Halloween season.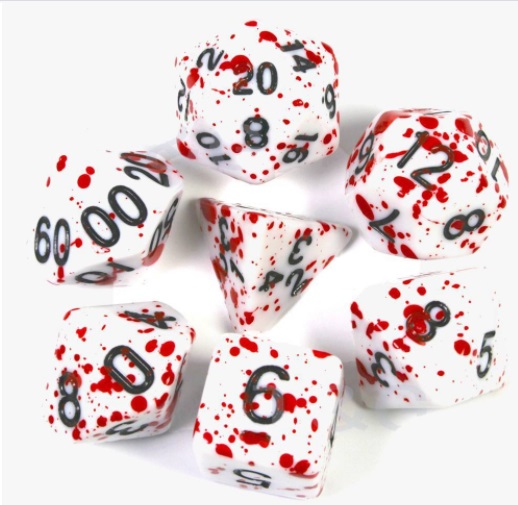 This set is to the point and would fit in perfectly with any horror themed RPG. The blood splatter paint job reminds me of the specialty Jenga set I've seen for extra creepy games of Dread, but the full D&D set of dice opens up the gaming options a little more while still staying perfectly macabre.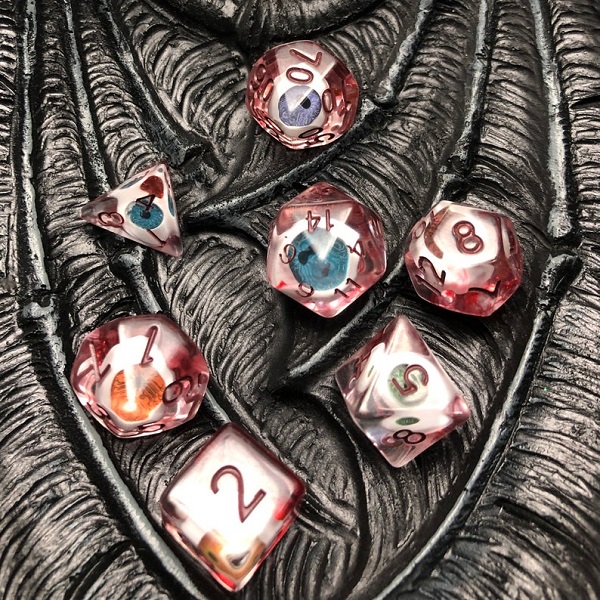 I hate-love these dice. On one hand, they're very cool and the effect of an eye trapped in the dice resin is just realistic enough to be a little unsettling. On the other hand, they're unsettling and I would never want to roll them myself! Which is probably the mark of a set of horror themed dice well made.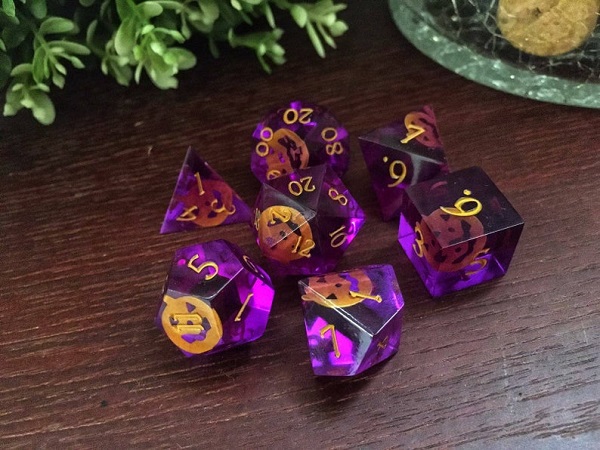 Subscribe to our newsletter!
Get Tabletop, RPG & Pop Culture news delivered directly to your inbox.
A little less scary and a little more good-clean-Halloween-fun, this set's use of color reminds me of a more kids-friendly movie witch. These are some Hocus Pocus dice and I love them for it. These dice come with a variety of finishes and the option for a custom wood box, making it a one stop shop for any of your October Halloween needs or a pretty great present.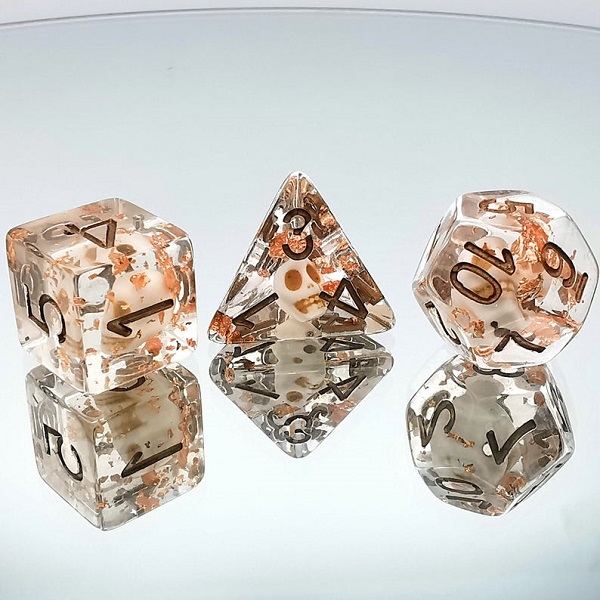 There's just something about these dice that I'm enamored by. The little tiny skulls in the resin are equal parts creepy and cute, and the little gold flecks inside make them so much extra eye-catching and pretty. There could easily be a story to these dice, or maybe you'll want to use them to help tell your own scary story.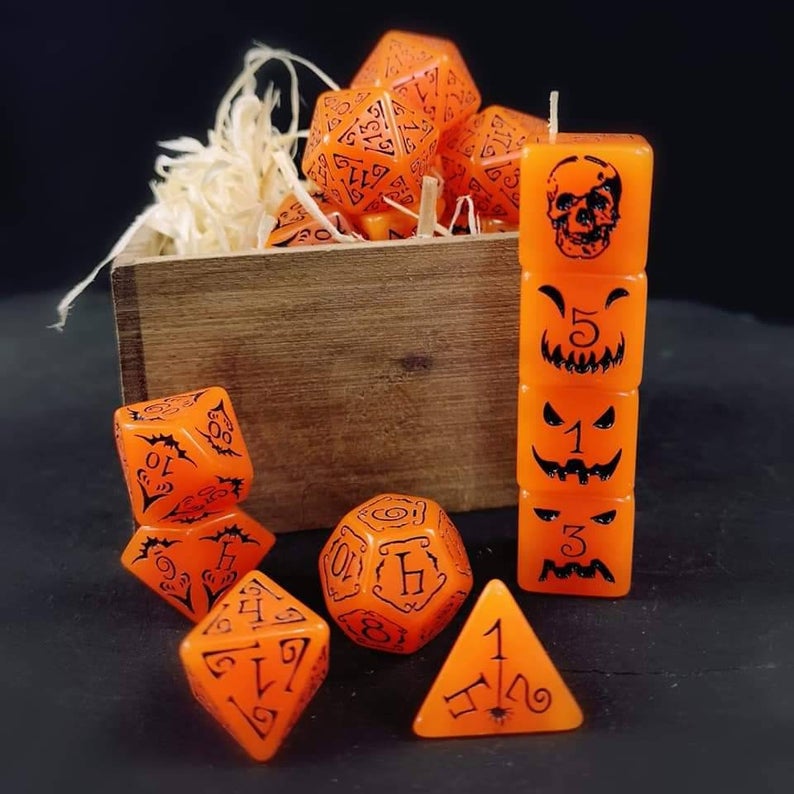 These aren't particularly spooky. Instead the little swirls and details of spiders and bats reminds me of The Nightmare Before Christmas in a really pleasing and fun way. The bright orange and design on the D6s are perfect square little jack-o-lanterns while the D10s could have witches hats, I think. True to the name these vibrant candy-like dice are perfect for a Halloween themed game. Or all year, don't let us stop you from using your spooky pumpkin dice all year round.
Do you have any dice specifically for the scarier games? Do you own the blood speckled Jenga set for Dread? Will you be adding any of these Halloween dice to your collection? Let us know in the comments!
Happy Adventuring!