Tabletop Kickstarter Round-Up: October 7, 2020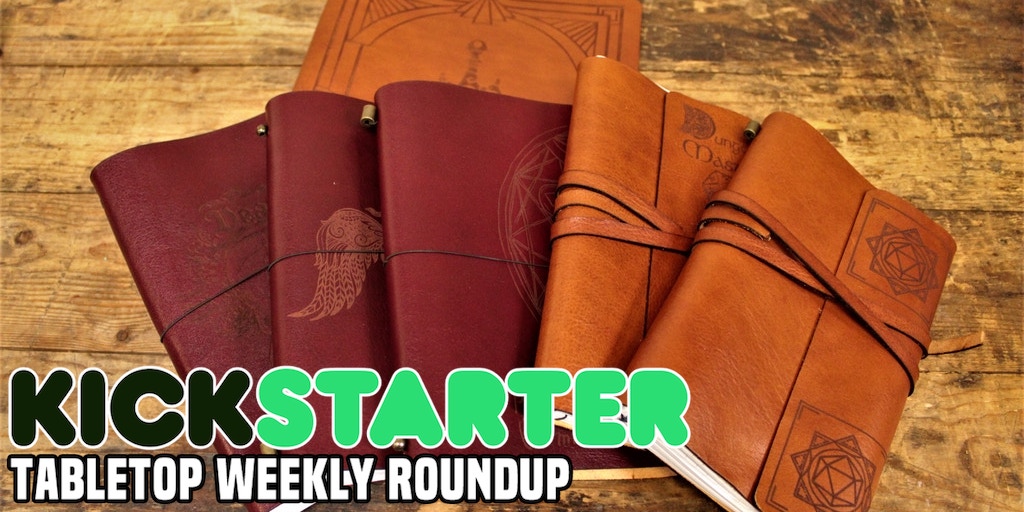 Come check out this week's batch of crowdfunding highlights!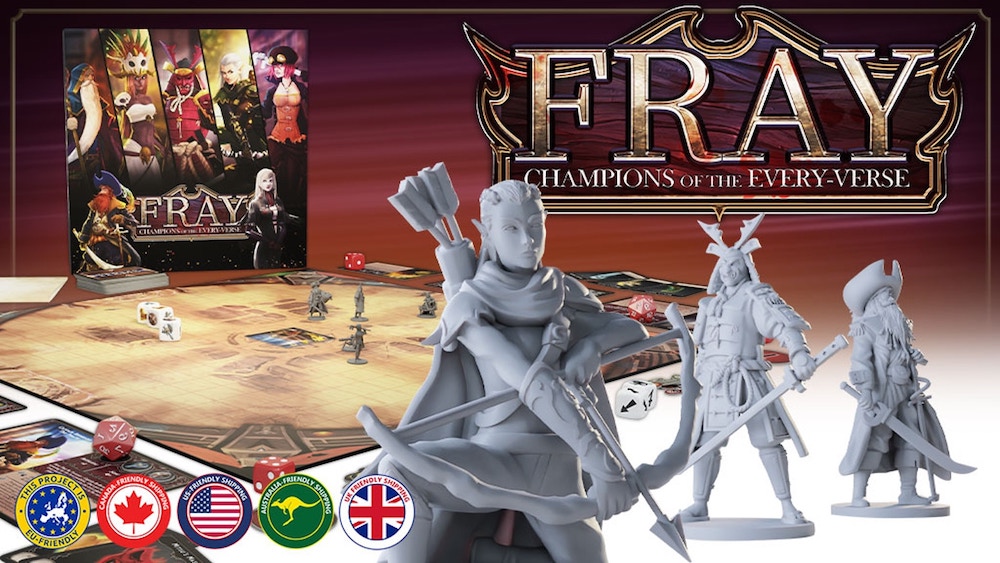 Fray – Champions of the Every-Verse is a light weight, fast-paced miniature skirmish game that pits champions from different genres against each other in gladiatorial combat. Brought together by mysterious and enigmatic beings, simply known as 'The Watchers', these champions fight for the glory of their realm, and their very survival.
As a player, you assume the role of one of the Watchers, choosing your champion(s) from a selection of archetypes to battle against your opponents in gladiatorial combat. Who will you choose?  Will it be Sheriff West the Gunslinger firing away with his six shooter?  Perhaps you will choose Mitsu the Samurai and charge in with ancestral blades?  Gadget the Tinkerer to summon forth her Gatling turret to lay down a hail of fire?  Maybe you would rather choose Sethrious the wizard and use magic to smite your foe?  The arena is ready. The Watchers have summoned the champions. Now it is time to choose yours. 
Pledges start at $49 for the game, stretch goals, and exclusives.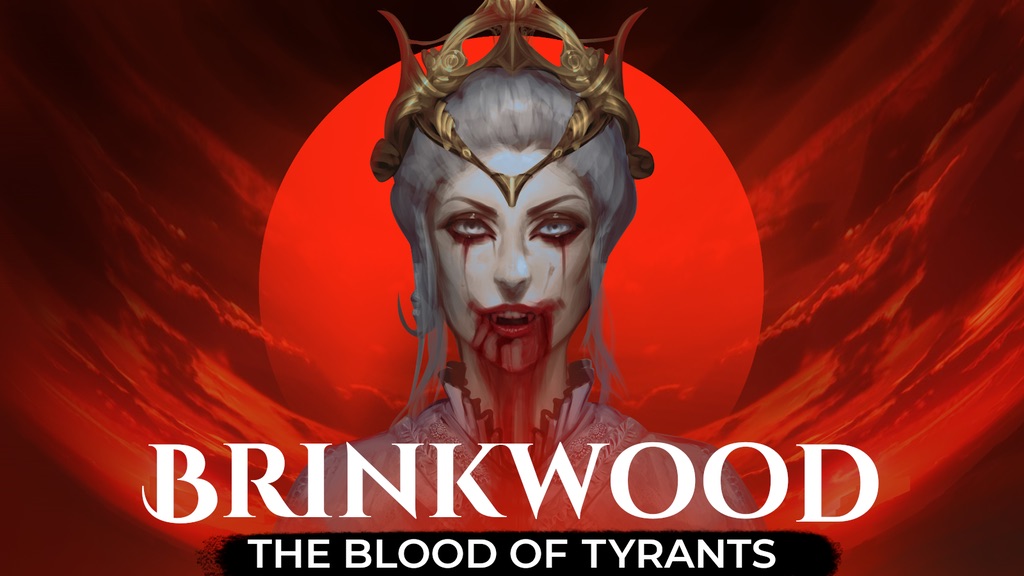 Brinkwood: The Blood of Tyrants is a Forged in the Dark tabletop roleplaying game about building a rebellion that will overthrow the blood-soaked vampires that oppress and dominate your world. 
You are a brigand, a commoner radicalized by tragedy who has decided to forsake their old life and flee into the woods to plot a rebellion. Cardenfell is your home, a kingdom on the brink of open revolt against the vampiric nobles and factory lords who rule over it. All it will take is a single spark. Your spark. Whether you're robbing from the rich and giving to the poor, or assassinating vampires and drinking their blood, every move you make will take you closer to your goal: liberating your home from the vampiric scourge of blood rent and exploitation. 
 Pledges start at $15 for a PDF and $40 for a print version with extras.
 
 Witch Hunt is a boutique focused on creating unique and beautiful jewelry inspired by our favorite tabletop role-playing games like Dungeons and Dragons. We want to make accessories for modern, aesthetically conscious players. Each dice drop earring set comes in either Steel or Rose Gold. You'll get yours in a durable pull-out box with the Witch Hunt emblem so it is perfect as a gift for a certain special someone. 
Subscribe to our newsletter!
Get Tabletop, RPG & Pop Culture news delivered directly to your inbox.
We've kept our backing levels short and sweet just like our first campaign. You can back for either one or two sets of our beautiful dice drop earrings. If you can't decide which finish you like best why not get both? 
Pledges start at $39 for a pair.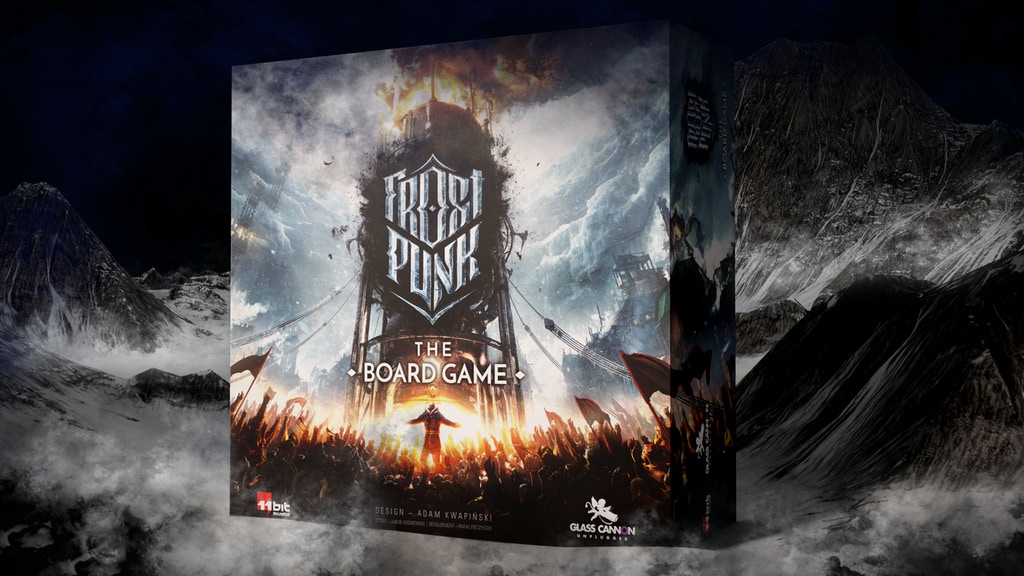 In Frostpunk: The Board Game, up to four players will take on the role of leaders of a small colony of survivors in a post-apocalyptic world that was hit by a severe ice age. Their duty is to effectively manage both its infrastructure and citizens. The core gameplay will be brutal, challenging, and complex, but easy to learn. The citizens won't just be speechless pieces on the board. Society members will issue demands and react accordingly to the current mood, so every decision and action bears consequences.
The players will decide the fate of their people. Will you treat them like another resource? Are you going to be an inspiring builder, a fearless explorer, or a bright scientist? Is your rule going to be a sting of tyranny or an era of law and equality?
Pledges start at $89 for the core game, an expansion, and stretch goals.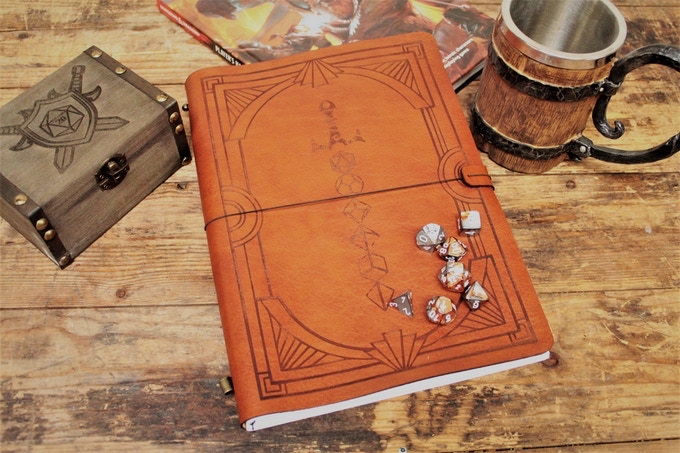 We are pleased to announce the launch of our brand new handmade leather refillable notebooks – designed for use for table top gaming, rpg, and wargaming. Made by geeks for geeks!
All of our journals are made by hand in our workshop here in the centre of the UK. We cut, etch, and assemble each journal ourselves giving you a truly unique and cared for journal that can be used again and again. Each journal comes with a unique leather cover, metal spine decoration, and elastic notebook holders. Our journals come in 2 different design types with either a traditional black elastic binder or a fold-over type cover with leather straps.
These journals are featured in this week's header image.
Pledges start at $39 for a traveler's size journal.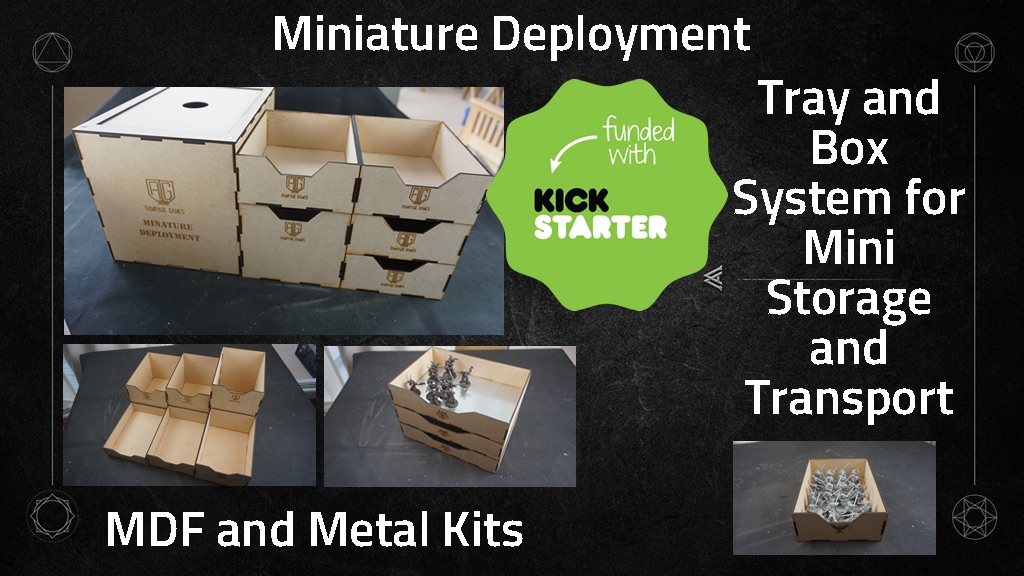 Miniature Deployment is a tray based storage system, available in half and full trays to address your model storage needs. This system has been designed to allow you to store models easily on a shelf as well as transport them to events and clubs.
Each tray is 190mm deep and comes with a 'poorly cut metal sheet' (fills 95% of base roughly), and varies in height to accommodate the different models available for different games systems (storage height is typically 4-5mm smaller than the tray height). Each tray can be personalised on the front to allow for easy identification of your models at a glance (and is included free with your backing).
Want to transport multiple boxes to an event? The Miniature Deployment has a simple magnet system allowing you to connect multiple boxes together for easy transporting. This is achieved with N52 Neodynium magnets (provided as an add on kit).
Pledges start at $20 to secure your place in a release wave – custom order after the KS completes.