Your chance to pick up a super detailed Cadian Officer action figure by Green Wolf  Studios is here.
If you thought that Bandai Namco Marine was amazing – and given that it sold out twice, we know you did – you'll love this new fig from a company known for being detail-oriented. Green Wolf Studios makes ultra-detailed 1/6th scale figures of modern day, sci-fi, and post-apocalyptic soldiers that come with just as detailed weapon options and tailored cloth costumes. This is their first take on the iconic characters and lore of the grimdark.
Cadian Shock Troops are perhaps the most famous and respected of all the Astra Militarum forces. There could be no better choice for us to bring to 1:6th scale than these iconic heroes of the Imperium – and one of their unwavering officers, with the wide variety of weapons and equipment available to him, felt like the perfect place to start. We have plenty of ideas for possible future figures, but for us, there was never any doubt about who to make first!  Pictured below are some of the other exciting extras we have been working on which will be available after Kickstarter as expansion packs for your Cadian officer. You will be able to alter the setup and display your figure in multiple ways. 
 Additional add on items:
Powersword
Officer's head (required for correct helmet fitting)
Officer's helmet
These items will be available to purchase once Green Wolf sends out a survey to collate delivery details.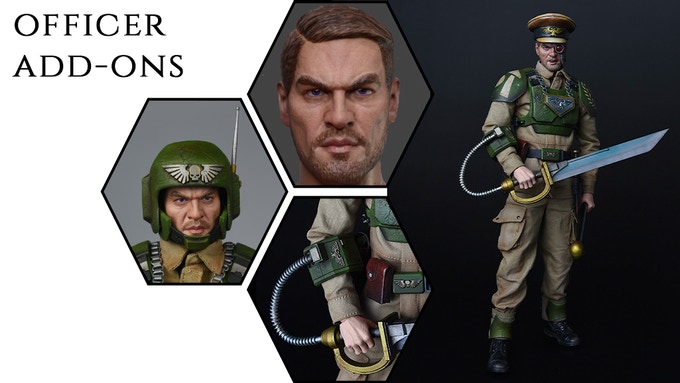 Imperial Guard Cadian Officer –  £180.00 ($234 US)
All resin parts on the figure have been designed by our own 3d Designer who has worked on many off our figures and accessories. He has previously worked on other licenses designing collectables based on major Hollywood productions. When it comes to 3D design you wont find better than him.
30cm (approx 12″) tall
1 x Officer's head sculpt with bionic eye
1 x Officer's hat
1 x Neck gorget
1 x Chest and back armour
1 x Left & right shoulder armour
1 x Belt and buckle
1 x Trousers (Pants)
1 x Jacket
1 x Chainsword
1 x Las pistol and removable magazine
1 x Las pistol holster
1 x Las pistol magazine pouch
1 x Spare Las pistol magazine (fits in Las pistol magazine pouch)
1 x Water canteen
1 x Water canteen pouch
1 x Bayonet
1 x Bayonet sheath
2 x Grenades
1 x Pair of leather boots
1 x Set of ankle putties complete with armour
2 x Pairs of hands (for holding a multitude of weapons)
In addition
Each Kickstarter backer will receive a specially commissioned artwork sleeve for their product box (we will keep backers informed on design after the Kickstarter campaign has ended and before delivery)
1 x Commissioned artwork content card, the reverse side will contain a checklist of all contents and accessories included within your reward (size A5, shown on left)
1 x Certificate of Authenticity (size A5)