With a new Codex on the way, the Deathwatch are getting a new batch of Crusade Rules to match. Come take a look!
Crusade is the new way to build and play your 40k army and Games Workshop has been including special Crusade rules for each army as they get their new codex. The Deathwatch is continuing this new trend with a batch of rules for taking these Xenos Hunters on Crusade. Today, we're getting a preview of some of their rules in the new codex.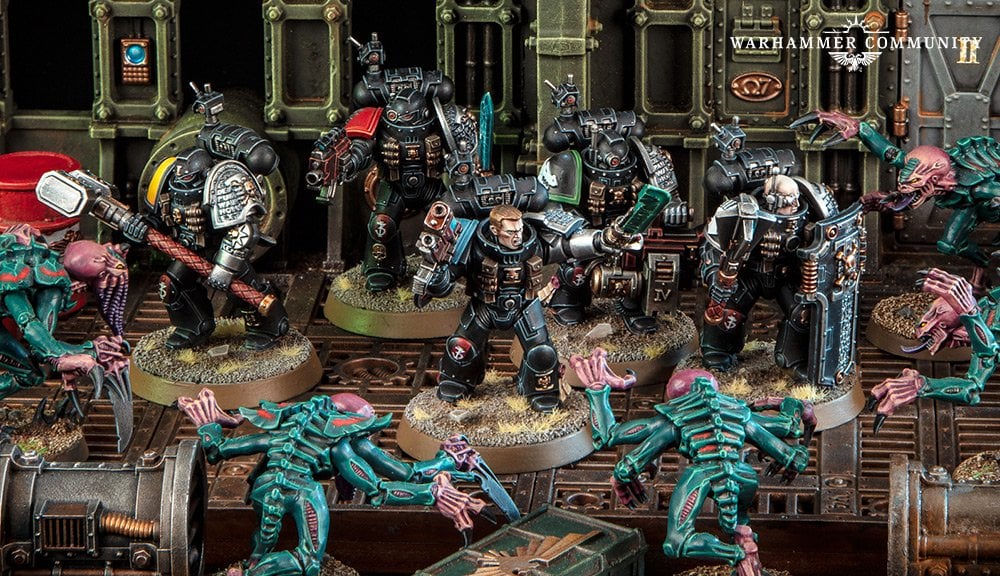 Kicking things off with the Deathwatch Crusade rules we're getting a new Agenda – Strength From Diversity: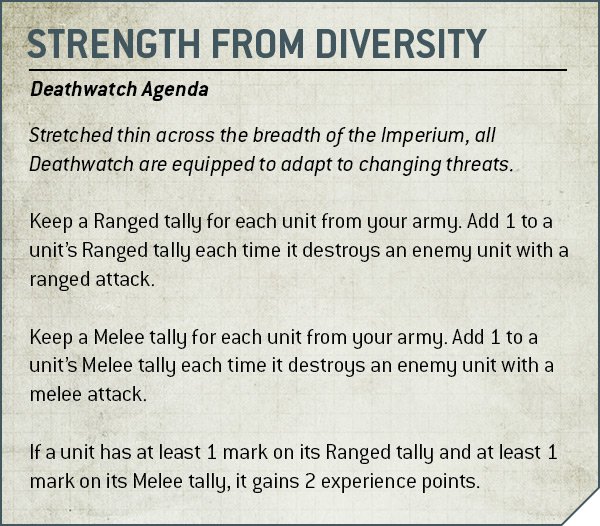 The more types of combat your units face the faster they can level up at the end of a battle. With the right mix of shooting and melee the Deathwatch can be uniquely equipped to tackle this Agenda.
Up next is a new type of Battle Honour for your Masters:
"Your Deathwatch Captains and Watch Masters can be given a new kind of Battle Honour – Master of the Specialisms. This represents their expertise against specific types of enemy unit, and they can pass this knowledge on to their squads."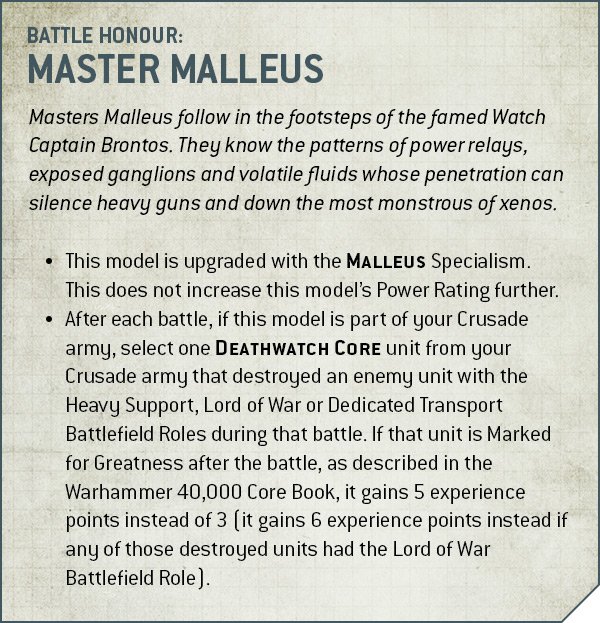 "But what is this Malleus Specialism? Well, Specialisms are upgrades that you can give to a Kill Team as a part of a Battle-forged army. Thanks to the Battle Honour above, your Crusade Characters can also have access to these Specialisms. Malleus is incredibly helpful against the biggest threats that you might come across."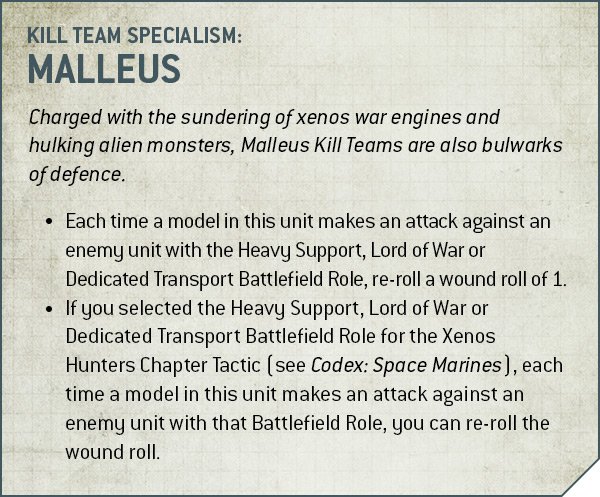 Okay wow – these Specialisms could be really useful in combating things that the Deathwatch might normally have an issue with. The extra re-rolls can really help out.
"Best of all, these Specialisms aren't just for your Crusade force, you can apply them to your other games of Warhammer 40,000 for just a small outlay in points or Power. You can also spend Requisition Points to give one of the Kill Teams in your Crusade force one of the six Specialisms."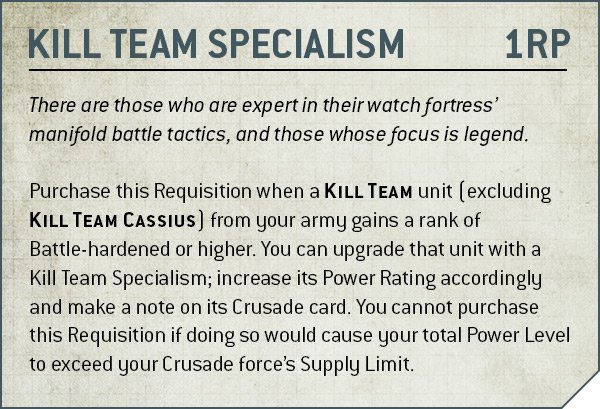 Interesting. I'd really like to see the rules on how these specialism actually work now – especially since you can pay points or power to bring them in to "regular" 40k games, too. I wonder how the Tournament Organizers are going to handle these upgrades.
Battle Scars
Turns out that battling the enemies of the Imperium can leave you with scars. Even the might Space Marines will have to deal with the injuries they sustained for the glory of the Emperor. They have a new set of Battle Scars that are Chapter-specific and more appropriate for these Xenos Hunters.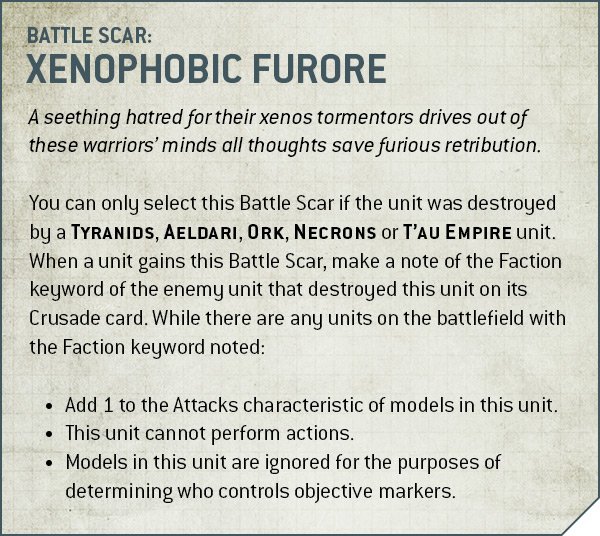 Wait. You get an extra attack when your chosen Xenos army has a unit on the battlefield? And you lose the ability to perform actions or determine who controls objectives? Heh. Okay…
Battle Honours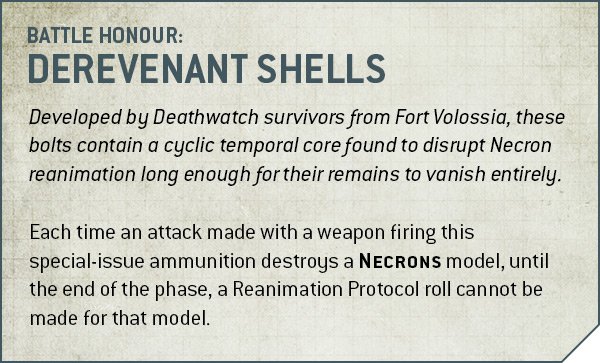 The final preview is for one of their new Battle Honours. Derevenant Shells can really mess-up some Necrons! While I like the idea that the Deathwatch have the tech to combat the Necrons, I also wonder if this is really balanced. Then again, it's for Crusade Armies which are more thematic and narrative driven anyhow. Still, I'd hate to be the Necron on the receiving end of these shells.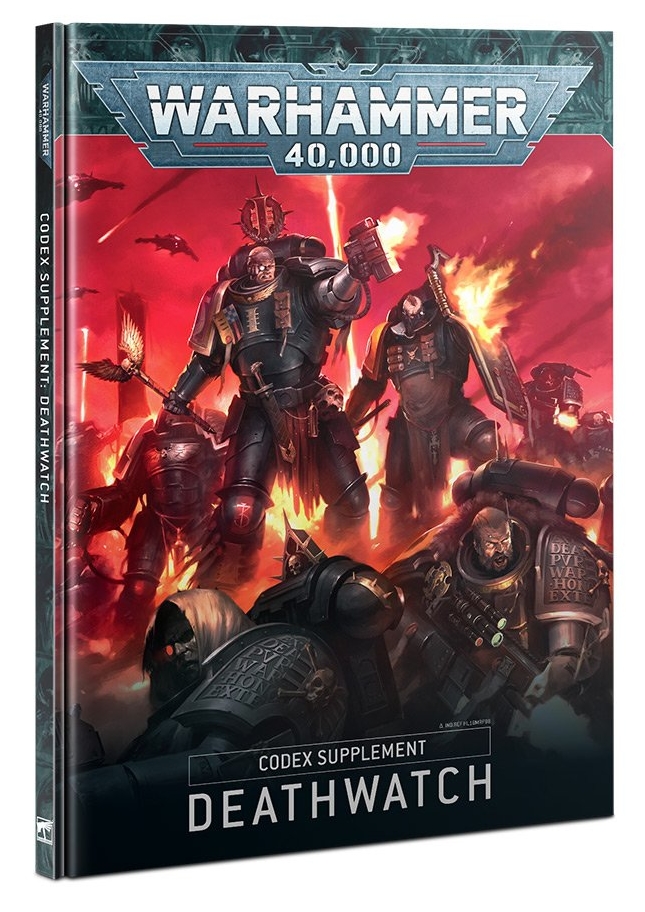 The new Deathwatch Codex is up for pre-order this weekend!