D&D: Beyond – Cyber Monday Deals To Jump On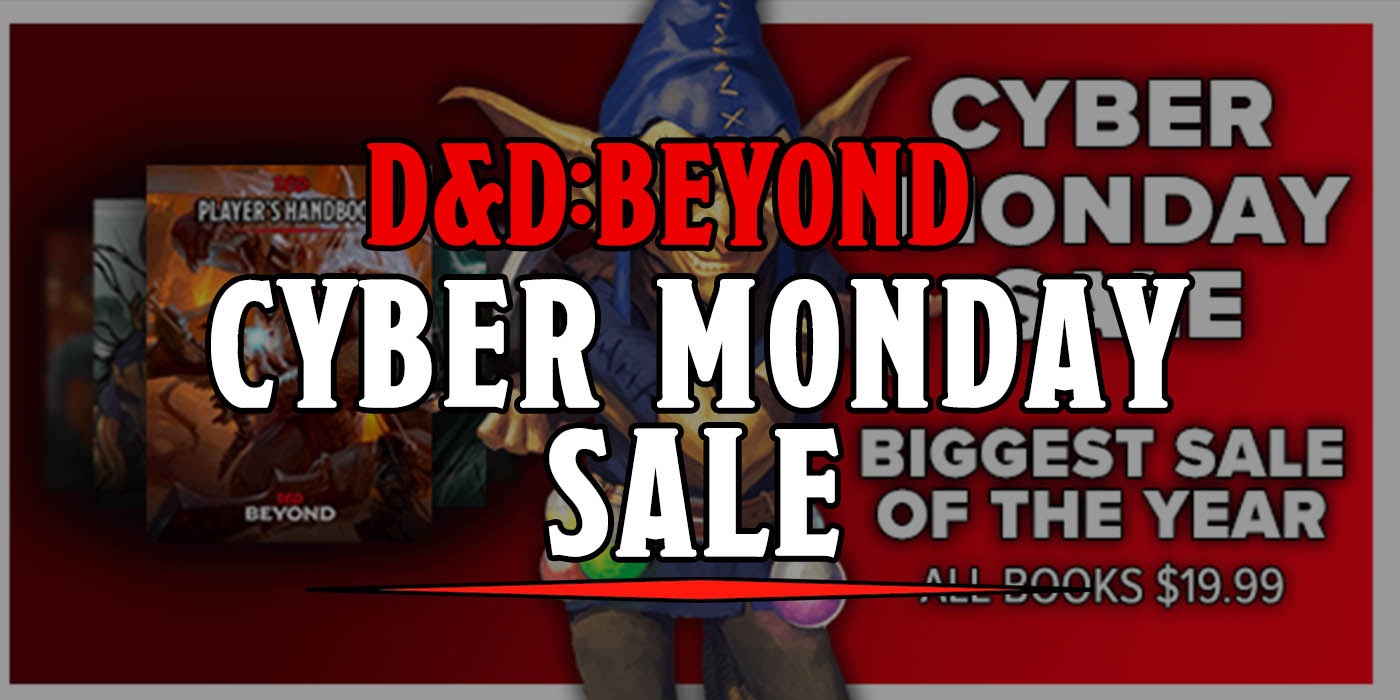 Are you playing D&D digitally these days and want new books to build characters and run adventures? You need to hop over to D&D Beyond right now.
If you're playing D&D online these days (for obvious reasons) and you've been using D&D Beyond already, then you've probably been wanting some more books for character options or adventures. Well, you just might want to pop over for their Cyber Monday deals because these are the best of the year.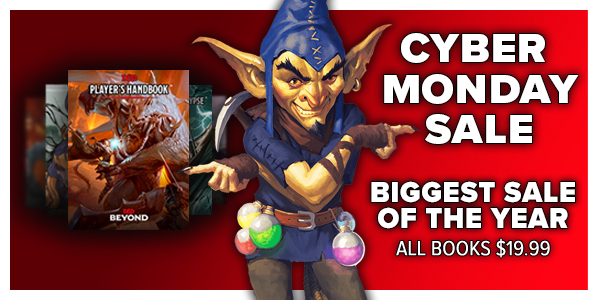 "You succeed on a persuasion check while haggling with the D&D Beyond book merchant. All sourcebooks and adventure books are marked down to $19.99! Expand your digital library or choose "purchase as a gift" at checkout to share your love of D&D with friends and family."
Yep – you're reading that correctly. All the sourcebooks and adventure books are down to $19.99. Check this out: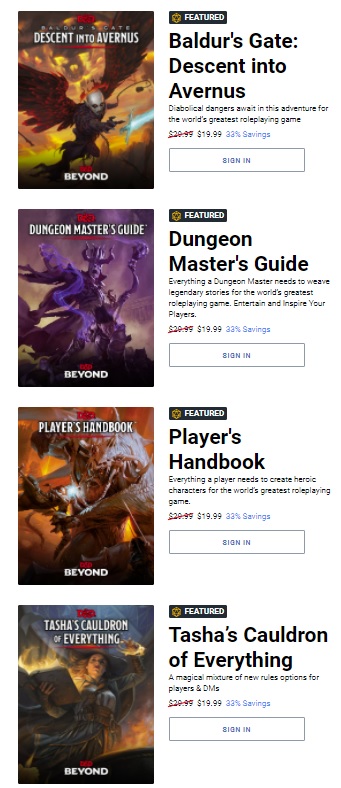 And that's just the featured page. Oh and YES – that is indeed the brand new Tasha's Cauldron of Everything on sale as well: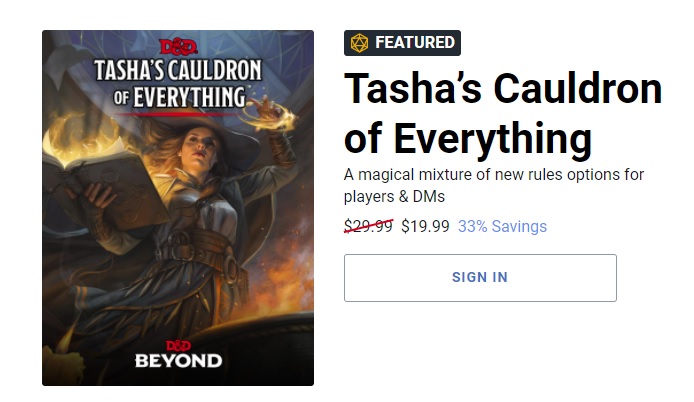 There are also some bundle deals and things like that up for grabs today too. But seriously, if you've been waiting for whatever reason to buy any of the books today is the day to do it: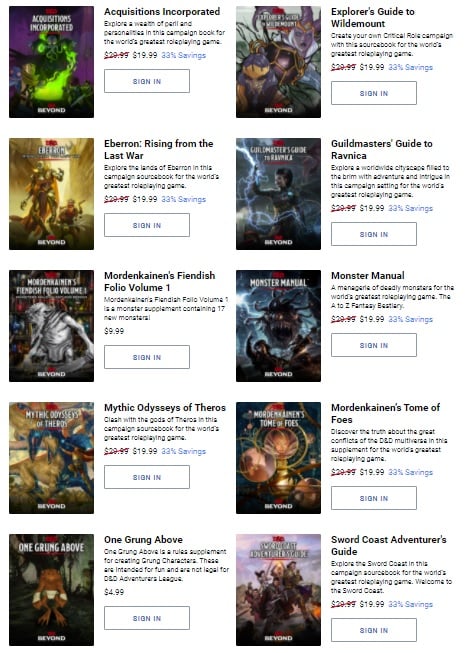 If you're already using D&D Beyond then you should know all this stuff already. But if you haven't here's a few cool things to know about these digital products.
Subscribe to our newsletter!
Get Tabletop, RPG & Pop Culture news delivered directly to your inbox.
They are added to your account – so you'll need to create one to purchase these books.
They can be shared with people in your campaign. You'll need a subscription to do that, however.
They make Character Building a breeze.
You can manage your character sheet digitally while playing.
You can also download PDFs of the character sheet and print them out for the pen-and-paper feel.
You can access the same account from the website or via their Apps from iTunes for Apple or Google Play for Android.
Unfortunately, the subs aren't on sale (bummer) but they are still up for discounts normally: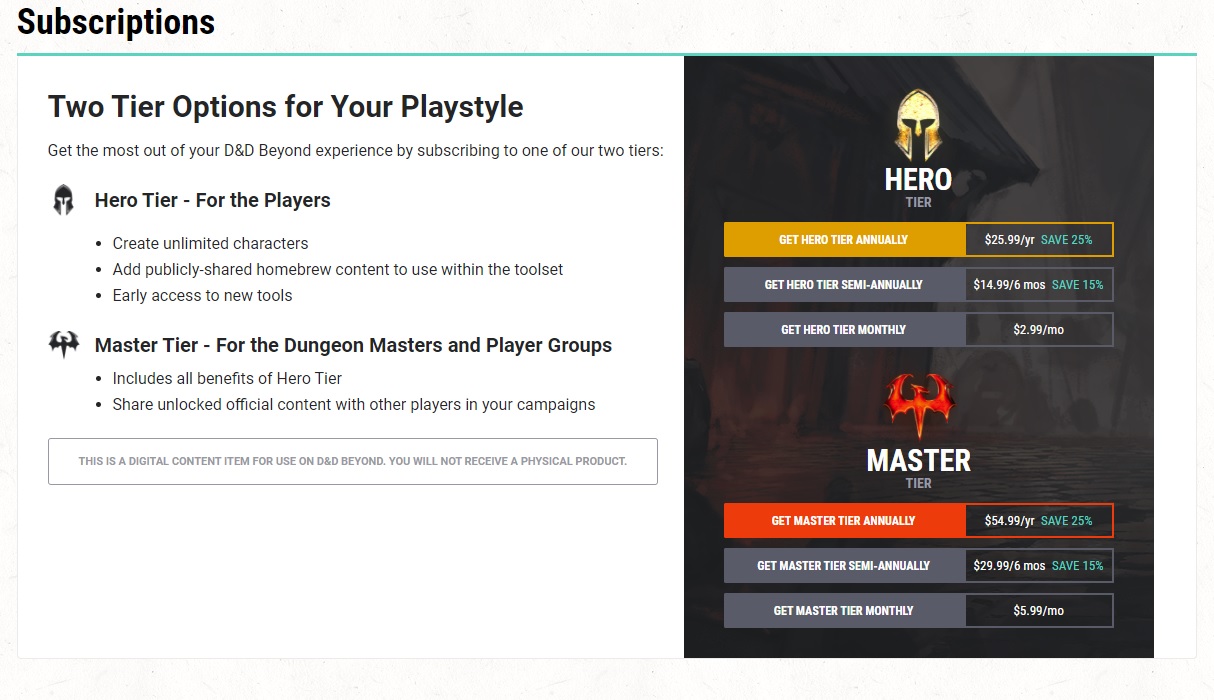 D&D Beyond Subscription info page
Even if you don't have a subscription, you can sign-up for a free account and purchase books to build from. Or don't – even a basic 100% free account has access to character building tools (there are limited options, but you can still build a character up to level 20). And even WITH a basic 100% free account, you can join a campaign and if the person has the Master Tier, you can access all their shared content, too.
Basically, if you are playing with a group and you want to split the cost of books and subs, just have one person you trust in charge of the account. Create a campaign*, and everyone can join it and access the books now.
*There are limits so no, you can't give this to your cousin like your Netflix password. Unless they have a D&D Beyond account and are in one of your campaigns…

So yeah…get those books on sale, share them with friends, and have fun playing some D&D digitally! This sale ends December 1st at 8:00 Am PT!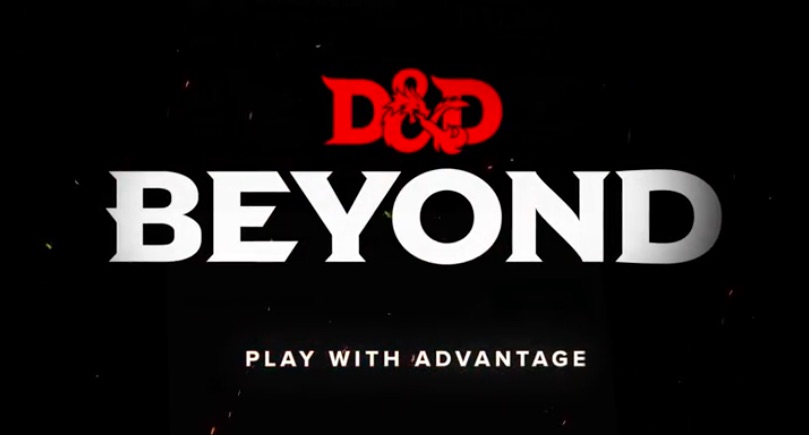 Now I just need to convince my DM to let me use all the books to build my characters…