D&D: Check Out This Massive Replica Of The Yawning Portal Inn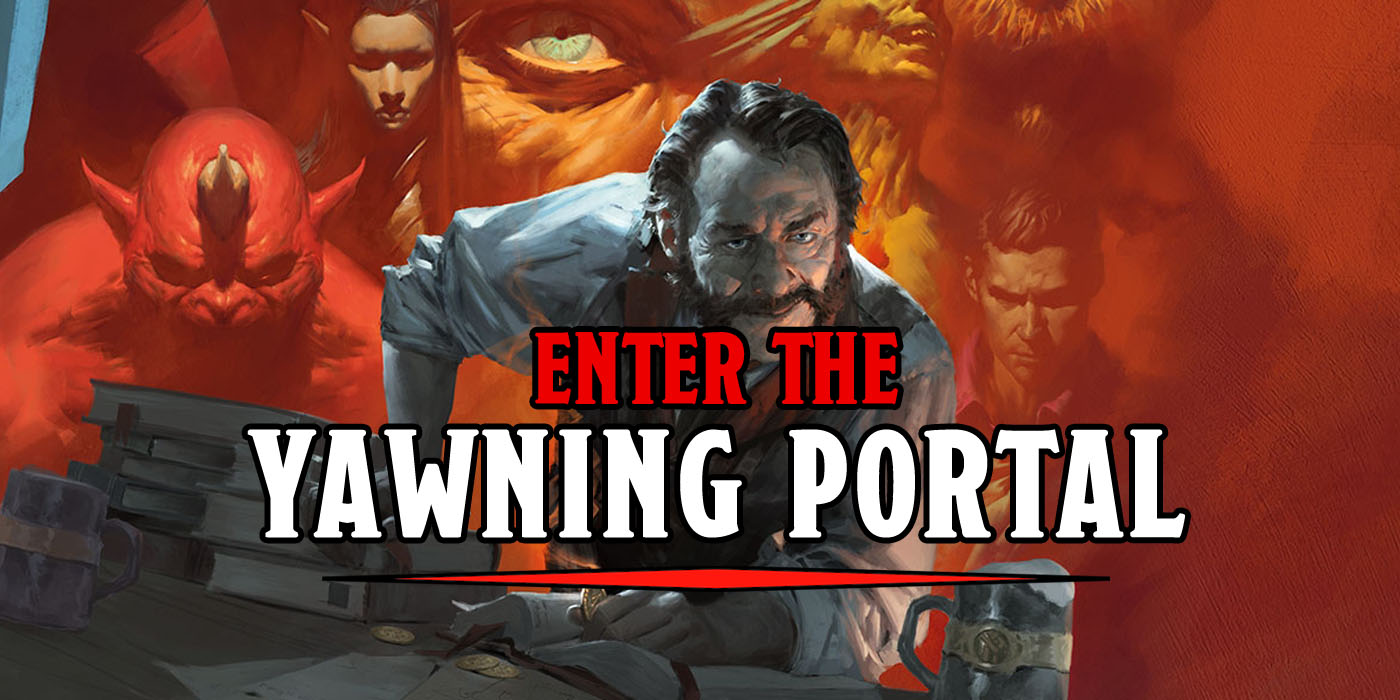 Last year, WizKids unveiled plans to deliver a multipart replica of the Yawning Portal tavern–and they've just shown off a massive new model.
The Yawning Portal has been the site of many an adventuring career's beginning. Situated deep in the confines of Waterdeep, the Yawning Portal sits above Undermountain, a world-renown dungeon that is full of both danger and more danger. Built by a wizard who is magically bound to it (but who insists on roaming the multiverse, even going to Earth, around the year 2017), Undermountain has claimed more than its fair share of lives. But it's also given up more than its fair share of riches.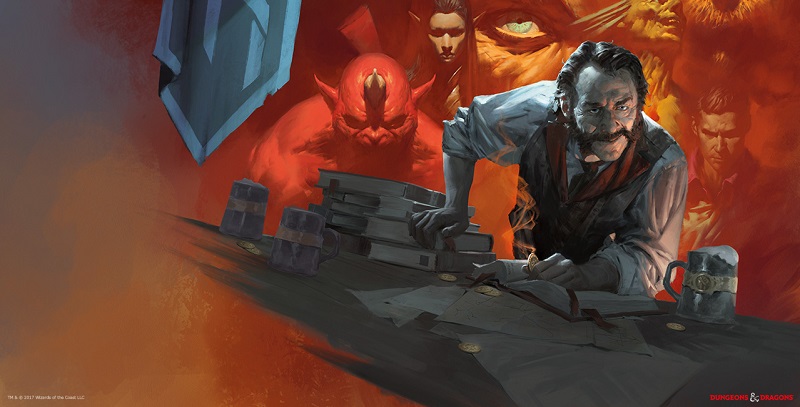 And demons only come up from the depths on occasion. So, the tavern, minded by Durnan, who is also an immortal barkeep, the Tavern spins on, heedless of the world outside its walls. It's a place for adventurers to swap stories and share a respite from their personal matters. It's not exactly a World's End kind of situation, but it's close enough.
And now WizKids has unveiled their new replica of it. They have pulled out all the stops for this replica, turning it into a cutaway model of the famous tavern, inspired by many illustrations–including this one: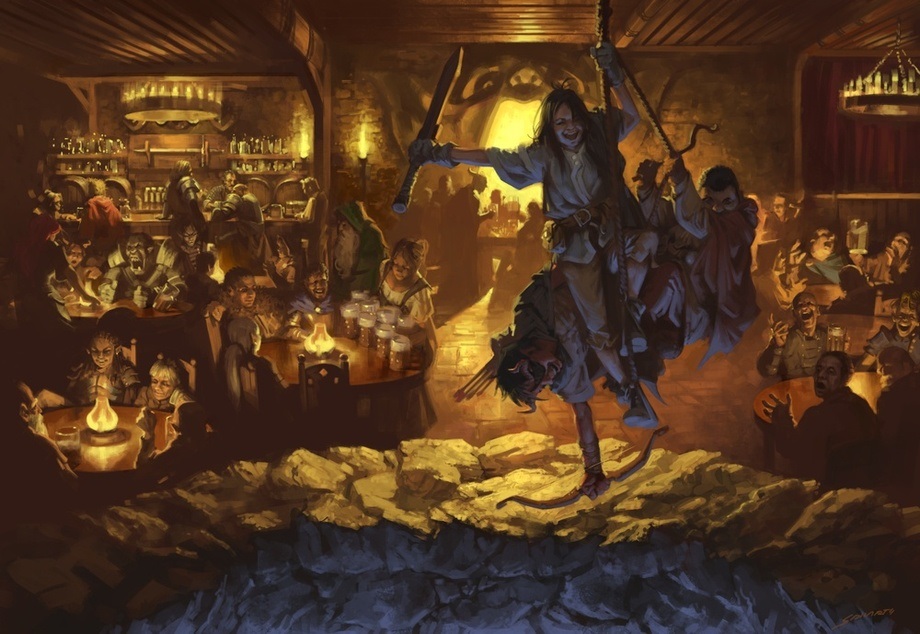 But they've fitted the bar's eponymous portal with wiring for the new LED lights. Perhaps they intend to frighten away the ghost of so many years ago with a little illumination. Or perhaps they just want it to look cool and ominous. Either way, this miniature will set you back $349.99, making it one of the more expensive miniatures out there. Especially considering how the Yawning Portal typically isn't where you have your adventures, so much as start them off.
If you want a display piece for your favorite miniatures when they're not on the battlefield, though, it's a pretty cool entry. Here's what it comes with: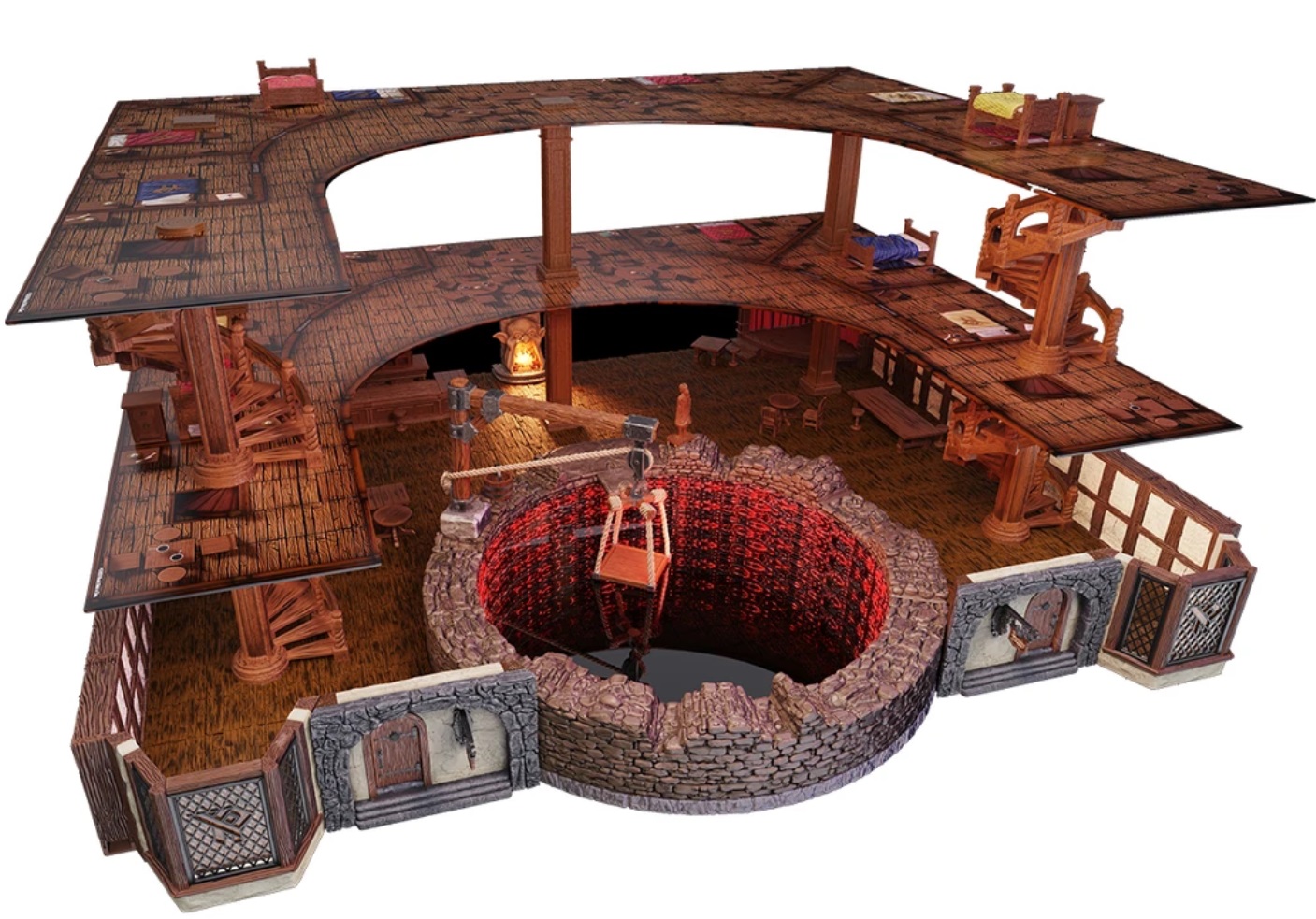 The Yawning Portal Inn premium set includes everything you need to assemble your own diorama of Waterdeep's Yawning Portal for play. This set features all the landmark pieces from the famous tavern, including the renowned dry well to lower your party into Undermountain!
More than 130+ pieces make up the most ambitious Dungeons & Dragons play space that WizKids has ever created to date. This commanding set includes three floors, LED lit elements, and premium high-definition miniatures. All pieces in this impressive set come pre-painted with premium paints.
Features:
Subscribe to our newsletter!
Get Tabletop, RPG & Pop Culture news delivered directly to your inbox.
LED lit fireplace
Color changing LED lit well (Red, White and Purple), featuring an infinity mirror design
Grimvault Sword attached to a mantle which attaches to the wall
Statue of Tymora
Includes a premium painted Durnan miniature
Multiple stairwells and furniture including bars, bar stools, beds, chairs, tables and more!
28mm scale – works perfectly with existing D&D Icons of the Realms miniatures and sets
Removable walls on the first floor
This set includes*:
Durnan, (1)
Long Bar Sections, (2)
L-Piece Bar Section, (1)
Short Bar Section, (1)
Left Bar Back Wall Piece, (1)
Right Bar Back Wall Piece, (1)
Middle Bar Back Wall Piece, (1)
Grimvault, (1)
Statue of Tymora, (1)
Fireplace, (1)
Logs, (1)
Portal, (1)
Portal Winch, (1)
Portal Platform, (1)
Portal Bucket, (1)
Portal Cover, (1)
Portal Stone Filler A, (1)
Portal Stone Filler B, (1)
Round Tables, (2)
Square Tables, (2)
Long Tables, (2)
Chairs, (4)
Stools, (6)
Performance Stage, (1)
Single Beds, (2)
Double Beds, (2)
Nightstands, (2)
Three Bottle Clusters, (5)
Five Bottle Clusters, (5)
Eight Bottle Clusters, (5)
Mugs, (5)
Mugs with Foam, (5)
Barrels on Stands, (2)
Barrel Stacks, (2)
Six Ft Kegs, (2)
Small Kegs, (2)
Barrels, (2)
Inn Sign, (1)
Trap Door, (1)
Stairwells, (4)
Round Stairwell Caps, (2)
Pillars, (6)
Pillar Top Caps, (6)
Pillar Warlock Blade Plugs, (5)
Round Floor Tile, (1)
Bay Window Tiles, (2)
Bay Windows, (2)
Inn Front Right, (1)
Inn Front Left, (1)
Inn Right Door, (1)
Inn Left Door, (1)
4" x 4" Floor Tiles, (16)
2" x 8" Floor Tiles, (4)
WarLock™ Ez Clips, (72)
Edge Caps, (32)
Double Door, (1)
Single Door, (1)
2" Full Height Plaster Walls, (10)
2" Full Height Cracked Plaster Walls, (4)
Cardboard Tiles, (2)
Assembly Instructions, (1)