Some old favorite and Forge World units are making their way back to the tabletop. The FTN crew talks about what they want to see.
Hey all,
I personally own a Fire Raptor Gun Ship and used it towards the early days of 8th.  It then fell off the radar as the edition progressed and it got a huge point spike from the first big FAQ we saw.  Now, it just might be back. Heavy Bolters are no joke and this bad boy can pump out a deluge of Damage 2 fire.  It a huge target and people will want to shoot at it just because it looks so cool.  Is it worth putting in your list knowing that AND having to spend a Command Point to included in your list?  I guess that's the question.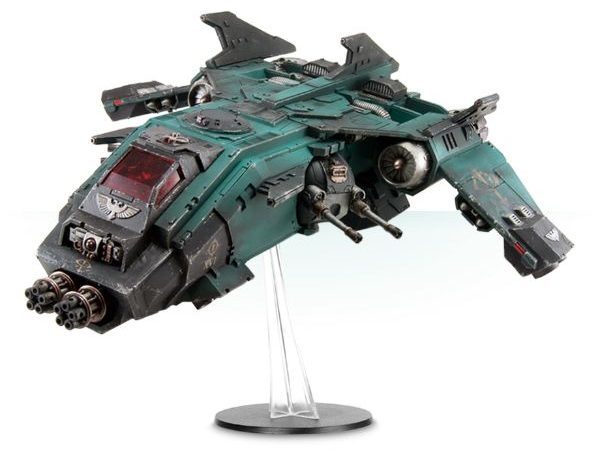 The Marines likely have enough threats to where you could cause some target confusion for your opponent or you just invest more Command Points in this thing to keep it alive.  I do think it's worth it and look forward to getting it on the table a few more times. We also talk about Hornets at the top of the show. Man oh man, I hope to pick off many a Space Marine with these.
After the break, we talk about the Orks and their relationship to the Brain Boyz.  We throw in an honorable mention to the Krorks as well.  This is a bit of lore I was weak on and it was cool to do a little internet research. Are Orks your favorite Mushroom?

FTN mostly focuses on Warhammer 40k, but again you will see in the first few episodes we take a severe deep dive into nerdom. These have been a blast to record and I hope they help pass the time for you. Please please please check out the new
Forge The Narrative objective markers
. These things look awesome. Ordering a set is a good way to support one of our sponsors AND the show. Find them
here
.
FORGE THE NARRATIVE (iTunes Page)
Alternatively, you can subscribe via your own iTunes, and it should update our podcast when we post a new one. Don't have iTunes? Use the player below to access the podcast directly, or add our feed to your favorite player.
Podcast Link
Credits:
Paul Murphy – Host
@warmaster_tpm
Panelist:
Adam Camileri
Red Powell
Justin Troop – troopsmash
Christopher Morgan – captain morgan
Ricky Addington
Josh Ginn