Warhammer 40K: Krieg Army Got Sacrificed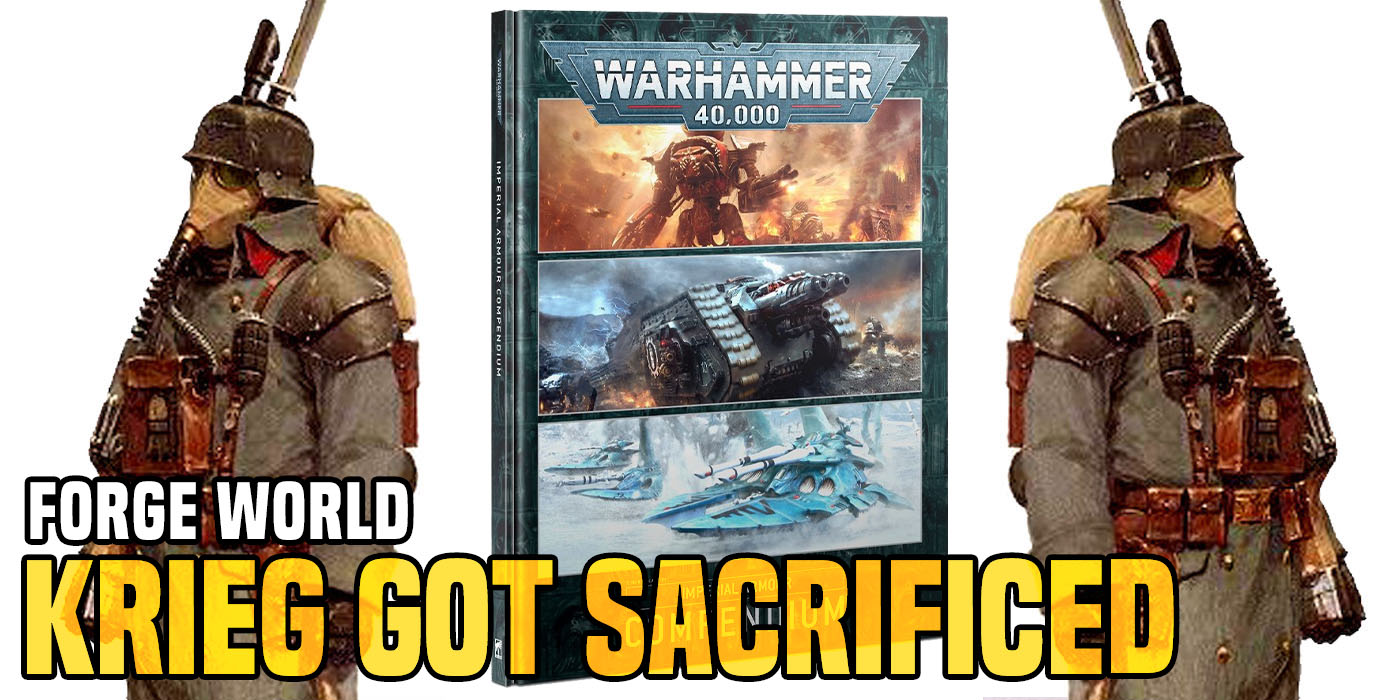 Today let's take a look at what happened to Krieg in the new Forge World book.
The Death Korps of Krieg is a popular Astra Militarum sub-faction from Forgeworld. The army has been around for a long time and has had several full army lists published in FW books over the years. Recently the Death Korps dodged untimely death when their brother regiment the Elysian Drop Troops got Squated. Now the Korps is back, in all their faux – World War One glory, in the new Forge World book. The new rules are leaner; losing a lot of units, but still playable. Let's taok at look at them and if they are any good.
The Army Wide Rules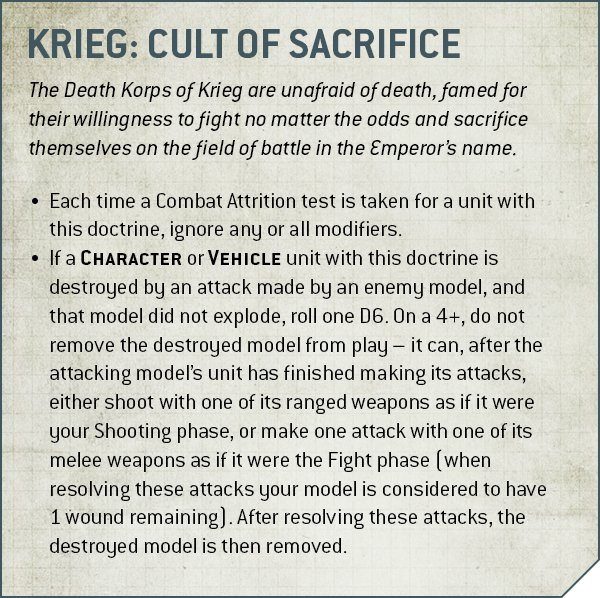 Like the regiments from the main Guard Codex Krieg gets their own regimental doctrine, Cult of Sacrifice, that units in Krieg non-super heavy aux, detachments get. Cult of Sacrifice has two effects, that TL:DR, aren't great. The first allows you to ignore modifiers to combat attrition tests. In general morale buffs just aren't that great, as morale remains something that isn't super relevant a lot of time. Moreover there just aren't that many negative modifiers to combat attrition tests to ignore, aside from the basic one from being at low strength. It just doesn't come up that much, and even then it's a pretty small boost that might occasionally save a couple of guardswomen here and there but isn't going to change the game.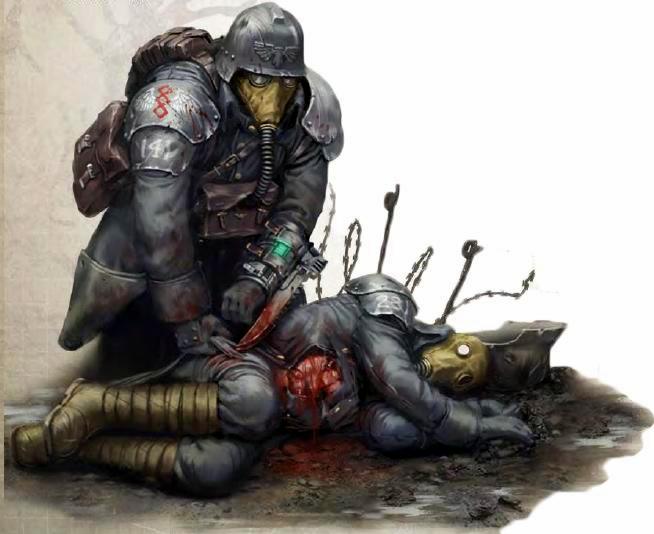 The second part is effectively the Marine Ancient banner effect that applies only to characters and vehicles. That is, when the model is killed, you can roll a dice and on a 4+ make either one combat attack or shoot with one weapon. This is to put it mildly a bit merde. By and large most Guard characters just don't have any good ranged weapons, meaning you're getting a random laspistol or frag grenade. Few people pay for plasma pistols, about your best option, and getting one or two random shots from them (and losing important characters) isn't worth it. Same for CC weapons. The rule seems better when used on a vehicle's, oh… free battle cannon shots! But you've got to remember that the vehicle counts as having 1 wound, which means most of the time your hitting on 6+, maybe a 5+ on a tank commander. A 4+ chance to take some random shots that will almost all miss isn't good. Sure you could build with a bunch of like heavy flamers, but building your army so that it's good when it dies, not when it's alive, just ain't great. Overall these rules just kind of make Krieg bad, possibly even the worst regiment in terms of Regimental Doctrines.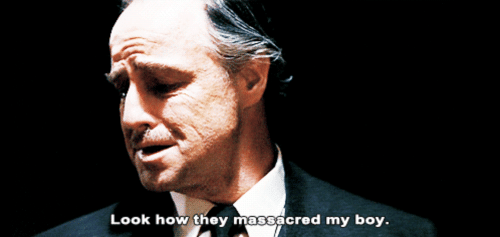 On top of that, unlike other Regiments, Krieg doesn't get a special order, warlord trait, stratagem and relic. This means not only to do they have pretty much have the worst doctrine but they don't get any of the other buffs. It's a poor look for the army, but I guess Kriegers are used to suffering.
The Units
In addition to the doctrine, Krieg gets access to five Krieg only units. We'll take a quick look at them here:
Death Korps Marshal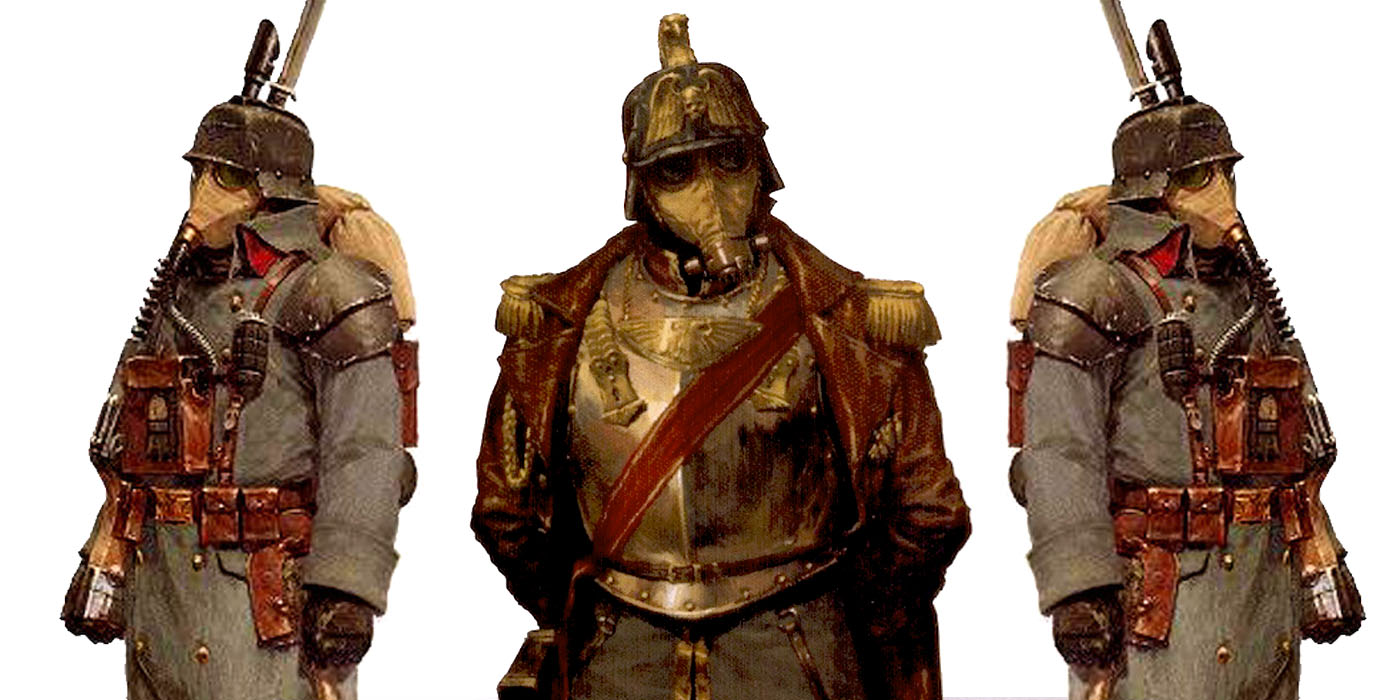 The Marshal is just a slightly different Company Commander. He gets +1 LD and save and cost 5 pts more. He also has more limited weapon options. I don't really think the slightly better stats are really worth the extra pts, you won't get much out of them. But he does give you a bit of a way around the Rule of Three allowing for 3 Marshals and 3 Company Commanders. This does allow Krieg to give more orders than any other regiment, so if you need to be giving 15+ orders a turn, these are you boys, but that's normally not something you need.
Death Rider Squadron Commander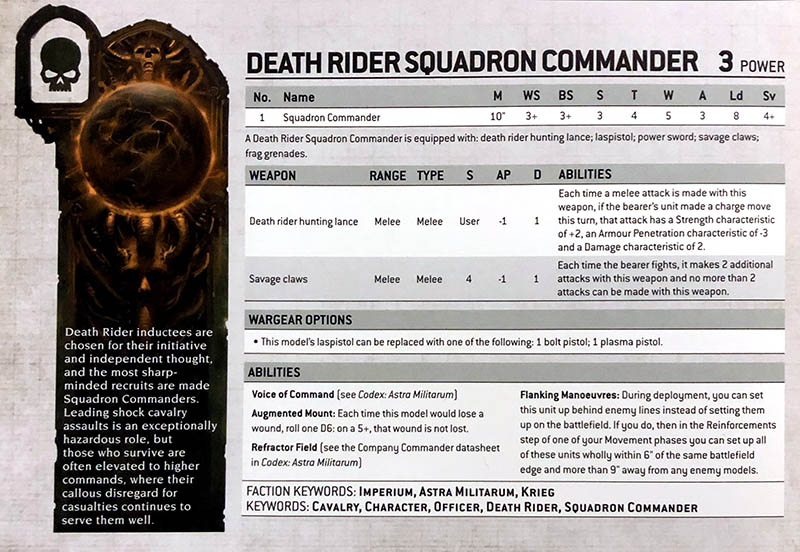 Subscribe to our newsletter!
Get Tabletop, RPG & Pop Culture news delivered directly to your inbox.
Krieg are the one regiment that still gets access to cavalry. The Squadron Commander is a horse mounted HQ. He's a little better in combat than most Guard characters, but still not super good. He can outflank and keep up with other cavalry units. He can also issues commands, but of course can't issue them to the Death Rider units he commands, since they aren't infantry.
Death Rider Command Squad 
These guys are your elite cavalry unit. They are fast attack (or maybe elite, the book disagrees) but don't take up a slot if you have a Squadron Commander. They've got negligible shooting but can outflank. On the charge, they get two whole attacks with their lances and two attacks with their hooves, which is a lot of attacks for Guard, and they aren't even bad attacks. Sadly they are still BS 4 and can't really benefit from most auras or commands.  Ther are T4 with three wounds and 4+ save and 5+++, so for 15 pts a model they are fairly durable, but with only 4 models they won't really stick around long.
Combat Engineer Squad 
Combat Engineers are a kind of alternate Veteran or Scion unit for Krieg.  They have upgraded stats with 3+ BS and 4+ saves and can deep strike, making them pretty mobile. For weapons, they are armed with a special shotgun that is range 12″, assault 3, S4 Ap – D1. That's pretty decent for IG and allows a unit to deep strike in a pump out 30 s4 attacks, On top of that they've got a cool grenade and the mole launcher, which is a better, but shorter ranged mortar. Sadly since it's heavy you likely won't want to take it as this is a unit that wants to keep moving. These guys are overall pretty solid allowing a Krieg army to get some good firepower where they need it.
Death Rider Squadron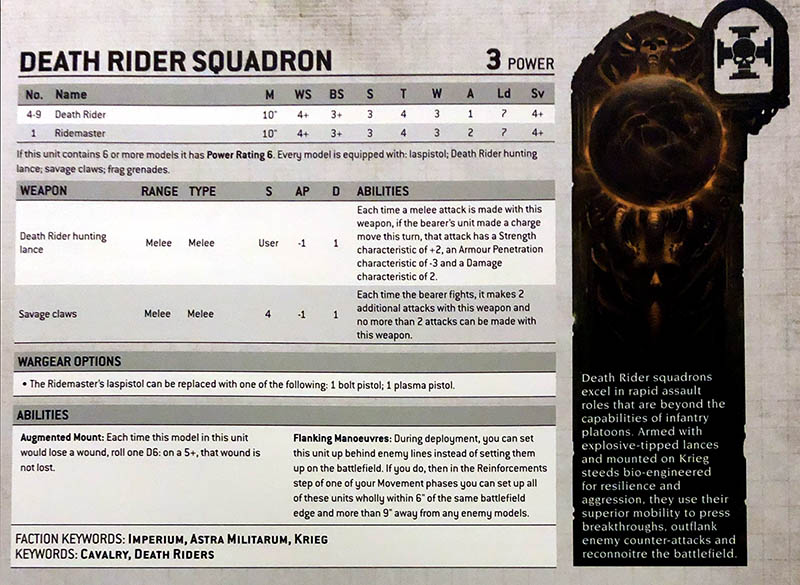 These are the non-command squad version of Death Riders. They can be taken in units of 5-10 and have basically the same options as the Command Squad, with the major downside of only having one attack each (plus two from the mounts). As they are fast attack they aren't obsec and still follow the rule of 3. They cost the same per model as the command squad but have fewer attacks so that's a bummer. They are fast but other than that you've got to ask, are they better than say 30 Catachans with some support, and the answer is probably not.
Final Thoughts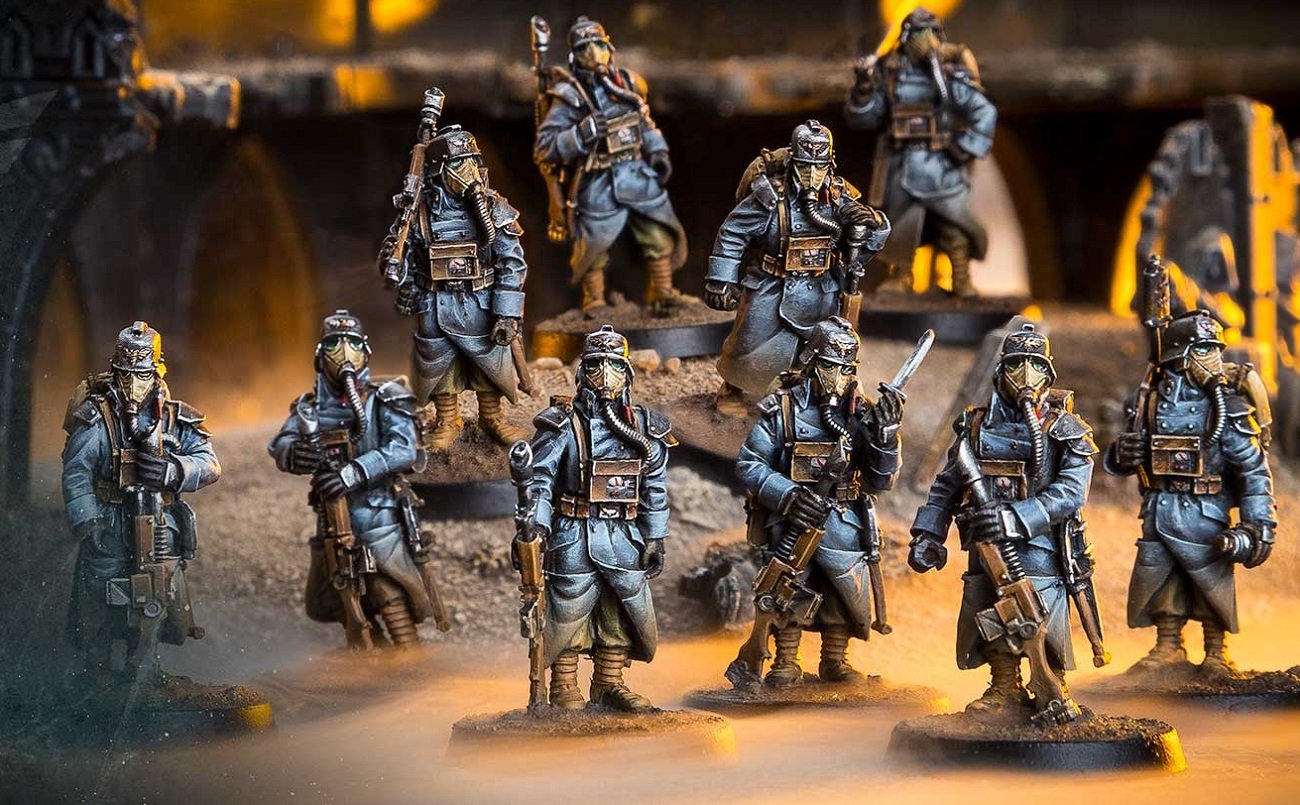 Overall it's hard not to feel like Krieg got screwed over a bit here. They lost most of their cool units and rules. While they kept a few cool units, they are tied to an underpowered Doctrine and not other buffs (I'd have rather taken picks from the make your own regiment rules) since the units are locked into the Krieg keyword you don't have any choice here. Really aside from loving the army/models I can't see a good reason to field an all Krieg army as it just going to be worse than any other Guard army. It's possible there is room for a Krieg detachment, either Outriders or Vanguard, taken alongside another regiment, allowing you to bring some deep striking engineers or outflanking Death Riders. This could be kind of viable, but I don't think it's all that great as both units aren't THAT much better than other options you have, but it is likely the best way to use them.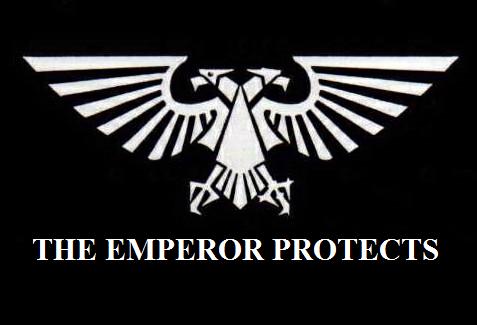 Let us know what you think about the new Krieg rules, down in the comments!